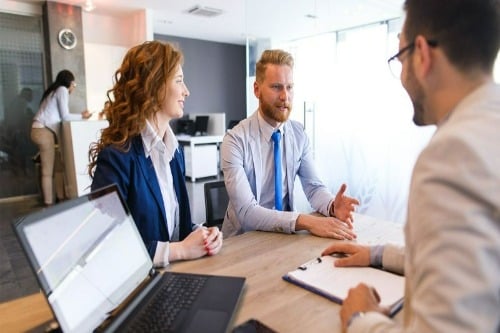 Do you want to become a mortgage broker?
Do you want to create a mortgage brokerage company of your own? Well, starting a mortgage company is definitely a time-consuming task, but the rate of return you will get after all of your work will make you thank yourself afterwards. Everyone need a place to live or work, yet many Americans, as well as foreigners, are unable to purchase real estate in the United States, especially in big cities, due to expensive pricing.
A mortgage broker's job is to help purchasers and banks or real estate organizations complete deals, as well as easy installments and down payments after acquiring a mortgage or debt property. The company is in great demand since it is the sole way for regular or low-income people in large cities to buy a house or car.
So, if you want to start this business, don't just build castles in the air; instead, prepare a detailed business plan. If you're having trouble writing a business plan, you may use this sample business plan on how to start a mortgage brokerage for Gary Cleese's company, 'Gary Brokerage.'
The Company
Gary Brokerage will be a regulated and licensed mortgage business run by Gary Cleese. The firm will have its headquarters in New York and will initially only service one city. The company's purpose is to provide a broad range of individuals with inexpensive houses and real estate by offering mortgages with easy payments. Gary's real estate business strategy has resulted in a huge number of mortgages for residential and commercial structures, and he has created a division in his company to gather and examine the borrowers' required documents in order to provide them with mortgage pre-approval. The borrower will be given ownership of the selected property with easy-to-pay instalments depending on the buyers' income after satisfying the qualifying requirements.
Management
The most crucial part of opening a mortgage agency is management. Because the business involves complex enquiries and agreements, as well as long-term payments, you'll need to plan ahead and have a well-defined management structure in place.
In his mortgage lender business plan, Gary has created a list of employees, their job descriptions, and their responsibilities, recognizing the necessity for a management structure. Gary has chosen to handle the business alone, with the help of two co-managers. You may use Gary Brokerage's sample business plan as a reference if you want to learn how to start your own mortgage broker company.
Customers
Knowing your customers and their wants before starting a new business will help you establish rules much more quickly. Gary Brokerage was founded to help renters and foreigners in purchasing and owning real estate in New York.
The Company's Objective
By providing outstanding customer service to New York City citizens, the business hopes to become the most well-known and well-known brokerage in the city within six to seven months of its beginning.
Owner of a business
Gary Brokerage will be owned by Gary Cleese, a Columbia University graduate with over fifteen years of experience practicing law in New York. He intends to invest the legacy's big shares into profitable firms now that he has acquired them. Gary is well-versed in the agreements and questions that must be answered in order to get loans and other types of property. He's also known for his public speaking and management skills, and he's starting a loan broker business to put his skills and money into a project he feels is the greatest match for him.
Why is the company being established?
After getting his shares, Gary now has more than enough money to invest in a company. For the most of his legal career, he has dealt with land ownership concerns. Gary has a full awareness of all types of land ownership, as well as a working knowledge of real estate and mortgage pioneers, according to his experience. Gary has a lot of creative mortgage broker marketing ideas that he can only put into action if he starts his own business.
The increased need for this kind of service is another reason to start a mortgage brokerage. Shelter is a basic human need, yet in large cities like New York, the majority of ordinary people do not have it; they do not own their own home. A house in New York costs an average of $1.6 million, making home ownership almost impossible for a foreigner, a first-time entrepreneur, or a new employee. Such customers would prefer pay a down payment and amortize a mortgage over time.
How will the company get started?
Every part of Gary's company, including his mortgage business plan template, has been properly prepared. The company's headquarters will be placed on Fifth Avenue in a massive edifice. The firm will be registered with the NMLS (National Multistate Licensing System and Registry). Gary has ties with famous real estate owners, and before starting the company, he would collect information on a range of mortgages that he might lend to clients. To run the firm, Gary will engage the support of a group of trustworthy and dedicated professionals. If borrowers maintain within their income range and requirements, they will have a variety of mortgage possibilities. Both the borrowers' and lenders' inspections and records would be kept in separate and well-organized rooms. Gary has opted to provide borrowers the right to a recession as well as flexible policies in the case of a default on a mortgage.
Customers' services
Before starting a mortgage lending company, you must decide on your services since you must do all of the essential pre-work for each service you will provide. If you decide to provide home equity loans, for example, you'll need to work out the specifics to fulfill the requirements, as well as recruit the appropriate corporate staff to evaluate property value and do other jobs.
So, if you want to learn how to start a mortgage firm, the first step is to write a business plan that outlines all of the services you want to provide your customers as well as the details of how you plan to deliver them. You might utilize one of the many mortgage loan officer business plan templates on the internet, such as this one, if you're having difficulties deciding on your service.
Gary Brokerage offers the following services to its clients:
Brokering Residential Mortgages: We'll guide and negotiate loans between borrowers and lenders to help them buy houses. We'll do research to discover our clients' requirements, and we'll manage all of their settlements and paperwork.
Commercial and industrial real estate brokerage: Commercial real estate is defined as any property acquired for the purpose of profit. We will find a location and provide loans for entrepreneurs who want to start a new business or a branch of an existing business but are unfamiliar with the opportunities, taxation, and procedures of purchasing real estate in a large city; we will keep them from getting caught up in complications they were unaware of.
Brokering House Equity Loans: People who own property yet need money to pay for things like medical bills, schooling, and other requirements will be able to get loans based on the value of their home. Gary will hire appraisers to assess the property's value and the interest rate on the loan.
Brokering Vehicle Loans: If you are unable to acquire a vehicle in New York, Gary will purchase it for you and need you to pay the money in installments at a very cheap interest rate.
Marketing Analysis of a Mortgage Brokerage
When you take the initiative to establish a new company, you must go through a series of processes to understand the desires and needs of your target market. The effectiveness with which you can explain your borrowers' requests and your lenders' terms and conditions will decide your company's performance. You must do an acceptable marketing analysis to assess if you will be able to start your own mortgage company or not. You should also consider if the market you chose for your business has the stamina and promise of a fresh venture. In order to define your target groups ahead of time, you must do a complete marketing study in your mortgage company business plan. It's something you should do before starting a mortgage company since it will assist you establish your services and marketing strategy.
This mortgage loan officer business plan template was created for Gary Brokerage's start-up and will guide you through the process of starting a mortgage brokerage company. You may also get help from one of the numerous business plan samples available on the internet. Instead of depending on this mortgage broker business plan if you are starting a large-scale mortgage broking company, you should hire a professional marketing analyst to build a mortgage broker marketing strategy for your startup.
A strong marketing strategy can only be created after defining the target demographic and potential customers. Gary has enlisted the help of marketing experts to do in-depth research in order to identify his target clientele and create a unique marketing strategy to attract them, realizing the value of marketing analysis.
Market Developments
The mortgage brokering firm is in great demand due to people's rising confidence in the services. Many people in the United States have been driven to acquire vehicles and real estate utilizing mortgage loans due to good economic conditions and cheap interest rates. According to IBISWorld, the sector is already mainstream, and it is still growing at a 5.8% annual rate. In the United States, there are presently over 844,296 real estate brokerage firms, which generate $155 billion in annual revenue and employ 1.1 million people. The numbers plainly illustrate that if you properly organize and market your business, you can earn a lot of money.
Segmentation of the Market
If you're starting a mortgage brokerage company, you'll need a detailed mortgage officer bank loan business plan that lays out how you'll reach your target market. You may use Gary Brokerage's example business plan as a reference if you need assistance building a mortgage banker business plan.
Our target audience is segmented into the following marketing segments:
Renters:
Our marketing analyst identified this to be the greatest target group. Many people in New York City live on the streets and wish to purchase a house, but they lack the necessary skills and cash. Those who fit under this group include foreigners, new workers, and those with average pay. These people are unable to buy a property on their own. As a consequence, they call a mortgage broker before acquiring land or a house, and then own the property by paying appropriate mortgage payments and a down payment. This group has been recognized as the most regular users of our car loan brokering service by our experts. We believe that our low interest rate, clear policies, and accessible location would persuade them to come into our office.
Businessmen:
Company owners who want to expand their business or open a new branch but don't have the time to cope with the complications of real estate purchase will be our next target market. The hardship of acquiring real estate or office space in a new place with entirely new trends is typically avoided by CEOs. To set up their accounts, they prefer to phone mortgage brokers. Our experts have identified these group as potential borrowers for commercial and industrial real estate finance.
Owners of Real Estate:
Our business is set up to assist both lenders and borrowers. As a consequence, our experts decided that real estate and automotive sector owners would be our third target audience. These are the kind of people that will contact us if they want to sell their house or automobile.
A complete market analysis of our potential clients may be seen in the table below:
Business Objective
Gary has big plans for the future of his business. During the first five years of business, Gary Brokerage's mission is to become the most respectable and well-known mortgage broker company in New York City. Our company's mission is to provide exceptional and trustworthy service to both lenders and borrowers. To all of our target audiences, we endeavor to deliver great customer service. Every one of our staff and salesmen will treat our customers with the utmost respect in order to build a long-term relationship with them.
The company, on the other hand, has certain long-term objectives that will be realized after we have properly established ourselves in New York City. These include opening a new Gary Brokerage office in the current or neighboring city and extending our services to serve an ever-growing number of people.
Pricing of Products
Setting prices for your services is the most challenging and time-consuming task, as you must balance your budget while also enticing customers. We chose to keep our charges lower than our competitors at first in order to attract a larger audience. However, we believe the company will still be able to reach its financial goals.
Strategy
Your sales strategy is the most critical and effective component of starting a mortgage company. To increase sales of your services and make more profit, you must include techniques and methodologies into your mortgage marketing plan. Gary collaborated with the company's advertising manager and administration to perform extensive research and seek the assistance of financial experts in order to build a successful sales strategy.
If you're wondering how to start a mortgage company or create an effective sales strategy, this mortgage loan officer business plan template from Gary Brokerage may help.
Analysis of Competitors
Gary foresaw the tough competition he'd face in the sector, which is why he's established significant competitive advantages that none of his competitors have. Gary feels that if these competitive advantages are properly used, they will provide him with an unmatched competitive edge in this business.
Our team's strength is our most important competitive advantage; each member has a thorough understanding of different types of properties, credit, inspection procedures, and loan amounts. We have a team of dedicated and honest professionals that will go to great lengths to guarantee that our customers are entirely delighted with their mortgage loans and have easy access to them. All of the essential research and hard work will be done on your behalf by our highly experienced and skilled people. Before selecting the most suitable and cost-effective property for you, our skilled team will examine your needs and budget.
Second, Gary has deals and ties with some of the world's most influential real estate barons and developers, as well as auto dealership owners. He will surely be able to identify the greatest suited lender for you after having a complete understanding of your needs. Because he is acquainted with all of the procedures, registries, and verification systems, his former legal expertise provides him an advantage. Gary Brokerage is also located on a major road, making it very visible and accessible to our target demographics.
Strategy for Selling
The success of a startup is determined on the amount to which you can market your services. Given the need to reach a large audience, Gary Brokerage will sell its services in the following ways:
Our website will offer the best degree of protection for our borrowers and lenders, enabling them to make their installments using their Payoneer or PayPal accounts.
We'll set up a Facebook profile to take advantage of the opportunity to reach out to a larger audience with our services.
Before using our services, you may learn about our work efficiency by reading the remarks of our clients and lenders on our website or Facebook page.
We'll put up posters in high-traffic areas to spread the word.
We'll keep things as easy as possible for our customers, and our interest rates will be as low as possible.
Forecasted Sales
We believe that once people have tried our services, they will be able to rely on us for the rest of their lives. Based on market demand and the quality of our services, we expect our sales pattern to improve in the next years. Based on our market segmentation technique, our analysts predicted the following yearly sales, which are shown in the column charts.
Personnel strategy
Before starting a mortgage broker company, you must first find a team of dedicated and hardworking personnel. Your marketing and sales strategy can only help you attract customers; nevertheless, your dedicated employees may be able to maintain them. As a result, while starting a mortgage company, pick your staff wisely since you will be wholly dependant on them.
We've provided Gary Brokerage's sample business plan, which includes information on the staff he'll hire, for anyone interested in learning how to establish a mortgage brokerage company.
Employees of the company
Gary will be the company's Chief Operating Officer, and he will be the one to penalize the executives and the company as a whole. Initially, the company will hire the following people:
The activities will be overseen by two general managers.
There are ten mortgage brokers and loan service consultants to select from when it comes to mortgage brokerage.
4 HR Managers are responsible for organizing meetings between borrowers and lenders as well as new member inductions.
To maintain track of funds, there will be four accountants/administrators.
2 IT experts to manage the company's website and social media accounts
There will be 5 data analysts to examine and organize the data.
2 Sales and Marketing Executives tasked with spotting new company prospects.
2 Chauffeurs for day-to-day duties
3 cleaners for the cleaning of the company's offices
1 Front Desk Officer to operate as a receptionist in the company office.
All employees will be trained on their duties and responsibilities prior to the start-up.
Employees' Average Salary
The table below shows the expected statistics for employees and their salary for the following three years.
Plan your finances
The last step in creating a mortgage firm is to come up with a financial plan. Without a question, the most critical facet of a startup's success is its financial strategy, especially if you want to grow. Financial planning before starting a mortgage company can help you achieve your long-term financial goals by monitoring your flow patterns and expenditures. Your detailed financial strategy can help you cope with the most difficult events and ups and downs that your company may experience.
Gary has hired a financial planning expert to help him establish a financial plan for his company, realizing the importance of having a detailed and accurate financial plan. Gary Brokerage will be mostly self-funded. There will be no need for outside cash or a loan unless the company grows quicker than projected. If you need help forming a mortgage brokerage company, this sample financial plan may help, and there are many more business plan templates available online. If you don't know how to start a mortgage broker firm or construct an effective financial strategy, the best alternative is to hire a professional to do it for you, saving you the time and effort of gathering all of the information yourself.
Important Premises
To forecast the company's financial prospects, the following assumptions are employed. These assumptions are conservative, and there's a risk they'll stray, but only to the point where the company's core financial strategy is jeopardized.
Analysis of Brake-Even
The graph below depicts the company's Brake-even Analysis.
The firm's Brake-even Analysis is displayed in the table below.
Profit and Loss Estimates
The profit and loss forecasts for the firm are shown in the table below on a monthly and yearly basis.
Monthly Profit
The graphs below provide a wealth of information on profit and loss, as well as total sales costs.
Cash Flow Forecast
The cash flow forecast is shown in the column diagram below.
Pro forma cash flow, subtotal cash from operations, subtotal cash received, subtotal cash spent on operations, and subtotal cash spent on operations are all detailed in the table below.
Balance Sheet Forecast
The projected balance sheet shows total current assets, total long-term assets, total assets, subtotal current liabilities, total liabilities, total capital, total liabilities, and total capital.
Ratios in Business
Information about firm ratios, ratio analysis, total assets, and net worth can be found in the table below.