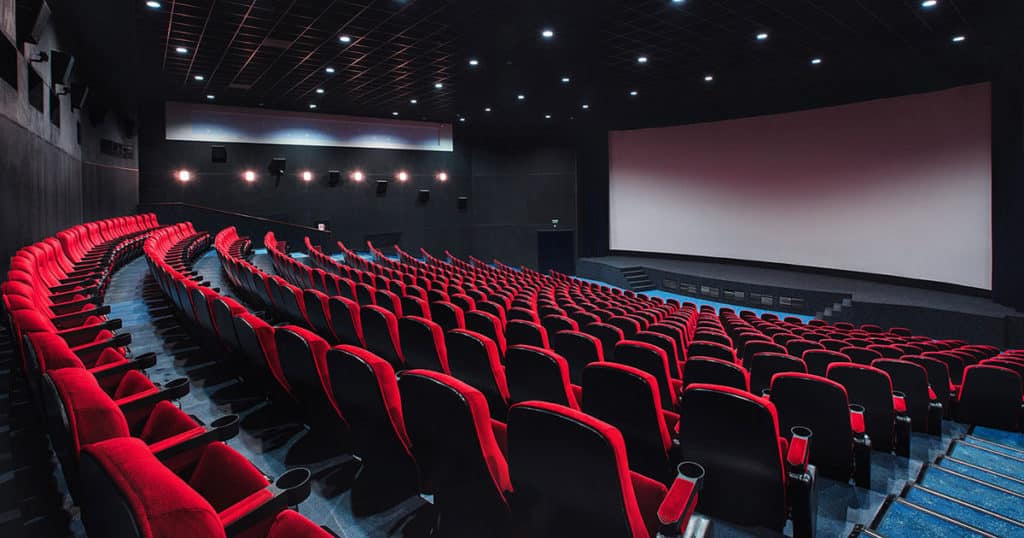 If you are planning to write the Movie Theater business plan on your own, then this sample Movie Theater business plan can be great for guidance. However, if you are looking for a professional business plan writer for a business loan, SBA loan or to find out the possibility of success for your new business then let's talk!
Executive Summary
Overview: The Arena will be a legally recognized and insured movie theater in El Paso, Texas. Zace and Lenna Martin, a husband and wife team, will run the company. The Arena will show all types of films, including second-run and first-run releases.
Zace and Lenna, a husband and wife who formerly worked as managers for a multiplex company, will own the Arena. They are both domain management graduates from the same university and have expertise in their respective fields.
After three years of great managerial experience, Zace and Lenna have decided to open their own movie theater to serve the audience in the best way possible and, of course, to pursue the possibility of operating their own business.
Zace will be in charge of the building's renovations, as well as the company's finances and monitoring. Lenna, on the other hand, will be in charge of things like movie selection, recruiting employees, theater marketing, and snacks. They have chosen to engage a general manager to assist them in running the business and handling day-to-day duties properly.
Zace and Lenna will collaborate, but they have agreed to have a clear work divide to avoid any mismanagement. The Arena will be a movie theater with four screening rooms, each with a capacity of at least 250 people. A building that was formerly used as a wedding hall will be restored to its former beauty and modified to meet the needs of a theater. Finally, highly customer-service-oriented employees will be hired to handle daily tasks.
Mission: The Arena is a center for moving picture education, production, exhibition, and distribution dedicated to advancing the art form.
Vision: We want to be a world-class film center in Texas that supports filmmakers, engages the community, and raises awareness of independent film.
Industry Overview:
Ticket prices fluctuate across the industry depending on the season in which a film is released, rising average ticket costs, shorter movie shelf lives in general, the location of a multiplex, and low screen density. New single-screen theater formats, the shift to digital and 3D cinema, alternate revenue streams, and PE/VC investments in the multiplex market sector are all trends in the US movie theater and cinema industry. Multiplex operators are the industry leaders, and the single-screen theater business is highly fragmented.
According to IBIS World, the US movie theater sector is about $13 billion, with a yearly growth rate of around 1%. The top four operators in the market generated 56 percent of total revenue in 2011, with operator consolidation having a big impact. Following the completion of Chapter 11 procedures, the industry's concentration has increased by 10% in the last five years as established operators have purchased small and major firms. In 2006, AMC and Loews Entertainment united to form AMC. Cinemark bought Century Theaters in the same year, bringing the total number of theaters in the Western United States to about 80, with over 1,000 screens. The AMC-Loews Entertainment merger united over 400 theaters with about 7,000 screens in over ten countries, employing 24,000 workers and attracted 250 million moviegoers annually.
According to information provided by the National Association of Theater Owners, US moviegoers are paying record ticket prices, with an average of close to $8 in 2010. This is a 5% rise year-over-year. Ticket prices are rising mostly as a result of 3D movie screenings, which incur surcharges of $2.50 to $4 each ticket. According to the Los Angeles Times, the increased popularity of 3D films has resulted in the segment contributing 20% of box office income.
Financial Overview: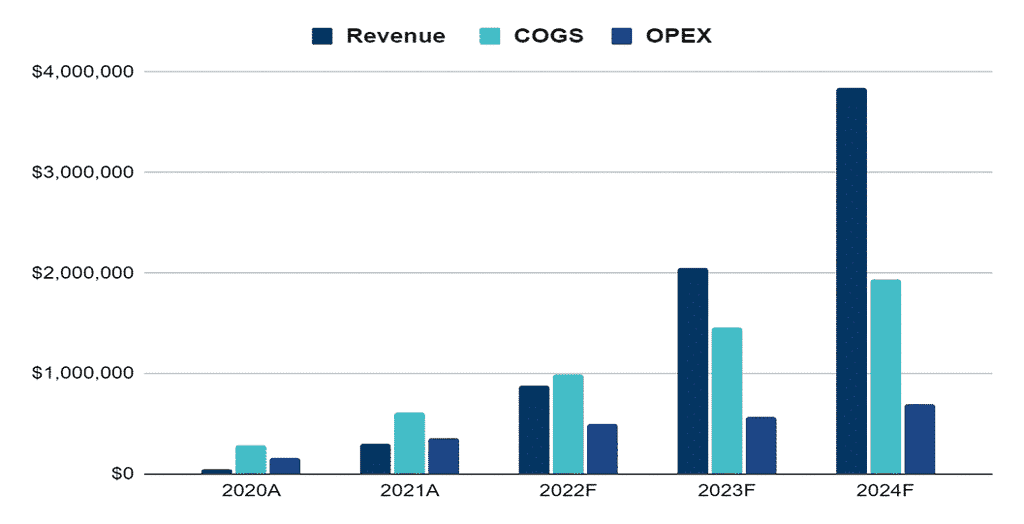 Financials is one of the most important sections of a Movie Theater business plan. You can get an idea of your projected revenue, required investment amount, is the business sustainable without additional funding, etc.
Financial Highlights:
| | | | | | |
| --- | --- | --- | --- | --- | --- |
| Liquidity | 2020A | 2021A | 2022F | 2023F | 2024F |
| Current ratio | 6 | 12 | 23 | 32 | 42 |
| Quick ratio | 6 | 11 | 22 | 31 | 40 |
| DSO | 8 | 8 | 8 | 8 | 8 |
| Solvency | | | | | |
| Interest coverage ratio | | | 8.2 | 11.1 | 14.2 |
| Debt to asset ratio | 0.01 | 0.01 | 0.2 | 0.18 | 0.16 |
| Profitability | | | | | |
| Gross profit margin | 51% | 51% | 53% | 53% | 53% |
| EBITDA margin | 12% | 14% | 21% | 22% | 22% |
| Return on asset | 5% | 6% | 13% | 14% | 14% |
| Return on equity | 5% | 6% | 16% | 17% | 17% |
Use of Funds: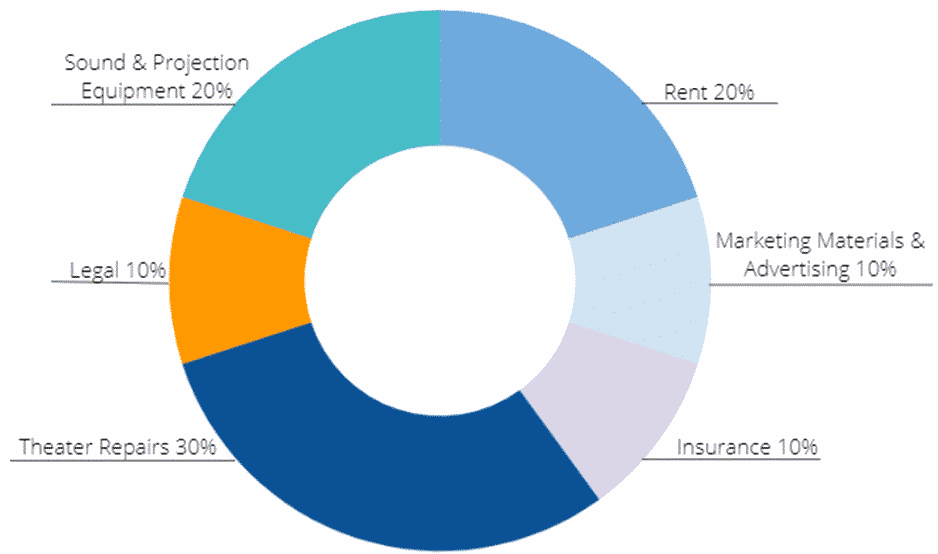 Industry Analysis
The industry analysis section of the Movie Theater  business plan will help you get better insights into competitors, market growth, and overall industry prospects. You can order a custom market research report for your Movie Theater business.
In 2018, the worldwide home theater market was worth USD 7.7 billion. A growing number of smart homes that are equipped with connected communication devices are driving the market for home theater. Manufacturers have started introducing goods that are compatible with smart home communication devices, which is fueling home theater demand. For example, the most recent home theater systems include voice assistant devices like Alexa or Echo.As customers adopt entertainment devices with Bluetooth and Wi-Fi connectivity, the ability to stream audio content wirelessly has boosted industry growth around the world. Wi-Fi and Bluetooth connectivity are standard features on the latest audio systems, including HTIB and sound bars. As a result, the product may easily connect to portable devices such as cell phones, laptops, and tablets. This connectivity function of home theater systems has attracted the attention of millennial consumers, who are rapidly adopting portable gadgets. Furthermore, the growing demand for Blu-high-definition Ray's (HD) playback mechanism has expanded the makers' options. Bose Corporation and LG Electronics Inc., two major players in the sector, are adding new features to improve the consumer experience, hence raising demand for home theater.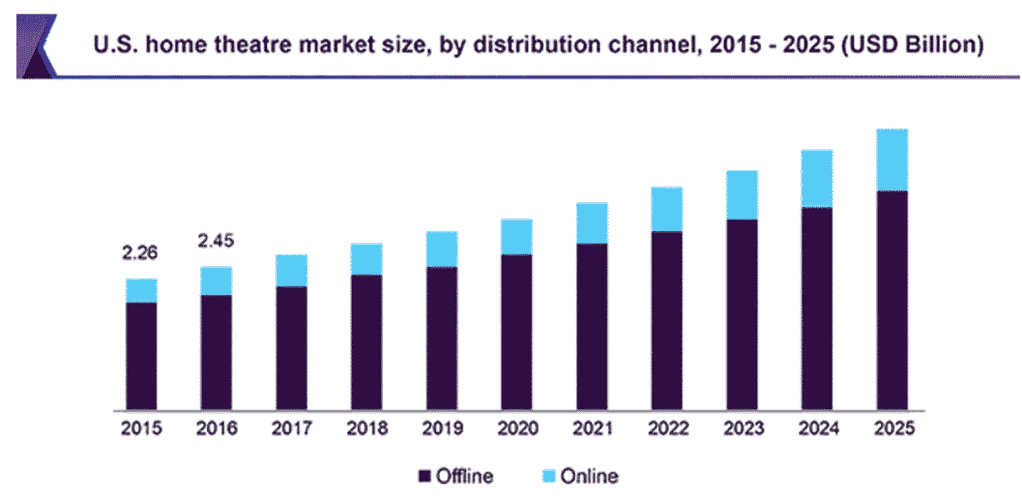 While working on the industry analysis section of the Movie Theater business plan make sure that you add significant number of stats to support your claims and use proper referencing so that your lender can validate the data.
Consumers have been asking for personalized products for a few years now. A few companies, such as The Home Theater Company, specialize in unique items at high rates. These companies provide customized home theater packages based on the preferences, space size, and style of the customer. In the near future, this increasing trend of customized systems will broaden the scope of home theater.
Due to rising movie ticket prices, consumers' preferences have shifted toward home entertainment and theater options. This trend has prompted buyers to invest in high-quality speaker systems, which give their houses a cinematic feel. However, the hefty cost of installation is projected to deter purchasers from purchasing them. Similarly, the sector is projected to face a major challenge in the form of low-cost standalone speakers.
The worldwide home theater market was dominated by the offline distribution channel in 2018, accounting for more than 80.0 percent of total sales. Brick and mortar retailers provide expert installation and after-sale services. Furthermore, these retailers have an advantage in that they have appropriate products for audio equipment.
From 2019 through 2025, the fastest-growing distribution channel is expected to be online, with a CAGR of 8.8%. Customers' faith in purchasing high-value products through e-commerce has grown in recent years as delivery conditions have improved and a larger range of payment options has been available. Online consumer electronics sales have been growing rapidly in Asia and North America. E-commerce accounts for a major portion of online consumer electronics sales in the United States. The largest online retailers in the consumer electronics market are Amazon, Best Buy, Tiger Direct, Newegg, JR.com, and Buy.com.
The home theatre in a box system (HTIB) sector had the biggest market share of almost 65.0 percent in 2018. Surround sound speakers, Blu-ray/DVD/CD player, amplifier, radio tuner, remote control, and cable accessories are all included in these systems. The surround speakers add to the home movie experience by producing theater-like sound. The home theatre in a box systems come in a variety of sizes, ranging from 2.1 to 9.1 channels. Front speakers, surround speakers, rear speakers, center speakers, and subwoofers are all included in these systems. The dialogue is reproduced and dynamic sound effects are provided by the center speakers. Surround speakers, on the other hand, improve the ambiance and sound effects.
The Blu-ray/DVD/CD player and surround sound speakers that come with the device are usually small, which saves space. Consumers' movie theater experiences have improved with the increased availability of large-screen televisions with high screen resolution and projectors. This trend is projected to increase customer demand for home theater in a box system.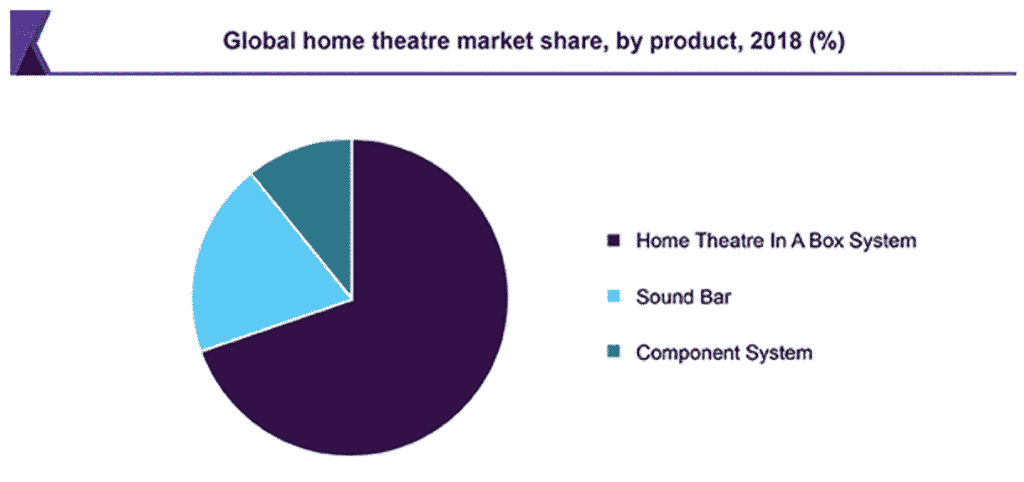 The sound bar segment is the fastest growing, with a CAGR of 8.7% from 2019 to 2025. Multiple speakers are installed in the product's cabinet, creating a stereo effect and surround sound. Sound bar installation is less difficult than HTIB. In most cases, connecting to the television simply takes one cable.
Producers have been releasing sound bars with Bluetooth connections for several years. Because the majority of consumers utilize entertainment devices with a Bluetooth connection, this capability has become increasingly important for sound bars. These goods are also less expensive than a home theater in a box solution. As a result, sound bars are expected to gain popularity among middle-income consumers.
In 2018, North America dominated the global market, accounting for about 40.0 percent of total revenue. The market in this region has grown due to increased demand for high-quality audio and sound systems in the United States and Canada. A home theater system is owned by more than 40.0 percent of American households.
In the coming years, Asia Pacific is expected to develop at the fastest rate. The market in this region has been growing due to an increase in middle-class income individuals, as well as expanding urbanization in developing countries such as China, India, Indonesia, Malaysia, the Philippines, and Thailand. In Asia Pacific, the rapid adoption of novel technology such as wireless and voice control has further boosted industry growth. LG Electronics Inc., Panasonic Corporation, Sony Corporation, and Samsung Group are all major participants in this region.
Marketing Plan
A key part of the marketing plan in a Movie Theater business plan is the marketing budget. The growth in the number of customers is proportional to the budget and dependent on the CAC.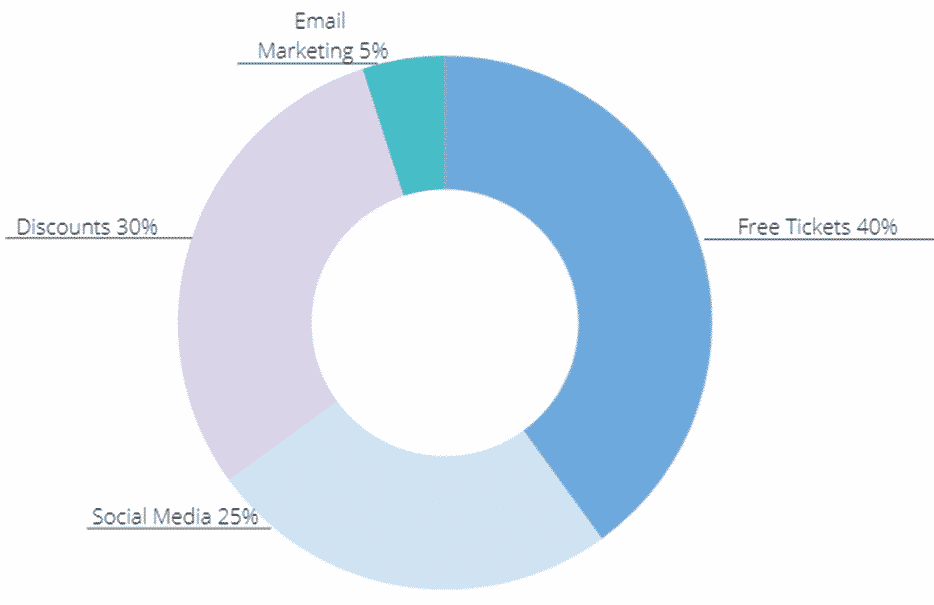 Coupons: After purchasing six tickets in a month, we will give our clients a free ticket.
Discounts: For the first few months after our launch, we will provide discounted tickets and for the first three months, we will give a 20% discount on snack and beverage purchases.
Social Media: Our advertisements will be delivered locally, nationally, and internationally, including through Google Ads, posters, and social media.
Email Marketing: We will send an email with a commercial message to a group of people or prospect clients.
Organizational Plan: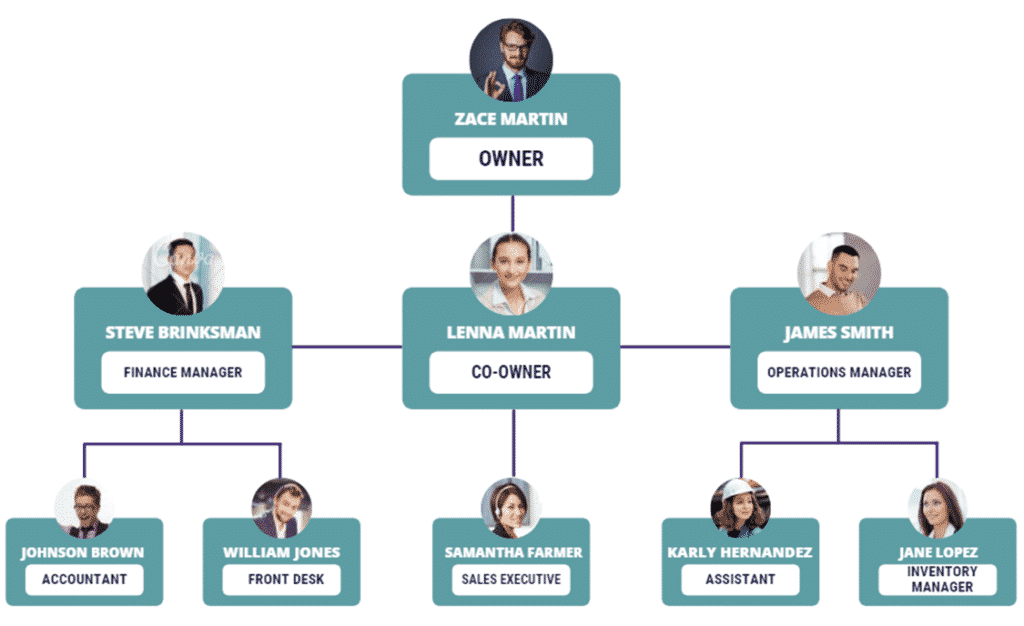 Financial Plan
This section of the Movie Theater business plan helps your lender figure out whether you will be able to pay off the loan, whether the business is sustainable, what are the growth prospects, etc.
Earnings: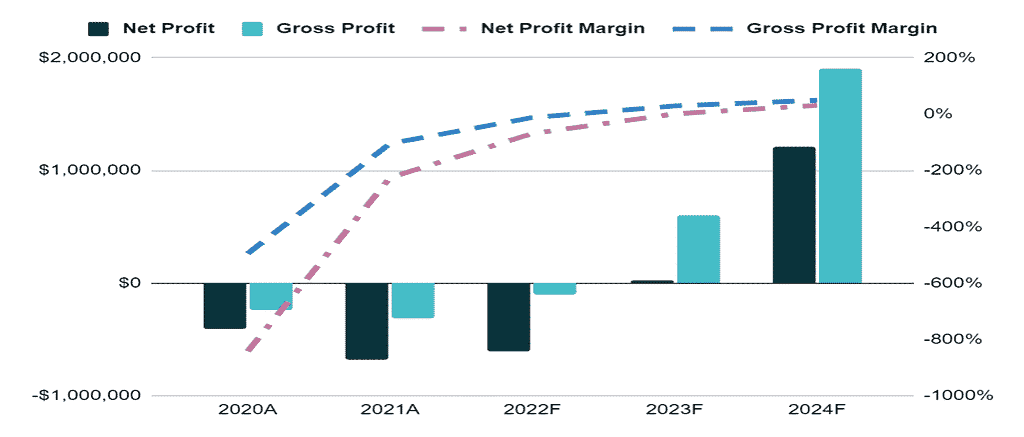 Income Statement:
| | | | | | |
| --- | --- | --- | --- | --- | --- |
| | 2020A | 2021A | 2022F | 2023F | 2024F |
| ANNUAL REVENUE | | | | | |
| Item 1 | 9,217 | 59,117 | 175,410 | 415,277 | 781,357 |
| Item 2 | 34,701 | 222,558 | 660,368 | 1,563,394 | 2,941,580 |
| Item 3 | 4,067 | 19,561 | 46,432 | 78,519 | 114,905 |
| Total annual revenue | 47,985 | 301,236 | 882,211 | 2,057,189 | 3,837,842 |
| % increase | | 528% | 193% | 133% | 87% |
| COST of REVENUE | | | | | |
| Item 1 | 360 | 2,259 | 6,617 | 15,429 | 28,784 |
| Item 2 | 480 | 3,012 | 8,822 | 20,572 | 38,378 |
| Item 3 | 52,000 | 65,000 | 78,000 | 91,000 | 104,000 |
| Item 4 | 720 | 3,615 | 8,822 | 16,458 | 23,027 |
| Item 5 | 140,000 | 336,000 | 560,000 | 840,000 | 1,120,000 |
| Item 6 | 60,000 | 144,000 | 240,000 | 360,000 | 480,000 |
| Item 7 | 32,000 | 61,333 | 85,533 | 112,153 | 141,435 |
| Total Cost of Revenue | 285,560 | 615,220 | 987,794 | 1,455,612 | 1,935,625 |
| as % of revenue | 595% | 204% | 112% | 71% | 50% |
| Gross Profit | -237,575 | -313,984 | -105,583 | 601,578 | 1,902,218 |
| SELLING & ADMIN EXPENSES | | | | | |
| Item 1 | 28,000 | 96,800 | 154,880 | 175,692 | 193,261 |
| Item 2 | 75,000 | 105,000 | 120,000 | 120,000 | 120,000 |
| Item 3 | 36,000 | 96,000 | 108,000 | 120,000 | 120,000 |
| Item 4 | 8,000 | 12,000 | 12,000 | 12,000 | 12,000 |
| Item 5 | 3,839 | 18,074 | 44,111 | 61,716 | 115,135 |
| Item 6 | 3,359 | 12,049 | 26,466 | 41,144 | 76,757 |
| Item 7 | 5,600 | 10,000 | 12,904 | 15,034 | 17,376 |
| Item 8 | 6,667 | 14,000 | 22,067 | 30,940 | 40,701 |
| Total selling & admin expenses | 166,464 | 363,924 | 500,428 | 576,525 | 695,230 |
| as % of revenue | 347% | 121% | 57% | 28% | 18% |
| Net profit | -404,039 | -677,907 | -606,011 | 25,052 | 1,206,987 |
| Accumulated net profit | -404,039 | -1,081,947 | -1,687,957 | -1,662,905 | -455,918 |