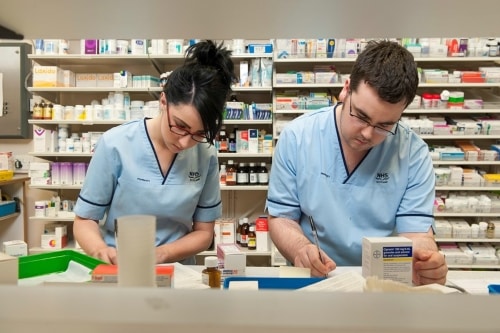 Statement of Purpose
We believe that high-quality health care begins with you, and at NaturEd pharmacy, we agree. We believe that the most important people involved in patient care are the patients themselves. This is why we encourage people to take responsibility for their own health. Education, Healthy Lifestyle Choices, and Natural Health are our three basic beliefs. We believe that by teaching patients about their diseases in a fun and inclusive setting and arming them with proven and successful methods to look after their health, we can improve health outcomes and promote happier and healthier communities. We don't simply give over pharmacological treatments in a bag; we make sure the patient understands every detail about their medicine, as well as the nutritional depletions it may create and how to properly employ complementary and natural items in the treatment of their diseases.
Overview of the company, its location, and its demographics
NaturEd Pharmacy is located only 5 minutes outside of Rotorua's Central Business District, the tourist center of New Zealand. We are an independent pharmacy in a small shopping center with the goal of eradicating the significant health inequities that local Maori and Pacific populations face. Rotorua wants and deserves a pharmacy like NaturEd.
DESCRIPTION OF PHARMACY
Professional Service with a Difference
The twenty-first century has arrived. The world is becoming more fast-paced. Technology is advancing at a faster rate than ever before, and health care is always changing to keep up with the rest of the world. The hope is that, as a result of these developments, the nation's health would improve; unfortunately, this is not the case. In reality, the prevalence of avoidable diseases/conditions is greater than ever before and continues to rise, owing in part to poor lifestyle choices. Only one in every seven New Zealanders claims to live a healthy lifestyle. Our pharmacy is located in Rotorua, New Zealand, which has a population of around 65,000 people. It is home to 3.7 percent of New Zealand's Maori population, and it is the fourth largest of the country's sixty-seven districts. In Rotorua, adults are 1.7 times more likely to be obese than in other regions of New Zealand, while teenagers are 5 times more likely to be fat. Unfortunately, one out of every five Maori children and two out of every five Maori adults are obese, which is far higher than the national norm. Clearly, there is a growing inequality that has to be addressed, and we are well-positioned to meet the requirements of this community. These inequalities in fitness may be seen in Australia's indigenous population. Kiwis are aware that there is an issue, but they're just does not seem to be enough time or capacity to maintain a healthy lifestyle. The indigenous Maori, who make up the bulk of Rotorua's population, are often disadvantaged and have poor fitness literacy. A prevalent misconception is that whanau from poor socioeconomic regions lack the financial means to get the greatest healthcare, and as a consequence, they choose not to invest in alternative items such as natural pharmaceuticals. In our experience, the disadvantaged place a high value on transportation and outstanding healthcare, and they are prepared to pay for these services or items if they feel it would benefit them or their family.
the fundamental cause of fitness issues by teaching Kiwis how to take control of their own health and make better decisions. We can prevent long-term illnesses and slow down the course of associated diseases by improving lifestyle variables.
We believe that using natural and natural goods on a regular basis, such as those offered by Blackmores®, may help to a healthier lifestyle by avoiding the development and severity of diseases or providing well-known comfort. CoQ10 supplementation in people on statins is one example. This has been shown to increase coronary heart muscle energy while also inhibiting muscular breakdown, reducing rhabdomyolysis. Supplementing with selenium and CoQ10 enhances the chances of surviving a cardiac episode. Vitamin C not only has classic immune-boosting properties but has also been shown to improve endothelial function, particularly in smokers, which improves the structural integrity of arteries and lowers the risk of cardiovascular disease. St John's Wort has also been shown to help with depressive symptoms, although it is often used without first consulting a pharmacist, who is aware of the potential for dangerous interactions with other drugs. However, current research reveals that the stable lipid form of curcumin might have an effect equivalent to 20mg of fluoxetine and could be a useful supplement. We ensure that patients have good health results by advocating the safe use of these herbal medications. We also make certain that herbal products are only offered to attractive patients.
Many individuals go to pharmacies first, not just to pick up medications, but also in the hopes of quickly finding a fitness solution that does not need a trip to the doctor. The community pharmacy's mission is to promote the health of the community by advising patients on how to utilize effective pharmacological treatments. However, in today's society, this has been deprioritized, either because patients are too busy to comprehend their health needs, or because the pharmacist is more concerned with management chores, or is too profit-driven to provide community service. NaturEd is a progressive supplier that takes you back to the basics – but in a unique way! The "NaturEd EduCare Clinic" is introduced, allowing us to build trusted ties with people of our community. We devote more attention to individual patients in order to make a significant difference in their lives. Our pharmacists are medical herbalists and nutritionists, which, along with extensive knowledge of effective pharmaceutical usage and management, promote the health of our patients.
It's been shown that only 10% of the advice given by pharmacists is followed up on, which would restrict and lower fitness literacy. It has been shown that using visual aids improves knowledge retention. The "EduCare" program and the "NatureEd" application are two tools we've developed to assist us to accomplish this goal. The pharmacist uses "EduCare," which incorporates visual aids to provide facts about illnesses, medicine interactions, and herbal supplements. Zinc deficiency is caused by medications like ACE inhibitors and Angiotensin II receptor blockers, as well as thiazides, which need replacement. Zinc only lingers in the body for three to four days and is essential for endothelial and artery wall integrity, thus this might be especially useful in hypertensive individuals. The software and app are available in a variety of languages, and they assist us in providing natural health advice to both local and traveling clientele. The utility is extremely easy to use, especially for those with limited reading skills.
The patient's lifestyle, such as drinking, smoking, eating habits, and weight reduction, is also discussed during the consultation. We assess and report these data during these consultations so that both the pharmacist and the patient may monitor and adjust their development. We also take measurements of the patient's BMI, cholesterol, blood pressure, glucose levels, and INR levels (if applicable), which we report on often and explain to the patient. If the patient wants a more individualized food plan, our pharmacists may create one for $50.
"NaturEd" is a smartphone or tablet app that patients may use to access their personalized information and keep track of their self-care outside of the pharmacy environment. It includes a list of their medications (prescription, over-the-counter, herbal, and herbal), as well as the indications and dose regimes for each. There are both manual and automated reminders for patients' medicines, repetitions, and held drugs. They are urged to contact their GP for a fresh prescription and a check-up if they have run out of repetitions for common medicine. This occurs at the same time as their next meeting with us, during which we discuss their fitness goals and either congratulate them on achieving them or support them in overcoming challenges. We recognize that adherence is a critical component in increasing fitness outcomes, and by connecting the "NaturEd" program with our in-store LOTS database, we can show our community's progress with their fitness and stage interventions as needed. We also have an "EduCare" pod where consumers may acquire more information about their medications, ailments, and natural health items on their own. "EduCare" tackles health literacy challenges by using simple language and providing a user-friendly, visible interface with many language choices, which is ideal for our population. In order to convey our teachings, the software is often employed during counseling. This program is free to use in order to expand and sustain our customer base, as well as the application download and operation. Our forward-thinking service fosters trust, and trust is what keeps our business afloat.
Our patients may also choose to have their natural medicine treatments blister-packaged alongside their usual medications for easier compliance. We understand that owing to financial constraints, some families may not get all of the items on their prescriptions or choose just the ones they believe are useful, such as pain relievers, but not the vital meds, such as statins, for which they may not physically feel the advantages. We spend time with these patients, providing account services that allow them to pay for their drugs later or make them stronger, as well as instructing them on the meds that are essential vs those that may be used as needed. We encourage patients and pharmacies to utilize generics since it saves money for both.
Our transportation service, "Nature on Wheels," comprises pharmacists who drive to patients who are unable to come to the pharmacy to give advice on medication use, lifestyle, and fitness – all from the comfort of the patient's own home.
Our pharmacists are also qualified to administer the emergency contraceptive pill, male erectile dysfunction medication, and trimethoprim for female cystitis.
Initiative for Community Outreach
At NaturEd Pharmacy, we understand that excellent fitness care is a shared duty. This is why we believe that collaboration between fitness experts and the general public is critical in reversing health inequities. We have monthly focus subjects and continue to provide schooling evenings when we invite local physicians, nurses, and optometrists. They are also given the chance to get acquainted with the community. This not only strengthens our community and relationships with neighbors in order to expand our consumer base, but it also strengthens our relationships with other fitness experts. They are given the chance to engage with patients and answer issues outside of a formal, scientific setting, and they may also be able to expand their own clientele.
We also have the option of visiting local Maraes for these evenings if that is a more comfortable setting for the Maori community, or they may plan their own neighborhood events.
PERSONNEL AND MANAGEMENT
Akhila Puthigae is the pharmacist in charge
Akhila is in charge of the Pharmacy's day-to-day operations, using her management and leadership talents to improve the services we can provide to the community. She takes initiative to always come up with incentives for the workers and consumers so that superior health impacts may be completed for those who matter the most: the patients. Akhila understands the value of treating all stakeholders with respect and ensures that constructive communication is maintained at all times. Akhila believes in the safe and effective use of medications, and she leads her team to provide the best possible treatment to Rotorua people. She works hard to provide patients with tried-and-true lifestyle recommendations.
Surbhi Patel is a pharmacist who also works as an operations manager
Surbhi is always assessing and implementing new tactics in the Pharmacy's operations. Surbhi ensures that the firm is running successfully and efficiently with her keen eye for detail and experience in great employer and execution. She works on the shop's ground floor, assisting patients with over-the-counter and herbal product recommendations. She is also a licensed medical herbalist and the director of the "EduCare Clinic."
Philip Cabasag is a pharmacist who also works as a marketing manager
Creating a presence and getting our name out there is critical to ensuring a high-quality capacity of providing high-quality healthcare and the growth of our company. Philip understands the value of successful advertising and is always looking for new methods to improve NaturEd's public image. Philip may also contribute to the day-to-day operations of NaturEd pharmacy since he is a board-certified pharmacist and the pharmacist in charge of "Nature on Wheels," which brings our pharmacy to the community. He also works part-time as a pharmacist at the store when needed.
Sean Turner is a pharmacist who also works as a financial advisor
Price range and range crunching might be a scary part of proudly owning and operating a company for most people, but not for Sean! Rather, his thrill-seeking nature is stifled as a result of this. He accepts any and all economic projects that come his way. NaturEd runs smoothly because of his extensive knowledge of accounting methods, which reduces the burden on day-to-day accounting expenditures. He guarantees that the supply of pleasant healthcare is matched with the company's financial success. Sean is the Pharmacist presenter for our community center of attending seminars. He is a licensed Pharmacist with extensive experience in long-term requirements administration and a compelling personality. He understands the importance of developing strong ties with the community, and he organizes and delivers at the schooling sessions to ensure that the community gets the best possible fitness care. He also works part-time as a pharmacist at the pharmacy.
Employees at NaturEd
Employees that are happy and productive make for a pleasant and productive workplace. This is our philosophy, and we understand how critical it is to communicate it to each and every customer in order for our company to thrive. NaturEd believes that having a well-rounded team of employees allows our business to succeed.
On weekdays, from 9 a.m. to 6 p.m., we have two pharmacists on site. They are available to provide holistic counseling as well as excellent training in areas such as lifestyle, medication management, and supplements. One of the two pharmacists on-site is in charge of dispensing, while the other is responsible for counseling and addressing the requirements of the consumers on the floor. Surbhi is supported by two full-time and one part-time retail body of workers members who help her with relationship development and OTC and herbal health suggestions. On weekdays, from 9 a.m. to 5 p.m., we have a technician working in the dispensary to help Akhila.
Within their departments, all workers are thoroughly trained. A Certificate in Pharmacy Assistance has been completed by our full-time retail team of contributors. NaturEd thinks that education is the key to ensuring the greatest fitness results for our community, hence a portion of our budget has been set aside for further training.
THE MANAGEMENT OF OPERATIONS
Monday-Friday 8 a.m. to 8 p.m., Saturday and Sunday 9 a.m. to 4 p.m. Compared to other local pharmacies, these hours are extended at times throughout the week and on weekends. We are open for limited hours on public holidays to accommodate the traveling populace. As we want to be easily available for our clients' convenience, this assists us in amplifying our customers and minimizing resistance.
Premises Specification: Every week, our pharmacy is open for seventy-four hours. It is located in a bustling part of town, only five minutes from tourist attractions, the city center, and residential neighborhoods, ensuring easy access. Other healthcare facilities, such as GPs and lab check-out centers, are also within five minutes of the facility. From any part of the city, the drugstore is just a 20-minute drive. The pharmacy has a consultation room (EduCare Clinic) with equipment to assess a client's overall health. Blood pressure monitors, BMI weight scales, cholesterol, blood glucose, and INR tests are examples of such equipment. .
The EduCare health facility has a playroom with toys and books for parents' comfort. This enables parents to monitor their children without jeopardizing their sessions. The goal of this sanatorium is to provide a welcoming environment with sofas where the pharmacist and patients may converse freely. In addition, the drugstore features a wheelchair-friendly schematic that is easy to traverse. Natural dietary supplements are integrated into our fashionable OTC section, a graph that is exclusive to NaturEd. Diet C products, for example, may be found in our bloodless and flu department, as well as lysine in our bloodless sore section. Season stunning low upward shove shelves, as well as natural fitness items, are also available. These are kept in a specific section of our Pharmacy, allowing customers to navigate more easily and appreciate the benefits of herbal remedies. For instance, beside our cough and cold area, our seasonal shelf includes vitamin C foods, horseradish and garlic, echinacea, and immune aid throughout the winter. Promotions may also be used to increase revenue and provide low-cost healthcare. Natural items are also categorized by their symptoms to make it easier for employees and patients to get the remedy they need. For instance, to increase choices, we display all of our sleep assistance items together.
Technology for Information: The LOTS dispensing and retail system is used by the drugstore. In the dispensary, we have two computer systems, two in retail, and one in the office. In the consultation room, we have one iPad with access to the EduCare educational program and the NaturEd application for recording and reviewing patient conversations. Both the patient and the pharmacist may have access to this information. For simple monitoring and cross-checking, the NaturEd application is linked into the LOTS system. In our nutritional supplements section, we also offer an iPad pod with the EduCare software, which provides information on a variety of medical conditions as well as their associated very useful natural and herbal health products for our customers' independent access.
ANALYSIS OF THE SWOT
A full SWOT analysis was first carried out to determine the usual benefits and risks of our business model, as well as how they are influenced by both internal and external influences. Once upon a time, the SWOT analysis was employed to determine the most beneficial ways for improving our model. To keep track of the company's development, key performance indicators (KPI) were established.
Information Management System (MIS)
The LOTS machine is used in personnel management. It has a convenient clocking in and out feature that allows for easy tracking of hours and, as a result, pays. It's also possible to look at each employee's earnings and the number of clients serviced on a daily basis. This allows us to assess if our objectives are being reached and whether our supplier is meeting our customers' needs effectively. More precisely, there are earnings that may be examined for each pharmacy branch, therefore a direct increase in natural health earnings implies a positive performance. Customer feedback surveys are used to analyze and monitor the quality of our service and employees. The LOTS gadget displays the most often purchased things, as well as those that haven't been purchased in a long time and products that are out of stock, as a valuable resource in stock management. In low-performing sectors, meetings with the appropriate group of employees are held, and solutions such as increased training to boost sales are implemented. Personnel members who contribute to the social outreach program are compensated for their valuable time.
Outline of risk management
Each of the business's owners has equal ownership of the company. To avoid conflict, the ideas and any new initiatives were discussed collectively with each of the suppliers, and they were only executed when all of the owners agreed. This information is shared with a restricted number of employees on a need-to-know basis to ensure that everyone is on the same page and can work together to provide great service. Work hours are no longer imposed on employees; instead, they are decided via communication between the pharmacist in charge and the employees. Despite the fact that the pharmacy is in a low-income neighborhood, NaturEd thinks that as long as top-notch and pleasant healthcare is supplied with dignity, consumers will flock to our carrier, and our EduCare hospital will be free of charge. We also have interactive functionalities accessible in a few languages to reduce the need for verbal interaction and lack fitness literacy as a barrier to communication and make speaking more pleasant. Customers' comfort is also a top priority for us, and they are more than welcome to return at a convenient time to participate in our service. During our education programs, we increase health knowledge and desire to improve health outcomes. Some of these are held in a local Marae, allowing us to provide more healthcare while strengthening our ties with the community and making them feel more at ease.
Key Success Indicators (KPIs) are used to assess our company's performance.
Staff: Staff meetings for feedback, training, complimenting, and praising areas of achievement, sales made, and customer feedback questionnaires are held on a regular basis.
Customer satisfaction: Increased human use of the app and consultations, as well as improved health and patron feedback surveys. Our services will be used by the extended homes of our customers.
Gross profit, revenue, a broad range of prescriptions, online profit, costs, and a diverse client base are all examples of financial performance.
Service excellence: Every customer is greeted within a minute of entering the pharmacy; we call customers when their repeat prescriptions are about to expire; we conduct routine follow-ups with patients to assess adherence and improve their conditions; we ship prescriptions and other items to customers who can't get to the pharmacy themselves; we know most customers by name; we offer unrushed consultations, and we have seen an increase in the number of prescription sales of critical medications.
Natural Medicine: sales, a positive relationship between customers and the well-trained personnel, The community members who attend these events will be spotted at the pharmacy and will volunteer to take part in the service. Our collaboration with healthcare providers will also be strengthened.
STRATEGIES FOR MARKETING AND SALES
Strategies for marketing
To grab our community's attention, we use a variety of marketing strategies. There is a wide range of demographic targets, including visitors, the elderly, and those from poor socioeconomic regions. The initiative is reaching out to special populations, which necessitates the use of unique tactics to reach them.
The "Daily Post" publishes information about our services, items, and future events on a regular basis. 10% off coupons for natural health goods related to the fitness theme of the month are included. We also use posters to promote our fitness topic of the month, which we display in the store, adjacent maraes, and on neighborhood bulletin boards. This marketing strategy allows us to reach a wide spectrum of customers.
A company car is available to provide convenient shipping services. This vehicle is also used to carry students to and from school. Our logo and employer name are imprinted on the vehicle, increasing our exposure in the neighborhood.
Presence on the Internet
The majority of patients, but most visitors, are attracted by free Wi-Fi. A questionnaire is used to join the system, which asks for information such as name, email, phone number, and whether the user is a traveler or a resident. These contact data are utilized as a marketing tool, with emails or texts sent out about specials, product information, future education evenings, visitor guides, and suggestions. The former is more beneficial for retaining and expanding our customer base by providing information about forthcoming events.
We also enhance our online presence via the NaturEd website, which provides up-to-date information on goods, opening hours, our friendly staff, the EduCare clinic, the NaturEd app, various services offered, monthly schooling themes, and education sessions. Our contact information is provided in tiny type, and a computerized electronic mail system is also available for quick communication. Customer provider surveys are also available, with members entering a draw to win herbal health goods that are tailored to them after a consultation. These surveys are a valuable resource for us in terms of enhancing our products and gauging the level of interest we are receiving.
FINANCIAL PROJECTIONS
The pharmacy's price
The four owners will purchase the drugstore for $1,215,745 at first.
*Retail sales are based on a 50% increase in the herbal health category, which accounts for 30% of total retail in the first year, 25% in the second year, and 15% in the third year.
*An increase in prescription sales as a result of the extended operating hours. In Rotorua, medical offices have late evenings, so we'll take advantage of the extended hours. Following that, an increase in prescription development averaged 2.5 percent.
*Salaries and earnings include four pharmacists who work an average of 30 hours per week, one part-time technician, two full-time retail assistants, one part-time retail assistant, and locum insurance.
*Leasing contract renegotiation resulted in a longer period with yearly CPI adjustments of 1%.
*Rates have also been adjusted to 1 percent rate changes over long periods of time.
*Accounting expenditures were adjusted to $5500 utilizing the Wiseadvice accounting firm's Zoom package.
*Marketing funds have been set aside at 1.7 percent of total revenue.
*Bank transaction fees were deducted at the rate of 0.3 percent of total sales.
*In the 2017 year, computer expenses included $8000 in laptop system upgrades. For further information, see the project.
*Depreciation is based on the average from 2014 to 2015. Depreciation should not rise in 2015 unless there is an increase in asset purchases.
*The increase in opening hours from sixty-two to seventy-four hours has been taken into account by electricity and water.
*Insurance was determined using the average of the 2016 12 months, which was 0.3 percent.
*Interest was determined using the 2014-2016 pay-down average.
*A typical drugstore price of $6600 has been used for postage, freight, and printing.
*Motor vehicle expenses have been reduced by +/- 3000 dollars due to the business car.
*Subscriptions and registrations were determined based on Australian pharmacy recommendations of $320 per year for four pharmacists.
*The 2016 proportion earnings include superannuation, training, payroll tax, and workers' compensation.
*Telephone costs have been calculated as a percentage of sales since 2016.
*The 2015 proportion is based on abnormal expenses. 2016 was formerly thought to be an exception. The 2016 proportion was used to compute other expenditures.
*An effective tax rate of 28.5 percent was utilized.
Related link