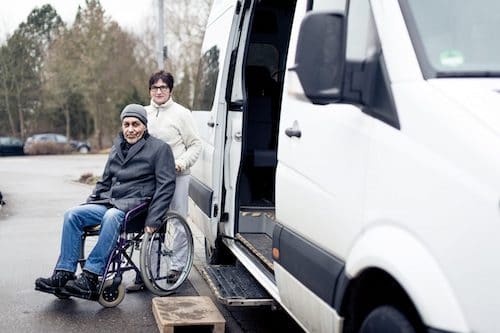 Non-Medical Transportation Business Plan is an outline of your overall Non-Medical Transportation business. The business plan includes a 5 year projection, marketing plan, industry analysis, organizational overview, operational overview and finally the executive summary. Remember to write your executive summary at the end as it is considered as a snapshot of the overall business plan. The creation of a Non-Medical Transportation business plan requires careful consideration of various factors that might impact the business's success. Ultimately, a Non-Medical Transportation business plan serves as a roadmap to guide the company's direction.
Executive Summary
Overview: Non-medical transportation provides safe, dependable, and convenient transportation for non-urgent medical appointments and other daily activities. It also provides flexible scheduling and pick-up and drop-off options, as well as drivers who have experience and have been carefully vetted.
Mission: Individuals with restricted mobility will be able to keep their freedom and participate in the activities of their choosing thanks to the provision of secure and compassionate transportation services for non-medical purposes.
Vision: To become the most trustworthy industry leader in the non-medical transportation sector, therefore enriching the lives of our customers via the provision of transportation services that are both reliable and individualized, with an emphasis on fostering connectivity and inclusion.
Financial Overview: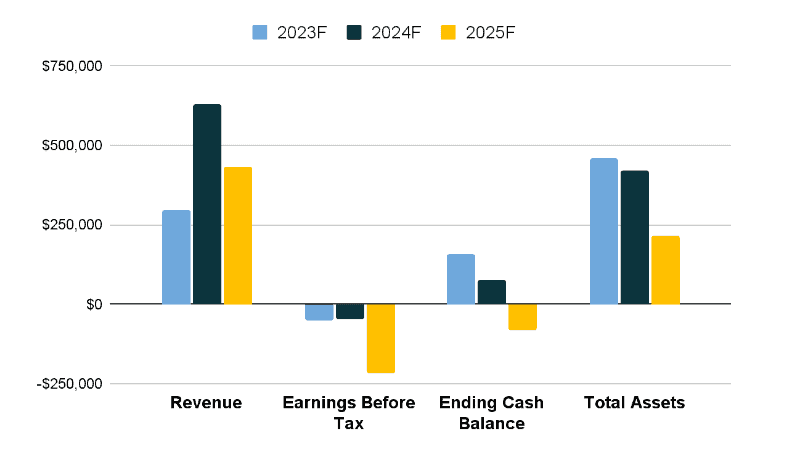 Industry Overview:
According to the World Health Organization (WHO), the demand for non-medical transportation services is expected to rise due to an aging population, rising chronic disease rates, and urbanization. The non-medical transportation market could be worth $10 billion by 2020, according to the report.
Business Description
Business Name:
Founder: Jacob Harris
Management Team:


Legal Structure: LLC
Location:
Mission: "Our mission at [Non-Medical Transportation Business] is to provide safe, reliable, and accessible transportation to individuals in need. We are committed to delivering exceptional customer service and going above and beyond to meet the unique transportation needs of our clients."
Vision: "Our vision at [company name] is to be the premier provider of safe and reliable transportation for those in need, constantly striving to improve and expand our services to better serve our community"
Goals:
✅Increasing profitability by optimizing routes, reducing fuel costs, and maximizing utilization of vehicles.
✅Expanding the business by adding new vehicles and services, such as delivery or shuttle services.
✅Building a strong brand and reputation through excellent customer service and high-quality vehicles.
Products:
[Mention your services in bullet points]
Download Free Non-Medical Transportation Business Plan Template
Write a plan in just 2 days!
Financial Overview
Fund Usage Plan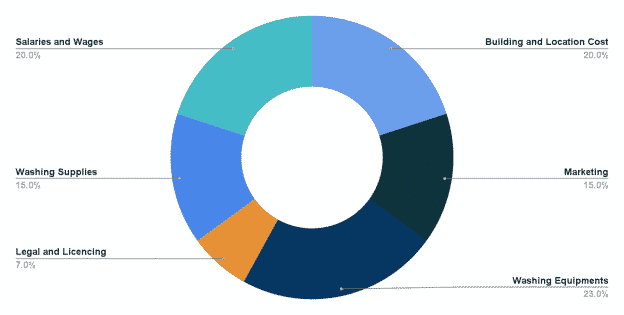 Key Metrics:


Business Model Canvas
The Canvas summarizes the business model of the entire Non-Medical Transportation business plan. It comprises nine key components – customer segments and value propositions to revenue streams and cost structures. The canvas provides a clear and concise way to map out, analyze, and communicate the intricacies of a business idea. It offers a holistic view of how a business creates, delivers, and captures value. It also aids entrepreneurs in refining concepts, fostering innovation, and making informed strategic choices. It serves as a versatile tool for brainstorming, planning, and presenting business models to stakeholders.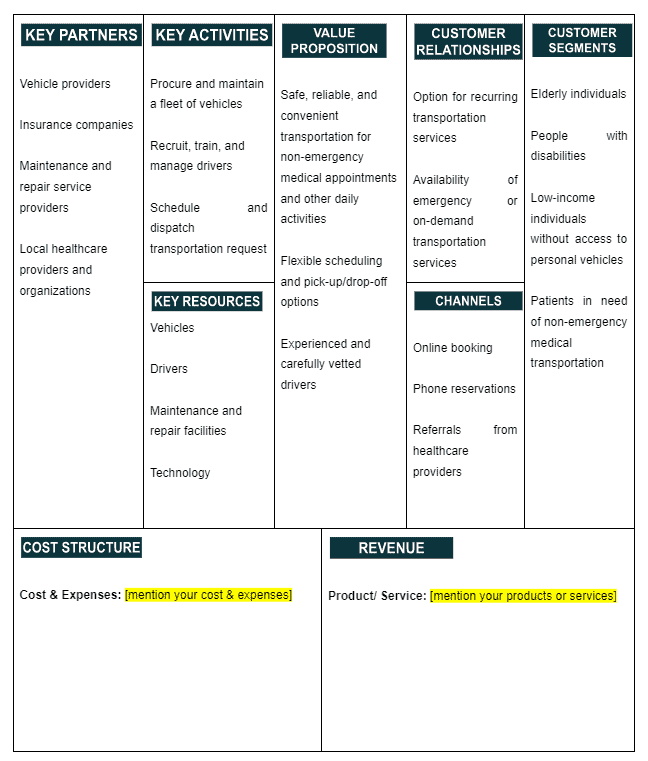 SWOT
A SWOT analysis is integral to the Non-Medical Transportation business plan. it offers a clear lens into a company's strengths, weaknesses, opportunities, and threats. This self-awareness enables effective resource allocation and strategic positioning against competitors. Businesses can mitigate risks, make informed decisions, and set realistic goals. In addition, presenting a SWOT analysis in a business plan communicates to stakeholders that the company possesses a deep understanding of its market environment. In essence, SWOT ensures a business's strategy is grounded in reality enhancing its chances of success.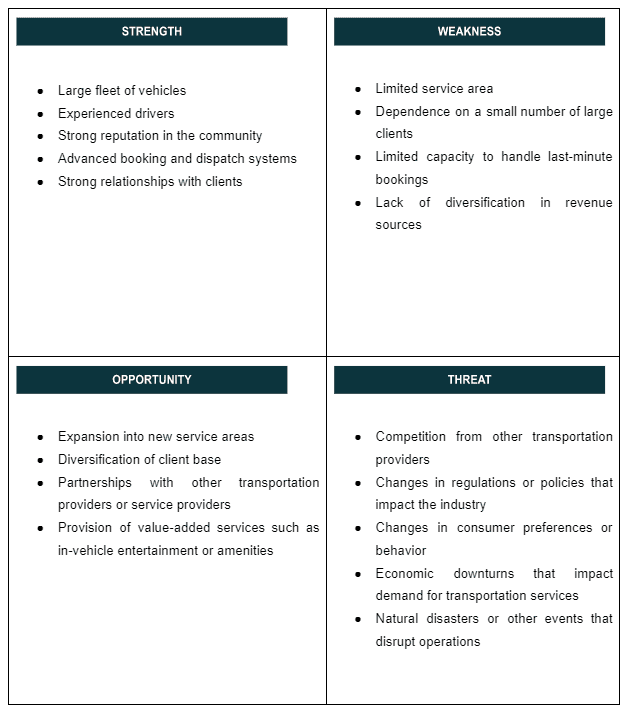 Organizational Overview
Organizational overview in a Non-Medical Transportation business plan provides a snapshot of how a company is structured and operates. It outlines the ownership structure, roles, responsibilities of key management personnel, and the reporting hierarchy within the organization. This section offers stakeholders, investors and other readers a clear understanding of the company's leadership and its chain of command. Additionally, it may give insight into the company's culture, values and operational philosophy.
Founder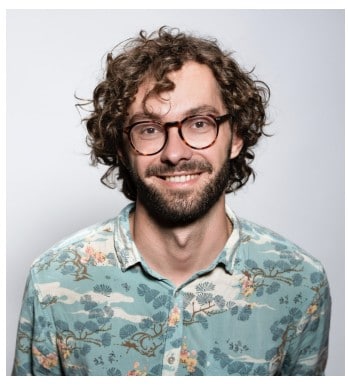 My name is Jacob Harris, and I am an entrepreneur in the transportation industry that is not related to medicine. Seeing the difficulties that people with restricted mobility have in gaining access to necessary services and keeping their independence motivated me to do something to make a difference in the world. In order to improve the quality of life for those who need help in moving about, I feel that transportation services that are both dependable and compassionate are very necessary.
My own non-medical transportation company was started by me after I had a comprehensive comprehension of the specific requirements posed by my customers. My objective is to provide a transportation service that is not limited to only moving people from one location to another but rather is one that prioritizes safety, comfort, and dependability. Throughout the whole of a client's journey, I will make it my personal mission to cultivate an atmosphere that is encouraging and comforting, doing all in my power to ensure that they are made to feel appreciated and respected.
My mission as a business owner in the non-medical transportation industry is to consistently provide service that goes above and beyond the requirements of my customers. I am very selective in the drivers I bring into my team, making sure they are caring professionals with a strong work ethic and that they share my goal of giving outstanding service. To ensure that my clients are able to participate in the meaningful activities, appointments, and social engagements that add to the quality of their lives, I work hard to maintain a high level of competence and to evolve my services in response to the ever-changing requirements of my customers.
Organogram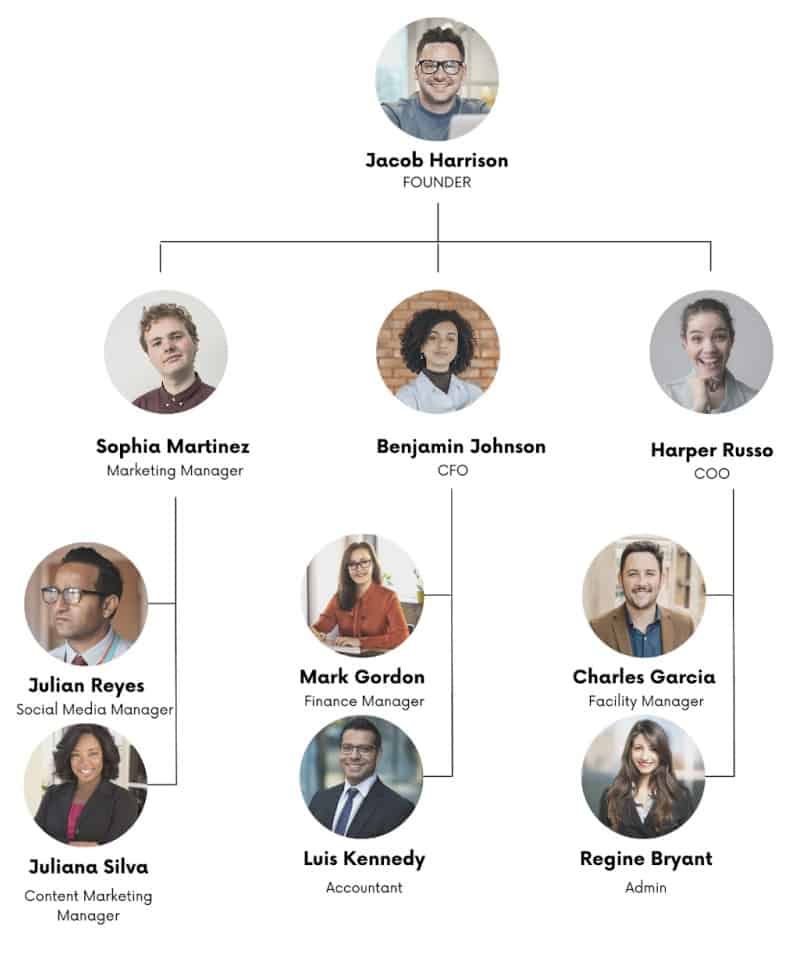 Industry Analysis
The non-medical transportation business fulfills an essential function in the provision of mobility solutions for those who have restricted mobility. An overview of the most important elements affecting the sector is presented below as follows:
The demand for non-medical transportation services is driven by an aging population, those with impairments, and those in need of transportation help for a variety of activities. Demand for dependable and compassionate transportation options is expected to remain high for the foreseeable future due to factors like people's aspirations for autonomy, access to vital services, and participation in their communities.
Senior folks, those who are disabled, and other people who suffer mobility limits are included in the target market for transportation services that are not related to medical needs. This diversified group has a need for transportation for a variety of non-urgent medical appointments, social trips, errands, and other activities that occur on a regular basis. When it comes to efficiently personalizing services and addressing the particular demands of the target market, it is essential to have a solid understanding of the demographics, preferences, and special needs of the market being targeted.
The non-medical transportation sector is highly competitive, with both local and national companies providing comparable services to customers. Reliability, professionalism, comfort, adherence to safety standards, and individualized attention to customers are some of the factors that set enterprises in this sector apart from their competitors. The formulation of efficient marketing and service strategies is made possible by conducting an analysis of the competitive environment and identifying chances for points of distinction and innovation.
Businesses that provide non-medical transportation services are required to comply with all applicable legislation and licensing requirements in order to guarantee their employees' safety, maintain enough insurance coverage, and run their operations legally. Standards for vehicles, qualifications for drivers, checks on drivers' backgrounds, and compliance with laws pertaining to transportation may all fall under this category of regulations. For the purpose of developing a business that is both respectable and in compliance with applicable regulations, it is essential to have an understanding of the regulatory climate and to comply with its requirements.
Non-medical transportation services are progressively incorporating technological developments, such as GPS tracking systems, smartphone applications for scheduling and tracking trips, and vehicle monitoring solutions. Adopting these innovations may result in a boost to productivity, an improvement to the overall experience provided to customers, and a simplification of business processes.
Marketing Plan
A marketing plan of a Non-Medical Transportation business plan outlines the company's strategy to promote its products or services to its target audience. It includes specific tactics and channels the business will use to reach potential customers. This section defines the company's unique value proposition, identifies the target market segments, and discusses the competitive landscape. It also includes insight into budget allocation, projected outcomes and key performance indicators to measure success. Marketing plan helps businesses demonstrate their understanding of the market dynamics, their positioning within the industry and their approach to driving customer engagement and sales.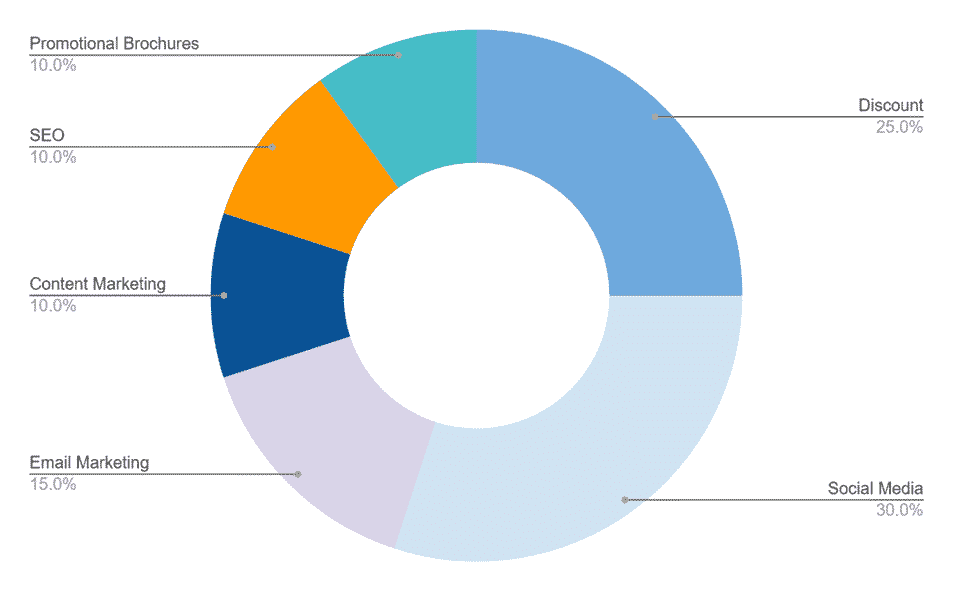 Content Marketing: Create a blog on your Blackbird Acupuncture website on what you has to offer to prospective customers.
Discounts: Provide multiple rewards or incentives to Blackbird Acupuncture's frequent customers, you'll be more likely to attract them. Create a member referral scheme, for example, where members get a discount if they successfully recommend someone.
Social Media: Engage and promote Blackbird Acupuncture on Twitter, publish news on Facebook, and utilize Instagram to promote curated photos of your clinic.
SEO (Search Engine Optimization) Local SEO makes it easier for local consumers to find out what you have to offer and creates trust with potential members seeking for what your clinic has to offer.

Email Marketing: Blackbird Acupuncture will be sending automated in-product and website communications to reach out to consumers at the right time. Remember that if your client or target views your email to be really important, they are more likely to forward it or share it with others, so be sure to include social media share.
Financials
A financial plan of a Non-Medical Transportation business plan provides a comprehensive projection of a company's financial health and its anticipated monetary performance over a specified period. This section encompasses a range of financial statements and projections such as profit and loss statements, balance sheets, cash flow statements and capital expenditure budgets. It outlines the business's funding requirements, sources of finance and return on investment predictions. The financial plan gives stakeholders particularly potential investors and lenders a clear understanding of the company's current financial position. A financial plan helps businesses demonstrate their financial prudence, sustainability, and growth potential.
Earnings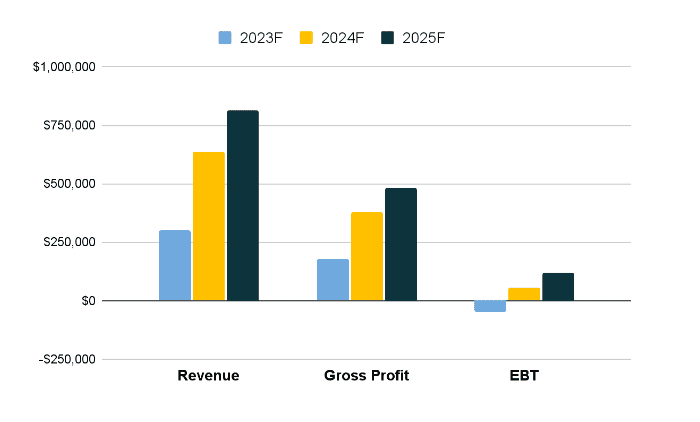 Liquidity