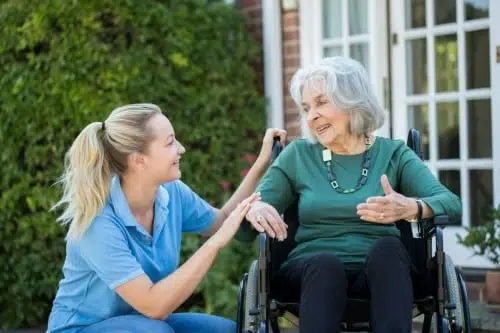 Do you wish to create your own nursing home?
Do you want to open a nursing home of your own? If you want to assist people while still generating money, this may be the greatest choice. A nursing home is a kind of residential care facility for elderly people who are unable to care for themselves at home but are not unwell enough to be sent to a hospital. As medical science has evolved, life expectancy has increased, especially in wealthier countries. As a consequence, elderly people who do not have any caretakers at home or who prefer not to live independently need ongoing mental, medical, occupational, speech, and physical assistance.
If you want to help the retired and elderly while simultaneously making a lot of money, this is the job for you. The first step in launching a nursing home business is to write a complete business plan that details everything from how to build a retirement home to how you will manage it. This sample business plan produced for Kate Greene's nursing home startup, 'Kate Nursing Home,' may be helpful if you don't know how to start a home nursing care firm.
The Company
Kate Nursing Facility, owned by Kate Greene, will be a home for seniors who need daily assistance and care, and will be located 5 minutes from DMC Heart Hospital in Detroit. Kate Nursing Home will be a three-story, huge facility that can accommodate around 35 people.
Management
It's more than just a business to open a nursing home; it's a major responsibility with a lot of obligations. The business owner will be in control of a staff of around 35 employees who will do routine chores. The system will be overseen by Kate, her daughter, and a professional manager. To meet the social, emotional, intellectual, and spiritual needs of the elderly, Kate will hire competent nurses, nursing assistants, accountants, housekeepers, therapists, and guards.
Customers
Before starting a nursing home business, you should learn about the various sorts of customers so that you may personalize your services to match their needs. The residents of a nursing home are mostly seniors over the age of 60 who live in Detroit. To provide proper care and attention to your nursing home's residents, you must use all available resources.
The Company's Objective
In the first two or three months after we open, we want to sell out all of our rooms. We wish to help our community's senior citizens feel at ease by providing excellent temporary and permanent care services. Our major objective is to provide a nice and inviting environment for our facility's elderly inhabitants. We also have certain financial goals, the most crucial of which is to recoup our original investment within the first three years of operation.
Our sales and revenue targets for the next three years are summarized in the graph below:
Owner of a business
Kate Greene will be in charge of the Kate Nursing Home. Kate earned her MD (Doctor of Medicine) from the University of Michigan. She has worked at the DMC Heart Hospital for the last 20 years. She's now retired to pursue her ambition of starting a care facility. She will work on her nursing business plan ideas with the support of her daughter, who is also a doctor, and an experienced and caring team.
Why is the company being established?
Kate has been engaged in helping and serving people since she was a child. She did not become a doctor for the sake of a bigger salary, but rather to make a difference in other people's lives. She now had enough money and time to construct a nursing home for those who need assistance with everyday chores but do not have someone to care for them at home.
How will the company get started?
It takes a lot of time, effort, and money to start a nursing practice. If you want to not only build a nursing home but also run it correctly so that it can aid a rising number of people, you'll need to put in a lot of effort.
Kate has decided to buy an existing building and renovate it into a nursing home. She intends to rent a three-story structure with at least eight private rooms with adjoining bathrooms and twenty general bedrooms. On each floor, there will be five bathrooms, a kitchen, and a spacious sitting area. A lawn with walking and running routes, as well as a therapeutic gym with basic equipment and machines, will be provided. Each room will be nicely designed, and all required utilities will be provided. Kate will hire a team of housekeepers, nurses, assistants, and therapists to give 24-hour care to residents.
If you want to establish a retirement home company but don't know where to begin, this sample business plan may help.
Customers' services
The next stage is to incorporate the services you'll supply in your nursing agency business plan once you've studied the fundamentals of how to establish a nursing home firm. Whether or whether you can compete in the market will be determined by your services.
This sample business plan on how to start a nursing home and run it efficiently may be used as a guide for the services you should provide. Kate Nursing Home will offer the following services:
Specialty Care: We have qualified nurses and nursing assistants who will provide daily assistance and personal care to disabled persons who need acute care and attention, such as serving meals, attending to their medical needs, and transferring them from bed to chair, among other things. In addition, our highly educated nurses will develop a daily meal plan for them in order to aid in their health improvement.
Temporary Aid (for a period of two months): This kind of support will be offered if your loved ones are sick and need proper care and treatment until they are fit and well again. The temporary residents of a nursing home are often coping with physical, mental, or emotional issues. We shall provide them with three types of treatment:
People who are facing an illness or injury get occupational therapy.
Physical therapy was used to help them regain their strength and flexibility.
Speech therapy is for those who have trouble developing and evaluating their own speech.
Permanent Assistance: We'll take care of all of our permanent residents' needs, including physical, mental, and emotional ones. The elderly are prone to emotional and behavioral disorders. As a result, we'll enlist the help of a recreational team to organize birthday parties, musical events, religious services, art and crafts, pet adoption, outdoor activities, and picnics in order to improve their spirits.
Evening Activities: We will plan evening activities for those over the age of 60, whether they are residents or not, such as playing cards or chess or learning how to use technology, to help them keep their brain and memory sharp.
Marketing in the nursing home business is examined.
If you want to start a nursing home, you'll need to develop a nursing home business plan. While creating your nursing home business plan template, you should focus on the marketing analysis part. How thoroughly you focus on and assess your target market in your personal care home business plan determines the accuracy of your nursing business plan.
You'll be glad to find that we provide a free nursing home business plan if you're having problems writing a residential care home business plan. You may use this sample personal care home business plan as a reference or look for more nursing home business plans on the internet. However, if you are beginning your business on a large scale, you should use professionals to design a personal home care business plan tailored to your needs and budget, rather than putting up a plan on your own based on an example business plan personal care home.
Trends in Marketing
Before starting a new business, you should do extensive study on marketing trends to help you show a new startup's market potential. A detailed marketing analysis can help you choose the optimal location for your business. According to IBISWorld, there are more than 31,000 nursing care businesses in the United States that are profitable. The firm is expanding at a rate of 2.3 percent per year and is expected to develop at a much faster rate in the next years. Because, by 2050, individuals over the age of 60 will account for 22% of the world population, according to projections. The corporation has an annual revenue of $136 billion and employs approximately 1.8 million people in the United States. These data clearly demonstrate that now is a good time to enter this sector, and if you plan wisely and successfully, the firm might be quite profitable for you.
Segmentation of the Market
When writing a corporate plan, you must expressly recognize the groups or sections of society that may prove to be your prospective or potential clientele. Marketing segmentation may help you design policies that are targeted to the demands of your clientele. Non-acutely ill or lonely people aged 60 and above who reside in Detroit, as well as those with disabilities who need 2-3 months of full-time leisure and proper care, will be among our clientele. We will also help families who are going away for a short length of time and need a reputable care facility for their loved ones. For individuals who want to participate in some recreational and intellectual activity at night, we've prepared nocturnal programs. All nursing home patients, both temporary and permanent, as well as non-residents, will be able to participate in evening activities. Our specialists have identified the following target groups for our services:
Elderly and Alone Individuals: The elderly and alone people who do not have a family or any form of caretaker at home, who wish to utilize their time productively and recreationally, and who can afford full-time nursing facility care will be our first group of customers. Such older individuals may decide to stay permanently, and we will provide them with the best services possible, satisfying all of their gastronomic, medical, and recreational needs.
Disabled or Ill: This group of people has a serious illness or disability, and their loved ones prefer that they be treated at home rather than in a hospital. Aside from regular assistance, such people require daily therapy to improve their ability to work. Kate Nursing Home has enlisted the help of experienced nurses and therapists to guarantee that these residents get occupational, speech, and physical therapies that are adapted to their individual needs. The vast majority will be kept in specialized care or on temporary assistance.
Persons who we can't identify healthy but aren't critically sick enough to need hospital care will be our third and greatest target group. Our dependable and dedicated staff will ensure that such long-term residents receive the best possible care. Patients will be treated as if they were members of their own family by our attentive and compassionate staff. This group of our people will get extra care and attention, as well as frequent assistance.
A detailed and comprehensive market assessment of our potential clients may be seen in the table below:
Business Objective
Kate is not constructing the nursing home for the sake of profit; she is driven by a desire to help the most vulnerable members of society. Our main objective will be to provide a warm and friendly environment for the elderly and disabled. We'll hire people who are capable, ethical, and caring, and who will treat our residents as if they were family. As they become older, our mission is to provide them with the care and assistance they need and deserve. In order to offer adequate care to our patients, we will not house hundreds of people in our nursing home; instead, we will accommodate a maximum of 35 people and will comfort them with our best efforts and services.
We need to enhance our financial condition in order to successfully serve a growing number of older citizens. Our company's financial progress goals are as follows:
To become the most recognized and successful nursing facility in Detroit.
We expect a net profit margin of $10k per month at the end of the first year, $15k per month by the end of the second year, and $25k per month by the end of the third year.
The startup's initial expenses should be matched with generated revenues by the end of the first year.
Pricing of Products
Product price is a critical factor in deciding whether a business succeeds or fails. If you're starting a new business, you should keep your charges low at initially to attract more clients. This sample business plan depicts Kate Nursing Home's product pricing approach.
We have not charged a higher rate for our services; instead, we have charged the same rates as other nursing homes in the city. However, we have not sacrificed the quality of our service. Our tenants will have access to all of the products and materials they need on a daily basis, and the rooms and furnishings will be cleaned on a regular basis.
In all, there will be three membership categories:
The monthly fee for permanent residence is $600.
The cost of a specialty care membership is $800 per month.
You may join the Temporary Residence Program for $400 per month.
You may join the Evening Activities Club for $150 per month.
These are the typical hotel costs; if you want a more private and nice room for yourself or your loved ones, you will have to pay additional expenses. Furthermore, we will charge a little higher cost to cover medical expenditures for individuals who need rigorous professional therapy.
Strategy
The most important component of your business plan to analyze if you're exploring how to start a nursing care firm is your sales method. Kate has conducted extensive research on sales, marketing, and advertisement techniques in order to raise awareness of the new business and encourage more people to use Kate Nursing Home's services, either for themselves if they are over 60, or for their parents if they are unable to provide them with adequate time or care.
We've included an example nursing home business plan to help you get started on your own.
Analysis of Competitors
Our biggest competitive advantage is the devotion and commitment of our whole staff. We have a wonderful team that believes in supporting people who are unable to help themselves. Our second most important competitive advantage is the range of indoor and outdoor services we will provide to our residents. There is no other nursing home in the region that offers hobbies and activities for the elderly, such as pet adoption and game play. Most importantly, we will teach our permanent residents how to use the most up-to-date social media platforms and websites so that they can compete with the younger generation. Finally, when visitors come to see their loved ones, we have a huge parking space for their vehicles.
Strategy for Selling
We will persuade our customers to visit us in a number of ways, such as:
Publications, newspapers, and social media will promote our nursing home.
We'll provide seminars and information sessions on how to give the elderly sufficient care and attention.
We will arrange transportation with caretakers for our residents who want to go out.
The first ten clients will get a 5% discount.
Personnel strategy
If you're starting a nursing home care company, you should focus on hiring the right employees. You'll need someone who can identify the elderly's grief and despair when they realize they aren't getting the care they need. If you really want to help them, keep in mind that you will be dealing with people who get worked up about little concerns, and recruit your members accordingly.
Employees of the company
Kate intends to enlist the assistance of the following people to help her begin a personal home care business:
1 General Manager to be in charge of the whole company
2 Accountants are responsible for maintaining financial records.
Dinner will be prepared by two chefs.
5 nurses to care after and assess the residents.
10 nurse aides to help elders with day-to-day activities
5 Recreational Workers will offer indoor and outdoor activities to residents. There are 5 cleaners on staff to keep the facility spotless.
2 drivers are needed to provide transportation.
2 physiotherapists for the rehabilitation and physical activity of the inhabitants
2 Personnel for Security
Plan your finances
To run a successful nursing home business, you'll need not only a lot of passion, but also a lot of cash to meet the everyday expenses of so many people, some of whom may be handicapped or afflicted in some way. To balance your income and expenditures, you'll need a financial strategy. You must have a clear and accurate financial plan before launching a personal care home business. In your financial plan, you must provide an overview of the nursing care company's earnings as well as a record of your investment group's business strategy and expenditures.
This sample business plan on how to establish a nursing care business may be useful if you need help putting together a financial strategy for your company. If you want to build a large-scale nursing home, however, you need engage financial experts to develop a financial strategy based on your actual expenditures and investments. The whole budget plan for Kate Nursing Home for the next three years is provided below.