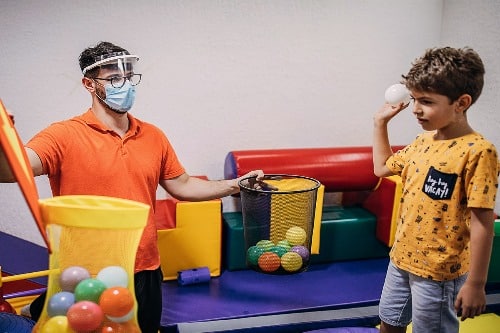 Starting a company as an occupational therapist requires a business plan.
If you're seeking for information on how to establish an occupational therapy practice, you've come to the right place. We will give you with all of the information and assistance you need for both nonprofit and for-profit business planning. Many people have used our physical therapy business plan to establish their own practice.
Occupational therapy is a medical specialty. Its purpose is to help people overcome mental and behavioral problems by introducing meaningful activities (occupations) into their everyday lives. We'll take a look at how Alpha Occupational Therapy plans to dominate the industry.
The Company
Alpha Occupational Therapy will be situated in Seattle. The owner will be Dr. William Petronas. William is a retired doctor who worked in behavioral therapy and intervention research for much of his career.
Occupational Therapy Business Management
Before starting an occupational therapy practice, you must have a good management plan in place. The firm will be governed by William, who will pick an experienced CEO. Professionals will be required to manage both operations and public relations since the company has two faces. This article will go through how to start and operate a successful occupational therapy practice in great detail.
We'll also teach you how to get a non-profit organization's occupational therapy corporation license.
Occupational Therapy Business's Clients
This is not the same as developing a pharmaceutical business plan. We must first understand the company's customers in order to develop a comprehensive business plan for it. The firm's core clientele will be those who want to improve their lives via therapy.
People who desire to see a loved one treated well.
Institutions that want to help their employees become better.
Business Objective
In the following two years, the firm wants to expand to two more states.
I aim to be earning $29.8k per month after three years.
Owner of a business
William Petronas, the company's creator, is a well-known psychiatrist in Washington. He was one of the pioneers in bringing occupational therapy to the general population. He will hire a CEO to assist him succeed with this occupational therapy business plan example since business and management are outside of his skills.
Why is an Occupational Therapy practice being established?
William is starting this business since he is passionate about it. He has worked in this field his whole professional life. In this field, he's a rock star. However, there is a financial aspect, just as there is in a Herbalife business plan.
How will the occupational therapy business get off the ground?
Step 1: Create a thorough plan.
The first step in constructing this sample occupational therapy business plan is to plan. After a lot of planning, Williams is going to start this firm. This occupational therapy consulting business plan template will walk you through every step of the process.
Step 2: Creating a Personal Brand
People nowadays are brand conscious. To be successful, this company has to develop a brand. The focus of the brand's development will be on how occupational therapy may improve your life.
Step 3: Putting Together a Clinic
Following the brand's launch, the next step will be to open a clinic for customers to visit. This clinic must meet the standards of the services it provides.
Step 4: Establish a web presence
The most important thing is to get on the internet. If you want your firm to be known, you'll need to establish an online presence. This will be done via the use of a website as well as social media accounts on all major platforms.
Step 5: Marketing
A thorough marketing effort will be designed to guarantee that the inhabitants of Seattle are aware of Alpha Occupational Therapy.
Services
No occupational therapy business plan template is complete without a description of the services that the firm will provide. If you want to deliver the maximum value to your customers while still generating a profit, you'll need to know how to start your own occupational therapy business.
The following services will be provided by Alpha Occupational Therapy:
Personal Development Services
These will cover the vast bulk of the company's offerings. These services will be for those who don't have any abnormalities or medical concerns and just wish to improve their lives.
One of the services that will be given is time management therapy.
Therapy that focuses on improving concentration.
Treatment to improve one's IQ.
Increasing decision-making capability.
Treatment that is unique to you
This company, like any other non-medical home care company, will provide services to those suffering from mental diseases. One of them will be anger management therapy.
Therapy to help with depression.
Psychotherapy is used to treat mental illnesses.
The word "behavioral therapy" refers to a kind of Personal Development Service for Businesses.
These services will be available to large corporations who wish to improve the morale of their employees. There will be behavioral, personal development, stress, and task management treatment options.
Occupational Therapy in a Hospital
Occupational therapy services will be provided to hospitals that do not currently have them in their in-patient mental units. These services will include all types of therapy that people with severe and progressive mental diseases need.
Occupational Therapy Business Marketing Analysis
Occupational therapy isn't a new profession. In 1917, the idea was formed. In the United States, the market is presently worth $26.1 billion. The sector has progressed from "rich people's treatment" to a necessary part of the healthcare system. Large corporations, schools, and even hospitals use occupational therapists to provide services. You'll need some highly distinctive and creative occupational therapy business ideas to start this firm and make it profitable.
Market Developments
Like a cannabis cultivation business model, the occupational therapy sector has expanded. The market started to recover after the financial crisis of 2008. Many people lost their jobs and property, and it was a time of rampant mental illness. Occupational therapy originated as a response to the problem that the United States was dealing with at the time. Because this market isn't yet saturated, you may rapidly establish a name for yourself and launch a successful business in this field.
Segmentation of the Market
The occupational therapy industry is quite diverse. It may be divided into four major areas, each of which provides substantial revenue.
Patients on their own
These are individuals who do not have a major mental disease. These people just want to grow and improve. These are the easiest patients to deal with and the ones that pay the most. There aren't many of these patients since occupational therapy is still seen as a treatment rather than a means of self-improvement.
Schools
Occupational therapy providers are breaking into a new market. Schools employ occupational therapists to help children who need special care. These therapies are also required for children with anger issues and individuals suffering from PTSD, making this a profitable industry
Clients in the Business
In this sector, occupational therapy has a sizable consumer base. Large corporations have realized the need of occupational therapy and have recruited therapists to assist their employees. We'll focus on these clients since they've had a long-term connection with the therapists and can provide the best prices.
Hospitals
Occupational therapy professionals are in short supply in certain institutions, despite the fact that they are desperately needed. They might be a good source of instances in huge numbers and over a long period of time. We will spend a substantial percentage of our company to servicing these clients.
Business Objective
In this business plan on how to start an occupational therapy company, we give the business goals developed by Alpha Occupational Therapy.
To be the leading supplier of occupational therapy services in the United States.
We intend to have grown to two more states at the end of three years.
To bring innovative concepts into the field of occupational therapy.
Pricing of Products
Our services will be priced at the market average at initially. This will change to a higher-than-average rate once we have clients. We use average pricing because we don't want our low prices to lead consumers to believe we're a poor-quality brand.
Marketing Techniques
The next stage in completing this occupational therapy marketing plan is to develop a marketing strategy. This occupational therapy business proposal goes through everything you should expect. This firm's effective launch and operation will need a strong marketing plan.
We'll do a comprehensive competitor analysis to discover our competitive edge, and our marketing strategy will be based on the results. Let's take a look at the competitive landscape of the occupational therapy sector.
Analysis of Competitors
Dr. William Petronas is a well-known and talented occupational therapist who works for no one else. We will get a competitive edge as a result of this.
We will only hire the best therapists to guarantee that our company's services are of the highest quality.
We want to market our business as a low-cost, high-impact way to better one's life and mental health.
Strategy for Selling
We will utilize all of the major media venues to market our services.
To promote repeat business, we'll start with low prices and subsequently provide big discounts.
We will develop agreements with hospitals and corporate firms that have a high number of patients to guarantee that we have enough of business.
Personnel Strategy
In order to complete this occupational therapy business plan example, we must discuss the personnel that will be necessary to run the company. This is crucial because, like a physical therapy clinic, this organization needs a significant number of experienced, educated, and trained staff to operate.
Employees of the company
The company will be overseen by a single CEO.
William Petronas will be the Chief Operations Officer.
On staff, there are six occupational therapists.
The company's website and app will be developed by one web developer.
2 Sales Representatives a single accountant and a single social media manager
1 driver, 1 receptionist
Plan your finances
If you're wondering how much an occupational therapy practice is worth, it all comes down to the value of the brand. This isn't a dental business plan where the value of the firm is determined by the equipment and real estate. The value of a firm is determined by the level of confidence that people have in it.
We'll need enough money to start our business, thus we'll need to budget for the following:
Renting a space to start a business.
During the first six months, wages were paid to employees.
Three field vehicles must be leased, which necessitates financial resources.
The firm must be registered and licensed, which will cost money.
To construct a website and social media profiles, you'll need money.
Money is essential in the beginning to sell and market the company.