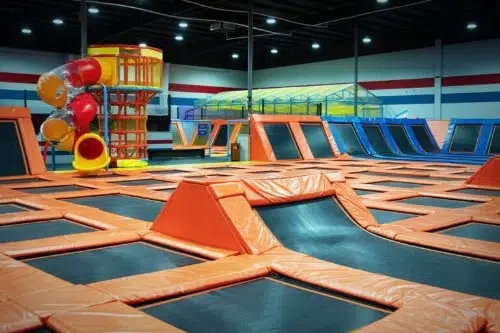 Do you want to open your own trampoline park?
Do you wish to build a trampoline park of your own? If you are an adventurous person who wants to provide joy and peace to people's lives while still generating a profit, this is the right choice for you. Children and teens may use small and large trampolines for recreational or competitive reasons in trampoline parks. Trampolines are made out of durable fabric sheets stretched by coiled springs and are particularly intended for jumping and exercise.
Every organization need a comprehensive business plan that considers all risks and advantages. This sample business plan for a trampoline firm named "Sky Sports" will teach you how to launch a trampoline park and write a successful business plan.
The Company
Sky Sports will be owned and managed by Jeff Leon, a 32-year-old young man. Sky Sports will open in Lansing, Michigan, approximately 10 minutes from Deluca's Restaurant, as a certified and controlled indoor trampoline park. An 8-acre land will be turned into a trampoline park through the construction of various-sized trampolines in order to launch a trampoline park for people of all ages.
Management
Jeff will construct a team of individuals that are enthusiastic, hardworking, and dedicated, and who can consistently provide great work energy. The team will consist of technicians, cleaners, cashiers, greeters, doctors, and general workers.
Customers
Our clientele will be people who reside in the area. We provide small and large trampolines for children and young adults at our Sky Sports facility.
Owner of a business
Jeff Leon will be the owner of Sky Sports. Jeff had been the manager of the soccer club for eight years, but his adventurous spirit now motivates him to open a trampoline park. Jeff is well-liked in his community for his leadership skills and kind, inviting personality. He is a committed man who is willing to invest both money and time in the business of his choosing.
Why is the company being established?
After gaining skills and a reputation as a superb manager, Jeff has decided to start his own company and make a large profit. According to Jeff, amusement parks like trampoline parks are a symbol of a healthy society, and a person of his quality would be the greatest choice to run such a business.
How will the company get started?
An indoor trampoline park will be built on an 8-acre area of land with small and big trampolines. Buying trampolines, foam-coating the walls and floors, establishing a snack bar and drinks for visitors, and purchasing items will all be costly at the outset of this business.
Check out Sky Sports' beginning guidelines below if you're seeking for advice on how to start a trampoline park business:
Customers' services
You should prepare the services you'll provide your customers before starting a trampoline park. This will not only assist you in hiring the correct individuals, but it will also assist you in estimating the cost of constructing one.
The following services will be provided by Sky Sports:
Trampolines for Kids: We'll have large trampolines with a net all around for the kids to bounce on. Trampoline tickets will be provided in accordance with the trampoline time limit.
Adult Trampolines: Because most people prefer not to jump with others, we'll supply them with their own little trampolines to enjoy and exercise on. Separate trampoline rooms are also available for men and women.
Clients and their guests will be served nibbles and cold drinks in a spacious, attractive café lounge.
At the pro shop, we'll have athletic equipment for both youngsters and adults. For youngsters and adults who are serious about learning to trampoline, we've bought special breathable, anti-sweat, and anti-stick trampoline robes.
Analysis of the trampoline park industry's marketing
Before you start building a trampoline park, you need to figure out how much it will cost to open one. The most vital feature of a startup's success is its exact business plan, and the most important portion of a trampoline park business plan is the proper marketing study. In your trampoline business plan, you must justify the segment of society you will target, as well as which services and prices would most appeal to them.
Before opening a trampoline park, you should calculate the cost of doing so, since this kind of business requires a significant amount of capital to get started. But don't worry; the income you make will soon be enough to pay the cost of building an indoor trampoline park. If you don't know how much it costs to build a trampoline park, you may get some ideas from sample business plans on the internet.
It's not a good idea to make an educated prediction about how much a trampoline park will cost until you've done your homework on the market. Your business's expenditures will be dictated by its location, market demand, and competitors. As a consequence, it's normally best to hire professionals to do credible marketing studies depending on your region and the demands of your local target clientele.
Trends in Marketing
Trampolining was the most popular leisure activity in the twentieth century until people's excitement waned. The public's interest diminished after witnessing injuries caused by unsuitable training such as doing a somersault without much experience or flexibility. Don't be dismayed; the number of trampoline parks has increased once again as business owners have found new ways to reduce trampoline accidents.
There are more than 563 trampoline parks in the United States, according to the International Association of Trampoline Parks (IATP), with more on the way. The trampoline park can surely benefit you if you correctly plan your firm, incorporating treatments for probable disasters.
Segmentation of the Market
When it comes to pricing and advertising, it's vital to keep your target population in mind. Marketing segmentation should not be handled lightly; it should be based on a comprehensive analysis of your prospective customers.
To assist you in determining your target audience, we have supplied a free sample business plan from Sky Sports.
Teenagers and children: The youngsters of Lancing residents will be our first customers. All of the residents are well-off and can participate in this enjoyable activity with their adorable children. It goes without saying that high-jump events appeal to children and teens. For this age group, we offer large combined rooms with wall-to-wall trampolines since they regularly come to compete with their friends.
Young Adults: The second category is made up of young people who recognize the need of regular exercise and jumping. These folks aren't just looking for a good time; they want to acquire a skill that can only be learned on a trampoline, such as positioning body parts while in the air. Because kids generally demand separate and small trampolines, we offer a great range of mini trampolines and customized trampoline outfits for them.
The equipment offered in our pro shop, notably the anti-sweat and anti-stick trampoline costumes, will aid this group.
Others: Those who have gone to our park with their children or pals will wait for their companions in our café. Furthermore, all young people, whether young and elderly, will shop at our professional store.
Business Objective
Jeff's objective is to raise public awareness of the sport while simultaneously generating adequate revenue. The company's objectives are to break even on startup expenses within the first three years of business and to establish itself as one of Lancing's most popular trampoline parks.
Pricing of Products
The restaurant and pro shop will have fair and competitive pricing. However, we provide the following packages to both temporary and permanent clientele.
A 30-minute trampoline ticket costs $5 for children.
The cost of a six-month adult membership is $800.
The cost of an annual membership is $1250.
Strategy
After you've learnt all there is to know about opening an indoor trampoline park, the next step is to design flawless policies to attract customers. Gaining the attention of prospective customers is the most important step for a business. As a consequence, you must properly promote your services and attributes before opening a trampoline park.
There are various factors that might assist us in gaining a competitive advantage. To begin with, we are located in a convenient location near a well-known resort, so visiting parents may leave their children with us. Second, for those who prefer to wait inside, we provide a spacious, comfortable café area with a limited range of drinks.
The degree of protection we will provide to our customers is our most important competitive advantage. We have fine soft netting encircling the trampolines, foam across the floor, and cushioned walls to minimize disasters caused by falling beyond the trampoline. People often fall on their necks or heads when executing somersaults in the air, resulting in paralysis or death. According to the US Consumer Product Safety Commission, trampoline accidents resulted in 100,000 emergency department visits in 1999. As a consequence, since we respect our customers' lives, we have hired skilled doctors and surgeons to deal with such emergency situations.
Strategy for Selling
Sky Lounge will employ the following advertising methods:
We'll make our safety procedures for customers known via print and social media.
We'll give free service for the first week of our launch.
Our six- and twelve-month members will get a 20% discount at the restaurant and pro shop.
Forecasted Sales
Based on our market segmentation technique, our analysts predicted the following yearly sales, which are shown in the column charts.
Personnel strategy
Because the success of every company is contingent on the dedication and passion of its employees, you should plan your people strategy as thoroughly as you plan the rest of your business.
This sample business plan might help you figure out how to establish a trampoline park and how many people you'll need to run it.
Employees of the company
Jeff will employ the following individuals:
For trampoline operation and maintenance, there are 5 staff.
To maintain track of money, there will be two accountants.
At the front counter, one person will distribute tickets.
Two technicians will be available in the case of an emergency.
Two physicians and surgeons will deal with any injuries.
It will be operated and controlled by a single Pro Shop Manager.
Four individuals will work in the cafeteria.
6 maids to keep the apartment clean
2 Personnel for Security
Plan your finances
You must have a firm idea of how you will balance the trampoline park's initial expenditures with the trampoline park's income before you start building a trampoline park. You must first develop a precise financial plan in order to correctly estimate trampoline park income. A solid financial plan paves the way for a business owner to build his firm. Because having a financial strategy is so important, Jeff spoke with experienced financial advisers to figure out how much it would cost to establish a trampoline park based on the services and facilities he planned to provide.
If you're not starting a large company, you may use this sample business plan as a reference; otherwise, you'll need to hire experts to guarantee maximum accuracy.
Important Premises
To forecast the company's financial prospects, the following assumptions are employed. These assumptions are conservative, and there's a risk they'll stray, but only to the point where the company's core financial strategy is jeopardized.