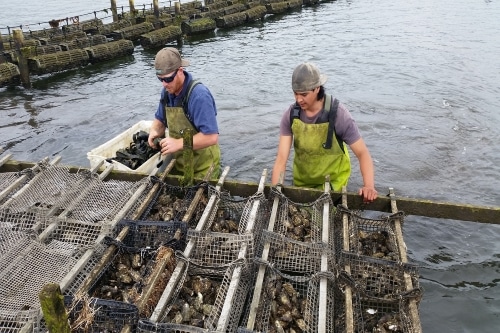 One of the few sectors that will never go out of style is the food industry. That is why we have created this oyster farming business plan for you. This business plan will teach you all you need to know to establish an oyster farm. This business is successful due to the low initial investment and high-profit margin.
If you want to start your own oyster farm, you'll need to prepare a detailed business plan first. Only then will your business be profitable. The foundations of this business plan will be similar to those of a fish farming business plan since the two sectors are comparable.
Summary of the Oyster Farm Business Plan
The Company
Jennifer's Oysters in Detroit, Michigan will be a fully certified and licensed oyster farm. All oyster species, as well as other marine fish that may be produced with oysters, will be available at the farm. The things will be dispersed around the state. A farm would be developed from the ground up since there was no existing oyster farm for sale in the area.
Oyster Farm Management
The oyster farm's proprietor will be Jennifer Freeman. She aims to appoint three managers to oversee the farm's operations. The managers will be in charge of operations, sourcing, and sales. Management will decide on any agricultural matters, and Jennifer will be notified of any substantial financial issues.
Note
Jennifer will not cut corners in order to make her oyster aquaculture business plan a success. It is vital to have the appropriate employees in place to develop a profitable oyster farm.
Oyster Farm Customers
If you want to know how to write a business plan for a bank loan to start an oyster farm, you'll need a clear picture of the clientele you'll be serving. This component of the business plan will be similar to that of a fruit farm in the agriculture industry.
Clients of Jennifer's Oysters will include:
Individual customers or those who reside in their own houses
Those looking to buy fresh oysters for personal or domestic use fall into this group. These customers will be many, but they will only buy little amounts.
Restaurants
These are the company's regular and repeat customers, who will make up the bulk of sales.
Retailers
The oyster farm will have a customer list that includes local retail stores.
Frozen food suppliers
Distributors of processed frozen foods in the area will also be among the company's top customers.
Business Objective
Jennifer's Oysters will pursue the following objectives:
To become the premier oyster supplier in the region.
By the conclusion of the second year, I aim to be profiting $23.7k each month.
At least three additional cities are expected to be included.
Summary of the Business
Owner of the Business
The oyster farm will be owned by Jennifer Freeman. She has 10 years of experience in the marine business and knows all there is to know about oyster growing. She is contemplating quitting her job to establish her own business, and she is well-versed in oyster farm operations, making her a perfect owner.
Why is an oyster farm being established?
The following piece of this oyster farm business plan explains why this company is being established. The explanation behind this is divided into two parts. Jennifer, for instance, has a lot of experience in her field and just got an inheritance, so she has both the funds and the skills to start this business.
Second, the region lacks an oyster farm, and if the business is operated effectively, the oyster farm profit will be substantial.
How will the Oyster Farm be established?
Step 1: Create a strategy.
The first step in starting an oyster farm is to plan. During this stage, everything from the farm's location to the customers and services will be decided. This is where all of the expenses and other considerations, as well as a sound strategy for beginning and running the farm, will be determined.
Step 2: Creating a Personal Brand
Following the completion of the concept and prior to the construction of the farm, the next stage is to develop a brand for our organization. This is one of the most essential stages. Any business's success depends on having a well-known, respectable brand that customers trust.
Step 3: Establish a physical as well as an online business.
We must sell the items, and in order to reach the widest possible audience, we must have a physical store as well as an online site where people may buy the product.
Step 4: Promotion & Marketing
Finally, one of the most important components of maintaining a profitable farm is marketing and selling it.
Oyster Farm's Services
We need to explain the services we will be giving before we can proceed with our business plan, similar to a liquor store business plan template. Because this isn't necessary for an oyster farm business plan, we'll have to go into great detail on the services.
Fresh Seafood Provisioning
Fresh marine food will be one of our key offers from the oyster farm.
Anglers' Swimming Pools
We will rent out the ponds to guests throughout the fishing season. One of the farm's side businesses will be this.
Marine Life Research
We'll construct a lab and make it accessible to Ph.D. students interested in doing cutting-edge research.
Sports on the Water
A piece of the farm may be utilized as a water sports site for guests during the summer.
An Oyster Far Marketing Analysis
Marketing research is one of the most important things to complete before starting any firm, which is why it is the most important element of our oyster farming business plan. This is when we look at many aspects of the market in relation to the firm in order to develop a strategy that will help it prosper.
The first step in establishing an oyster farm is to do a marketing analysis.
We must first grasp all of the factors at play before learning how to produce oysters at home, just as we must first comprehend an organic fertilizer company plan.
Market Developments
Before learning how to become an oyster farmer, you need to do some study about the market trends in the industry. According to the latest current figures, the United States has 2,807 oyster farms, employing over 10,000 people and producing $1 billion in income.
The good news is that seafood is getting more popular throughout the country, and oyster farms are projected to expand in popularity as time goes on. This is the most advantageous time to enter the market.
Segmentation of the Market
Market trends aren't the only thing to consider while starting a business. You should be acquainted with the market's subdivisions before you participate. The following is an example of market segmentation for an oyster farm:
Consumers at home
Consumers who like oysters and wish to purchase them for personal use will make up the biggest group of customers. We will initially provide these customers with extraordinary rates and promotions.
Restaurants
According to polls, local eateries serve oysters as a premium dish and are always in need of fresh oysters. In order to furnish these customers with the products, we will engage in long-term contracts with them.
Retailers
Another major market segment on which we will focus our efforts will be local retail shops and supermarkets.
Business Objective
The following are the goals of this oyster farming venture:
Eventually, you'll become the area's top fish supplier.
Extend to other states and, ultimately, the whole country.
There are high-quality oysters and other seafood available.
Pricing of Products
We will continue to price our goods more than our rivals. This is because there is no one in the area who can provide fresh oysters, and demand is high. Despite the fact that our price is more than the competition's, we will get outstanding clientele as a consequence.
Oyster Farm's Marketing Strategy
Marketing strategy is one of the most important components of any oyster farm business plan, and it must be carefully examined. This is addressed in this oyster farm business plan as well. We'll focus on supplying fresh food, similar to how a garden nursery operates.
Analysis of Competitors
We ran a comprehensive competitive study and discovered the following:
In the area, there isn't a single competitor that offers fresh oysters.
The only oysters accessible in the area are imported, and they are often out of stock.
Oysters are too pricey for the majority of people.
Due to a dearth of fresh oysters, many are disappointed with oyster lunches supplied in local restaurants.
Strategy for Selling
The following will be part of our sales strategy:
Keep your price modest initially to attract more customers.
Inquire about local celebrities and notable people promoting our goods.
Provide discounts to significant customers such as restaurants and companies to get our brand out to the people in the area.
Monthly Sales
Yearly Sales
Forecasted Sales
Personnel strategy
Following that, in this oyster farming business plan, the staff essential to operate the company should be mentioned. This is a labor-intensive business, akin to mushroom farming, that will need a huge management team.
Employees of the company
The farm's owner and CEO will be Jennifer Freeman. She plans to enlist the help of the following people:
3 managers in charge of procurement, operations, and sales
There is just one accountant on staff.
The number of farm employees is seven.
1 security guard with a weapon
There are two shop proprietors.
1 marketer specializing in social media.
Employees' Average Salary
Plan your finances
We all know that the financial plan we develop for the company determines the success of oyster farming. From the farm's original costs to continuing costs and other corporate expenses, this financial plan must account for everything. Similar to a pig farming business plan, the investment is much more than that of other companies.
We'll need money to start the business since we'll need to cover the following expenses:
The cost of establishing a farm.
The cost of setting up a retail store.
Marketing and advertising costs for the company.
Staff pay will be paid until the farm achieves break-even.
The cost of the agricultural equipment needed to run the farm.
Important Assumptions
Analysis of the Break-Even Point
Profit and Loss Estimates
Monthly Profit
Yearly Profit
Monthly Gross Margin
Cash Flow Forecast
Balance Sheet Forecast
Ratios in Business
Samples of illustrative business plans
OGSCapital's top-notch business plan development, advising, and research have benefitted thousands of firms. They've assisted tens of thousands of small company owners in obtaining over $1.5 billion in funding, and they can help you as well.
Related link