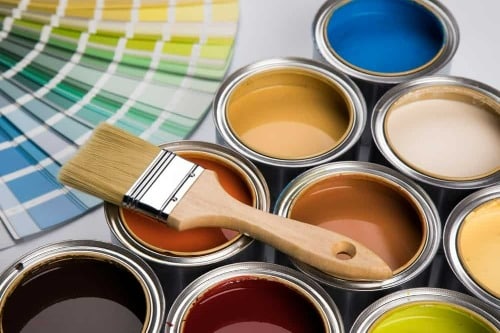 Are you interested in starting a Painting Contractors business?
Painting is a fantastic business for anybody who is creative, can find nice partners, and can use proper paint combinations to bring pleasure and tranquility to other people's life.
You don't need to pick up a brush or a bottle of paint to start a painting business; in fact, it may be as wide as you like. If you have a significant budget and want to take your business to the next level, you may employ individuals or even make your own paint if you want total control and independence.
In any case, you may utilize online painting business ideas, such as the one we've supplied below for Giana Paints, a paint manufacturing and painting company.
The Company
Giana Paints will be a professional and licensed painting company specializing in high-quality exterior and interior painting in Seattle. The corporation will be solely owned by Giana Pratt. Giana earned a bachelor's degree in Chemical and Manufacturing Engineering from the University of California.
Based on the time and money she has to invest in her business, she has decided to develop a company that can make paint as well as provide highly efficient and professional painters to its customers.
Management
You may be wondering how to run a successful painting company before taking the plunge, but you won't have to if you follow a step-by-step approach. To begin, write a comprehensive painting business plan that contains all of your company's critical information.
Since Giana has a pure engineering degree, she decided to employ professional house painting business plan writers to create a paint business plan for her.
Because this company requires such a large number of equipment and personnel, she has opted to hire a General Manager to help her in managing several obligations even before the company is formally established.
Customers
Residential areas, business places, and industries are among the painting company's clients. We'll focus on commercial projects since most tenants of small flats find painting with their own hands to be straightforward and enjoyable.
Furthermore, we expect that in such a vast city, the majority of inhabitants would prefer that this duty be conducted by someone who is competent and qualified. As a consequence, they are still classified as a customer.
The Company's Objective
The company attempts to give high-quality services to its customers while also looking after its employees. We believe in establishing and maintaining long-term connections with our customers. Our objective is to grow our business to include a broad range of related services so that our clients don't have to deal with many companies for property maintenance.
The company's financial objectives are as follows:
The initial expenses should be covered by generated revenues by the end of the first year.
We hope to have a net profit margin of $100k per month at the end of the first year, and a profit margin of $150k by the end of the second year.
Owner of a business
Giana Paints will be owned by Giana Pratt, a chemical and manufacturing engineering graduate of the University of California. For the last seven years, Giana has worked for the Nippon Painters Company. She is a woman that is both ambitious and hardworking.
Why is the company being established?
Giana gained valuable experience as a chemical engineer for Nippon Paints, which she aims to expand upon by founding her own company. After getting her shares, she had everything she needed to start a new business.
How will the company get started?
The first step will be to draft a business plan for a painting company, after which Giana will hire a manager to help her with registration, insurance, equipment purchases, and personnel recruiting. The reception room, inventory storage space, and staff lounging lounge will all be housed in a leased and refurbished facility.
The following expenses have been estimated by the company for the start-up:
Customers' services
To suit the needs of the general public, Giana had included the following services in her painting firm description.
Giana Paints seeks to provide painting services to customers using their own paint. However, by two years of its inception, the company will have grown to include all of the services stated.
Painting for the Home Painting for the Business Our exterior painting and flooring treatments include safety and aisle striping.
Walls should be cleaned
Coating for Pipes Paintings of logos
Painting a Bridge with Rust Encapsulation
The cost of services varies depending on the project's scope and timeline.
Painting Contractors Business Marketing Analysis
Before putting out a painting business plan, you should first assess your target market and current trends.
A detailed market assessment as well as industry advancements must be included in your paint manufacturing business strategy. Here is a marketing study for Giana Paints based on its location and target market if you want to understand how to run a successful painting business by researching market trends for this firm.
Market Developments
Painting is rising at an unforeseen rate as a consequence of real estate expansion, especially for commercial purposes. According to IBISWorld, during the previous five years, the corporation has expanded at a 4.9 percent annual rate, with total revenues of $40 billion in 2018. Despite the fact that there are over 306,500 painters' businesses in the United States, there is still potential for many more.
The marketing trends in this area are really good, implying that if you organize your business properly, you will never go bankrupt.
Segmentation of the Market
Giana Paints has identified the following groups as potential clientele.
The major source of target customers will come from the industrial sector. Flooring services, wall cleanings, rust encapsulation, pipe coatings, and other services are projected to be ordered by this target group.
Owners of major buildings and offices: This group includes people who need the assistance of a highly qualified, quick-servicing, and insured crew to help them preserve their assets. Long-term projects and a diversity of orders are anticipated from this group of customers.
This group will consist of residents and homeowners that need professional and competent painters to help them in renovating their houses and painting inaccessible regions. They are likely to employ our painting, wall cleaning, and outdoor painting services.
A complete market analysis of our potential clients may be seen in the table below:
Business Objective
Our key business goals are as follows:
We expect a net profit margin of $10k per month at the end of the first year, $15k per month by the end of the second year, and $25k per month by the end of the third year.
The startup's initial expenses should be matched with generated revenues by the end of the first year.
Pricing of Products
We have priced our services and goods lower than our competitors in order to attract a wider audience.
Strategy
A Business Plan for a Start-Up Visa in the United Kingdom
After you've created your painting contractor marketing plan, the next step is to figure out how you'll introduce yourself to your target consumers. A clear and effective advertising approach for the painting business plan can aid you in obtaining consumers when you are launching a painting company.
Analysis of Competitors
Giana Paints has developed a number of competitive advantages that most other companies in the same industry lack, knowing the competition it will face. Our team is committed to delivering outstanding customer service and will treat your home like a piece of art. We have skilled painters who will paint your facilities quickly and then refinish them on a regular basis.
Furthermore, our experts will come as soon as possible after the completion of your contract and will perform all work ahead of schedule. Finally, we'll use paint that's very durable, stain-resistant, and chemical-resistant.
Strategy for Selling
We'll place ads in magazines, newspapers, and television stations, as well as on social media platforms.
We'd want to build a website so that people may learn more about us and our services.
We will offer you a 15% discount on our services for the first three months.
Employees of the company
One month before to the launch, Giana will hire a general manager to help her in recruiting more personnel and overseeing the registration process. At start, the following people will be hired:
To maintain financial records, there will be two accountants/administrators. 4 Sales Executives are needed to discover new businesses.
4 helpers to assist with various tasks on a daily basis
For your house, there are six painters to choose from.
1 transportation driver 1 IT specialist in charge of the company's website
Plan your finances
Any paint shop business plan has to have a financial strategy. It includes details on where you'll acquire your company's finance and how long you'll be able to run it with your existing money if you don't attract your target clientele.
It is essential that you have a professional construct your financial strategy, especially if you are starting on a big scale or if you are not acquainted with Greek. Giana had hired a financial expert to help her create a financial plan since she lacked experience in this area. Giana Paints' financial strategy is as follows: