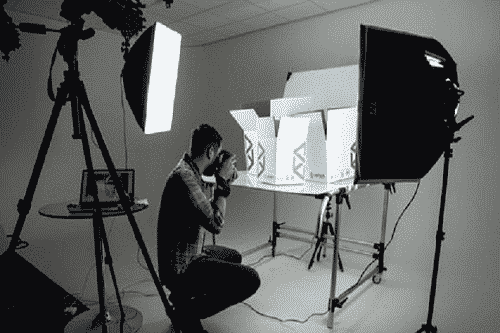 Executive Summary
Overview: Pristine Portraits Photography, based in The Woodlands, Texas, offers photography services for students, graduates, families, and weddings. Jay Jameson, the owner, is a highly-recommended freelance photographer in the area because of his unique skill set and years of expertise. Jay has decided to build a shop location to diversify his services and offer school photographs, senior graduation portraits, and business headshots. Pristine Portraits will be in a high-traffic retail strip area in The Woodlands, visible to families, students, and other small businesses.
Mission:" Pristine Portraits Photography will cater to the demands of professionals and their families in capturing and presenting key moments in their lives."
Vision: "When something significant like a wedding comes along, they have nowhere else to go because of our relationship with their families."
Industry Overview: The photography market is made up of a variety of service providers, including commercial photography, portraiture, special events photography, and industrial photography. To produce quality work that is marketable for sale, photographers must have the best equipment available. In the United States, the market for this equipment reached revenues of $5.7 billion in 2013. US spending is projected to dip to $3.1 billion by 2018, while global spending will reach $11 billion by 2015 Over the five years leading up to 2021, the photography business, which includes commercial photography and portrait services, has expanded modestly. During the majority of the period, revenue climbed due to increases in total advertising expenditure and per capita disposable income. Increases in per capita disposable income have made industry services for family pictures and special events more affordable to more individuals and households. However, the COVID-19 (coronavirus) pandemic and the resulting economic crisis are expected to result in an 8.7% drop in industry sales in 2020. The global photography services market is predicted to develop at a compound annual growth rate (CAGR) of 10.6 percent from $32.92 billion in 2020 to $36.42 billion in 2021. The growth is primarily due to companies reorganizing their operations and recovering from the COVID-19 impact, which had previously resulted in restrictive containment measures such as social distancing, remote working, and the closure of commercial activities, which resulted in operational challenges. At a CAGR of 5%, the market is estimated to reach $44.07 billion in 2025.
Financial Overview: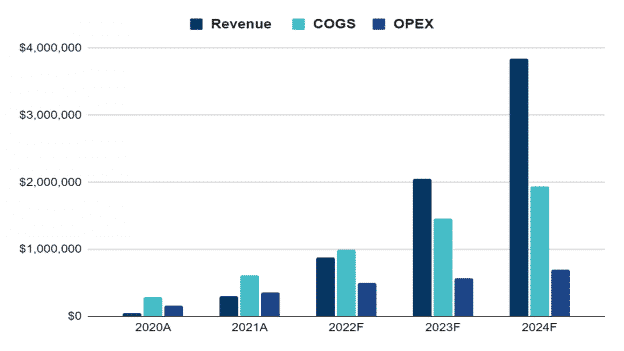 Financial Highlights:
| | | | | | |
| --- | --- | --- | --- | --- | --- |
| Liquidity | 2020A | 2021A | 2022F | 2023F | 2024F |
| Current ratio | 6 | 12 | 23 | 32 | 42 |
| Quick ratio | 6 | 11 | 22 | 31 | 40 |
| DSO | 8 | 8 | 8 | 8 | 8 |
| Solvency | | | | | |
| Interest coverage ratio | | | 8.2 | 11.1 | 14.2 |
| Debt to asset ratio | 0.01 | 0.01 | 0.2 | 0.18 | 0.16 |
| Profitability | | | | | |
| Gross profit margin | 51% | 51% | 53% | 53% | 53% |
| EBITDA margin | 12% | 14% | 21% | 22% | 22% |
| Return on asset | 5% | 6% | 13% | 14% | 14% |
| Return on equity | 5% | 6% | 16% | 17% | 17% |
Fund Usage: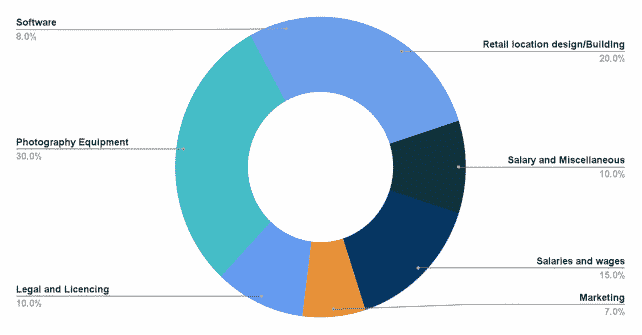 Industry Analysis:
Overview: Over the next five years, the photography sector is predicted to increase steadily, with revenues reaching $10 billion. Demand for commercial and portrait photography services is projected to follow employment, disposable income, and corporate profit trends closely. Moving forward, per capita disposable income is expected to be the key driver of demand. As disposable income rises, more people and families are projected to seek out industry portrait and special event photography services for commercial use. According to IBISWorld, the American photography sector generated $10 billion in revenue last year, with 92,000 enterprises participating. This equates to annual revenue of $109,000 for each business. The industry employed 167,000 individuals and paid a total of $4 billion in compensation, or around $24,000 per employee. Many of these employees work part-time, which contributes to the low pay. A report from the United States that is more concentrated. The Census Bureau estimates that there are roughly 13,000 retail portrait studios (including still, video, and digital portrait photography) in the United States, employing 65,000 people and generating $4 billion in revenue.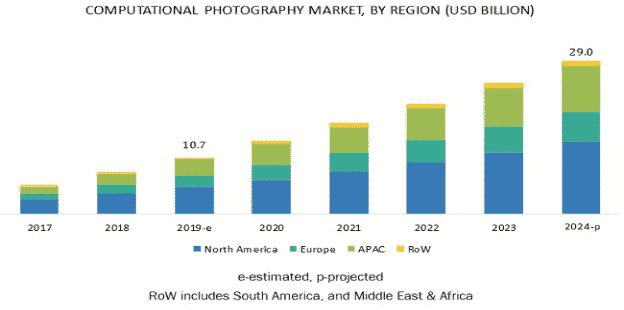 This accounts for nearly 40% of the entire photography industry. Following that, IBISWorld writes: This industry has been adapting to the digital imaging revolution, which has drastically altered how it does business. As digital imaging continues to transform the business to the benefit of the common customer, growth in this mature industry is expected to continue. Wedding photography, portrait photography, commercial photography, and merchandise sales are some of the industry's most important segments (prints, albums, etc.): Portrait photography demand is influenced by demographic and economic factors. Demand increases as families grow larger and
To create a reputation in the lucrative wedding sector, photographers are increasingly focusing their services exclusively on weddings. It's more difficult for photographers who just do weddings to compete with wedding-only photographers.
Customers and organizations are increasingly seeking specialization and looking for photographers who have demonstrated consistent success in the precise style of photography they require.
incomes rise. To create a reputation in the lucrative wedding sector, photographers are increasingly focusing their services solely on weddings.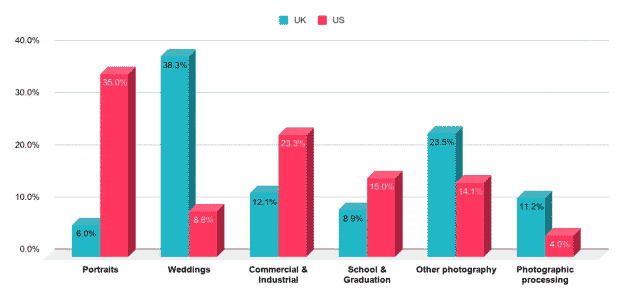 Marketing Plan: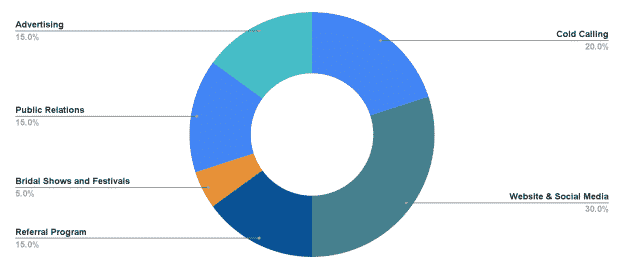 Website and Social Media: New and potential clients will be able to examine a list of services, price menus, and arrange a photographic session on Pristine Portraits Photography's professionally created website. Client testimonials and a photo gallery will be included on the website, with the agreement of the clients.
Pristine Portraits will also have a Facebook and Instagram account for their business. With the clients' permission, Jay will upload photography specials on a monthly or seasonal basis, as well as photographs from prior photoshoots.
Cold Calling: We will be visiting schools and small businesses to promote his new business and the photography services he will provide. He already knows how much Olan Mills and Lifetouch charge for school portraits and business headshots, so he'll charge less for his school portraits and business headshots.
Public Relations: We'll send a press release to all local and regional newspapers and television stations outlining the Pristine Portraits launch and unique value proposition.
Referral Marketing: Encourage people to use word-of-mouth marketing (referrals), Participate in direct marketing.
Bridal Shows and Festivals: Pristine Portraits will advertise in bridal exhibits and festivals held annually and semi-annually in The Woodlands, as wedding photography accounts for a big chunk of Jay's business.
Advertising: To raise awareness, Pristine Portraits will first place ads in local newspapers and event magazines.
Organogram: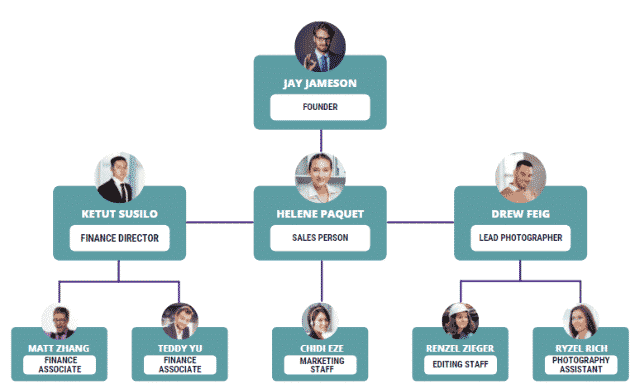 Financial Plan:
Earnings: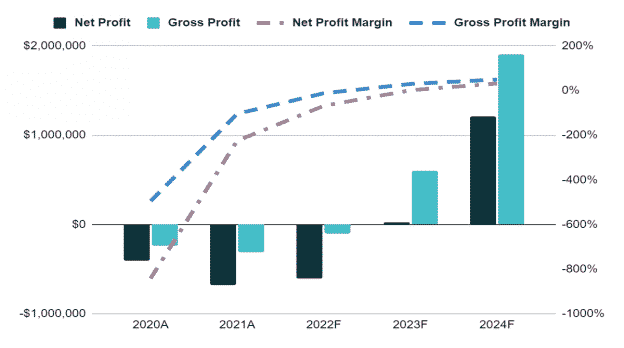 Break-Even Analysis :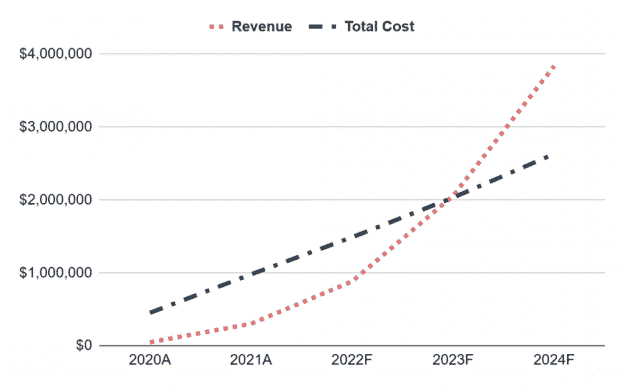 Income Statement:
| | | | | | |
| --- | --- | --- | --- | --- | --- |
| | 2020A | 2021A | 2022F | 2023F | 2024F |
| ANNUAL REVENUE | | | | | |
| Item 1 | 9,217 | 59,117 | 175,410 | 415,277 | 781,357 |
| Item 2 | 34,701 | 222,558 | 660,368 | 1,563,394 | 2,941,580 |
| Item 3 | 4,067 | 19,561 | 46,432 | 78,519 | 114,905 |
| Total annual revenue | 47,985 | 301,236 | 882,211 | 2,057,189 | 3,837,842 |
| % increase | | 528% | 193% | 133% | 87% |
| COST of REVENUE | | | | | |
| Item 1 | 360 | 2,259 | 6,617 | 15,429 | 28,784 |
| Item 2 | 480 | 3,012 | 8,822 | 20,572 | 38,378 |
| Item 3 | 52,000 | 65,000 | 78,000 | 91,000 | 104,000 |
| Item 4 | 720 | 3,615 | 8,822 | 16,458 | 23,027 |
| Item 5 | 140,000 | 336,000 | 560,000 | 840,000 | 1,120,000 |
| Item 6 | 60,000 | 144,000 | 240,000 | 360,000 | 480,000 |
| Item 7 | 32,000 | 61,333 | 85,533 | 112,153 | 141,435 |
| | | | | | |
| --- | --- | --- | --- | --- | --- |
| | 2020A | 2021A | 2022F | 2023F | 2024F |
| ANNUAL REVENUE | | | | | |
| Item 1 | 9,217 | 59,117 | 175,410 | 415,277 | 781,357 |
| Item 2 | 34,701 | 222,558 | 660,368 | 1,563,394 | 2,941,580 |
| Item 3 | 4,067 | 19,561 | 46,432 | 78,519 | 114,905 |
| Total annual revenue | 47,985 | 301,236 | 882,211 | 2,057,189 | 3,837,842 |
| % increase | | 528% | 193% | 133% | 87% |
| COST of REVENUE | | | | | |
| Item 1 | 360 | 2,259 | 6,617 | 15,429 | 28,784 |
| Item 2 | 480 | 3,012 | 8,822 | 20,572 | 38,378 |
| Item 3 | 52,000 | 65,000 | 78,000 | 91,000 | 104,000 |
| Item 4 | 720 | 3,615 | 8,822 | 16,458 | 23,027 |
| Item 5 | 140,000 | 336,000 | 560,000 | 840,000 | 1,120,000 |
| Item 6 | 60,000 | 144,000 | 240,000 | 360,000 | 480,000 |
| Item 7 | 32,000 | 61,333 | 85,533 | 112,153 | 141,435 |
| Total Cost of Revenue | 285,560 | 615,220 | 987,794 | 1,455,612 | 1,935,625 |
| as % of revenue | 595% | 204% | 112% | 71% | 50% |
| Gross Profit | -237,575 | -313,984 | -105,583 | 601,578 | 1,902,218 |
| SELLING & ADMIN EXPENSES | | | | | |
| Item 1 | 28,000 | 96,800 | 154,880 | 175,692 | 193,261 |
| Item 2 | 75,000 | 105,000 | 120,000 | 120,000 | 120,000 |
| Item 3 | 36,000 | 96,000 | 108,000 | 120,000 | 120,000 |
| Item 4 | 8,000 | 12,000 | 12,000 | 12,000 | 12,000 |
| Item 5 | 3,839 | 18,074 | 44,111 | 61,716 | 115,135 |
| Item 6 | 3,359 | 12,049 | 26,466 | 41,144 | 76,757 |
| Item 7 | 5,600 | 10,000 | 12,904 | 15,034 | 17,376 |
| Item 8 | 6,667 | 14,000 | 22,067 | 30,940 | 40,701 |
| Total selling & admin expenses | 166,464 | 363,924 | 500,428 | 576,525 | 695,230 |
| as % of revenue | 347% | 121% | 57% | 28% | 18% |
| Net profit | -404,039 | -677,907 | -606,011 | 25,052 | 1,206,987 |
| Accumulated net profit | -404,039 | -1,081,947 | -1,687,957 | -1,662,905 | -455,918 |
Cash Flow Statement:
| | | | | | |
| --- | --- | --- | --- | --- | --- |
| | 2020A | 2021A | 2022F | 2023F | 2024F |
| CASH FLOW from OPERATING ACTIVITIES | | | | | |
| Net profit before tax | -$404,039 | -$677,907 | -$606,011 | $25,052 | $1,206,987 |
| Depreciation | $44,267 | $85,333 | $120,504 | $158,127 | $199,512 |
| Payables | | | | | |
| Item 1 | $4,333 | $5,417 | $6,500 | $7,583 | $8,667 |
| Item 2 | $11,667 | $28,000 | $46,667 | $70,000 | $93,333 |
| Item 3 | $6,250 | $8,750 | $10,000 | $10,000 | $10,000 |
| Item 4 | $3,000 | $8,000 | $9,000 | $10,000 | $10,000 |
| Item 5 | $667 | $1,000 | $1,000 | $1,000 | $1,000 |
| Total payables | $25,917 | $51,167 | $73,167 | $98,583 | $123,000 |
| change in payables | $25,917 | $25,250 | $22,000 | $25,417 | $24,417 |
| Receivables | | | | | |
| Item 1 | $320 | $1,506 | $3,676 | $5,143 | $9,595 |
| Item 2 | $360 | $1,807 | $4,411 | $8,229 | $11,514 |
| Total receivables | $680 | $3,314 | $8,087 | $13,372 | $21,108 |
| change in receivables | -$680 | -$2,634 | -$4,773 | -$5,285 | -$7,736 |
| Net cash flow from operating activities | -$334,536 | -$569,958 | -$468,280 | $203,311 | $1,423,180 |
| | | | | | |
| CASH FLOW from INVESTING ACTIVITIES | | | | | |
| Item 1 | $16,000 | $13,200 | $14,520 | $15,972 | $17,569 |
| Item 2 | $20,000 | $22,000 | $24,200 | $26,620 | $29,282 |
| Item 3 | $28,000 | $22,000 | $14,520 | $10,648 | $11,713 |
| Item 4 | $96,000 | $88,000 | $72,600 | $79,860 | $87,846 |
| Item 5 | $20,000 | $22,000 | $24,200 | $26,620 | $29,282 |
| Net cash flow/ (outflow) from investing activities | -$180,000 | -$167,200 | -$150,040 | -$159,720 | -$175,692 |
| | | | | | |
| CASH FLOW from FINANCING ACTIVITIES | | | | | |
| Equity | $400,000 | $440,000 | $484,000 | $532,400 | $585,640 |
| Net cash flow from financing activities | $400,000 | $440,000 | $484,000 | $532,400 | $585,640 |
| Net (decrease)/ increase in cash/ cash equivalents | -$114,536 | -$297,158 | -$134,320 | $575,991 | $1,833,128 |
| Cash and cash equivalents at the beginning of the year | – | -$114,536 | -$411,693 | -$546,014 | $29,978 |
| Cash & cash equivalents at the end of the year | -$114,536 | -$411,693 | -$546,014 | $29,978 | $1,863,105 |
Balance Sheet:
| | | | | | |
| --- | --- | --- | --- | --- | --- |
| | 2020A | 2021A | 2022F | 2023F | 2024F |
| NON-CURRENT ASSETS | | | | | |
| Item 1 | $16,000 | $29,200 | $43,720 | $59,692 | $77,261 |
| Item 2 | $20,000 | $42,000 | $66,200 | $92,820 | $122,102 |
| Item 3 | $28,000 | $50,000 | $64,520 | $75,168 | $86,881 |
| Item 4 | $96,000 | $184,000 | $256,600 | $336,460 | $424,306 |
| Item 5 | $20,000 | $42,000 | $66,200 | $92,820 | $122,102 |
| Total | $180,000 | $347,200 | $497,240 | $656,960 | $832,652 |
| Accumulated depreciation | $44,267 | $129,600 | $250,104 | $408,231 | $607,743 |
| Net non-current assets | $135,733 | $217,600 | $247,136 | $248,729 | $224,909 |
| | | | | | |
| CURRENT ASSETS | | | | | |
| Cash | -$114,536 | -$411,693 | -$546,014 | $29,978 | $1,863,105 |
| Accounts receivables | $680 | $3,314 | $8,087 | $13,372 | $21,108 |
| Total current assets | -$113,856 | -$408,380 | -$537,927 | $43,349 | $1,884,214 |
| Total Assets | $21,878 | -$190,780 | -$290,791 | $292,078 | $2,109,122 |
| | | | | | |
| LIABILITIES | | | | | |
| Account payables | $25,917 | $51,167 | $73,167 | $98,583 | $123,000 |
| Total liabilities | $25,917 | $51,167 | $73,167 | $98,583 | $123,000 |
| | | | | | |
| EQUITIES | | | | | |
| Owner's equity | $400,000 | $840,000 | $1,324,000 | $1,856,400 | $2,442,040 |
| Accumulated net profit | -$404,039 | -$1,081,947 | -$1,687,957 | -$1,662,905 | -$455,918 |
| Total equities | -$4,039 | -$241,947 | -$363,957 | $193,495 | $1,986,122 |
| Total liabilities & equities | $21,878 | -$190,780 | -$290,791 | $292,078 | $2,109,122 |