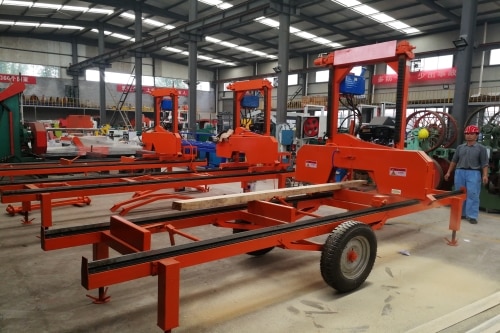 Wood Southern Africa and Timber Times had the chance to speak with Ashlynne Dale, president of Norwood Sawmills, a North American portable sawmill company who traveled from Canada to attend a bi-annual trade exhibition.
Norwood portable sawmills, according to Dale, are well-liked throughout the world and are utilized in more than 100 nations. The machines' low cost, modular construction, increasing need for thin-kerf sawing, and mobility make them ideal for a broad variety of applications in first-world and developing nations, from home usage to small and medium commercial enterprises.
As more individuals are compelled to establish their own employment and engage in new business possibilities to make ends meet, the socio-economic and political situations in South Africa and Africa are increasing interest in portable sawmills.
In certain African nations, legislation prohibiting the use of circular sawmills and the export of logs has been enacted, resulting in the widespread usage of portable bandsaw sawmills.
According to Dale, sawmillers in other countries with high wood prices use thin-kerf saw blades on bandsaw machines to obtain optimum timber output.
"We've discovered that the mills do extremely well in underdeveloped nations where individuals view the mills as a way to start a small company." A sawmiller in Africa, for example, may employ two workers to operate a portable sawmill and yet earn a good income if he approaches his operation with an entrepreneurial, commercial mentality."
Furthermore, Dale cautions that the worldwide demand for portable sawmills has created a market for shady Chinese goods.
"Not all goods made in China are untrustworthy, but we've seen real-life instances of individuals spending their hard-earned money on equipment that went down with no support services accessible to help them." "People must be extremely cautious not to choose a low price above established and tested quality," Dale warns.
Dale goes on to say how worried she is about situations in Africa where outsiders are abusing land, people, and natural resources.
"In my personal role and as the head of the Norwood Sawmills company, I am very concerned about the situation in Africa. All that Africa and its people have to offer is being pillaged and exploited by countries. Norwood Sawmills believes that our equipment may help individuals take control of their circumstances and natural resources to some degree. We understand that when one sawmill buys a Norwood mill, the whole community benefits. We're making a difference by providing equipment that are dependable, user-friendly, and cheap," Dale says.
Africa, on the other hand, has made significant progress in preserving its natural resources and creating prosperity. Circular saw law is unique to a few African nations, but it has shown to be a positive step in reversing the harm caused by uncontrolled deforestation.
"Africa is really quite forward thinking in this respect, and effective implementation and enforcement will result in more money being produced and retained in the nations." Aside from that, the rationale behind bandsaw mills is straightforward. Circular sawmills increase waste and decrease yield, while bandsaw mills increase waste and reduce yield."
Other sawlog size possibilities have also emerged in South Africa, where trees are harvested at a younger age to compensate for market sawlog shortages.
Many formal mills in South Africa are designed to handle only big diameter logs, but with the increasing availability of small diameter logs, many sawmillers are looking at adding extra portable or permanent sawlines to their mills.
Norwood mills may certainly help the sawmiller in these circumstances since these modular machines allow the sawmiller to customize and adjust the mill to his requirements.
The mill's modular design also allows it to expand with the operation, as extra manual or hydraulic power functions may be added to enhance sawing capacity or make the machine easier to operate.
Dale shows that an all-manual Norwood mill may be fully transformed into an all-hydraulic portable bandsaw mill in its most extreme configuration.
A user may also combine manual and hydraulic operations, gradually converting his mill to meet his needs.
"Norwood Sawmills is the only business that makes portable sawmilling equipment with these modular features. This is a distinguishing feature of our product line, and it's a key selling factor since most customers who purchase a Norwood mill for commercial use will wish to expand output capacity at some time."
Norwood Sawmills, on the other hand, has been educated in the skill of re-inventing even the most basic sawmill functions. Dale says that a sawmilling operation essentially involves repeating the same operations over and over again.
Taking this into account, Norwood Sawmills focuses its research and development time and resources on redefining some of the mill's most basic features.
"Many manufacturers attempt to enhance their goods by building larger machines, but the fine-tuning of all the tiny components on a machine may produce the most gains," Dale says.
One element of Norwood's mills that was modified to increase efficiency was the saw head locking mechanism, which was switched from manual to automated, saving the sawmiller a significant amount of time.
Dale continued by stating that little changes like these may make a significant impact.