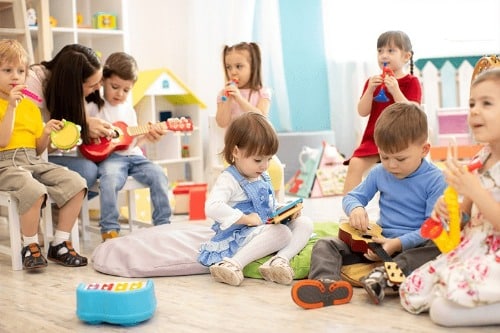 Because it entails obtaining essential government approvals and devising a curriculum that parents gladly embrace, starting a preschool takes substantial pre-planning (preschool business plan). One of the tempting characteristics of this business is that it may be managed from either a commercial or personal location. There are various prospects for innovative company owners as the government focuses more and more on providing safe facilities and educational opportunities to children of working and low-income parents.
Traditionally, playgroups were managed out of free-standing buildings where parents could drop their children off every morning, but business models are shifting. For example, corporate playgroups, where parents may bring their children to work with them, are in high demand. Playgroups are also responding to the needs of parents by allowing children to attend school half days or two full days, and so on.
Expected outcomes in several aspects of the preschool business plan
If you're starting a preschool, you'll have to deal with these and other concerns, such as the following:
What unique needs are served by the preschool, such as early learning in certain skills such as reading, preparation for admittance into a private school, helping low-income parents' needs, filling a gap in local resources, and so on?
Proof that all legal requirements for opening a preschool in the designated location have been met, including the completion of background checks required for license.
Proof that the preschool owner has fulfilled the educational requirements for running a daycare or preschool in their state.
Experience running a school, teaching experience, or working with children under the age of eight are all ideal qualities.
Student demographics and (if relevant) additional admittance restrictions, such as age, special needs, financial hardship, homelessness, and so on.
The school's total number of activity rooms or classrooms, as well as predicted class sizes
Fee structure, business hours, and an annual schedule (summer hours vs. school year hours)
Predictions of capacity and enrolment, as well as market studies to back them up
Startup expenses, such as insurance, and how operations costs will be covered until the business becomes profitable
The curriculum, as well as the materials and toys that go with it.
The personnel strategy comprises education, credentials, specialized training, and other qualifying requirements.
Financial forecasts for the first five years of operation
Risk management procedures should be thoroughly discussed in order to qualify for bank financing for corporate plans or private projects. Playgroups are regularly scrutinized by government officials entrusted with ensuring that childcare providers follow the law. Preschool operators are likely to receive frequent visits from government authorities representing organizations responsible for social services, licensing, and health compliance.
If the government uncovers a preschool that is breaking fundamental standards, it might be shut down at any time, thus the business plan must satisfy investors that steps have been taken to ensure compliance. Finding and hiring staff who have passed background checks and have the necessary qualifications, installing safety measures, and purchasing childproof furniture and equipment are all safety and security problems.
Skyrocketbpo experts have written business plans for a wide range of industries, including education and childcare. A well-written preschool business plan serves as both an operating strategy and documentation for funding or loan requests. If you want support or direction in building a successful company plan, please contact us.
An overview on how to establish a preschool business.
The goal of a devoted teacher is to deliver a tranquil beam of illumination to billions of innocent children in order to assist them in developing their skills, strengthening their character, and improving their lives. God's sons and the country's most vital foundations are children. As a consequence, kids will need to be taught and trained from the beginning. Education should not be exclusive to the wealthy. Previously, all people were barred from receiving an education.
Religious dogmas, church influence, and severe gender bias forced impoverished groups to stay on the sidelines without adequate training and education. In today's society, however, children should be well-trained. They shouldn't be left to fend for themselves. Preschool business ideas ensure that all minor children are creatively educated and assimilated into society.
Select the best preschool company ideas to open top schools for teaching young children who have not yet reached their full potential. It is necessary to understand the ins and outs of preschool business policies. However, in order to inspire children to get a high-quality education from the start, a teacher who intends to establish a contemporary preschool in his or her community must be aware of the purposes, vision, and goals of the construction of modern preschools.
You'll need more intriguing preschool marketing concepts to assess. Take a look at a new preschool business plan template to acquire some great ideas for when you need them. To assist ambitious entrepreneurs in establishing a commercial preschool, free management training, tips, and video tutorials are now accessible.
Starting a Preschool Business Plan in a Nutshell
You must first design a preschool business plan that will show you how to finance the preschool for the goal of educating little children who need creative training in order to be taught dynamically in the preschool before launching one in your neighborhood. New preschool business guidelines must handle a variety of important concerns, such as building construction, maintenance expenses, and furniture installation, as well as computers and the employment of skilled preschool teachers.
There is a lot to discover. Nobody can become an expert in a single night's work. So, when it comes to opening a preschool, don't make any blunders and have a level mind. Because it tackles so many difficulties at once, the new preschool business policy is difficult to implement. A small preschool business program, for example, must span the whole blue print of the building in order to accommodate a group of tiny learners. There will be plenty of place in the classrooms for these charming youngsters to be rehabilitated.
The setting inside playgroups must be pleasant, adaptive, and ecologically friendly in order to encourage groups of tiny sweethearts to attend courses to learn essential things. Organize smart furniture items, study materials, indoor gaming equipment, and entertainment portals to reduce your preschoolers' stress. How do you get your excellent preschool business ideas off the ground? Make a mental adjustment.
To be honest, all of these concepts are preschool-related: fabrication, illusion, attraction, daydreaming, and dreamy enchantment. You'll need a strong dedication and a courageous determination to reach your goal. In my perspective, a lazy never succeeds in life. He's a lazy and a knucklehead. He has a lot of future company initiatives planned, but he won't be able to implement his new information processing business endeavors due to a lack of time.
When a loser is defeated, society throws him out. To complete the project execution for the establishment of a preschool, you will need mental strength, determination, and a lot of horse power. Stop fantasizing and start a realistic pilot study to assess the whole cost of running a preschool in your community. Financial budgets for businesses, on the other hand, must be carefully adjusted. There are various risks associated with overtaking.
The expenditures of building a sophisticated preschool for younger siblings are unattainable for the ordinary person. Being the creator of a pre-school with the purpose of reducing illiteracy in the city is also not difficult. As a consequence, think about how to set up preschool business standards. Recharge your batteries so you can focus on developing new master corporate initiatives and preschool designs in your research lab.
So, how about establishing a basic pre-school to teach children who are illiterate? You will need to seek financial aid from the local government in this circumstance. The literacy movement is a part of the social transformation process. Eliminating the stigma of illiteracy from society is also an excellent teacher's notion. To help you improve your preschool for children aged 6 months to 2 years, apply for a government loan.
However, you don't need a well-equipped preschool or world-class services and facilities to acquaint these poor youngsters with the surroundings. To learn, they need food, water, and other basic essentials. It is critical for them to eat well-prepared meals. To help street boys feel better, provide them clothes and study materials. Various educational groups will, nevertheless, provide you with funds and help.
Under a compact roof, your pre-school session will be much more imaginative. Your counsel will surely be appreciated by the children. If you're a professional in this field, though, you've probably dreamt of generating large amounts of money and receiving a bunch of incentives in order to establish other playgroups in other areas.
As a consequence, you'll need to do some preliminary work to help you execute the crucial new corporate effort in this area. You are supposed to invest with the prospect of substantial long-term benefits, even though it is not your charity. You'll need skilled preschool business developers, analysts, financiers, specialists, and a team of business consultants to start a profitable preschool business. To make your concept of creating a preschool for the goal of training children for familiarity with their surroundings a right shape, minimize the formalities and apply short-cut business strategies.
There will almost certainly be no challenging math problems, physics papers, or long dissertations or courses. These are teeny-tiny boys and girls. They have no idea how to write. Because they are inexperienced with symbols and signs, they are unable to do math assignments. They are unable to communicate on their own. They stammer and are hesitant to address the teacher directly.
At your preschool, you must have some interesting things for kids to learn. Education growth at the preschool level is an indicator of social progress. Follow the preschool business plan sample closely and duplicate it. In Finland, a new educational system with a unique approach to youth training must be created. Even if it's still in the planning phases, you may use some of the parts to create more detailed preschool business plans to address the difficulties of educating children at such a young age.
For example, Finland's educational community has chosen to delegate teaching responsibilities to older pupils in the classroom. There will be group discussion forums, debates, and personality test sessions under the supervision of preschool educators. Senior preschool educators will keep an eye on the youngsters behind the scenes. PCs with internet access will be available. In the nursery, students will both play and learn. A Google search of the world maps for information on the Armenian and German holocausts will be conducted.
They will get familiar with the serious negative effects of atomic processes via Google navigation. Advanced multimedia game formats will also encourage children to do their homework in arithmetic, geography, physics, and chemistry. As a consequence, using modern digital technology to update the knowledge banks of playgroup students constitutes a watershed moment. They aren't in their eighties or nineties. They are contemporary depictions. Start thinking in this way right now.
While drafting the preschool company policy in its whole, prioritize the vital needs of nursery children. What is the purpose of pre-school education for them? Is it advantageous for mental growth to playgroup students? To conclude, playgroups must be formed in order to recognize talent and foster intrinsic talents in youngsters. Sending young saplings to pre-schools serves a variety of purposes, one of which is to encourage children to be environmentally conscious.
They need to understand the society in which they will grow up. They must consider and comprehend rain, heat, trees, water, soil, cold, and living creatures. Nature acts as a child's second mother, helping them to feed themselves. As a consequence, no one is immune to nature's wrath. If it rains, the chances of great corps and vegetable yield will increase. People will experience drought, water shortages, and a plethora of other issues if there is no rain, making life tough.
As a consequence, fresh thoughts for boosting primary education must be included in your future preschool company strategies. At this age in pre-school, little children want company. They need a relaxing environment. Complicated nursery duties are undesirable to boys who depend on breast milk from their moms to survive. Set aside cash to create micro gaming portals for students in smaller playgroups as a consequence. To help students get more comfortable with their environment, equip them with toys and interesting stuff.
Cooperation, friendship, love, caring, and compassion are just a few of the inevitable motivators for youngsters to get out and experience the environment. As a company financer, establish a list of the most helpful items to purchase for your pre-decorating. school's You must establish a welcoming and friendly environment in which nursery pupils may freely express their opinions. Children will gradually learn to count. They will be taught how to use sophisticated light weight toys that look like little tabs.
For the sake of attractiveness, they will touch the smart phones. By touching a glass of chilled water, these inexperienced nursery pupils will feel the cold. They will be taught how to consume water using gestures. Colorful photographs, illustrations, and visual symbols will adorn the pages of the books. For identification, they will be handed several kinds of dice inscribed with little numbers. These sweethearts may employ graphic images of animals, plants, and charming objects to gradually become closer to nature.
As a result of their proximity, conversation, and friendship, they have a good understanding of nature. Preschool classrooms must be transformed into playgrounds with a plethora of dice, toys, and brightly colored photographs. Sweethearts with a blank mind are enticed by paintings and appealing photographs. Slowly spend time with them to help them develop. The nursery chores, on the other hand, should not be performed in a rigorous formal manner.
Children will be enticed to participate in games. Computers, the internet, and multimedia seem to be ruling the globe right now, exceeding traditional technology. Teaching methods for playgroup children are also evolving. As a result, choose superior technologies. All youngsters should be computer proficient by 2020. They'll have to adapt to the fast-paced virtual environment. As a result, your preschool must have internet-capable tablets, PCs, and game consoles.
Children at playgroups will be given little digital notebooks in which they may use their tiny fingers to type on the keyboard. They'll have a good time typing. They should not be regarded seriously. However, in order to nurture their technical expertise, your instructions must be effective. Gradually introduce children to the use of laptop computers. A two-year-old boy, on the other hand, will not be able to open Google and navigate like a computer guru. This fundamental computer expertise, on the other hand, will be necessary for them to become professional computer operators in the future.
They were created in the new century. They are much more complex, inventive, and, of course, capable of roaming in a virtual environment with a wide range of activities. Experienced nursery instructors must be able to work with children of various ages. Their training program must be tailored to the changing needs of nursery children of various ages. Small nursery sweethearts, in fact, need assistance in changing their views.
They must not be led astray. Traditional teaching techniques are obstructive, preventing a youngster from being physically fit. As a result, aim to be educated and experienced before getting into the profession to pursue your ambition. Maybe you're dealing with issues and have a lot of unanswered questions in front of you. Are you capable of dealing with a bunch of unruly, frivolous, and haughty nursery children?
Are you able to locate and fix their weak points? How can you benefit from developing a well-built brick-and-mortar preschool infrastructure that can comfortably teach thousands of nursery sweethearts? Change the way you think. Make the changeover from traditional legacies. If educating playgroup children at pre-schools is a difficulty, employ the best trainers and faculties for assistance.
As a company financer, you must have a few memorable business ideas that you can put to use in the real world. To be honest, unplanned effort is not beneficial to you. To ensure long-term success, choose a positive preschool business strategy. Make a list of everything you need to accomplish. Make a short list of the most important things to remember.
A management board comprised of several skilled instructors, consultants, and professionals is required for your new nursery. Your management will need bids and survey reports in order to develop a competitive budget that covers all of the nursery's expenditures. In contrast to 1980, you are now living in the hi-tech era.
To finalize the building construction, choose a top-notch preschool business proposer to complete the pilot company project. Currently, many school districts purchase completed infrastructures from builders in order to begin schooling. There is no need to purchase property and then build a two-story structure for training purposes. You can use your smartphone to contact professional preschool business consultants and proposers for templates, samples, and free models of eco-friendly playgroups to observe carefully.
Experienced preschool company proposers provide legal guidance on how to comply with formalities in order to establish a preschool on the ground. To prevent legal entanglements, a preschool owner must speak with local administrative authorities to have site maps and other documents approved. To build or operate a preschool for profit, you must get approval from the local municipality. The legislation governing schooling has been changed in order to improve the safety of nursery children.
If you're opening a preschool, you'll need to set up indoor air ventilation HVAC systems, as well as a variety of life-care accessories including lighting fixtures, tap water dispensers, health management platforms, laptops, and creative technologies to assess students' performance in contemporary playgroups. Find the ideal location for operating your preschool as a company. In this regard, online preschool business proposals and advisors may help beginner investors invest wisely.
Fast Facts
The worldwide KPO sector should include modern nurseries.
More progress in education
For modest trots, a simplified training regimen has been developed.
E-learning that is available online must be accessible.
Education should be accessible to everybody.
No-hassle training
There is no compulsion to enroll in the top pre-school.
Free research and consulting are available.
More mock examinations are needed to evaluate pupils' abilities.
It is necessary to choose a digital environment.
Online students' mobile education accessories
Top Preschool Marketing Ideas
As you can see, education is becoming more customized, restoring a sense of professionalism in the workplace. In the educational system, elitism and conventionality are gradually being replaced by an ultra contemporary commercial teaching atmosphere in the industry. As a result, education has become a marketable commodity. Entrepreneurs invest in the establishment of schools in order to profit.
As a result, the quality of nursery education must be commendable and suitable with the tutoring business on an international or worldwide scale. Experts' preschool marketing strategy will put you in a strong position with a slew of business concepts to execute for beginning a KPO firm. Find business financiers willing to help you upgrade the nursery by adding innovative cloud-based e-learning systems. Angel investors will acquire shares to join a consortium and will be paid a commission or a portion of the total funds collected each month, according to the business plan.
Going for company crowd financing is one of the inventive preschool marketing ideas. When your playgroups are fully up and running, welcome business customers to pay and get income. Guardians will be responsible for entrance costs, yearly maintenance fees, and examination fees. The all-inclusive plan will contain bundles of expenditures into a single straightforward format to bear the cost of instruction at the preschool level of the coaching sector.
The second new preschool marketing technique is to boost business in what is known as the "commercial tutoring" sector. Your nursery will be established at a new location. As a result, people will not have accurate information regarding the opening of your education facility. Easy acceleration of the number of students enrolling in courses must be one of the advantages of company marketing in the teaching sector.
Second, the school's popularity will increase and accelerate. Distribute brochures, information booklets, banners, and festoons to urge individuals to build significant interest in your institution as part of a speedy business promotion for improvement in the sector. Begin a campaign to invite a large number of parents and professionals to attend seminars held on the grounds of pre-schools. Local guardians and municipal high brass will be asked to give their thoughts.
It is the sharing of business ideas, opinions, and perspectives in order to raise teaching standards and gain a competitive edge in the global education market. Playgroups will build the basis for youngsters to understand the value of schooling. They will learn how to interact with their parents. Singing melodies with broken words will entice them. This lisping is fantastic.
Teachers will encourage youngsters to play in order to improve their relationship with their surroundings. At the very least, kids will have a fundamental understanding of contemporary schooling. In this respect, online preschool business advisors in the teaching sector aid entrepreneurs in creating the greatest nursery in a certain location in a user-friendly manner.
Entrepreneurs must constantly calculate their profit margins. To be honest, when compared to schools in this competitive industry that are located in rural areas, city-based nurseries have a better chance of increasing profits due to the availability of well-managed teaching environments, financial aids, and parents' financial ability to send their children to modern nurseries for learning.
Children will continue to learn in a healthy environment. Congestion, pollution, political gridlock, noise, and a plethora of contests in cities detract from the allure of schooling young sweethearts in a dismal setting. As a result, this comparison is required to complete the exercise. This preschool marketing strategy is necessary for overcoming obstacles and being competitive in today's KPO sector. How can you avoid all of these issues? How can kids' roll strength in the classroom be increased faster? To commercialize education, you'll need fresh preschool marketing methods and expanded concepts. The online field, on the other hand, is not inaccessible.
Open the sites and come up with some amazing preschool firm marketing strategies and industry promotion ideas to boost development and accelerate revenues by tailoring schooling for thousands of sweethearts all at once. Your nursery need publicity. To make people aware of the provision of world-class education at your preschool, you must engage in intensive campaigning.
As a result, optimize your school's websites. Hire a competent website designer to spruce up the home page with a glossy landscape screenshot of the building, as well as models of write-ups, blogs, feedback, and graphic images. Make a separate page for internet visitors to leave comments on. So, do one more thing. Right now, the social media network is unquestionably the best free entertainment resource available. It's also utilized for marketing purposes.
Connect your official website to the social media infrastructure to get additional free likes from a variety of groups. Focus on the advantages of your playgroup. It's a one-of-a-kind marketing technique for keeping track of the benefits and persuading individuals to do better analysis via content updating. Request that your online neighbors evaluate and cross-check the features of your training facility at the same time. To find the best in town, web visitors like seeing slide presentations, demonstrations, and beautiful prototypes.
As a result, develop a digital sitemap with footnotes describing the landmarks. Users of mobile phones and iPhones should have no qualms about visiting your mobile-friendly websites. People will use home pages as workstations to explore your portal. Parents and moral guardians in the neighborhood will easily discover about the new playschool that you have opened. Branding may also be done in a different method. Don't be afraid to interact with the locals.
You must go to their homes with facts and information. Are you able to give children with a low-cost nursery education? You should begin by describing why you want to join your playgroup. Allow them to self-analyze by giving them examples and various sorts of messaging. To integrate the new generation with the global education system, this innovation in knowledge processing business organization must be carefully analyzed. Students may now employ top and recognized professors for tutoring from advanced nations.
As a consequence, the expansion of the KPO company is beneficial to the playgroup's ability to educate young children. Quality is one of the most important factors. On the other hand, life security cannot be overlooked. Your teachers are qualified, skilled, and committed to educate these adorable little ones. It's admirable, but their safety is really necessary. Their guardians will not allow children to return to school if they are involved in an accident. As a consequence, speak with the owners and management of preschools about how to improve the safety measures for the sake of the children's safety.
During your street campaigns and seminars, you must hand over your microphone to the next person to comment on the best ways to ensure the entire safety of children learning in playgroups. Fire, water, rain, and heat are the worst things that can happen to a person's life. If instructors aren't attentive, unsteady trots may fall into ditches. They're at risk of getting caught in the line of fire. Storms and rain might potentially endanger their lives.
As a consequence, all classrooms must have smart glass screens, air vents, hardwood doors, and excellent interlocking mechanisms. To decorate the classrooms, flexible and robust lighting fixtures, fans, and portable fire extinguishers must be installed. To save money and minimize financial losses, modern playgroups insure their property. You must develop a cooperation with the best insurance providers and get insurance coverage to secure your valuable assets.
The best insurance companies provide free online quotations. Before selecting on the most cost-effective insurance plan to relieve financial stress, review information booklets and benefit lists. In this context, playgroup firm proposers and consultants provide clients free models and fast guidance in picking low-cost insurance packages to safeguard their assets.
Staff at the Preschool
Before you start a kindergarten, you need figure out how many people you'll need to run it. To choose the most suitable employees, you must define clear criteria for acceptable attributes and skill sets.
In this sample business plan for daycare and preschool, we give information on the employees that are needed to run a preschool, as well as their job duties and pay.
Employees of the company
Toddler Tech's administrator will hire the people mentioned below to run the business.
There is just one corporate manager.
1 Headmaster to supervise the instructors and students
There will be five instructors on hand to educate the children.
Five child care employees will be in charge of the daycare.
The importance of physical education cannot be overstated. The instructor will organize sports activities and fitness programs.
Instructors will have three aids to support them in challenging circumstances.
2 Accountants will be in charge of financial records. 1 Store Manager will be in charge of the school's canteen.
One Web Developer will be in charge of the school's social media and website, as well as five cleaners to maintain the premises clean.
a single security officer
Employees' Average Salary
Profitability of Preschools
Create a complete preschool business plan that details your expenses, investments, money-making techniques, and ways to cope with any losses to maximize your preschool's revenues.
Calculate how much it will cost to establish a preschool business.
The Business Toddler Tech will be a kindergarten that teaches preschool skills including painting, playing, gardening, communication, social interaction, basic mathematics, and general science to children. The firm will also provide daycare for toddlers and youngsters.
Requirements for Preschool
The child care center business will commence after renting a location in Seattle. The administration will purchase the essential furnishings and equipment a week before the debut. A week before the launch, needed workers will be hired after testing and interviews.
The following is a comprehensive list of all the expenditures involved in starting a preschool. While you're reading it, keep in mind that these are estimates, and you'll need to budget additional money if you want to build a bigger preschool.
Make a profit forecast for your kindergarten.
Starting a preschool may be a highly profitable business. According to IBISWorld, the United States has about 174k such institutions, with a total revenue of $10 billion in 2019. The source indicated a 2.9 percent yearly growth rate the prior year. The facts suggest that if you plan things effectively and come up with features that your competitors don't have, you can't go wrong.
Toddler Tech will enhance a variety of aspects, including staff, management, and care facilities, in order to generate the necessary income and meet business goals.
Toddler Tech is expected to make money since it was created in a high-income area where parents are willing to pay for their children's well-being. Because the average cost per child will be between $85 and $90, and the average cost per child will be between $72 and $75, the company expects to break even on its initial investments within six months of opening. Furthermore, the preschool intends to make a monthly profit of $10,000 by the end of the first year.
This early childhood center business plan includes Toddler Tech's three-year profit forecast.
Important Information to Keep in Mind
Tax planning is another element that should not be overlooked. Playgroup owners are required to pay taxes every year. They must keep their tax return files in order. Online consulting firms and law firms are well-versed in their fields and may provide speedy answers to problems. Instead of visiting a local legal firm, use the internet to double-check your paperwork before submitting the printed copies of all tax return files.
Calculate how much tax you'll have to pay. Your money will be invested in the area's development. As a consequence, it is important to pay taxes on time. Prepare paperwork containing everyone's terms and conditions. Both teaching and non-teaching staff members must adhere to the guidelines set out by your company's management. Adhere to the laws that protect you against nemesis. Privacy regulations and other issues must be fully mentioned in printed items with official stamps. Contact a lawyer to write the required documents and documentation so you may conduct the playgroup without being stuck in a Catch-22 situation.
To be honest, establishing a preschool company will need models, previews, guidance, and assistance from experienced business professionals. Free designs and models for ultra-modern playgroups may be found on the internet. Download a variety of completed sample models, scripts, and information to double-check. Instruct your company's proposal writers to build a preschool marketing plan that meets your needs.
You must have great entrepreneurial talents as well as leadership traits to become one of the firm's top entrepreneurs. It's critical to remember that no one succeeds without putting out the necessary effort. The most effective technique to correct mistakes is to try again. Failure, on the other hand, teaches a person how to adapt by participating in more advantageous business exercises, approaches, and programs. Find fresh ideas, business concepts, and examples to assist you reorganize your small playgroup management project on a strong basis by doing periodic research.
Technology can no longer be considered a stand-alone component of modern education. Manual paperwork, hand-driven autos, and pen-pushing jobs seem to be better replaced as a result of enhanced technology. So, by changing the instructional approach, you may move your preschool to the next level of innovation. The present generation has a high level of intelligence. They are so rapid that they need something dynamic to keep up with the times.
Children a century ago were not nearly as cunning and astute as they are now. They lacked mobile devices, digital communication systems, e-portals, and better cloud-based smart phones to exchange messages. They didn't have the same luck as Google in getting information in the blink of an eye.
Nowadays, it seems that the whole world has been transformed into a virtual gateway with a vast network for easy communication. So connect your kids to the virtual world so they may learn more amazing things to keep their brains occupied. Your playgroup should have internet and computer access to increase communication.
Children will be fascinated by computers and smart phones. In playgroups, encourage them to grow fir and compatible with the laser-guided society. Specialized training regimens are required for children. Online data, on the other hand, is ideal for doing extensive research. Free examples, models, research papers, and projects have been provided by experts. Expert advice will show you how to set up a playgroup in a pleasant setting.
Teaching Process Innovation
In the past, educators and children in playgroups interacted on the basis of ethics. School teachers performed substantially better when they had guardianship power over playgroup students. They were strict, daring, maverick, orthodox, and prepared to employ severe means to discipline the children in the playgroup. In today's culture, it was permissible to retaliate against playgroup pupils who were told to run on the wrong vehicle. Despite the widespread adoption of ethical standards, school teachers are obligated by legislation.
If you're terrified, you won't succeed. The dynamic between schoolteachers and preschool students has changed considerably. To strengthen the rapport between teachers and their students, experiments, experiments, and demonstrations are carried out. Schoolteachers must understand the psychology of nursery children. In today's extremely imaginative society, the link is forging a new route by enabling young playgroup students to go on experiences.
The internet, virtual worlds, mobile e-learning, and online research are all new concepts that nursery children may learn about. They must have a constant presence in the digital sphere. As a consequence, in order to survive in the wireless world, school instructors must play a role in supporting nursery children in gaining knowledge.
Do you know that in Europe, advanced nursery school students use the internet to continue their education at an early age? As a consequence, even a primary school student may grasp the essentials of computer operation. Nursery pupils may browse many websites and do research under the supervision of an adult. As a consequence, make sure that playgroup students have access to the internet. School instructors must be innovative with updated rules, ideas, concepts, and futuristic school business plans to erase the shortfalls of nursery youngsters.
Rather than discouraging nursery school students, colleges should give feasible options to assist playgroup students in getting on the right road. It is necessary to enhance training. To shape the lives of nursery students, preschool educators must be competent. They should be morally clear and feature innovative ideas to assist playgroup students in developing their thinking skills.
Nursery students appear to be tumultuous during their formative years. Children in playgroups need extra care. The line between good and evil must be kept in mind by playgroup educators. In life, a single blunder cannot be the end of the story if there is no resolution. Teachers must provide additional ideas, alternatives, and the best advice to help nursery children develop their souls.
Every junior playgroup student must have a goal or a passion. Regardless of whether nursery children are divided into different groups based on religion or socioeconomic status, they must be assisted in completing the stage without failing. It's difficult for a single individual to attain the peak of success all at once.
Thanks to their tenacity, commitment, devotion, strong resolution, determination, and distinctive industrious attitudes, they ultimately find the last choice. To improve the social status of children, educators must be open-minded and prejudice-free. They treat both Muslim and Christian youngsters in the playgroup equally. They must also avoid racism and gender bias in the same way.
Teachers in playgroups must provide a pleasant, cool learning environment for their students. Little nursery sweethearts are cruelly abused by arrogant tutors. A few distressing photographs of extreme abuse and exploitation may be exhibited to assess the roles of instructors in playgroups. One of the occurrences occurred at a missionary school in Brisbane, Australia. A Catholic Church bishop sexually assaulted a number of young preschool kids. It's a complete nightmare.
Limiting teacher mobility is one way to change the Austrian educational system. They are not permitted to sexually exploit minors. When you schedule a meeting with teachers and other coworkers, you will be able to speak freely. Teachers must be conscious of their limitations while interacting with youngsters from various families. They are not allowed to work at the devil's factory.
They must be pious and devoid of malice in their mental catholicity. As a consequence, the preschool's management board should construct a corrective forum for teachers to cross-check and amend their mistakes. Students should follow their teachers. Respected older professors, on the other hand, must not compromise the relationship by bringing horror stories of sexual harassment and exploitation into the classroom.
Starting a Preschool Business without Political Influence Requires Good Management
Attending playgroups should not be permitted to contaminate the information processing industry. You're a successful businessman with a large sum of money to invest in your education. On the other hand, the political arena is a different entity that must be maintained apart from your school. Instructors should communicate with the department head if they have many complaints regarding management. The playgroup instructors are not lawbreakers who want to disrupt the playgroup's and business's environments by tailoring their knowledge to a varied set of nursery children in order to expedite their learning.
They often go to the streets to express their dissatisfaction with the school administration. This is inexcusable. So, inform your boss that issues such school payroll, emoluments, insurance coverage, and travel allowance should be addressed with guts, regardless of political influence. Bootlickers with a great drive to earn money recklessly should not be sold the teaching business industry. The teaching profession must be free of fake preschools. As a consequence, effective preschool business marketing initiatives are essential to change the perceptions of people seeking higher education in the information processing industry.
You may modernize your playgroup by broadening its boundaries. Instruction and strict monitoring are insufficient to motivate students. Indoor events, games, and social meetings must be conducted to bridge the gap between instructors and students.
To encourage playgroup students to be more proactive, create calendars with special holidays, athletic events, and annual celebrations. Children should be taught how to be morally strong, honest, and sincere. Freedom of speech is the best rule to follow. Instead of pressing small-school students to follow rules, offer examples to stimulate their thinking. Bring a few excellent role models for kids to follow.
It is impossible for knowledge to remain stagnant. It has to be reconsidered. Students will be able to become exceptional disciples with a strong desire to participate in nation-building efforts. As a consequence, you'll need to examine current trends in the modern European education industry in order to reproduce the best models and enhance the preschool's design. To aid young people in going ahead with strong goals to attain, provide innovative learning techniques in awe-inspiring environments. They must be leaders in order to rule the country.
Allow for vigorous and well-understood little trots. Find hidden talent among the children in your playgroup. This is a crucial step in securing the next generation's prosperity, affluence, and growth. The most significant feature of your modern preschool should be the goal of finding talent. To provide career development equations, school teachers must assess the ability of the playgroup students.
Finally, when it comes to transforming the typical preschool in new ways, be more deliberate. Imitate European approaches to reorganize education in line with current job market trends. Students must, of course, have access to a restricted number of job-related courses at your schools. However, this does not mean that they must have qualifications or certificates. Allow school kids to get acquainted with basic i-devices, which will be required later in life in order to advance in the business sector.
The conventional schooling system of the KPO business is expected to be completely overhauled, according to experts. There will be no schools in reality. Students must first log in to access the virtual tutoring/school portals. Projectors are necessary to communicate with notable school teachers from over the world. When it comes to finishing courses, there should be no hurdles or age limits. Using a robotic platform and IoT-enabled devices, the number of school-related responsibilities will be reduced.
This future preschool paradigm has to be widely adopted. Concentrate your energies on schools of thought. Create preschool business models and company templates to add a personal touch to the preschool. After completing their education at your pre-school, students will be confident in taking higher-level tests.
Find a concrete basis on which to launch your preschool business into the KPO industry without getting lost in the dark alleys. You'll revamp the training process in your new organization. The new digital learning site must be adaptable in order to provide mobility, speed, and compactness in training. Maintain the educational quality of the school. Join the world's greatest education business system by connecting your preschool.
Students will be encouraged to do their assignments rather than intimidated. Instead, children will enter to preschool with a sense of wonder, excitement, and a strong drive to reinvent themselves in the world. Your preschool is a little research center for playgroup pupils where they may begin their investigations. The facility is always being remodeled in order to improve vision. A modern preschool should reinvent the training process to better the teaching profession.
It must be an e-learning site to widen the reach of more accurate self-discovery research in the coaching field. Finally, before investing your hard-earned money to start a preschool in your neighborhood, you should do a series of data comparisons, content assessments, and more comprehensive table work in order to become a successful entrepreneur.
The present generation will honor your contribution to the teaching/education profession. Read school reviews, check online school templates, and imitate more authentic template models for thorough research. To make your ultra-modern preschool stand out in the knowledge processing business, read school reviews, check online school templates, and emulate more genuine template models. Be perfect with a great desire to create a global enlightened civilization that caters just to aspiring nursery school youngsters seeking to change careers.
It's a new research institute that will give advanced education and mentorship to a million playgroup kids in order to help them become literate members of society. New preschool management efforts must let you taste success while also giving you a great profile to exhibit in the teaching industry.