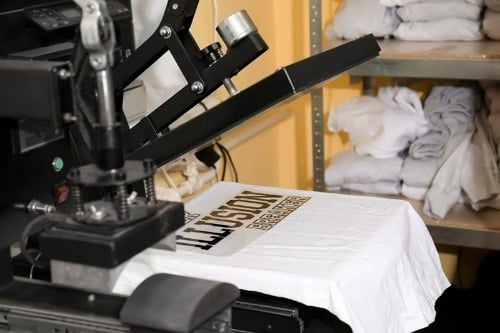 One of the easiest garment sales businesses to start is a t-shirt company. Anyone may start a social media marketing sales campaign, and equipment and services are widely accessible in this kind of fashion clothing company. Despite these advantages, success requires the development of a high-quality, individualized screen print company strategy. The business plan walks the owner through every facet of the company, including the kinds of clothing and services offered, the most effective marketing and sales techniques, and financial projections.
The industry that has a lot of room for growth
Since 1920, when it was once a go-to piece of clothing, a simple t-shirt has come a long way to become the greatest stylish outfit for most situations throughout the world. There are many different hues, styles, and graphic designs to pick from these days. As a consequence, it seems that this market will continue to rise.
Clothing has grown into a multibillion-dollar industry. However, since there are hundreds of potential and present market niches for entrepreneurs in the clothing business, there are still plenty of opportunities.
Because the t-shirt market has so much potential, you may choose to start your company with a screen printing business plan. Before starting a business, you should have a solid awareness of current t-shirt trends, the materials you'll need, your target market, and the supplementary services accessible in the industry.
Having this information on hand allows a business to make educated decisions about what to offer their customers in the print on demand industry. Then, in order to achieve particular industry targets for the t-shirt firm, you must fill in the details of operational principles, marketing, and sales. This makes creating a precise corporate plan and financial statements that can be displayed on a screen more simpler.
On the market, there are many different types of t-shirts. The T-shirt was mainly utilized as an undergarment during World War I. It was used as a layering garment under the uniforms of European and American soldiers.
The t-shirt has become a staple of everyday wear thanks to well-known Hollywood masterpieces? Marlon Brando's performance in "A Streetcar Named Desire," in which he wore a plain white t-shirt, is one of the clearest examples.
The traditional t-shirt has had an indelible effect on how we dress. It's now a staple in every dress and occasion. T-shirts may be seen everywhere these days, whether at fashion shows, parks, schools, or any other event. It may be paired with a trendy skirt or jeans and worn over swimming suits or slacks, as well as on newborns in cribs. T-shirts, which were formerly considered casual, are now adorned with beads and sequins or trimmed with lace to add elegance to the otherwise simple clothing.
As a consequence, it is vital for business owners to be informed of different t-shirt trends and to choose the designs that their t-shirt company will provide to the market. Different types of necklines and/or sleeves may be utilized to distinguish various t-shirt styles.
Sleeves come in a variety of styles.
Shirt having a sleeve length of less than a third of an inch
Sleeveless
Dolman sleeve cap sleeve cap sleeve cap sleeve cap sleeve cap sleeve cap sleeve cap sleeve cap sleeve cap sleeve cap sleeve cap sleeve cap sleeve cap sleeve cap sleeve cap sleeve cap sleeve cap sleeve cap s
Raglan sleeved tops
Yoke on the sleeve
Here are a few examples of typical necklines
Deep v-neck and v-neck
Scoop neck and deep scoop neck are two different types of scoop necks.
Is it better to have a crew neck or a round neck?
Top with a squareneck and a tank below (a sleeveless t-shirt with one neckline)
Some of the popular t-shirts have sweetheart necklines, halter necklines, surplice necklines, and keyhole necklines. When drafting a screen-printing business plan, you must identify the types of shirts that will be chosen and sold as items. Are you offering t-shirts for men, women, or both?
Materials
Many t-shirts are made of a cotton-polyester mix or are made entirely of cotton or polyester. The kind of material chosen determines the weight, durability, and appearance of a product. Two of the materials utilized include organic cotton and knit fabrics. The following factors have an impact on the quality of t-shirt materials:
The seams' material
The neckband's material
The thread that was used
Finishing
The suitable t-shirt structure and garment material are influenced by a variety of factors. What is the cost of working in the fashion industry? The more the corporation pays for the material, the more expensive it is. Is the tee being offered for a specific purpose, such as a fashion tee, athletics (knit jersey), or just everyday wear? Do you intend to provide designed t-shirts as part of your screen printing business plan? What kind of cloth are you going to use for the design?
Market Segmentation
The screen print business plan also includes a section on the target market's characteristics. The clothing industry and the POD niche for t-shirts are described in the marketing section of this screen printing business plan's clothing market analysis. By taking the time to understand your clothing and fashion industry, you may progress in a very sustainable manner and enhance sales.
The market is really crowded. As a result, establishing a t-shirt company online is a very practical alternative. Online shops or significant stores with a lot of cash for an investment group are examples of businesses that sell to a wider and larger clothes market.
People that succeed in the small clothing company or the fashion apparel industry will focus on a certain market segment and niche in order to deliver services and items that meet their consumers' needs.
Understand the Market Niche
When focused on the market, two important aspects to consider are the needs of the customers and their age. Here are some of the questions that a clothing company owner should consider:
Will there be t-shirts for newborns and toddlers, adolescence, youth, and/or adults available?
Will the t-shirts be targeted at a certain audience, such as top designer tees for babies or prominent rock bands for teenagers?
Will there be a variety of t-shirt styles available in the company's product line? What sorts of clients would be attracted to each style?
How would the quality and style of t-shirts meet the needs of the target market? Do you need to meet a market demand? The expanding number of baby boomers, for example, may need different types of t-shirts.
Options for Design Printing
T-shirt design firms aren't all created equal. One print-on-demand firm may just make plain t-shirts with no graphics for working professionals. In order to connect with the target market, other t-shirt business designs may supply clothes with unique graphics. There are many of options when it comes to graphic design, whether it's a single word or a complex design.
There are many firms that provide different services when it comes to launching an online t-shirt company, becoming a successful competitor, and creating a brand in this industry. Some even allow customers to customize their t-shirts by giving specific instructions. A sales company may also provide a garment design library, which can be utilized to upload and create new designs as well as be printed on tees.
To choose what sort of printing equipment you'll need for your print-on-demand business or the printing services you'll need from suppliers, you'll have to pick from a variety of options. T-shirts may be printed using three different methods —
Direct-to-Garment – The ink is sprayed directly onto your t-shirt with this printing procedure. It's akin to printing a multicolored picture. It suggests that the ink printer in issue may easily be upgraded with electronic graphics. The quantity of apparel that may be produced is limited by the time it takes to print and design each t-shirt.
Screen printing has been around for a long time as a form of t-shirt printing. The completed result is durable, and there is plenty of room to experiment with other colors while maintaining within the constraints. The t-shirt company should also have the appropriate equipment, as well as a team with the requisite skill sets to create numerous designs and the ability to employ in-house equipment.
In any event, the t-shirt business considers it a costly option. Many screen printers have a minimum order requirement, even if you can purchase printing from them.
Heat Transfer – This printing technique is Centuries old, going back to the days when a print was ironed onto garments. Heat is used to transfer the print colors to the garment and create a picture. Plastisol is a more recent variation of this process, since it generates pictures that are more long-lasting than prior versions.
It's basically a screen-printed design printed on special heat transfer paper that's then placed to the t-shirt and the graphics are transferred to the clothing using a heat press. One of the best aspects of this printing method for a tee company is that they may buy as many pre-printed designs on heat transfer paper as they need and print shirts more accurately.
As a business owner, you may buy all of the equipment you'll need to print and create t-shirts. It requires a substantial investment in software, computer hardware, and shirt printing machinery. A clothing company may also buy pre-printed shirts from a vendor, who will then send them to customers. The company's owner may also pick printed t-shirts without worrying about order size.
Create a business plan for an online t-shirt store.
A POD firm must next decide how to sell after deciding how to create goods, what to offer, and how to manage orders. Will it be a traditional store, an online t-shirt business, or a hybrid of the two?
Do you intend to rent a kiosk at a local mall and sell to the general public or wholesale to retailers? You have many options for selling your products.
In order to build their online fashion businesses, many entrepreneurs now design a screen printing business plan. They may either create their own online POD business to sell and market t-shirts, or they can put up a store on eBay or other platforms to sell online. These suppliers can help entrepreneurs start their enterprises online, accept orders, and collect payments. A number of businesses offer these services.
It's time to create an online t-shirt screen printing business plan when you've done your market and industry study, and the firm owner will pick what they'll sell.
The business owner may experiment with various templates and examples. On the internet, you may get templates and samples. To get a flavor of the paper and how it will look when finished, read the sample document. However, do not duplicate the template. It should only be used as a reference point.
Everyone has access to such templates. To maintain the originality of the template, don't replicate it. Investors can immediately tell whether the content is genuine or only a draft. Using standard templates will not pique the interest of investors.
When writing a custom t-shirt screen printing business plan, keep the following points in mind:
Do you make your own fashion designs or do you rely on merchants for ready-made patterns?
What will be the purpose of your company? For example, presenting youngsters with long-lasting, high-quality t-shirts with appealing designs.
Despite the fact that it is operated by a single person, your company's qualifications and competence.
Based on marketing research, the company's sales promotion techniques include the successful utilization of charity events, social media, convention hall exhibitions, and fairs.
Internet orders, direct sales, phone sales, and other sales channels are among the company's sales techniques.
Details about the competition and how to differentiate yourself as a fresh brand from existing t-shirt companies.
Estimated sales for the firm.
The company's operational structure includes customer service, labor, inventory requirements, and production methods.
A company's financial planning should contain cash flow predictions, profit and loss, and a balance sheet when it comes to operational sustainability.
Design samples, vendor agreements, and/or graphs and charts are examples of other data.
Considering the Financial Aspects
When writing a screen print business plan, one of the first questions that comes to mind is if investors are willing to pay for the money and startup expenses till your firm grows. If you said yes, your response is directed to your investors and supports the request. The financial strategy for your business would basically include a lot of information to ensure that your company is legitimate:
Investigate the breakeven threshold.
Financial projections
Expenses that will be incurred in the future, both variable and fixed expenses
Sources of income and revenue projections
On a yearly basis, gross margin
Profit and loss statements on a monthly and annual basis
Business ratios include accounts payable turnover, inventory turnover, and debt ratio.
Keep track of the estimated costs of your online t-shirt company. You may choose to understate your profitability by omitting particular amounts like as annual insurance payments, loan payments, software expenditures, or future expansion equipment. It is always a good idea to employ someone to help you with your company's Pro-forma statements unless you have previous financial skills as an entrepreneur. It is crucial when you need investment.
You must avoid these blunders.
You should seek professional help while developing a screen printing company plan. You may skip this stage if you wish to start a family business with just one employee – yourself. However, if you don't want your POD business to fail, you'll need to work with a professional to create a solid business strategy. It's crucial to prepare ahead for every element of your business. If you don't have a plan in place, you don't want to make a mistake.
With that in mind, here are a few of the most common mistakes to avoid:
It's a formula for disaster to start a business without a defined plan for filling, accepting, and dispatching orders.
Neglecting to do market research and failing to present a profit and loss statement for the company
Making a professional brand without a corporate theme, logo, or goal is a difficult task.
Starting a firm without a significant number of design options is doomed to fail.
Unexpected sales growth is not foreseen, which leads to dissatisfied customers who cooperate with competitors.
Failure to realize the issues and dangers that come with owning and operating a business
Having difficulty obtaining the requisite competence and producing high-quality design work (such as hiring an employee or acquiring computer skills)
Having a poorly designed, bug-ridden, boring, and difficult-to-navigate company website.
Using Social Media for Marketing
Using social media to promote your company will be a breeze if you have a sound marketing strategy in place. Sending tweets or leaving comments on social media sites is just one part of the process.
To guarantee success, entrepreneurs should share their knowledge with the market (for example, how to tell the difference between low-quality and high-quality t-shirts) and maintain and begin discussions that build relationships and attract customers. The goal is to become useful to them and aid them in picking the ideal tees if you can attract their attention.
The screen print business plan is one of the most crucial documents for small businesses to create and maintain, as it acts as a road map for long-term growth.
If you're having trouble designing a strategy for a t-shirt screen printing firm, you should seek professional help. The goal is to develop a custom business strategy that answers unique demands while avoiding broad data. Choose templates that provide extensive instructions on certain aspects of the formal plan.
How Do You Begin a T-Shirt Business?
Screen-printing is a specialist business channel that may be derived from a number of successful business ideas. Screen printing, as previously said, allows for a wide range of personalized options, which may appeal to the target population.
Obviously, apparel isn't the only item that need a screen-printing design plan. It's also used to make posters and bags. It is the responsibility of the company and its owner to develop fresh and inventive sales tactics.
Screen-printing patterns are in great demand in the business, and they sell well for a number of reasons. Consider the case below:
Customised t-shirts or trendy bags with the school or business logo printed are always in demand at different educational institutions and corporate workplaces, where personalized t-shirts or attractive bags with the school or company emblem printed are always in demand.
Companies that want to advertise their brand with customized t-shirts or other promotional products. Sportsmen are allowed to wear uniforms with commercial logos on them.
To raise awareness about social concerns, charity groups and event planners use bespoke screen-printed banners and clothes.
Another option for retail shop owners to promote their clothing business is to resell custom-printed stylish items.
Important Factors to Consider When Starting a T-Shirt Screen-Printing Business
Do you want to learn how to establish a t-shirt business? If that's the case, we've put up a list of crucial steps to help you grow your t-shirt company. The early stages of developing a t-shirt screen printing business strategy are challenging, and even apparel salespeople may neglect important elements.
This initiative, in our view, has the potential to save you money in the future by preventing any form of disaster when it comes to selling fashionable goods. To get started with the t-shirt printing company, follow these key steps:
Obtain a Legal Business License
Every print on demand firm should have a genuine government license to legally operate in a certain region. To get your license, you must first create a fashion clothing category based on a number of factors. Whether you're starting a limited liability company, a partnership, or even a sole proprietorship, you'll need to file our clothing business license with the state's secretary of state.
It is recommended that you submit your clothes business license application to the local office. You must have a valid Employer Identification Number whether or not you have workers. Visit the Internal Revenue Service's website to apply for the same.
Permission to resale t-shirts that have been printed
The state's revenue agency can help you get a reseller permit. Request and get approval to acquire things and garments from suppliers for resale to clients. You may be able to save money on sales tax if you get the necessary authorization. Return the tax on resold goods to the state government.
Special Permits
You'll need particular equipment, machines, chemical solutions, and tools to grow your screen printing t-shirt business. Make contact with the persons in charge of issuing a clothing business license in your area as well. Consult them to see whether you need authorization or if you require a certain chemical or piece of equipment for your fashion company.
Storage spaces for Allot Products are currently being allocated.
Make sure you have a storage area set out before you start your in-house sales company. Make sure the room has enough space for all of the supply boxes, clothing, and equipment.
You'll need a warehouse if you're not operating a home business. You may purchase, rent, or lease it. Make sure the warehouse has adequate room for you to set up your office. Meetings with your consumers are really important.
Screen-printing equipment
You'll need a range of crucial ingredients and tools to start a t-shirt screen printing business. You have the option of choosing them based on convenience or purchasing them. To accomplish this challenge, you'll need the following items:
You'll need a laptop or PC with a graphic design program installed to create fashion designs.
a sink with a drain a sink with a drain a sink with a drain
Heat was used to press it.
A conveyor dryer unit of exposure with a clothes drying rack
Squeegees Squeegees Squeegees Squeegees Squeegees Squeegee
Purchase Chemical Supplies While Work Is In Progress
To avoid a chemical shortage at your fashion clothing firm, you should stock up on all chemical supplies ahead of time, especially when screen-printing is in place. To accomplish this challenge, you'll need the following items:
smudge remover
Emulsion
For haze removal, use a yellowing remover.
Solvents
Because you'll require the aforementioned chemical supplies on a frequent basis, it's a good idea to build strong ties with some of the chemical suppliers. You may take advantage of further discounts as a return client and save money on your company's expenses.
Credit Exchange
You may not have enough money to start a t-shirt business due to your early expenses. In other cases, paying the wholesalers up advance may be challenging. In this way, merchant accounts may help you cope with such situations by enabling you to request t-shirts, apparel, and other items from suppliers.
This way, you'll be able to purchase clothes and other stuff on credit. You may pay your suppliers back with the money you get from the sale of the things. Keep note of the prices offered by several merchants before selecting on the one that provides the best value.
Promote in a stylish manner
You must appeal to your clientele in order to sell and market your company. Present your forward-thinking and fashionable viewpoint to achieve the same. As a consequence, you'll have a better grasp of the many varieties of trendy screen-printing t-shirts available.
Use a range of colors and samples on your brochures to showcase your company. Also, check with universities and schools. You must build good connections if you want large orders from such firms. Schedule a meeting and a tour of the city's many industry. To secure future possibilities, don't forget to offer out your business card.
Screen-Printing a T-Shirt: The Basics
When it comes to starting a t-shirt printing firm, you need have some basic knowledge as a business owner. To design attractive t-shirts that won't fade or wear out after numerous washes, you'll need to have the requisite screen printing skills and knowledge.
It should last longer in order to satisfy customers. Here are some detailed instructions on how to screen print t-shirts:
Step 1 – There are three different ways to learn how to use a screen printing machine:
You might look for some basic video courses on the internet. Pay attention to them and learn all you can about how to use this equipment.
When you buy a screen printing kit, you will get a manual. The guidebook offers all of the necessary information regarding the device. As a consequence, you must keep a tight eye on them.
Before starting your own firm, work for at least a few months at a screen-printing shop to get familiarity with the equipment.
Step 2 – When choosing a screen for printing a one-of-a-kind pattern, be selective. Take into account things like mesh size, color mix, and so forth.
Step 3 – The emulsion coating reacts to light. After cleaning the screen, set up a workspace that is well-lit with red lights and apply the emulsion coating.
Step 4 – Place the art film in a light exposure device once you've done adhering it to the screen. Later, it should be wetted in the washout position. The screen should then be exposed to direct sunshine to enable the paint to cure.
Step 5 – Squeeze. Place the design on a t-shirt and use the heat press to generate a test print. It takes time to master the process of applying prints accurately using screen printing equipment.
There's no need to rush into it. Learn how things work, master the craft, master the tool, and practice again and over. Don't worry if you don't succeed right away. You'll be an expert at it after a few attempts and errors.
Stage 6 – In the t-shirt screen printing procedure, this is the last and most important step. You may ensure that the pattern is completely imprinted by passing your works through the drying belt. This is a crucial point in the process. If the print is not applied properly, it will fade rapidly.
You can improve your skills with some trail practice and professional training now that you've mastered the foundations of business t-shirt design. As a result, the finished product will be high-fashion, one-of-a-kind, and long-lasting, with a high profit margin.
5 Mistakes to Avoid When Starting a Tee-Shirt Printing Business at Home: What's the best way to keep them in check?
Trying things out on your own
One of the most difficult aspects of starting a t-shirt business for sale is that most entrepreneurs want to swiftly develop their business by printing anything from bed sheets to t-shirts to curtains and even printing bags.
This, on the other hand, is a completely deceptive and wrong step. Concentrate on a particular subject and sell it efficiently if you're starting a POD online business. You can design high-quality things and construct an efficient screen printing company plan to improve sales if you have a defined focus. Your sales strategies and consumer reach may otherwise get lost in the mix.
Purchasing a Screen Printing Kit without any prior experience
This is another another major miscalculation that most business owners make and are completely oblivious of until it is too late. To print t-shirts and expect to profit from sales, you do not need to invest in the most expensive and high-end equipment. It's a comprehensive suicide strategy for your business.
Things take time to produce results. T-shirts for business designs, as previously said, need significant knowledge, skill, and time, as well as a basic understanding of technology, tools, and equipment. Attracting customers is vital; else, your sales will suffer.
Storage space is limited.
When it comes to starting a work-from-home business, there's one more thing to consider. The majority of entrepreneurs are overjoyed at the prospect of starting a new firm and making a lot of money.
They often underestimate the amount of storage space needed to house all of the supplies, screen printing tools, equipment, and other stuff. You can't simply throw away your pricey equipment wherever. You'll need to create a suitable space, either at home or somewhere.
Furthermore, the whole printing process needs a separate space with enough lighting, ventilation, electrical wiring, and dumping facilities. Other factors to consider while creating a sales and business strategy include environmental hazards, zonal standards and rules, and so on.
Not increasing market share
Many success stories of t-shirt companies may have advised focusing on market presence. You'll need to build relationships with a number of businesses and community groups. Make sure that everyone knows about your company's products.
Having a presence in the local market is crucial. People will become aware of your goods only if you form collaborations with a number of businesses and community organizations:
You may want to design some sample t-shirts for a well-known band that is coming to town.
Provide some low-cost sample t-shirts to NGOs and social workers that organize protests to raise funds and raise awareness.
To get people's attention, join an online t-shirt design contest and come up with a lot of creative ideas for your products.
You must be different and creative in your thoughts in order to reach out to the target audience. It will aid in the expansion of your market.
T-shirt tags are often overlooked.
Did you realize that t-shirt tags may promote your brand on their own? It's crucial that you don't overlook it. Would you be able to recognize a brand name if the tag on a t-shirt was missing? Would you buy it again if the chance presented itself? To save money on manufacturing, several companies avoid putting tags.
Make certain you don't make the same error. When compared to the cost of traditional marketing strategies, cloth tags are a bargain.
Most entrepreneurs make these mistakes all the time when it comes to starting a home-based screen printing business. It's time to be aware of and consider all of these factors in advance. Before starting a business, you must first ensure that you have all of the essential resources.
A well-designed t-shirt screen printing firm plan is critical to every entrepreneur's success. As a consequence, Skyrocketbpo will be able to create a screen printing business plan. We have a big assortment of t-shirt business plan samples and templates to help you. Please ask us for a sample or template paper so that you may judge the quality of the material for yourself and decide whether or not to employ our services.
You may locate and assess a variety of t-shirt screen print business plan samples and templates on the internet. They are open to the general public as well. Some templates are free to use, while others may need purchase. You can get a feel of the quality by looking at internet resources.
They are written from a range of views rather than being catered to a certain corporation. Many aspects, such as spelling, grammar, and formatting, should be extensively examined to differentiate between precise papers and free compositions produced by qualified specialists.
At Skyrocketbpo, we have professionals who work on business knowledge with talented writers. We go through every detail with the client and ensure that it is included in a well-written document.
Furthermore, consultancy acts as a conduit for communication between clients and writers, enabling them to express themselves. It can certainly aid in the conversion of all of those ideas into a successful screen printing firm plan.
In order to make money, you'll need to have a well-thought-out business plan for screen printing. Investors often have specific expectations, and they want all important information to be properly presented in the document.
As a consequence, it's vital to make contact with experts who have experience writing such documents so that they can aid business owners in obtaining funding that fulfills their requirements. Material is combined and written in a variety of ways, which skilled writers may successfully handle.
Appendix
While working on a screen printing business plan with Skyrocketbpo, you may concentrate on other aspects of your company. You may entrust us with your screen printing business strategy, and we will meet the deadline. We can combine your creative ideas with our professional knowledge to generate the best paper possible. You may reach out to us at any time. You may contact us at any time by email or phone.