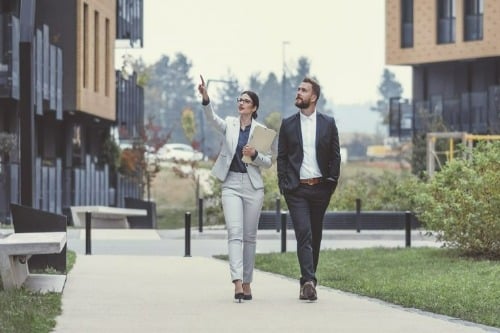 The Company
Jnexty Oloingoru's Au Fait Property Management Concourse will be a Beverly Hills-based property management firm. The company's primary purpose will be to maintain our client's property and find suitable tenants after doing the necessary background checks. It also requires taking measures to update the property and keeping up with essential maintenance.
If you're looking for rental property management business plans to learn how to start this business, you may get help here. In this sample property management business plans template, you can examine the whole working and financial plans of the company, Au Fait Property Management Concourse.
Research on the Market and Competitors
Before starting a business, you should perform some research to see what your competitors are up to. According to an IBISWorld study, there are over 275k property management businesses in the United States, and they together generated $75 billion in revenue in 2019.
Despite the fact that the figures show a 0.5 percent annual growth rate, they are nonetheless concerning since they indicate that you will need to develop distinctive traits in order to stand out in the crowded market.
These Extra Features Can Help You Improve Your Property Management Services
Typically, such companies look after the real estate of people who have several properties that they can't handle on their own, as well as those who don't want to deal with problematic tenants when it comes to collecting rent. To keep ahead of the competition, you'll need to add some additional features to your business to make it a valuable alternative for your customers.
To get an edge over its competition, Au Fait Property Management Concourse offers the following strategies:
In every transaction, no matter how tiny, be careful and aim for excellence.
Maintain long-term collaborations through developing personal relationships with estate owners.
Look for those who are good communicators and can work effectively with others.
To keep the owners up to date with digital records of transactions, scripts, documents, images, and videos, purchase or employ a property management software firm. Tenants may also utilize this system to register complaints and problems, as well as get reminders about their responsibilities.
Determine who your customers are
If you're thinking about launching a real estate business, you need first figure out who you'll be working with. In general, you'll need to interact with three distinct categories of people.
Landlords: While many property owners do not want to keep their properties vacant, they also do not want to deal with the inconvenience of finding tenants and dealing with them if they are problematic. As a consequence, the first individuals who may approach your property management firm are landlords who either have properties in many places or have assets in the same city where they live but are having trouble maintaining them all and managing tenants.
Renters: The second type includes renters who are seeking for a great location to live but need the services of a middleman to connect them with property owners. Property management companies are regularly contacted by people who need to rent a house because they may provide a selection of real, safe, and reasonable alternatives.
Contractors: The third category of people includes individuals who are responsible for finding tenants for someone else's property but prefer to have the task done by professionals who are more efficient and competent in this industry.
Market Research
Every company should begin by determining where they are now and where they want to go in the future. To examine your position in regard to current competitors and explore the market from all sides, you'll need a comprehensive marketing study.
Marketing analysis, when done properly, reveals a market's underlying dynamics. By manipulating previous economic variations, trends, and market competitors, it gathers data and projects prospective economic changes and alterations in customer spending habits in the near future.
Benefits in the Long Run
A property management market analysis might have a long-term impact on your company by influencing key decisions. Other aspects of a business that are affected by the market include:
As part of a company plan, selecting promotional activities and marketing methods for property management
Adding features to entice property owners to choose you to manage their property
Obtaining the necessary legal documents in order to avoid any roadblocks
As a consequence, it's a foregone conclusion that if decisions aren't made effectively, a firm will fail – which, one again, is dependent on how well you've studied your target market. If you want to start a property management firm, you'll need to hire a marketing analyst with experience to develop a market research strategy for you. If you have industry expertise, you may be able to do it yourself in certain cases by looking up examples and samples on the internet.
Personnel strategy
You should research property management business strategies to discover which personnel will be necessary before concluding your property management firm staff.
Employees of the company
Jnexty will be in charge of all of the workers, but the list of individuals he has chosen to hire after reviewing several examples of how to start a property management business plan, as well as job descriptions, is accessible here.
Manager of the property:
Ascertain that the client's property is well-kept.
Calculate your overhead costs.
Set rental rates that are based on current market and local pricing.
Market depreciation costs must be addressed.
Maintain control of the tenant referral program.
Manager of Property Maintenance:
Ascertain that the repairs are finished on schedule.
Oversee the workers in charge of maintenance and repairs.
To enhance the look of commercial and residential properties, landscape and contemporary approaches may be applied.
Representative of the Property Management Service:
Interact with landlords and tenants, explaining the company's goals to them.
Publicize vacant houses and venues to attract tenants.
On a number of venues, provide lectures and seminars on behalf of the company.
Manager of Human Resources:
Job opportunities should be posted, and qualified people employed.
Train and assess the performance of the company's staff.
Keep an eye on the job division and staff hierarchy in general.
Engineer, Software:
To manage and administer a property, you'll need property management software.
Ensure the security of both the data of consumers and the data of the organization.
Manage the login IDs and passwords for tenants and owners.
Accountant & Financial Advisor for the Company:
Keep track of all receipts and transactions from landlords and tenants.
It is critical to keep track of the company's budget and expenditures.
Create a discount strategy by analyzing financial data.
Officer of Sales and Marketing:
Advertise your company in local newspapers and on social media.
Find creative strategies to connect out to a broader audience.
To promote the company, collaborate with a representative from property management services.
Officer at the Front Desk:
Customers are welcomed and given directions.
Take care of any incoming calls or mail.
Legal Counsel:
Obtain legal documents and properly fill them out.
Give consumers legal guidance on a number of issues.
Provide legal assistance and advice on all activities.
General Staff & Repairmen:
Maintain a client's property under the supervision of a property maintenance manager.
Take care of property and construction-related disasters.
Selecting appropriate individuals from a huge pool of resumes Exams and interviews will be conducted by Jnexty in collaboration with the HR Manager. When it is established that a person would not harm the company's reputation or create customer dissatisfaction, they will be employed.
Inventory and modern tools
The business will purchase computers, office furnishings, a transport truck, maintenance equipment, and other required goods two weeks before to the debut.
Employees' Average Salary
The company will pay its employees more than its competitors to assure top-notch service and output.