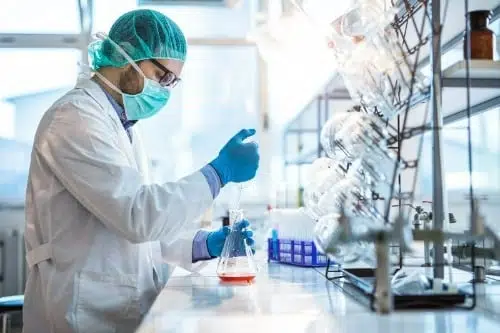 Start your own research facility with a medical laboratory business plan.
Medical laboratories have always been in great demand due to the ever-increasing population. Consider opening a medical laboratory if you want to build a name for yourself in the medical and healthcare field. It will help you to not only earn a lot of money, but also to aid the elderly and sick in recognizing their problems.
A medical laboratory business plan is offered here to help you understand the financial, human resource, and other requirements for starting a medical laboratory. This MediChecks, a medical laboratory firm, sample business plan will cover all aspects of how to start a medical laboratory.
The Company
MediChecks will be a licensed and renowned medical laboratory in Houston. Wellness checks, testing for various health conditions, and vaccines will be provided by Vanessa Smith's laboratory.
If you want to discover how to start your own medical laboratory, keep reading this business plan. A pdf lesson on how to start a medical laboratory firm is also available on this website.
Medical Laboratory Management
Make sure you have a sound management structure in place before starting a laboratory.
To guarantee the company's long-term success, MediChecks will appoint a procurement manager, human resources manager, and general manager. Managers will be assigned a team to help them carry out their duties, which include buying medical and chemical equipment, hiring the finest people, and managing day-to-day situations.
Medical Laboratory's Clients
Despite the fact that our customers will be of diverse ages, we expect the elderly to be the most regular visitors. We aim to provide special arrangements for senior folks, who need more attention, care, and consideration.
Business Objective
Our goal is to become our community's most well-known medical laboratory. We also aim to build long-term connections with our customers so that we may benefit from their company.
Owner of a business
Vanessa Smith is a Baylor College of Medicine graduate from Houston. She has an MBBS degree and has worked at Kindred Hospital Houston Medical Center for the last two years.
Throughout her career as a doctor, Smith had developed skills in managing her team and dealing with patients.
Why is a medical laboratory being established?
Smith has always wanted to be an entrepreneur in the medical industry. Since she was a university student, she had been exploring the prospects for beginning a company.
After years of working, she decided to start her own medical laboratory. She chose the medical laboratory because, unlike clinics that had to be open 24 hours a day, it was very simple to manage.
In this sample business plan, we've documented how Smith established and successfully operated her medical laboratory. This might be a wonderful place to start if you're looking for the best medical business plan template to employ for your own firm.
How will the medical laboratory be established?
Since she is a medical graduate, Smith hired a qualified business consultant to write a business plan for a medical laboratory. After getting a complete laboratory business plan, Smith decided to hire the managers first so she could have an experienced guide for purchasing the necessary equipment and employing the suitable people.
The next step was to employ an advertising manager who would also oversee the company's social media strategy. Smith took his advice and hired an IT employee to keep the company's website and database system running smoothly.
Smith rented a large ground-floor store for the setup and made the necessary changes to turn it into a medical facility. The medical equipment was set up, and patient, physician, and personnel seating arrangements were made.
Products
You must first decide what services you will provide before opening your own research lab. When you know exactly what you'll have to do, you'll be able to make the best decisions.
Medical equipment is also expensive, so you'll need to know exactly what services you'll be providing before making any purchases.
In this laboratory development plan example, we've highlighted the services provided by MediChecks during their early stages.
Wellness Checkups are an excellent way to ensure that you are in good health.
You must have regular checkups if you want to avoid diseases and chronic illnesses. We'll conduct medical exams to help adults and children identify the illnesses they're dealing with.
Our package includes vision and hearing tests, urinalysis, hemoglobin test, ECG, renal and abdominal checks, and a blood pressure check.
Clinical Laboratories Services
The following tests will be available: blood tests, cholesterol tests, urine tests, spinal fluid analysis, immunology and allergy tests, liver function tests, and thyroid tests.
Radiology services
First, we'll do X-rays, ECGs, and ultrasounds. Within a year, we want to provide MRI as part of our radiological services.
Checks For Vaccinations And Diseases
Diagnostic testing will be available for a number of illnesses, including coronavirus, dengue fever, and others. We will also provide immunology and immunization services to children.
Medical Laboratory Business Marketing Analysis
A laboratory startup, like any other business, must do a comprehensive analysis of its target market. Before you start your diagnostic laboratory business, you must first study the industry dynamics and target clientele.
Before writing a medical laboratory business plan, you must first understand the market so that you can make timely and informed decisions.
Whether you want to learn how to start a medical laboratory or how to create an effective marketing strategy, you can get help here. This advice on starting a medical laboratory company pdf includes the full marketing study conducted by MediChecks.
Market Developments
Medical and diagnostic laboratories are in high demand these days. A steady growth in population and an unanticipated spike in coronavirus infections are among the explanations. Citizens have been more concerned about their health than ever before, realizing that any underlying medical issues might leave them vulnerable to COVID-19.
In 2020, over 27,000 diagnostic labs are predicted to be operating in the United States, according to IBISWorld. The amount is expected to rise dramatically. By 2024, all medical labs in the United States will earn $54.7 billion in income, according to Statista. All of the data points to now being the optimum time to invest in this business.
Segmentation of the Market
Senior Citizens: The senior inhabitants of our community will be our major target group. Houston's senior citizens are expected to come in for routine health checks. If kids have frequent inspections and testing, they will be able to prevent a variety of diseases and significant difficulties.
Children and adults: Our second target group consists of teenagers and adults. They are likely to need our clinical laboratory and radiological services.
Adults often need blood or urine tests, X-rays, and other tests. As a consequence, we expect them to be our second most important target customer group.
Teens and children will visit us for a range of tests, checkups, and vaccinations. We'll provide them little gifts together with their reports to give them a one-of-a-kind experience.
We understand that our target client has a phobia of doctors and medical examinations. As a consequence, by exchanging gifts, we will make them feel as though we are their friends and well-wishers.
Business Objective
Our company's goals are as follows:
must maintain a 4.7 or better average rating throughout the year
We intend to achieve a 35 percent customer retention rate at the end of the first year.
You should have a net profit margin of $10k per month at the end of the first year, and a net profit margin of $20k per month by the end of the second year.
Pricing of Products
Our prices are lower than those of our competitors. We will also provide several discounts throughout the early phases of our business in order to attract more customers.
Marketing Techniques
Developing a marketing plan for a laboratory facility takes more effort and expertise. While developing a laboratory technique for the commercial, keep in mind that you are targeting the patients. Your tone and words should show that you are empathizing with them for their own good, not for your own.
In this lab proposal style, MediChecks' marketing strategy is described in full.
Analysis of Competitors
Our customer-centric approach is our most important competitive advantage. Because turning customers into leads is our primary goal, we've kept our fees lower than the competitors.
Second, we have some of the best physicians in the city, who are both knowledgeable and kind. Anatomic and Clinical Pathology is a specialty in which all of our medical specialists have received extensive training and certification.
Strategy for Selling
We'll offer you a 40% discount on all of our services for the first two months.
We'll maintain a strong social media presence to reach our target audience.
To market our new company, we'll employ billboards and advertising.
Customers under the age of thirteen will get small to medium-sized gifts.
Personnel strategy
Hiring the right workers is critical for any business, especially if the position requires a lot of interaction with people.
Before undergoing rigorous testing and interviews, MediChecks created a list of required personnel, their job descriptions, and anticipated pay.
Continue reading to learn more about MediChecks' thorough personnel strategy in this medical business plan sample.
Employees of the company
The company's CEO will be Smith. She'll enlist the help of the people mentioned below to work in her lab.
There will be one General Manager in charge of all elements of the lab's activities.
There will be one Human Resource Manager in charge of the personnel.
The purchase of machinery, equipment, and chemicals will be handled by one procurement manager.
To maintain the lab's database, website, and social media presence up to date, two IT professionals are required.
Four medical laboratory personnel will conduct the tests.
The test samples will be examined by two pathologists.
Two radiologists will be in charge of the radiology department.
To maintain the premises clean, there are two cleaners.
For day-to-day duties, 2 general workers/technicians are required.
There will be one receptionist to assist guests.
a single security officer
Plan your finances
A business will not be able to thrive without sound financial planning. You'll need to invest in expensive equipment and gear if you want to establish a laboratory. As a consequence, you'll need a clear plan for how to use your financial resources in order to get the most out of them.
If you want to see what an effective financial plan looks like, you can seek assistance from this site. This sample business plan for a medical laboratory includes MediChecks' whole financial approach.