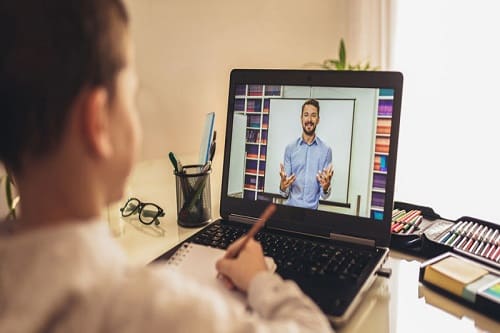 PreK-12 professional learning and development were critical in assisting the transition to remote learning during COVID-19.
In a recent webinar hosted by edWeb.net titled The Transformation and Funding of PreK-12 Professional Learning in the COVID Era, Kathy Mickey, Managing Editor and Senior Analyst at market research firm Simba Information, discussed key changes impacting the professional learning market in 2020 and the outlook for 2021.
Mickey discussed the results of a recent study titled PreK-12 Professional Learning Market 2020, which highlights market drivers, constraints, and demand drivers.
The Impact of COVID-19 on Professional Learning
Sales of professional learning products and services used in preK-12 schools are predicted to reach $5.59 billion in 2020-2021, down 2% due to education budget constraints, according to Mickey.
The COVID-19 outbreak harmed the business at initially, but it also created a huge need for professional development as schools shuttered and teachers battled to help youngsters acclimate to a new setting.
Teachers will need long-term support on a variety of COVID-19-related issues, including:
How to Deal with Equity Issues
How to Handle Social and Emotional Problems
In the face of uncertainty, making precautions
What can be done to assist parents?
What can be done to meet the needs of children who are falling behind academically?
Trends in Professional Learning in 2020 and 2021
Workplace learning has become "much more customized." The business has witnessed a dramatic conceptual shift—from top-down to educator-led—with more flexible, personal tools like coaching, learning communities, and digital learning hubs.
STEM, fundamental reading, and foundational arithmetic are all perennially popular topics. Social studies, which will involve counseling on how to deal with different ideas, will be another popular subject. Mickey also sees an ongoing need for professional development that addresses customized and differentiated learning, project-based learning, maker spaces, special education, and the needs of English language learners.
Professional development that goes beyond the basics is becoming more important, especially in terms of technology utilization. Rather than just showing how to use a gadget or program, professional learning materials should explain how to leverage technology to improve learning.
Market Trends and the Competitive Environment
The competitive environment for professional learning is made up of independent consultants, pure-play professional development firms, NGOs and organizations, instructional materials providers, higher education institutions, and K-12 instructors.
The good news is that, at least temporarily, there is adequate government funding available for the professional learning sector thanks to the substantial pandemic assistance granted by the CARES Act, CRRSAA, and the American Rescue Plan.
Where can I learn more?
Additional facts and insights may be found in PreK-12 Professional Learning Market 2020. This report was created using Simba Information's ongoing research, data collection, and interviews with officials from state education agencies, school districts, schools, professional development companies, and advocacy groups.
Simba's information
Simba Since 1989, information has been considered the primary source of market knowledge in the education and professional publishing industries. Our experts give you with critical analysis based on years of field experience and high-quality data few industry insiders have access to.