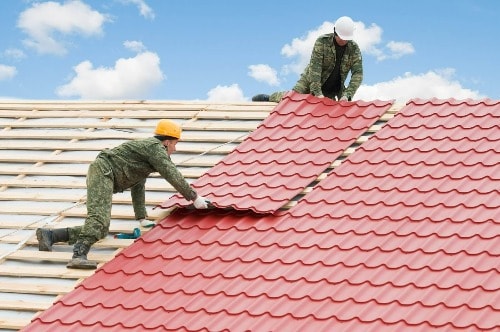 Do you want to establish your own roofing company?
Do you want to start your own roofing business? This is a firm that will never go out of style since every house has a roof, and every roof needs repair from time to time. Although the start-up is difficult, if you design your roofing firm well, you will not be left in the dark.
To create an outstanding business plan, you'll need an accurate marketing research, a distinctive sales strategy, major professionals, and a precise financial plan. If you're having problems drafting your business plan, this sample business plan for Edward Roofers, a roofing company, could help.
The Company
Edward Roofers will be managed and controlled by two brothers, Paul Edward and Kim Edward. The firm specializes in shingling roofs for houses and small companies, as well as installing, repairing, and replacing them. All of our staff, as well as our organization, are completely insured and licensed. Our roofing company's mission statement is to provide flawless and dependable service to Seattle people.
Management
"What do I need to start a roofing business?" you may think if you want to start a roofing company. Aside from basic equipment, trucks, and ladders, your staff's expertise and talent are the only things that matter. After employing skilled and insured professionals, Edward Brothers decided to oversee the staff themselves.
Customers
Identifying prospective customers might assist you in defining your work standards depending on their requirements. If you're starting a roofing company, your target customers will be local residents, business owners, building contractors, and small business owners in the city where your company is located.
The Company's Objective
During the first three years of business, the firms' aims were to provide the best roofing service to the inhabitants of Seattle while simultaneously generating a healthy profit:
Owner of a business
Paul and Kim Edward are creating Edward Roofers, a roofing firm in which they will be the proprietors and managers. The two brothers are well-known for their strong teamwork as well as their successful power washing company. The Edward brothers are well-known in Seattle for their high regard for their customers, workers, and work
Why is the company being established?
Before you think about how to start a roofing firm, you need to figure out why you want to do so. The Edward brothers started their roofing business to accommodate a rising demand and extend their company's growth. They believe that providing the greatest service to their customers is the best approach to generate money.
How will the company get started?
Operating a successful roofing business is more challenging than establishing one. Edward Roofers will be a well-known and insured firm run by Paul and Kim and staffed by a team of knowledgeable, licensed, and insured workers. The following products will be purchased: basic roofing tools, cars, ladders, merchandise, and other stuff. The company will build an online buying facility to gather orders and arrange times.
According to our company's experts, the following are the exact start-up requirements:
Customers' services
Before you start your roofing firm, you must select what services you will provide to your customers. Your and your startup's reputation is determined by the quality of your offers, not the quantity. If you're beginning a roofing business, make sure your services are tailored to your labor and investment. To keep ahead of the competition, you must spend all of your resources to providing your customers with the best possible service and enjoyment.
Edward Roofers will perform the following services:
Roof Shingles: We have 10 years of expertise with qualified and insured roof shinglers that can shingle your roofs with metal or asphalt architectural shingles in almost any color.
Repairing Roofs: We can come to your rescue if your roof is leaking or needs shingles replaced in specified spots.
Roof Ventilation: We provide attic ventilation intake and exhaust vents, as well as the competence to install them in your roofs.
Ice and Water Shields: To protect your roof from damage caused by wind-driven ice or rain, we may install ice and water shields.
Because our work and workers are covered by insurance, if your property or one of our employees is harmed, the business will cover the costs and you will not be penalized.
Roofing Business Marketing Analysis
If you're starting a roofing firm, you'll need a thorough marketing analysis in your roofing business plan. Because roofing is a service sector, you must include tactics in your roofing firm business plan to interact with customers and provide prompt service in such a busy city. Aside from keeping prices cheap, the best way to market a roofing firm is to make it as easy as possible for potential customers to utilize your services.
One of the best roofing marketing ideas is to make oneself accessible to your clientele if you're searching for roofing marketing ideas. Because customers are cautious to buy services from companies that are far away, you should develop a website for your roofing company's marketing, complete with an online payment and ordering system. This will help your business expand since potential consumers will be able to read the suggestions of former clients, and people from all across the city will not hesitate to contact you at their location.
There are several sample roofing business plans available online, such as this Edward Roofers sample roofing business plan, if you need help with your company.
Trends in Marketing
A roofing company can never go out of business since every building has a roof, and every roof requires regular maintenance. As a consequence of wide economic developments, the roofing business is rapidly increasing, notably in the United States. There are about 100,367 roofing businesses in the United States that produce $42 billion in annual revenue. According to IBISWorld, the corporation employs over 260 thousand people and has shown 3.5 percent annual growth in recent years. So, if you're starting this business to meet rising demand, you'll need to be ready to compete in such a competitive industry. If your firm has built great competitive advantages, no impediment will be able to stop it from prospering.
Segmentation of the Market
A comprehensive study of your potential clientele is required for an efficient company plan. It's always better to do some research and figure out what your target customers want in order to meet their expectations and goals. Edward Roofers has hired a marketing expert, who has determined that the following people are his target market.
Locals: Our main target market will be Seattle locals. Our services will include roofing, roof ventilation, and water and ice shields, which will be available to residents. Furthermore, they will need our services to repair or shingle the damaged parts of their roofs due to intense weather patterns.
Construction Contractors: Our second-largest customer will be construction contractors. Contractors need a significant number of personnel to do a range of duties during the building of a facility. We can expect orders from contractors since roofing and ventilation are services that are necessary in all kinds of projects.
Owners of small businesses and sole proprietors: When a small business owner or single proprietor need construction or maintenance services, they prefer to choose a small but reliable company like us. As a consequence, we expect to get orders for roof repair and ventilation from this category as well.
A complete market analysis of our potential clients may be seen in the table below:
Pricing for Packages
Residents in Seattle can afford to pay a higher price for high-quality services. In order to provide our customers with the greatest quality services and products, we cannot compromise on pricing. As a consequence, we haven't underpriced our services in order to meet the demands of our target audience; instead, our prices are almost equal to those of our competitors.
Business Objective
Our firm's mission is to become Seattle's most respected and lucrative roofing company. We want to assist our neighbors by delivering a dependable service. Aside from that, we have additional financial objectives, such as earning a profit in the first five months to pay our startup costs. In addition, we are growing our business and service offerings in order to reach a wider audience.
Analysis of Competitors
Without initially understanding about your competitors and their business techniques, you'll never know how much it costs to start a roofing company. If you want people to utilize your services, you need to provide compelling competitive advantages or keep your prices low at first.
Edward Roofers is situated in Seattle, where individuals are well-off and don't put a priority on work quality. As a consequence, rather than underpricing our services, we have delivered unparalleled and highly valued competitive advantages. Our organization, as well as all of our workers, are covered by insurance, which means that if one of our employees makes even the tiniest mistake, our company will be held accountable for the repair. Furthermore, if one of our staff gets harmed on the job, you will not be held liable for any costs. We are the only company in the market that offers an online booking system for collecting orders and scheduling appointments, so you don't have to drive to our office if it is too far away or if you don't want to!
Strategy for Selling
If you're looking for guidance on how to establish a roofing company, the most crucial piece of advice is to market your business in print and on social media in the early stages by providing different packages; this is the only way to attract the attention of your target clientele.
Personnel strategy
Roofing is a kind of business that is entirely dependent on its staff and management system. If you're wondering how to establish a roofing firm, the first step should be to choose the ideal person for the job. Several roofing business plan examples, such as this one, may be useful.
The Edward brothers will manage the firm on their own, with the following employees:
8 warehouse officers will help in the loading and documentation of products.
There are two roof loaders and eight roof loaders.
a single accountant (financial management)
A receptionist takes the orders.
2 workers to handle the company's website and accept orders online or over the phone.
5 General Workers on a regular basis to assist
The table below shows the expected statistics for employees and their salary for the following three years.
Plan your finances
Proper financial planning and a projection of how the business will balance initial expenditures with actual revenues are critical to the success of a startup and the growth of any company. The Edward brothers have engaged the help of a capable financial plan developer to define the roofing business profit margins over the next three years. The company will be funded by both brothers and is expected to grow greatly as a result of their excellent teamwork.
Because roofing is not an interior design firm, the most of the funds will go into hiring professionals and acquiring high-quality materials. If you're looking for advice on how to start my own roofing company or need help with the financial strategy, this sample business plan could be useful. If you're starting a major company, though, you'll need to hire a professional to build a detailed financial strategy based on particular facts.