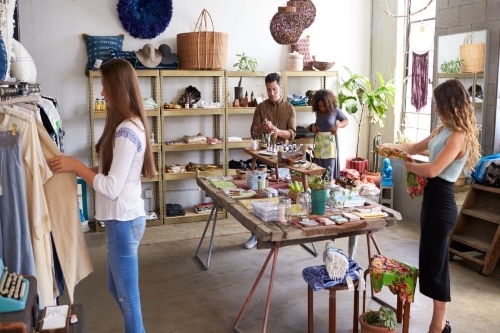 Opening a retail shop requires a significant amount of effort, planning, and money. You're motivated to work hard and achieve your goal, but the money is a little more difficult to come by.
The overall sales of retail and food services in 2015 were $5.35 trillion. This indicates that retail companies are thriving and that capital is accessible to shop owners. So, what are your financing options?
Alternatives to Obtaining Funding for Your Retail Store
Right outside your front door is a fantastic location to start looking for financing. Self-funding is hazardous, yet it may bring you to your desired destination. For retail company owners, conventional loans are also a viable alternative. Government-backed loans, such as the SBA 7(a) loan, are another alternative for small company owners.
SELF-FUNDING
Self-funding is a feasible alternative for many small company owners who are compelled to finance themselves. However, the dangers of investing your personal money in your company are obvious and present: if your firm fails, you lose both the money you invested and the business itself.
To begin, add up whatever excess money you have that might be utilized for capital. Boats, additional homes, or vehicles are obvious examples, but anything else that may be classified as "extra" can be utilized to help you finance your company. Because you'll be living on the cheap for a time, you'll need to pay close attention to your personal and company money if you want to succeed.
LOANS THAT ARE USUALLY AVAILABLE
A retail shop owner may also get a loan from a bank or lending institution. Bring along a strong financial plan that includes growth and income forecasts to assist guarantee your success when meeting with a lender. Keep detailed financial records and bring them with you. Banks are more likely to lend to a company owner who can demonstrate that they earn money and pay their bills on time.
LOAN FROM SBA 7(A)
The SBA 7(a) loan is a government-backed loan that may be obtained through conventional lenders including banks, credit unions, and lending companies. The conditions of the loan are advantageous to both the lender and the borrower, and the qualifying criteria are simple.
Because small companies have a wide variety of financing requirements, the SBA 7(a) loan has no minimum loan amount and a maximum loan amount of $5 million. Your retail company may need equipment, supplies, or even the acquisition of a structure to house the store—all of which are covered by an SBA 7(a) loan. Almost any reasonable company expenditure may be covered by the loan.
SBA 7(a) Loan Detailed Information
The SBA 7(a) loan is a flexible loan that may help you obtain the funding you need for your small company. Consider this kind of loan if you've been searching for a method to finance your company.
Starting a Business with an SBA 7(a) Loan
The SBA 7(a) loan is the most frequent loan guaranteed by the SBA for new businesses. This loan may be used for real estate, office space, equipment, or even working capital; as long as the expenditure is for a valid company purpose, the loan program will most likely approve it. See our page on Start-Up Loans for additional information on how the SBA 7(a) loan may be utilized for start-ups.
Locating an SBA 7(a) Loan Provider
The Small Company Administration (SBA) provides a lot of information on establishing and developing a small business, but it does not lend money. The SBA 7(a) loan is available via banks, credit unions, and other lending institutions, and the loan is guaranteed up to a specific amount by the SBA.
Related link