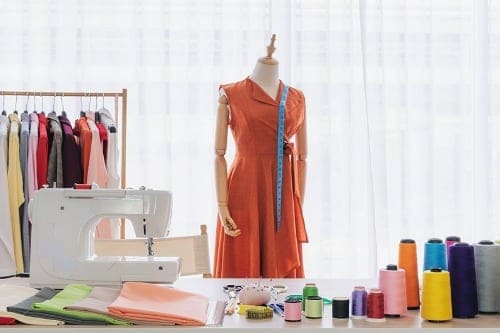 Do you want to start your own sewing business?
Do you want to start your own tailoring business? Sewing may be a successful and enjoyable business for anybody interested in developing new trends and designs. Almost everyone wants to appear their best since it gives the sense that you are someone, which instills confidence and boosts moods.
Because you will not be working alone, you must examine a number of considerations before launching on a business, notwithstanding the company's extensive reach. The first step in starting a home sewing business is to create a comprehensive business strategy for your firm. If you're having trouble writing a business plan, this 'Naomi Sewing Center' sample business plan for a sewing firm startup could help.
The Company
The Naomi Sewing Center will be located in Manhattan, New York City's most populous borough, which has a population of 1.6 million people. The company will tailor or sew items, create new patterns based on customer requests, do needlework, and create contemporary trends for people. Naomi Sewing Center will offer amazing service and advise customers on what best suits them in order to present them with a product that will bring them the most joy and pleasure. We'll also sell certain ready-to-wear dresses and provide residents of neighboring communities the option of purchasing them online.
Management
The management system is at the core of every organization, and your ability to manage it determines the success of your company. To be precise, your sewing business plan should contain information about the steps you'll need to follow to manage your company effectively.
The firm's owner and manager will be Naomi Winslet. Naomi will enlist the help of a group of experienced sewers, purchase sewing machines, and designate a section of her large apartment as a work space in order to put her sewing business ideas into reality. Customers will be able to place orders in a logical and distinct manner; they will be provided new design samples and will be fully informed by our skilled fashion designer as to which style will best suit them.
Consider who you'll be giving your services to initially if you're wondering how to establish a sewing business. Getting to know your clientele is the greatest approach to understand their needs and wants. Women, men, and textile merchants from Manhattan will make up the bulk of our sewing center's clients. We will initially just serve Manhattan, but as time goes on, we will extend our service area to encompass all of New York City's boroughs.
The Company's Objective
Within the first two years of operation, the company hopes to provide a unique, modern, and high-class stitching service to Manhattan residents, as well as become the borough's most well-known stitching facility.
Owner of a business
The corporation will be owned by Naomi Winslet. Naomi earned a bachelor's degree in fashion design and merchandising from Missouri State University. Naomi has spent the previous two years training and educating her talents, in addition to having seven years of experience designing clothing and generating unique patterns.
Why is the company being established?
Naomi's previous experience, as well as her enthusiasm for fashion design and her trainees' willingness to work side by side with her, has inspired her to contemplate starting a sewing business. She plans to start a home sewing business to broaden her skills and seek new opportunities in the sector while working from home.
How will the company get started?
Naomi has decided to transform a portion of her house into a welcoming sewing machine workroom for fashion designers and professional sewers. Naomi will hire the seamstresses she has been training for stitching, but she will also need some other employees and a co-manager to keep the firm running well.
Naomi has thoroughly researched every area of her business and has hired an expert to turn her ideas and objectives into a business plan, which you may evaluate. The following are the first requirements.
Customers' services
Consider what sort of services you want to provide your customers before you think about how to start a small sewing business. To start a sewing business, you'll need to provide basic stitching services, but you'll also want to offer your customers some additional and unique services to distinguish yourself apart from the competitors.
Naomi has chosen to begin by providing the services listed below:
Traditional, non-traditional, fancy, basic everyday use, modern, and stylish dresses, frocks, and jackets for females will be sewn with their selected embroidery or patterns. We can design and make conventional or non-traditional shirts, trousers, and jackets for male clientele.
Children's Garments Design and Stitching: We will also stitch children's trendy and simple clothes and coats.
We will repair any flaws in your embroidered fabric, such as fit issues, if your dress is damaged, or any other issue, by applying a patch, embroidering, or utilizing other methods.
Selling Ready-Made Dresses Online: In addition to sewing the given cloths, we will also sell ready-made outfits by displaying them on our website and enabling customers to purchase them.
Sewing Business Marketing Analysis
Marketing analysis is one of the most important deciding aspects that may help your company succeed. In your business plan, you should include a thorough analysis of the market in which you want to begin your sewing company. It is vital to comprehend industry trends and current market demands in order to produce an appropriate sewing business plan template.
Marketing analysis will also help you figure out what actions you'll need to advertise your firm and reach out to your target customer groups. Naomi recognized the importance of marketing analysis in a business plan and had hired a professional expert to do an adequate marketing study and produce a business plan for her home sewing firm template.
Market Developments
Before starting any business, it's crucial to research industry trends and practices, as well as assess whether or not the sector in which you'll begin your venture has the potential for a new company.
The most important aspect of this business is that it is dynamic, and it is one of those businesses that blossoms all year, changing and adapting to the current trends regardless of the season. According to IBISWorld, there are now 18,979 cut and sew businesses operating in the United States, with annual sales of $2 billion. According to IBISWorld, which predicts a 0.4 percent growth rate for the sewing sector, the market has a huge number of these businesses, but there is also a considerable demand for new companies. Furthermore, the firm employs about 42 thousand people in the United States.
All of these data show that if you market your firm properly and effectively, you may create a profit that is multiple times what you invested.
Segmentation of the Market
To properly appreciate your target market's demands and aspirations, you must split them down into numerous categories. In this sewing business plan example, we've provided Naomi Sewing Center's marketing approach. You can get a sewing business plan pdf from our website, but if you're starting out on a bigger scale, it's a good idea to hire a marketing analyst to help you come up with a strategy that works for you. Our target markets are as follows:
Residents
Every woman wants to be first in the race of empowerment, fashion, and personal aesthetics, all of which are influenced by the colors, patterns, and designs she chooses to wear. Our expert has identified the female population of Manhattan and the neighboring boroughs as a potential customer. These women will surely employ our services and contribute a large portion of our sales in order for us to design a one-of-a-kind, properly made outfit for them that will increase their beauty and sartorial confidence. We'll also make dresses and coats for the men in our community, as well as for the children.
This sector of our target market will also seek our assistance in resolving an issue with their stitched garments.
Stores that sell a variety of items
The owners and managers of department stores will be our next target clientele, since they will be expected to make large orders for clothes sewing. Because we'll be able to work with them on the same sizes and designs, we'll be able to offer them further discounts. We can't take large orders because of our personnel, but we can meet their needs on a smaller scale.
Buyers who shop online
Our third category of clients will be online shoppers who will be informed about our stitched outfits on our website before making an order with us, since we will be providing free home delivery for our ready-made products in the surrounding boroughs.
A complete market analysis of our potential clients may be seen in the table below:
Strategy
To take advantage of all the sewing business opportunities and be successful in your location, you'll need a solid sales strategy to sell your services to your target demographics. To help you decide on your sales strategy, we've given a sample business plan in the sewing sector.
Analysis of Competitors
Our location is our most significant competitive advantage; we are in an area where people put a high value on the services they trust and rely on. The strength of our personnel is our second most significant competitive advantage; the value we will deliver to our clients may be gauged by the fact that we have engaged a fashion designer as an Naomi co-manager, only to advise customers on what fashion and trend would be ideal for them. Finally, we will display our ready-made goods on our website for individuals who prefer to make an online purchase. We'll also create a feedback section where potential buyers may read previews from previous customers.
Strategy for Selling
Our experts have devised the following approaches to promote and sell ourselves.
Our services will be advertised in print, on social media, and on our website.
Our customers will be able to order our products online and have them delivered for free to their houses.
To increase sales, we will provide discounts on our services at first.
Forecasted Sales
As a consequence of our original concepts and high-quality services, we expect our sales pattern to grow over time. Based on our market segmentation technique, our analysts predicted the following yearly sales, which are shown in the column charts.
Personnel Strategy
Your ability to run a lucrative business will be determined by your staff. As a consequence, you'll need to include a list of the personnel that will be required to operate the firm, as well as their job descriptions, in your tailoring business plan sample. You may use Naomi Stitching Center's example business plan as a help if you're having problems drafting a knitting sewing service business plan.
Employees of the company
Naomi will be the only owner and manager, but she will enlist the help of the following people.
1 Assistant Manager to assist with day-to-day operations.
Clothing Repair and Stitching by 10 Professional Sewers
To maintain track of money, there will be two accountants.
1 Fashion Designer tasked for coming up with new ideas and guiding clients
4 general employees are needed to keep the client display and records up to date.
2 drivers will transport clients' online orders to their houses.
A receptionist will be provided by one of the Front Desk Officers.
1 IT expert to manage the company's website
Plan your finances
If you're starting a sewing business, the last step is to develop a financial strategy to determine how much it will cost to run it. Your financial plan should contain information about the sewing business profit that you may make, as well as how you will manage your initial costs and employee compensation, in addition to achieving your primary financial targets.