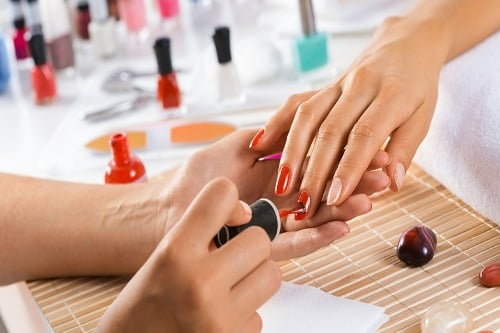 When you look at the variety of nail polishes on the market today, it's clear that polishes are a big industry. In fact, in the United States alone, $768 million worth of nail polish was sold in 2012. Given the huge selection of colors available and the growing popularity of nail art, there's no reason to think the industry will slow down anytime soon. People want to have a wide range of brands and colors to pick from, which provides an opportunity for the right entrepreneurs.
There are many choices available to a business owner who wants to establish a nail polish business. One approach is to establish a separate brand, which requires a substantial financial investment in plant facilities and equipment. Another option is to buy nail polish and then rename it for resale. A third option is to work as a wholesaler or distributor, selling things to salons and department stores. In a fourth kind of nail polish firm, a manicurist sculpts, polishes, and adds nail art to real or synthetic nails as an independent contractor. Depending on the option chosen, the nail expert may rent or own retail space. In certain areas, working from home is possible, but it's important to double-check local and state regulations.
The nail polish business plan must have the same essential features as all other company plans. The mission statement and business description might include information about the company's kind, principal purpose and goals, legal structure, and so on.
Other details include:
• Manicurist training and experience
• Basic product kinds include nail polish colors, base and top coats, and so forth.
• The product range includes items other than polishes, such as hand and nail creams, polish remover, nail art, nail effects, false nails, and so on.
• Branding features such as high-end, one-of-a-kind colors, a range of finishes, long-lasting, chip-resistant, contemporary trends, and so on.
• Permits and licenses, including a health permit, are necessary.
• Needs for nail technicians, salesmen, and receptionists, for example.
• A B2B (business-to-business) or B2C (business-to-consumer) marketing approach that uses social media and mobile devices to stay connected.
• Product and service prices, which range from a basic polish to a full manicure and polish
• A five-year financial plan with pro-forma accounts that show constant revenue growth and reasonable operating expenses
• Initial capital requirements, include nail salons, warehouse space, autos, and retail space.
There are hundreds of nail lacquer, enamel, and polish formulations available today. One of the most significant parts of the business plan is describing how this particular nail polish company will stand out in the market. How can a business owner, for example, be committed to the brand while incorporating the newest fashion trends or revolutionary product formulas?