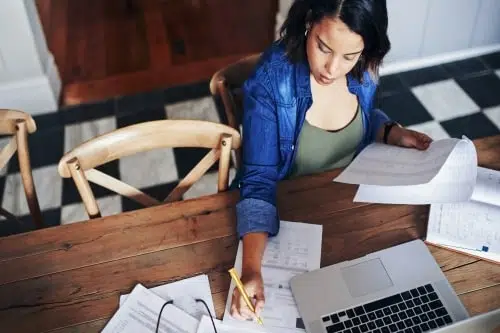 Table of contents
Without some kind of funding, very few companies are able to get off the ground. With so many funding alternatives available, deciding which path is best for your company may be challenging. Small company loans are appealing since they are usually easy to acquire. A small company loan, on the other hand, comes with conditions that may come back to bite you later.
If you're thinking about taking out a small business loan to fund your company, be aware of these four potential stumbling blocks.
Paperwork piles
Large volumes of paperwork are often required for traditional small company loans from banks and other institutionalized lenders. Tax returns, credit reports, legal papers, bank records, company plans, and occasionally your personal credit history may be requested by these lenders.
The Small Business Administration (SBA) does an excellent job of explaining the papers you'll need to give your lender. Because banks are notoriously picky, make sure you're as detailed as possible while giving this information.
Checking your credit score
Lenders nearly usually examine your credit score when you apply for a small business loan. They will most likely look at both your personal and company credit histories. Because most small companies lack adequate credit history, banks will issue loans based on personal credit checks.
If you've had problems with personal credit in the past, you'll almost certainly be offered an unfavorable interest rate if you're even offered the loan. If you're confronted with a high-interest rate, I highly advise you to look into alternative financing choices. A high-interest rate may harm your cash flow in the early phases of any company when you need to be investing money back into it.
Individual Liabilities
When applying for a small company loan, lenders often need personal guarantees or collateral. Because small companies often lack the required assets to support their loans, many small company owners find themselves personally responsible for any losses.
The bank may, for example, require you to pledge your house as security for the loan. This is tenfold the risk and makes this funding method unattractive in many cases. Furthermore, if you apply for a company credit card and fail to make timely payments, your personal credit score may suffer.
The Approval Procedure
The application is just the first step. The bank will next take its time examining your request before deciding whether or not to give you the loan. Lenders often respond with an offer that is so far out of reach that it is pointless to negotiate. If this is the case, you have simply squandered time and money.
You'll have to wait for the money to be deposited if the lender approves your request, which may take up to 7 business days. It may take up to 60 days for funds to appear in your account. All of these delays cost your company valuable time.
Financing a company correctly can make or destroy it. Many company owners are attracted to small business loans because they are easily accessible. They do, however, come with complications that may cause more damage than benefit to your company. If you're thinking of getting a small business loan, examine these four obstacles first!
Related link