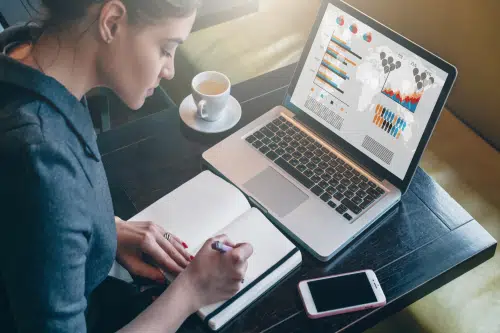 Bookkeeping applications may transform the way you conduct business in the realm of small company accounting. You don't have a large accounting or bookkeeping staff to assist you balance your accounts and manage your finances as a small company. This is when accounting applications come in handy.
By collecting and displaying your financial information in a manner that's accessible and simple to comprehend, bookkeeping applications may make you or your bookkeeper a lot more productive. This also makes it simpler to plan for the future of your company and comprehend the consequences of various financial choices. There are a variety of accounting applications available for small businesses.
We'll go through the eight top accounting applications for small company owners in this article. These applications have the potential to save you a lot of time and help you grow your company.
The 8 Best Small Business Bookkeeping Apps
The following are the top eight accounting applications for small businesses:
QuickBooks Online: The Best Reporting Software
QuickBooks Online is one of the finest cloud-based bookkeeping applications on the market. All of the fundamentals, including as monitoring income and expenditures, reconciling accounts, and producing financial statements, are within your grasp. Because you can link QuickBooks to your bank accounts, credit cards, and other financial institutions, it eliminates the agony of maintaining manual records.
When compared to other accounting applications, this one is very good. With over 50 pre-built reports and the option to generate custom reports, QuickBooks Online offers the greatest reporting capability. Reports may also be scheduled to run on a regular basis and sent to other members of your team. Reports are crucial since they are the final product of your books. Reports are how you obtain the data you need to figure out how well your business is performing.
QuickBooks Online also offers a fantastic mobile app and a robust ecosystem at apps.com that allows you to build a full solution for almost any industry or company type.
Wave: The Best Free Accounting App
Wave is a sophisticated accounting software that is also free in its entry-level price tier. The free price plan really includes a number of time-saving accounting tools. You may link an infinite number of bank accounts and credit cards, as well as monitor income and expenditures from different sources.
You may create and send personalized invoices using a variety of professional invoice templates on the invoicing side. Receipt capture is as simple as snapping a photo with your phone, and this function works even when you're not connected to the internet. There are additional costs for accepting online payments or adding payroll services.
Bill.com: Best for Accounts Payable and Accounts Receivable Automation
Bill.com is an accounting software that will help you save time and automate your accounts payable process nearly entirely. A bookkeeper performs a variety of duties, including accounts payable. Bill.com integrates with your current accounting software, including QuickBooks, Xero, Sage, and Oracle.
Every invoice a vendor gives you, and ultimately every payment you make, syncs to your accounting software with Bill.com, so you only have to input the data once. Vendors may email you a digital invoice or you can drag and drop invoices onto your Bill.com dashboard. Transactions reconcile quicker and you get a better real-time picture of your business's expenditures since Bill.com updates your accounting software for each transaction.
You may also use Bill.com to keep track of your receivables. When you have it managing both sides, you have a strong cash flow management tool on your hands. Bill.com allows you to save time inputting and paying bills, which is an important aspect of accounting.
QuickBooks Self-Employed
QuickBooks Self-Employed is a simple accounting program for one person (plus an optional login for an accountant or bookkeeper). You may use this QuickBooks app to submit and monitor invoices, track mileage, calculate Schedule C deductions, and see quarterly estimated taxes. It also makes it simple to distinguish between work and personal expenditures, which may catch contractors and freelancers off guard and make filing company taxes much more difficult.
Although QuickBooks Self-Employed may be accessed on a desktop or laptop, the mobile app allows you to do a lot more. You can simply separate business and personal expenditures, import costs from your bank account, and monitor expenses with just one swipe. You may also create custom cost categories so you can see where your company spends the most money.
Bench is the best option for full-service bookkeeping.
Bench Accounting is a full-service accounting company with a mobile app. Bench Accounting differs from the other applications on the list in that it outsources your accounting to a team of professional bookkeepers. Bench requires you to connect your bank accounts, credit cards, and financial accounts before you can begin. Your accounting team, which consists of one senior and two junior bookkeepers, reconciles your accounts, balances your books, and prepares financial statements once a month.
Bench will also assist with taxes at the end of the year. They provide a year-end financial bundle that makes filing small company taxes simple. If you add BenchTax, Taxfyle professionals will consult with Bench to handle your company taxes for you, including filing them and ensuring you receive all of the deductions you are entitled to.
Bench's customized services include a financial app that allows you to monitor your income and expenditures while on the move and examine your financial data. Your accounting team will reply within one business day if you contact them through the app. Bench will save you a lot of time by taking care of your accounting for you.
Expensify is the best app for managing expense reports.
Receipt capturing is a breeze with the Expensify app—literally using your mobile device's camera. Then you may toss the paper receipts in the trash and forget about them. From the receipt, Expensify's SmartScan will determine the payee, amount, and other important information. Then you may send the receipts to QuickBooks Online to be synchronized and, if required, reimbursed.
Because travel is inextricably linked to expense reports, it's no surprise that Expensify offers a fantastic travel concierge and trip planner. Simply provide your itinerary to Expensify, and it will keep track of your travel. You'll also receive updates on your flights, and the concierge will let you know if you're going over budget on your trip.
Expensify has another use that few people are aware of. It has to do with company expenditures paid using a personal credit card. Many small companies mix money in this manner, which may be risky both financially and legally. You may prevent this using Expensify by connecting your personal card's feed but only submitting business-related expenditures to be synchronized to QuickBooks Online.
Finagraph is the best tool for financial planning.
Finagraph provides you with valuable financial data about your company that you can use to create forecasts. This software basically summarizes and explains your QuickBooks Online data.
Finagraph is a sophisticated analytical tool that makes it simple to assess your company's financial health and devise a strategy for improving it. Finagraph maintains track of your "finagraphs" so you can compare data and make sure you're constantly becoming better.
Finagraph's visual interface makes it an effective tool for small company owners to utilize in conjunction with their accountant or CPA. Almost every component may be downloaded in PDF or picture format. Some modules are interactive, allowing you to get a "Large View" of certain aspects of your business, such as working capital or accounts receivable.
Hubdoc is the best option for document storage.
Hubdoc is a single repository for all receipts and documentation for a small company. Hubdoc allows you to seamlessly sync your bank accounts, forward bills from your email, and upload documents. Hubdoc will archive your documents and transform the data into digital-ready files whenever it gets them. Any invoices from any account may then be configured to be sent to your preferred online accounting software, such as QuickBooks Online.
What to Look for in Bookkeeping Apps for Small Businesses
Businesses must do many inescapable accounting and bookkeeping activities on a regular basis. The above-mentioned accounting applications make these chores simpler and quicker to perform.
When looking for an accounting software, keep the following in mind:
Characteristics
Invoicing, reconciling, monitoring revenue and expenditures, financial statement preparation, and forecasting are just a few of the activities that most small companies utilize accounting software for. You may wish to include forecasting or payroll processing as an option.
Cost
A decent accounting service shouldn't cost an arm and a leg. Even the gold standard in company accounting, QuickBooks Online, is just $20 per month and comes with a 30-day free trial. For companies on a limited budget, Wave is a free alternative.
User-Friendliness
The goal of utilizing accounting applications is to save time and get a better understanding of your company's finances. There may be a learning curve at first, but getting the hang of your accounting software shouldn't take more than a few weeks.
Number of Users
Consider if you'll be utilizing this accounting software only for your own use or whether you'll need to share information with a tax preparer, accountant, or business partner. If you need to share the data, ensure sure the app allows for multiple logins and safe financial information exchange.
Automation
By automating processes, a smart accounting software saves you time. Instead of manually downloading information from a receipt, the app should be able to "read" and automatically fill in key details like the transaction amount and date.
You should be able to discover an accounting software that meets your small business's requirements if you keep these five principles in mind.
Final Thoughts
These eight small company accounting applications are intended to help you save time and get a better grip on your money. They're all simple to use, affordable, and packed with the features that small company owners need. There's no need to manually monitor transactions, transcribe information from receipts, or enter revenue and expenditures using these accounting applications. Your newly structured financial data will assist you in making better business choices while freeing up time for you to operate your firm.