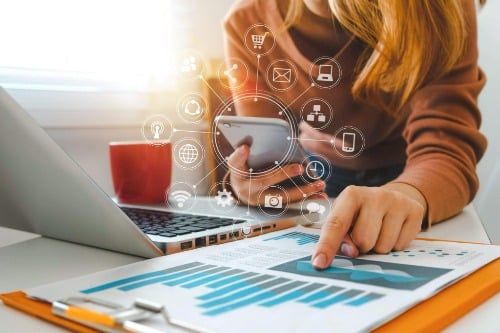 Summary of findings:
In today's world, creativity is the key to success. Organizations that understand the importance of innovation and continue to experiment with new trends will thrive. Our communication and information-sharing mechanisms have entirely changed. Every element of life has been impacted by the digital revolution, including business, ordinary communication, and information exchange. Organizations have actively engaged in new research to understand more about their target audience. The research reveals their preferences and dislikes. Using social media to connect with customers has become popular. It's a place where a diverse group of people may converse on a wide range of issues.
We may chat, share information and ideas, voice our views, and learn about our favorite items on these platforms. We keep a close watch on what is going on in the globe. As a consequence, it's something we can't ignore any more. It's more than just a place where people can discuss what's going on in the world. It is self-evident that social media business platforms are valuable. Particularly for firms that are just getting started. If you are an entrepreneur looking to start your own firm in the same field, we can help you. People on the Skyrocketbpo platform are passionate about assisting young entrepreneurs in growing their businesses and giving back to the community.
If you don't have any customers at initially, you may create a better connection with the online world. You might also teach them about other aspects of your business. Brands all around the world take advantage of this opportunity to boost customer loyalty. For any corporation striving to compete, this is a big advantage.
Because of the posts, people are more inclined to like the page and follow your updates. When your followers like one of your posts, whether it's a text, blog, video, animation, gif, or other format, it encourages them to visit your website, which is known as conversion. Social media business plan marketing specialists measure this conversion and transform it into ratios to analyze the company's performance. Statistics on these conversions are included in the evaluation report. All of your online campaigns are tracked in this analytic report. It is vital to establish good communication with your audience in order to increase your company's credibility. Establishing a trusted relationship with the online community requires a high level of credibility.
Furthermore, substance is critical. Whatever kind of content you develop, it should be accessible to the general audience. A sense of belonging helps you form bonds with the online community and the people you're trying to approach for money. Our team is adept in devising profit-generating strategies that will not only attract users to your site, but also make them anxiously await your updates.
An overview of a social media business plan:
You are fully aware of the necessity of utilizing internet technology if you live in today's society. Individuals are connected in extraordinary ways because to the internet. The same logic applies to the social media sector. It's an internet marketing and social media business approach that aims to provide a voice to a variety of businesses on the internet. You may obtain a deeper knowledge of your target audience by using online social networks; they discuss about your company's news while conversing online. Apart from that, internet marketing, rather than conventional marketing, may be utilized to battle the business sector's competition. This is an excellent way to build your brand.
Companies that use a public relations strategy understand the necessity of cultivating a favorable public image. In conventional public relations, numerous intermediaries are used to develop an organization's reputation. You have a good understanding of your customers, competitors, industry, and market climate, among other things. It's similar to working in public relations.
Many businesses are looking to work with a third-party social media company these days. Why? Because it is the most expedient method of achieving maximal growth potential. Without a strong social media plan, no marketing strategy is complete today. Businesses provide updates over the internet to keep in touch with their customers.
Social media is an excellent way to build an online impression. Many people are considering buying products online as a result of the influence. A company's response rate from the general public will be greater if it has a website. They not only have the potential to identify prospective customers, but they can also make money from it. It, if you're thinking about starting a social networking company, now is a great time to do so. To get started, you'll need an example social media marketing plan, which our experts at Skyrocketbpo will help you design. You'll get the most out of it at the beginning. The goal of this comprehensive social media marketing plan template is to teach you about engaging methods so that you don't miss out on any potential revenue created by the social media plan example. Our team will also create a social media marketing contract template that you may use if you need to outsource this service.
The Importance of Having a Social Media Business Plan:
You must first construct a framework for generating KPIs before you can start writing a media company business plan. Establishing measures for your social media business plan can help you run more effectively. It would be difficult for you to operate without one since the notion of a social media business plan is a bit difficult to grasp. Your social media company plan should take a practical approach in order to stand out from the competition in the industry.
To get a larger share of the market and keep ahead of the competition, make sure your social media business plan has all of the important information. With the help of the social media business plan template, you will have a clear understanding of what you need to do. You'll also be able to see how your competitors do business.
According to surveys, 70 percent of people are influenced by social media posts made by brands they admire. It encourages people to buy something. As a consequence, companies should not miss out on this chance to influence people. A sample social media plan might assist you in making progress in the industry. The problem of reaction must be at the forefront of your social media business strategy. Include strategies in your social media business plan to attract your readers' interest. Create marketing goals that follow industry best practices. Initiate conversations with them that will ignite their interest in your business. Stick to the quality-oriented activities in the social media company strategy.
Maintain a natural reach. Starting with a modest number of followers who regularly engage in the discussion of your posts is helpful to you. Rather of trying to grow the number of inactive followers, focus on increasing the number of active followers. Organic reach methods should be included in your social media business plan example. All of your online marketing strategies should be in line with your company's purpose if you want to thrive in business.
Staying competitive in this industry requires a well-thought-out social media company plan. You must supply helpful information to your customers in contrast to your competition. Always bear in mind that your industry's competitors are years ahead of you. Consider the social media business plan template's themes that represent your company's identity. With just a little carelessness, you may lose all of your followers to your rivals, leaving you with little or no support from your online audiences.
When people discuss your brand on the internet, you have the opportunity to learn more about them. The idea is to have many entry points for your business so that people can find you on social media. Do not impose your message on the audience; they will reject it. Your chat will be really beneficial to them. Once your information has been published on the internet, you must not disappear. Establishing a connection with your online audience requires interaction. This is an excellent way to figure out what your potential clientele do on a daily basis.
The following is a summary of the Social Media Industry Business Plan:
Communication has risen at a rapid rate since the 1980s, when computers became widespread in households. People rely heavily on the internet for almost everything, from surfing to making purchases on online stores. Every post you make helps to establish your brand's credibility. As the world has become a global village, people have gotten closer in terms of exchanging knowledge, expanding business, exports and imports, and other cultural perspectives. A significant transformation happened as a result of this transition, and it laid the groundwork for the development of internet-based businesses.
The expansion of internet technology in the 1990s resulted in the emergence of an online marketing culture. Before then, there were a few platforms, but they were not as useful as the ones that followed. Furthermore, such sites were just for the sake of entertainment, and there was no economic model for transforming platforms into something useful for businesses.
Things changed even more dramatically for this dynamic business after Facebook was formed in 2004. More than 100 million people had access to the internet at the time. Internet marketing gurus saw Facebook, which started as a casual interactive networking site, as a commercial medium. People's Facebook likes and comments are converted into cash. This was an excellent opportunity for the internet marketing strategy expert to acquire funding for the organization and brand the new venture.
To connect with their online audiences, over 90% of firms today use dynamic platforms. Facebook isn't the only option in this field. Twitter may likewise be utilized for this purpose. Businesses mostly utilize LinkedIn to recruit new staff. YouTube is an online video-sharing service. Instagram is a newcomer to the world of online platforms; it is based on the idea of sharing picture-oriented content with a specialized audience. The number of individuals who use these media is increasing every day. These websites have grown into a hub for discussion, debate, and casual talk among people from all walks of life. Everyone has an opinion, which they share with their followers, so further building and maintaining online community connections. Entrepreneurs thought at that time that gaining access to customers and doing an investigation of their life habits, preferences, and dislikes would be a smart idea.
Businesses, like individuals, started establishing accounts on social media platforms and displaying the URL of their social media page on their websites, brochures, and corporate catalogs. This was their way of showing their clientele that they were interested in hearing back from them. As a consequence, the significance of online platforms has grown. Businesses quickly understood the benefits of staying updated on their social media platforms. In addition, there was a large increase in revenue. As a consequence of their visibility on these platforms, customers' responses have increased as well.
Internet marketing is no longer an option; it is now a need. Startups should focus more on developing effective content strategies for their social media channels. Experts in internet marketing should focus on communicating with their target audience through social media. Using a range of tools is the best approach to do this. To keep up with the trends, you may need to change your approaches on a regular basis.
The online media business is booming due to its effect on brand sales. There are various social media platforms where you may reach out to your target market with your message. The content you create is displayed on websites with the help of internet marketing tools. In order to get the greatest potential market outcomes, some of the articles are also sponsored in line with your content strategy. It's up to internet marketing experts to determine if a social media strategy should be sponsored or not. Promotional deals are often combined with sponsored content.
The situation in the internet marketing industry seems to be improving as the number of online outlets grows. People spend the majority of their time online. Brands use a range of tactics to get consumers to speak positively about them. To design cutting-edge branding strategies, they employ the expertise of internet marketing experts. After that, these experts create content strategies based on the company's vision and goals. If your brand is all about having fun, the content should reflect that. Boring content repels customers rapidly and is a significant turnoff.
The quantity of exposure that businesses get via online media is incredible. Internet marketing experts like to remind online audiences of their brand by generating useful and interesting content that may stimulate their interest in it. To accomplish so, internet marketing specialists must be up to date on current events in order to add relevant information in their writings. 89 percent of respondents responded that getting exposure via digital media is the most crucial element before even generating relevant stuff. The capacity to convert online visitors into potential customers is the most essential advantage, according to 68 percent of respondents. In addition, 75% of industry insiders say that internet channels are the most essential source of website traffic.
Which channel should be used to attract clients is one of the most difficult choices that organizations must make. Companies prefer Facebook over other social media sites, according to surveys. It controls 92 percent of the market. Twitter is the second most popular social networking site after Facebook, with the most users. Influential people and celebrities often have their own Twitter accounts, which allows management to reach out to them for branding reasons. Our team will include such strategies into your social media startup social media business strategy so that you may reach a wider audience. You must respond swiftly in the social media business area since it is so active. As a consequence, having a sample social media business plan on hand might be advantageous.
Social Media Platforms' Importance for Businesses:
Some of the major tasks that social media can be used for include development, creation of content (videos, texts, images, and info graphics), establishing communication channels, customer service support channels, gathering information, tracking online audience preferences, advertising, return on investments, blogging, microblogging, and influential posts.
Business development:
Online marketing platforms are wonderful moderators for business development. Company development managers consider internet marketing media as a game changer if firms want to control the sector. In order to earn cash and reach their target audience, they've been on the hunt for innovative ways to monetize internet marketing efforts. Digital marketing strategies are often used by businesses to expand their operations and customer base. As a result, company development managers work closely with online marketing managers to align their goals in order to achieve a common goal: the enterprise's continued growth through online marketing. This needs a high level of thought leadership, which might be the basis for a monetization strategy.
An internet marketer must work with a company developer to increase the performance of the endeavor, eventually making it the greatest in the industry. Businesses may employ business development managers or hire consultants that specialize in company development and can assist them in expanding via online marketing platforms. Our team of business development experts will construct internet marketing strategies that are both inventive and solution-oriented. This will enable your business to grow and thrive regardless of geographic, industrial, or other constraints.
Content generation:
When it comes to this, the approach to win the hearts of the online community is via your content on internet marketing platforms. Without it, none of the online marketing channels can work. The material you create represents your brand. Among other things, it might be a picture, written text, video, infographics, blogs, vlogs, or gifs. The kind of content you create for your channels is entirely determined by your target demographic and the language in which they communicate. Your post must deliver a message that readers may relate to emotionally.
Our social media marketing team will create a strategy for successful advertising for your company. Making use of this complete advice will be the best chance for your social media marketing attempt. There will be suggestions for posting material during peak hours, with information about such hours coming from the social media marketing channels' analytic area.
Blogging:
Blogging is a kind of internet journalism that is used to increase the exposure of various businesses. Many web marketing professionals believe that blogging is the best way to build a brand's image. It also boosts your website's search rank, or the number of times your website has been searched on the internet.
Blogging's technique is primarily reliant on a well-crafted content strategy. You have a habit of posting intriguing content on your blog that contributes to the knowledge of your online community. This is disseminated on social media as part of a business strategy. The large number of readers indicates that your social media company strategy has a greater possibility of creating interest.
Once you've attracted enough traffic to your blog and gained enough subscribers, you can start sending out more customized messages to engage with your audience. If you send out tailored emails and newsletters on a regular basis, your clients will feel connected to your social media company strategy.
Our Skyrocketbpo bloggers will provide you with a comprehensive introduction to blogging for your internet marketing business. This book will provide you with practical advice on how to promote your social media business strategy.
Community building
Through their social media marketing platforms, brands foster and disseminate a feeling of community. If your social media marketing platforms are excellent enough, people will write positive evaluations about them. Their comments will strengthen your message, and as a consequence, the greatest number of people will learn about your business. This would have a multiplier impact on your marketing efforts.
Our social media marketing specialists' recommendations will help you build an engaged community for your freshly launched social media company strategy. It would be more likely to generate buzz in the internet marketing sector.
ROI – A key online tool:
The goal of setting up your social media marketing platforms is to assist your social media business strategy create cash. Making all of the posts, sharing material, keeping track of your followers, and identifying peak times for your internet marketing business's followers are all parts that come together to produce the methods in which you may monetise this whole concept. This is where the concept of return on investment comes into play.
Return on Investment (ROI) is a metric that measures how profitable social media marketing platforms are for companies. Such monetary rewards are tracked by social media marketing experts against the campaigns they produce on social media. After all, you are ultimately responsible for reporting to management the amount of income generated via social media marketing methods.
The numerical representation of your outcomes reveals a lot about your development. You must guarantee that your revenues are not negative while calculating return on investments. The time you spend on web marketing initiatives, the message you want to disseminate, and the notoriety you want to get all need to be tied to a monetary goal. There are a number of internet tools that may be used to calculate ROIs for certain online marketing initiatives. Depending on the amount of service you get, they are either charged or free to use. These tools will be used by our social media business plan specialists to evaluate the outcomes for you.
SWOT analysis of a Social Media Business
SWOT analysis is a strategy that provides a detailed examination of your social media company plan and its potential scope. This tool is used by strategy makers to aid organizations in examining their many elements. The following is a description of the SWOT analysis of the marketing strategy for the internet marketing industry:
Strengths
When it comes to gaining popularity, the last decade has been outstanding for social media marketing. Businesses now need to establish a social media presence in order to reach a worldwide audience. If one wishes to start a firm in this field, the practice of creating a social media business plan is on the increase. Furthermore, the web marketing firm does not need any upfront investment, which is a significant benefit for newcomers. If your strategy is sound, you may start with a little investment.
You won't need a lot of money to get started; instead, all you'll need is your time and dedication to creating campaigns. Using internet marketing tactics to build an engaged community is also a significant benefit that allows you to sell your business to a larger audience. If your followers and subscribers are on social media marketing sites, you may have direct contact with the online community and an opportunity to create a connection with them. Using your social media marketing channels as a platform for exposure has shown to be the most beneficial of all the benefits so far. This one platform has the ability to service the needs of two distinct business aspects, saving you money on public relations. A social media business is similar to conventional media in that it allows you to market your company's goods and services at a low cost.
Furthermore, the rising popularity of mobile apps must be taken into consideration. The amount of engagement between social media businesses and mobile application software has never been higher. Mobile apps are the most convenient method to interact with people since they are easier to use than the web. This trend is being capitalized on by companies that specialize in social media marketing. They've turned it into a revenue stream.
The ease with which customers may access social media marketing platforms through their mobile phones is astonishing. People just need to get their phones out and check for updates on internet marketing platforms. It is your obligation as a company to ensure that changes to your social media marketing plan are likewise communicated to their apps. The text should be readily read by both mobile and online apps.
Businesses are more likely to pick you as long-term social media outsourcing partners if your social media firm offers interesting engagement-building objectives for them. In the long term, this will generate a variety of benefits for your social media company approach. It is a simple, creative, and growing industry for individuals interested in becoming entrepreneurs. The social media marketing industry is the way of the future, and businesses will most likely outsource this function to companies that specialize in online marketing.
Weakness
Even though this industry provides several advantages, it is important to remember that they all come at a cost. First and first, businesses must be convinced of the value of social media marketing platforms in terms of increased revenue and reach. Social media marketing is a topic that few people are acquainted with. They do not feel it is an important aspect of professional grooming. They see it as a needless additional cost with minimal impact on overall profitability. This might be the industry's most serious flaw.
Another flaw in this area is the inability to keep followers. The retention rate in social media marketing is quite poor. You must always update your engagement strategies to keep your audience interested with your social media marketing platforms. Otherwise, they will immediately lose interest. In order for consumers to stay involved with your business and await your updates, your content must be current and entertaining. In order to react to their issues in a timely way, your response must be 100 percent; otherwise, the audience will feel humiliated if their worries are not addressed. This kind of activity requires active involvement. A little mistake on your part will lead them to quickly lose interest.
Another thing to think about is the balance you try to achieve between your efforts and the results you achieve. It's possible that your method for obtaining results may not always work. Especially when a company is just getting started. Because social media may be unpredictable, it's difficult to generate results at first, no matter how well-crafted your strategies are. The key is to wait for the results. Messages must be sent on a regular basis.
Opportunities
Every firm has a variety of choices for achieving excellent results in the social media industry. It serves as a platform for reaching a bigger audience; well-designed social media messages may also reach hard-to-reach places. The online presence of your social media business is critical to the online community, which is ready to learn more about your company and what it has to offer.
There is a lot of room for advancement within this company. You might build alliances and collaborate with a number of significant companies to help them strategize their social media platforms. Because social media marketing is a trend that will continue to grow in popularity in the future, your business is unlikely to fail.
You may hypothetically enter new geographical locations in order to promote your social media firm. It is much easier to reach out to as many people as possible with the help of these platforms. You have the power to not only build connections with your online audience regardless of geographical boundaries, but also to deliver your message across borders, wherever your target audience is situated.
To top it off, social media is increasingly gaining popularity as a means of engaging with your online community and followers. The days of walking all the way to the office only to make a complaint are over. You may easily gather information, thoughts, and complaints from your clients via your social media networks.
The more social media followers and subscribers you have, the more crucial it is to encourage them to become involved with your brand. Social media is a participatory medium in which you must engage your online community in order to turn them into customers. This conversion necessitates ongoing contact and listening to your online audience's concerns. You should be able to tell they're talking about your firm; otherwise, you'll never be able to figure out where you need to improve.
The social media industry has paved the ground for the emergence of a brand-new commercial sector: digital marketing. Aspiring entrepreneurs and individuals with a technical understanding of the online world have been flocking to the region since its inception, and this potential has peaked their curiosity. The term "digital marketing" refers to all components of social media marketing, as well as a few additional needs.
Threats
The most significant obstacle in this industry is the increasing rivalry that your social media business plan will almost surely face. People have been adapting to disruptive innovation changes and making the most of it. Your efforts may be duplicated, or your competitors may launch a more effective campaign to attract your customers.
Communication spamming is another risk that this sector faces. People hate being overwhelmed with communications, and your organization may suffer as a result. You must decide when the optimum time is to provide updates, and you should not send them too often. Sponsored posts come with their own set of drawbacks. People are less inclined to follow your social media updates since it does not generate a favorable brand image.