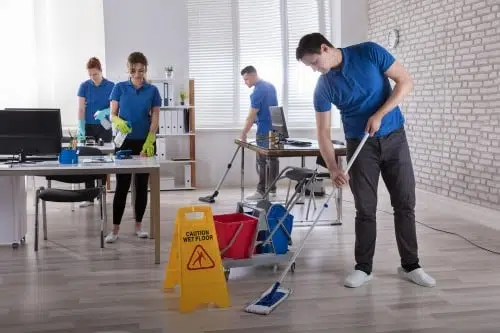 Do you want to start a cleaning business?
Do you want to learn how to establish a janitorial cleaning business? Janitorial services are business cleaning and maintenance services that may be employed on a daily, monthly, or yearly basis, depending on the job.
The popularity of janitorial cleaning companies stems from the fact that they are very easy and affordable to start. Nonetheless, it provides a substantial sum of money.
Regardless matter how straightforward the start-up is, you must first create a janitorial services business plan. To aid you in establishing an acceptable business plan, we've given a sample business plan for Cleaning Masters.
The Company
Cleaning Masters will be a certified and registered janitorial firm situated in New York. The company's daily cleaning services will assist commercial buildings, medical facilities, educational institutions, and construction firms. The firm will also offer large-scale maintenance services that will only be required once or twice a year.
Janitorial Services Management
Cleaning services are required on a daily basis as well as in an emergency, so having a good business plan is essential. In your business plan, you must identify the workers, equipment, and hardware support that will enable you to run your company.
We'll include all of Cleaning Masters' material in our business plan on how to start a cleaning business so you can get a feel for how the firm works.
Janitorial Services' clients
Before you consider how to start a janitorial cleaning service, you need decide which segment of society you will serve. It will assist you in developing customer-friendly regulations and obtaining the essential tools to carry out your responsibilities.
Business Objective
We intend to be the most well-known cleaning firm in New York City within five years of our founding. Furthermore, after four years of operation, we plan to increase our workforce and income by 50%. We've also defined our financial objectives, which are shown in the graph below.
Owner of a business
Cleaning Masters will be owned by Jack Gibson. Jack has worked in the cleaning industry for nearly four years. He worked in a variety of managerial positions before choosing to start his own business.
Why are janitorial services being implemented?
Jack wanted to start a firm so that he could get recognition in the business world. Previously, he had worked in the cleaning business. He also offered some novel suggestions about how to run a cleaning business more efficiently and effectively. As a consequence, he started a cleaning business to achieve his dream.
How will janitorial services be implemented?
Step 1: Create a company description for your cleaning services business.
Before starting a cleaning service, you should write a business strategy. You may employ a professional business consultant to build your company strategy, or if you have the requisite experience, you can do it yourself.
We've provided a sample cleaning service business plan to give you an idea of how yours should appear. In this janitorial services business plan example, we are basically presenting the Cleaning Masters business plan.
Step 2: Obtaining a license and registering
Make sure to register your firm when you've finished writing your business plan. Also, be sure you have all of the licenses and permissions you'll need to run your business.
Step 3: Form your business
The next step is to rent or lease a large space that will act as both your workplace and a storage facility for your machinery and equipment.
Jack decided to establish his office in a building that had formerly housed a construction company. He purchased the following equipment in bulk to ensure that the company's operations run smoothly.
Self-cleaning cleaning equipment
Floor-cleaning machines
Carpet vacuum cleaners
Carpet and floor sweepers are used to clean carpets and floors.
High-pressure washing machines
Steam cleansers and vacuum cleaners
Grout and tile cleaning tools
Liquids and applicators that have been disinfected
Brushes, pipes, buckets, microfibre towels, safety kits, and other odd items are all on hand.
Step 4: Promote, market, and establish a strong web presence
In addition to other preparations, you should begin selling and publicizing your services. To reach a larger audience, it is also vital to have a strong social media and website presence.
Services
When you own a cleaning franchise or run your own cleaning business, you have the freedom to try out new cleaning techniques. Jack made a number of technologically-based suggestions for optimizing cleaning procedures. To put his thoughts into action, he used this cleaning service business plan template to detail the services he wanted to give.
Interior Building Cleaning and Maintenance
This service will include cleaning all commercial buildings, such as offices and educational institutions. When we say everything, we mean all the draperies, furniture, floor, walls, stairwells, washrooms, windows, and doors. We will deliver the following services at this location:
Floor Cleaning and Restoration
Cleaning the windows
Walls and Wallpaper Cleaning Carpet cleaning and furniture cleaning Furniture Cleaning Pressure Washing of Pressure Washing of Pressure Washing of Pressure Washing of Pressure Washing of Pressure Washing of Pressure Washing of Pressure Washing Pressure washer cleaning Pressure-washing-machine-washing-machine-washing-machine
Hard surfaces, hallways, terraces, and outdoor flooring may all be cleaned with pressure washing.
Keeping Construction Sites Clean
We will provide regular clean-up services throughout construction projects. Debris, dirt, dust, adhesives, and other leftover substances will be removed when the operation is completed.
Hospital and Healthcare Facility Cleaning: We have skilled staff and equipment to clean hospitals and healthcare institutions. Coronavirus rooms, morgues, and general wards may all be disinfected and sanitized with the right equipment and knowledge.
Janitorial Services Marketing Analysis
Before launching a cleaning business, it is necessary to do a complete and comprehensive market analysis. A marketing research can help you understand your target clientele, current market trends, and recent and future market ups and downs. You may get a general idea of the cleaning firm sector by reading janitorial business ideas available on the internet. However, it is recommended that you hire an expert to do an appropriate marketing analysis for your region before starting a cleaning firm.
Market Developments
Janitorial services have always been in great demand. However, since the coronavirus epidemic, demand for such services has increased dramatically. Specialist cleaning services are increasingly used by hospitals, workplaces, organizations, and businesses to sterilize their premises on a regular basis.
Segmentation of the Market
Before learning how to write a business plan for investors, you need establish a list of your clientele. This practice will aid you in making critical decisions such as how many people to hire and how much to charge.
The following are the different types of customers that Cleaning Masters caters to:
Business Offices and Buildings: Our target market will be small and large businesses that do not have a dedicated cleaning staff. They are expected to utilize our services on a regular basis.
Hospitals: Cleaning services are available at hospitals. However, because of the coronavirus, they will need experienced cleaners with proper expertise to disinfect their wards and mortuaries. As a consequence, we expect them to take use of our services as well.
Construction Companies: Construction companies will be our third major client, and they will require our post-construction cleaning services.
Educational Institutions: Our services will be used by both small and large educational institutions for interior and exterior campus cleaning and restoration.
Government Facilities (Museums, Parks): Finally, local government organizations are mandated to employ our services on a regular basis for thorough and careful cleaning.
Business Objective
Our company's goals are as follows:
We hope to make a monthly net profit of $28,000 at the end of our first three years.
We intend to have quadrupled our personnel, sales, and services by the end of our fourth year.
We shall try to achieve and maintain a CSAT score of greater than 95% during our service years.
Pricing of Products
Our prices are greater than our competitors' because we clean using cutting-edge equipment. Nonetheless, we believe that our quick and high-quality service will continue to attract more customers than our competitors. We also have a competitive advantage.
Marketing Techniques
To reach out to your target clientele and encourage them to employ your services, you'll need an effective janitorial marketing strategy. This proposal for a cleaning firm will educate you about competitive advantages and effective sales methods.
Analysis of Competitors
We expect to attract more customers than our competitors due to the following attributes.
We offer the most up-to-date equipment and automated technologies to handle cleaning tasks successfully and promptly.
Our personnel work well together and have a strong emphasis on the consumer. We will always go above and beyond to assure our clients' satisfaction.
On our website, our customers may make bookings for our services. They will also be able to provide feedback.
We developed a management system to monitor recurring clients in order to provide them with additional discounts and incentives.
Strategy for Selling
To market our business, we'll employ Google Local Ads and local publications.
We'll be sure to appear in Google's top searches if we make our website search engine optimized.
We'll provide a 40% discount on all of our services for the first two months of our launch.
Personnel strategy
A cleaning service owner must hire a sufficient number of personnel. So that cleaning duties may be finished even if some employees are already on the job. When developing a cleaning services business plan, Jack produced a list of essential staff, which we're giving here.
Employees of the company
Significant cleaning chores will be overseen by one supervisor.
To keep track of funds, you'll need one accountant.
2 technicians to maintain the equipment's functionality
The management of software tools and websites will be handled by one software/web developer.
In the healthcare industry, there are 12 janitors and cleaners.
1 salesperson to establish a connection with customers
Two drivers will offer transportation.
1 Call Center Agent/Receptionist
Plan your finances
The cleaning firm has the benefit of not requiring a substantial upfront expenditure. The two most important expenses connected with starting a cleaning firm are purchasing high-quality equipment and materials, as well as providing specialized training to your employees. Aside from that, the firm has other financial operations such as marketing and advertising, employee compensation, startup expenses, and rent, among others.
To manage all financial activities, it is essential to have a clear and accurate financial plan. To help him arrange his funds, Jack recruited the assistance of a professional financial advisor. It is recommended that you do the same. This starting a cleaning service business plan, on the other hand, could provide you a rough idea of the costs involved in this venture.