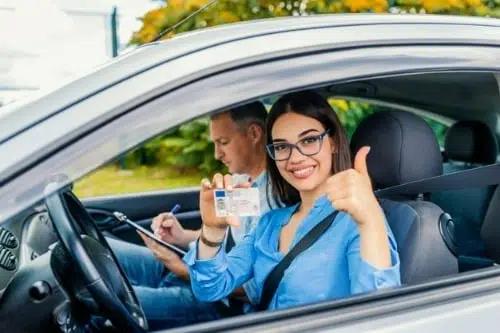 Do you wish to start a driving school of your own?
Are you thinking of starting a driving school? The main advantage of starting this business is that, in contrast to other businesses, it can be started with a lower initial investment and turned into a highly profitable endeavor if well planned and executed. Before going on this expedition, however, there are a few things to consider.
To create a driving school, the first step is to get the relevant licenses and permits. You should also consider if you will purchase or lease the necessary automobiles. As a consequence, the first step should be to draft a comprehensive driving school business plan that includes all aspect of your organization.
The business plan will not only help you launch your company, but it will also act as the basis for its future policies. We've provided a business plan for a driving school startup named 'Star Driving School' to assist you in writing an effective business plan.
The Business
Individual and commercial driving classes, as well as other business-related services, will be provided by Star Driving School, a licensed and insured driving school in Manhattan.
The corporation will be solely owned by Mark Gill. Mark has a Harvard MBA and has worked in a variety of administrative jobs at multiple driving schools around the country, so he knows all there is to know about establishing a driving school.
Management
Before being onboarded, the company will hire a staff of trainers, assistants, and salesmen, all of whom will have one month of training.
Customers
Star Driving School will be a licensed driving school that will teach people of all ages how to drive as well as providing specialized training for professional drivers.
The Company's Mission
The company's objectives are to balance initial expenditures in the first year of business and to establish itself as Manhattan's leading driving school. Our sales and revenue targets for the next three years are summarized in the graph below:
Entrepreneurial spirit
Star Driving School will be owned by Mark Gill. Mark holds a Harvard MBA and has worked in a variety of managerial positions at driving schools around the country.
What is the reason for the company's formation?
Mark has an entrepreneurial attitude and plans to create a driving school to make money in this industry.
How will the business get off the ground?
The Star Driving School will be around a ten-minute drive from Manhattan's most populous neighborhoods. In addition to its regular inventory, the company will acquire 10 cars with various engine capacities, three minibuses, and two medium-sized commercial vehicles. All automobiles will be leased for a five-year term, after which they will be renewed.
The starting expenses are as follows:
Services provided to customers
Before you start developing a driving school business plan, you need to figure out what services you'll provide potential customers. It will also help you secure approvals and licenses from government bodies in your area.
Star Driving School will be a licensed and insured driving school in Manhattan that specializes in providing individual and commercial driving training, as well as other related services. The following are some of our most essential services:
Driving lessons are required for everyone who want to learn how to drive a car.
Professional drivers who wish to learn to drive a bus or truck may enroll in specific classes.
There are short driving refresher courses available.
Advisory and consulting services to help students get driver's licenses and other forms of vehicle documents.
Marketing analysis of the driving school industry
If you're not sure how to start a drivers education school, this sample template might help. However, if you're starting a large-scale firm, it's a smart idea to engage marketing experts. A solid marketing research will tell you which area or location is optimal for launching a driving school and will also help you estimate the cost of doing so in the future.
Marketing Developments
Over 8,000 driving schools in the Americas are represented by the Driving Schools Association of the Americas. Among the 8,000 establishments, there are 6,000 professional driving schools. In recent years, the number of driving schools has gradually increased, and this trend is expected to continue in the next years. Based on these numbers, we can infer that a well-planned business strategy for a driving school may be quite profitable.
Market Segmentation is a term that refers to the division of a market into
The nearby residential area, which is around 10 minutes away from our company, is our target market. Individuals from many walks of life make up the community. There are presently around 738,000 households in Manhattan, 17.1% of which have children under the age of 18, 25.2 percent of which are married couples living together, and 10.9 percent of which are persons 65 and over. Our specialists have identified the following target groups for our services:
Beginners:
Our first group of customers are teenagers who have just turned 18 and want to learn to drive. The bulk of these arrivals are students in high school.
Learners:
The second category includes those who possess a vehicle and require a driver's license to get on the road. These pupils will get proper driving training as well as help with acquiring driver's licenses and car documents.
Professionals:
The fourth category includes commercial drivers and those who want to learn to drive a bus or truck in order to pursue a career in driving. This group will get extensive training as well as supplementary instruction on road safety.
A complete market analysis of our potential clients may be seen in the table below:
Business Objective
Our driving school business strategy has the following objectives: Within the next five years, to become Manhattan's best driving school.
We expect a net profit margin of $10k per month at the end of the first year, $15k per month by the end of the second year, and $25k per month by the end of the third year.
The startup's initial expenses should be matched with generated revenues by the end of the first year.
Pricing of Products
One of the most important determining factors in a startup's success is product pricing, which is why we've priced our services slightly lower (10%) than those offered by our competitors.
Strategy
A driving school business plan must include a sales strategy for the company, just like a marketing analysis, and it must be considered before you consider how to start a driving school.
Analysis of Competitors
There are hundreds of established driving schools in the United States, and it is challenging to survive and thrive in such a competitive environment. As a result, you must come up with something unique before starting a driving school business. Our competitive advantages are the strength and dedication of our team. We have the most knowledgeable trainers on staff who will go to any length to ensure client satisfaction. Furthermore, our price is competitive and similar to that of most of our competitors, giving us a significant advantage over them.
Strategy for Selling
We will persuade our customers to visit us in a number of ways, such as:
Our driving school will be promoted via magazines, newspapers, and social media.
We will provide membership discounts for the first three months following the debut.
At a range of educational institutions, we will offer seminars and awareness workshops on the importance of road safety while also promoting our company.
Personnel Strategy
A personnel strategy is also an important part of a driving school business plan, so make one before thinking about how to start one.
Employees of the company
At start, the following personnel will be hired:
1 General Manager to be in charge of the whole company
2 Accountants/Administrators to maintain accurate financial records
Four sales executives are responsible for marketing and new ventures.
Ten instructors will teach members how to drive.
2 helpers to assist with the day-to-day duties
1 Front Desk Officer to assist with receptionist tasks.
Plan your finances
The last stage before selecting how to start your own driving school is to develop a financial plan that details your business's development over the next several years. The financial plan of Star Driving School is as follows.