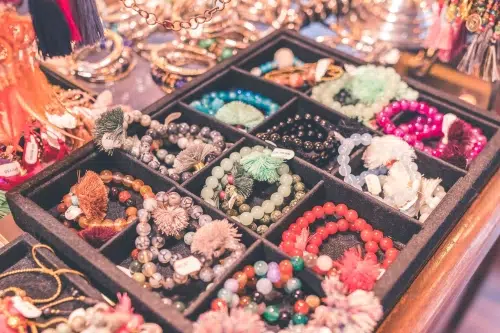 Do you want to learn how to establish a jewelry company from the comfort of your own home? I'm going to teach you precisely how to achieve that in this book, even if you've never had any experience with starting a company before.
Please be advised that this will not be a simple task.
In fact, it's possible that it'll be the most difficult thing you've ever done.
However, if you are a jewelry enthusiast, it might be one of the most rewarding things you have ever done.
What's the greatest part? There is no use in spending time on "nonsense" that has nothing to do with creating a profit in the first place. This includes everything from forming a limited liability company to obtaining financing. Later, when these things begin to make a difference, you may worry about that.
So let's get started…
Behind-the-Scenes Look At How To Start A Jewelry Business
The category of jewelry is an intriguing one.
It's a category that's been there for a long time because people place such a high value on it.
As a result, it has some very compelling advantages and disadvantages.
In many ways, the jewelry industry is perhaps one of the most "e-Commerce suitable" industries to be in, especially when it comes to online sales. In general, the profit margins are large, the items are costly, and the delivery is inexpensive. These are all essential if you want to rely on sponsored advertisements as your primary source of traffic.
At the same time, the whole industry is reliant on fashion trends. To put it another way, it might change rather often as a result of various fashion trends. This isn't ideal since you want to keep the number of SKUs as low as possible, which isn't always attainable. As a result, it will be more expensive to keep up with all of the changes in the future.
Of fact, there is no category that is completely faultless.
As a result, if you can deal with the fashionable drawbacks, this is an excellent field to enter into.
What is the approximate cost of starting a jewelry business?
I have both good and terrible news to share with you.
The good news is that starting a jewelry company is one of the most cost-effective business strategies you can choose to launch your career. As a result, you will find a large number of jewelry merchants on Etsy, as well as retailers in other categories such as hair, tea, candles, and even subscription boxes.
The bad news is that the actual figure may fluctuate widely as a result of all of the various factors, making it difficult to predict how much it will cost exactly "this" much in advance.
In light of the above, if you suppose…
1) Everything is being made by you from scratch
2/ You're starting with just a few SKUs to get your feet wet.
Then it's quite safe to estimate that it will cost between $3,000 and $5,000 to get started. Once again, once the specifications of the materials and quantities are taken into consideration, the real cost may be either cheaper or greater than expected.
The Most Comprehensive Jewelry Business Plan
Create a category that is dominated by blue oceans
Never, ever create a jewelry company that is a carbon replica of another's. To be more specific, you want to avoid competing with any large jewelry companies at all costs. Focusing on a characteristic that no huge corporation is concerned about is necessary. For some, this translates into amusing marketing. Others define this as jewelry that is designed for a very narrow set of individuals (aka not mainstream).
Advertisement should be used to validate the concept
It's always a good idea to test an e-Commerce concept before going all-in on it. This entails creating a "fake" Shopify shop, complete with a fictitious brand name. Your objective here is to utilize advertisements to determine whether or not anybody will purchase, as well as what the expenses will be. The information you gather will determine whether or not you should proceed. If no one buys, or if it costs you $100 to make a $10 sale, you'll have to start again from the beginning. If this is the case, go to the next step. Everyone who purchased should get a refund.
Create a "hot list" of people who want to be on your mailing list
Once you've confirmed your eligibility, it's time to go all in. This implies that it will take six months to create an organic audience. This might be done using TikTok, YouTube, Instagram, or another platform. You want to direct individuals to a "hot list" where only those who are interested in being alerted about your future brand would sign up. This is true in all circumstances. In an ideal world, you would utilize Klaviyo to do this. The content and commerce business model are what this is referred to as in the industry.
Create a list of ideas for your hero product
As you're putting up your hot list, you'll want to look at your rivals' offerings to see what's currently selling. So take a look at their best-sellers and make a note of the 3-5 things that your top 5-10 rivals have in common. You want to choose one product from the list of the top 3-5 similarities that are most likely to be successful and that you can really deliver on. Start working on the one product that will be ready for launch.
Begin with an email marketing campaign
It is at this moment when your target audience is tiny, and you have a product to offer. In order to begin earning money, all you have to do is send emails to that target. It's simply that simple. In addition, since you only have a limited supply, you should make use of that fact. In fact, you may take it a step further by launching in three rounds. It will be simpler for you to maintain order as a result of this.
Earned media is a powerful marketing tool
When it comes time to expand, the first outside source of traffic you want to attract is via public relations. At this point, you need credibility as well as free traffic. So go out to the more than 100 media that have already shown an interest in promoting new jewelry businesses. Just 3-5 truly fantastic features are all that is required to start the ball rolling and immediately increase your conversion rates.
Increase your reach with sponsored media
In light of all of the sales you've generated so far, here is where you bring it all together into a funnel that converts well with paid Facebook advertisements. So take your hero product and use Shogun to create a dedicated landing page for it. Then use Facebook and Instagram advertisements to drive traffic to the product. Always keep in mind that the purpose of paid media is to attract new clients. People who have previously purchased anything from you should not be advertised to.
Make money with your own publications
Once you've found out how to gain new customers and grow your email list, it's time to optimize it since you own it, and every sale results in a 100-percent return on your investment. This entails sending out emails to your list 2-4 times per week and using well-planned Klaviyo workflows. Your ultimate objective should be to produce 30% of your total income from email marketing campaigns.
Analyse and make improvements
By this time, you're being inundated with information on a daily basis. This is a positive development. Now it's up to you to arrange and evaluate the information in order to aid in future decision-making. This contains things like margins, CAC, payback windows, and other things. The most crucial thing to keep in mind is that your expenses are increasing. Taking whatever steps you can to reduce your variable expenses will make your whole firm much more lucrative and increase your chances of success significantly.
In the future, you might be concerned about weird things such as Amazon FBA or even Shark Tank!
Related Links