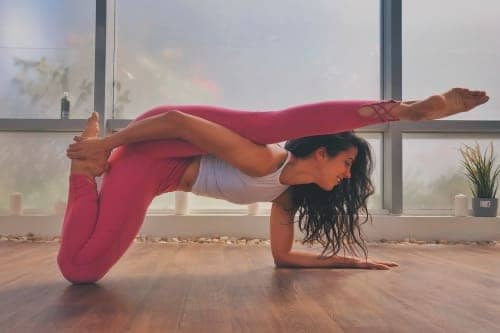 It may seem difficult to learn how to start a leggings company from home, but it is not.
Starting a leggings company from home is really a lot easier than you would believe. All you need to know are the steps. However, if you take action and really follow each step, everything becomes crystal apparent.
So let's start from the beginning.
Create your best-selling leggings concept
Prior to focusing on any kind of production, you must first concentrate on marketing.
You'll need a compelling reason for someone to choose your leggings above everyone else's. This includes why someone should purchase your pants instead of those from Lululemon, a multibillion-dollar company.
This is what will propel it to the top of the bestseller list.
Fortunately, the procedure is simple.
To begin, you must first have a notion of what you want. For whom are your leggings intended? What are the problems people have with their leggings? Where can they get leggings now?
Then comes the fun part.
Map out what other DTC brands are attempting to tackle similar challenges using the answers to the questions above. Ideally, you should make a list of at least ten companies that you consider direct rivals. If Lululemon is on the list, you must choose a smaller or other problem to tackle. You don't want to go head-to-head with multibillion-dollar brands.
After that, go to each of the brands on your list and browse through their greatest sellers, looking for any similarities and anything that sticks out. This will provide you with accurate information about what currently sells and what untapped chances you may take advantage of.
Use this information to develop your best-selling leggings concept.
How Do You Make Your Leggings?
The next step is to create them after you've decided what you want to produce.
You may need to speak with two or three partners to do this.
1/ Fabric Mill 2/ Technology
3/ The producer
Basically, you should contact them first before speaking with a manufacturer if you want high-end textiles and technologies. However, if all you want to do is add pockets to your leggings, you'll just need to speak with a manufacturer.
Buy your rivals' tights and look at their tags to identify the technology. It's likely that one of their tags will include the name of that technology. If that's the case, look it up on the internet.
To locate a fabric mill, choose the sorts of textiles you want and search for terms such as "merino wool factory" or "merino wool fabric mill" on Google. If you're dealing with a tech company, you may also inquire about any fabric mills they collaborate with.
Simply enter "apparel manufacturer" or "leggings private label" to discover the company. You may also go via directories like Maker's Row, which I strongly suggest.
Then there's your artwork.
I strongly advise you to speak with an outfit designer about creating a "tech pack" that covers all of your product information. This includes any dimensions your manufacturer will need to make the product you desire.
Then it's only a matter of filling in the blanks.
Costs, minimums, lead times, and capabilities are all included.
This is by far the most difficult portion of the procedure, but with a little perseverance, you can get through it.
Build the Official Leggings Business Plan
Starting with a small, committed following of people who want to purchase your leggings is the greatest approach to discover how to start a leggings company.
Given that the leggings company is the yoga business, this entails creating a yoga-related Youtube channel or TikTok. This will ensure that you develop an audience of individuals who are inclined to purchase leggings. To begin creating a plethora of yoga-related video material.
I recommend planning ahead at least 6 months before beginning to work on your leggings.
After six months have passed, you should begin producing your leggings. Simultaneously, you want to direct that visitors to an email newsletter that informs individuals about your efforts and upcoming launch.
This may seem like a long way to start a company, but trust me when I say it's well worth it.
The most difficult aspect of any e-commerce business is not selling but making a profit. You'll get traction right away if you establish an audience of individuals who are eager to purchase. This will provide you with the necessary profit to re-invest as well as the courage to pursue the concept further.
Launch of the Official Leggings Business Plan
It's time for the formal launch after you've got all of your ducks in a row.
I recommend doing this in 2-3 rounds for logistical reasons.
You will market your new leggings to your fans in each round. This entails sending an email to your whole mailing list instructing them to go out and purchase something. It also entails creating content for the channel you choose to purchase previously. It also entails informing everyone of your relatives and friends.
What is your objective? To be completely sold out.
This will give you confidence in your concept. And, since the garment industry is a highly costly one, it will provide you with the funds you need for your next round. So, after you've completed round 1, go ahead and purchase a new set of leggings.
Repeat 1-2 more times after that.
Instead of shutting your business in the final round, you'll keep it open indefinitely. This also means this will be your largest batch of leggings, which is why performing 2-3 rounds is critical.
When it comes to learning how to start a leggings company, no one tells you this. It's a far more effective method to make the numbers in your company work for you so you can remain profitable.
Scale is the official leggings business plan
You now have a tried-and-true idea.
The rest is just a matter of adding new traffic channels and items.
Paid marketing, public relations, influencers, Amazon, and even retail were all covered. They're all important, and you should attempt them all as your leggings company develops. With that stated, paid advertisements will be the most crucial since they are the most scalable and practical at your scale.
And outstanding creativity is required to make sponsored advertisements successful.
This is when you employ a creative firm or at the very least a local filmmaker to assist you in creating fantastic Facebook advertising. The higher the quality of your ad creative, the better your Facebook advertising will perform.
You'll also want strong sales to funnel.
You'll want to bundle your leggings for this. Allow consumers to buy more than one and get a discount, or offer them many pairs of leggings in various patterns and allow them to purchase them at a reduced price. This is done in order to raise your AOV. In a perfect world, your average order value would be $75 or more. This increases the likelihood of your adverts becoming lucrative.
From then, it's a never-ending cycle of more ad creativity and more ad spending. This implies that if you truly want to learn how to start a leggings company, you'll have to learn how to acquire media.
That is until you have the funds to hire someone to do it for you.
Related link