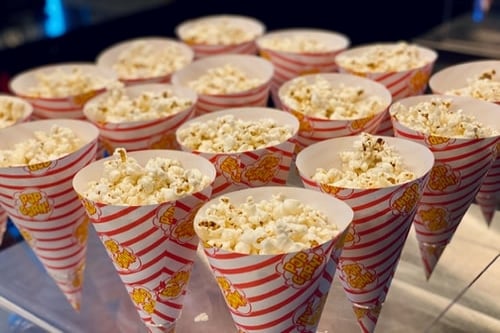 Are you interested in learning how to establish a popcorn company from the comfort of your own home?
You'll want to know the ins and outs of establishing a popcorn business online, whether you're thinking of creating the next Orville Redenbacher or coming up with a new keto-friendly popcorn for cross-fitters.
There's enough to go around in the popcorn industry, which is a multibillion-dollar industry.
Let's have a conversation about it…
Is It Profitable To Start A Popcorn Business?
Fun fact: In a concession stand, popcorn has the biggest profit margin.
From Orville Redenbacher to Skinny Pop, there are a plethora of popular popcorn brands. The fact that there are several lucrative popcorn brands on the market today indicates that the popcorn industry is profitable.
That isn't to suggest that popcorn is immune to poor unit economics.
Profitable and unsuccessful brands will exist in every food category. As a result, it's up to you to make it viable by using clever unit economics.
What Is The Cost Of Starting A Popcorn Business?
We'll concentrate on working with a third-party producer to create your own popcorn brand.
Finally, two major considerations will affect the cost of starting a popcorn company.
Cost per unit – the cost of your product per unit.
Minimums – the quantity of merchandise you must buy in order to meet your minimums.
The quality of your product and the manufacturer you engage with will decide the cost per unit and your minimums. So, if you want to start a high-end popcorn company, you'll have to spend a lot more than someone who is just private labeling an already-existing, presumably low-cost popcorn.
Of course, making the cheapest popcorn isn't the answer.
The key is to be deliberate about the product you create and the brand you establish.
This is why I suggest setting up $5,000 to $15,000 to start a popcorn business.
It's possible to start with less, and it's also possible, to begin with, more. Again, it'll come down to the cost of making each bag of popcorn and the minimums set by your manufacturer in order for you to get started.
Build a Popcorn Business Plan
Almost every food and beverage company has the same issue: low pricing points. The same may be said for even high-end popcorn. When you're beginning a company from scratch, it's difficult to make paid advertising your major source of traffic.
That's why, six months before your debut, I recommend starting to cultivate an audience.
Choose a channel first. This may be a blog, a video on YouTube, or a TikTok video. Then you'll want to create content that will attract the clients you're looking for. You may wish to try meals that use popcorn, for example. You may also make popcorn-themed TikTok jokes. If you're starting a keto popcorn company, you can also create keto-related content.
In any case, your aim is to grow that audience as quickly as possible to reduce acquisition expenses.
The first boost will also assist you in becoming more lucrative, allowing you to purchase bigger quantities of popcorn, resulting in better profit margins per unit. As your business grows, paid advertising becomes a more feasible source of traffic.
You want to start sending visitors to an opt-in website a month before launch, promising customers updates about your new impending popcorn brand. During the launch, this will be your most effective marketing channel, so don't overlook it. It's crucial.
When it's set to launch, start advertising your first batch of popcorn.
I mention "first round" precisely because you'll want to follow a "stair-step" approach and ultimately have a 3-round launch sequence. To put it another way, you want to sell out your first batch of popcorn before purchasing more.
You may avoid the burden of striving to be flawless with your financial allocation this way.
It also allows you to get client feedback on your product in a more relaxed manner, allowing you to make any required modifications to the product and packaging. Because you debuted to an owned audience, you'll be able to finance these enhancements as well as a larger batch, which will result in a better profit margin.
You should have enough trust in your product and statistics by the third cycle to keep your business open indefinitely.
Scale is a key component of the popcorn business plan.
It's time to extend your horizons once you're ready to climb.
There are four major sources of traffic to consider.
Consider earned media if you have a compelling brand narrative and unique selling proposition. This would entail public relations efforts such as being featured on Forbes as well as influencer marketing. The beautiful thing about public relations is that it provides virtually free traffic while also serving as evidence for any paid media campaign.
The second option is to use paid media. The majority of the advertising will be on Facebook and Instagram. If all goes well throughout the development and launch phases, this should become a lucrative marketing channel. You should grow the quickest with paid if you keep an eye on your ROAS.
Amazon comes in third. There are a lot of successful popcorn companies on Amazon, and with good reason: it's the most popular e-commerce search engine. Because popcorn depends on volume to earn a profit, this will most certainly be a significant channel.
Finally, there's retail. The true strength of the internet is that it may serve as a springboard for you to enter actual retail locations. It doesn't rule out the possibility of becoming an e-commerce-only popcorn brand. It simply implies that physical retail is the easiest and most consistent approach to growing a popcorn business. This is mostly due to the fact that CAC is constant, allowing you to concentrate on expanding your retail network.
Working on one channel at a time is the key.
Related Links