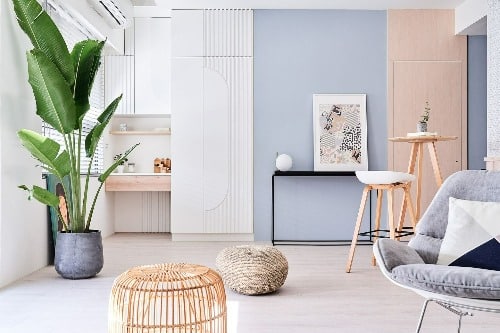 Interior design is a lucrative business activity. In reality, depending on the interior design company's plan and the choice and talent of the decorator, this designing entails a broad variety of specialties from which to pick. Interior design is the process of establishing an individual's specific requirements, and designers are in charge of creating functional interior environments.
The topic of employing interior design services as a possible career path is explored in this article. This is an attempt to fully comprehend how to start a new interior design firm, the possibilities and advantages of providing such creative services, the importance of having a business strategy, and how to write one. There are also a number of examples, samples, and templates to help you create an excellent interior design business plan.
When you're ready, Skyrocketbpo can assist you in developing an interior design policy. You must complete the contact form, and a member of our team with the required skills will contact you.
Starting your own interior design company requires a business strategy.
Interior designers are also in charge of compiling a list of everything a house, apartment, business, or cottage need and then decorating it with new interior décor. Designers use their practical and creative ideas to the interior space based on those requirements, always keeping in mind that the designs used are not only attractive to the eye, but also useful and entirely functional to the person living in the home. Designers take into account a variety of elements while giving their services, including the construction of the building, its physical location, social needs, and, most significantly, whether everything follows the norms and regulations of home décor while also being ecologically friendly.
Interior décor services are provided in a well-organized and coordinated manner. The inspired designing approach comprises considerable research, study, and the use of huge experience to develop a wonderfully completed home interior style that entirely satisfies the home owner. It might be found in the interior design plan of a company.
To work professionally, interior designers must have a license. ASID issues a license certificate to the interior designer (American Society of Interior Designers). Interior designers must have a degree (college/university), 6 years of experience in interior design, and pass the demanding certification exam administered by the National Council for Interior Design Qualification.
All of this may seem intimidating, but it doesn't mean you should give up on your passion for interior design business ideas. In truth, there are a growing number of new interior designers that are enthusiastic about designing interior spaces and arranging furniture for best utility while also adding attractive interior decorations. They do it while posing as interior designers.
Interior decorators are therefore in charge of not only making the interior space attractive with unique, wonderful, stylish, and fine-looking goods, but also of carrying out all of the jobs that interior designers accomplish. As a result, if you do not have a license but reside in an area where one is necessary, you may begin your professional career as an interior designer.
Accomplish all that professional interior designers are required to do in order to change interior surroundings, then take the exam and obtain your license when you're ready. Most people can't tell the difference between designers and decorators, to be honest. You may just like giving home interior décor services and making people happy by creating beautiful interior spaces that are enhanced by unique ideas.
If you don't want to be an interior designer, you might start a business as an interior consultant. In actuality, a consultant is responsible for offering suggestions on how to make the interior spaces seem appealing rather than traveling to the site and designing interior spaces. With the consultation, anybody may give their home's interiors an aesthetically completed new look.
Individuals with an interior design degree, a lot of experience with this kind of work, and, most importantly, a good reputation as interior designers business plan are most suited for this position. As a consequence, being an interior décor consultant is not a practical alternative for those just starting out in the industry. Of course, those who fit all three criteria may choose to be one.
What do interior decorators really do?
Interior decorators make changes to interior spaces to give them a new look that is both appealing and functional.
The vast majority of interior designers start out as product salesmen. That is, they sell items while simultaneously decorating interiors.
Regardless of the architectural type, they are in charge of giving every nook and cranny a brand new makeover, complete with magnificent accessories.
They personalize the interiors of model houses for homebuilders.
They make touch with customers of home builders and assist them in choosing paint colors that would brighten up their freshly developed interior spaces.
They're also in responsible of decorating and adding objects that are well-suited to the interior space and blend in seamlessly with the colors of the walls, ceilings, and floors.
They also provide commercial interior design services.
What are the required pre-requisites for a successful career as an interior designer?
You may start a business as an interior designer from the comfort of your own home with a little financial investment. You'll need an inventive vision capable of integrating your creative ideas into a number of structures, as well as the capacity to experiment with a variety of colors to create eye-catching interiors and develop an interior designer business plan, to make it a flourishing firm. You may use the following examples to illustrate your point:
Decorators must possess a creative mind that is brimming with artistic ideas. Users will be able to design their own color shade just by looking at a paint card. The new color scheme won't be random after it's completed; it'll be well-coordinated and consistent with the interior designer firm's overall plan.
They should be well-versed in technical and engineering terms. This will provide them ideas for how to arrange the entire interior space, recommend appropriate goods, and explain how to utilize them in the house or business. With all of that knowledge, they must be in charge of completing the appearance by properly placing furniture and other objects to get the desired result.
They are in responsibility of decoding the client's hazy and jumbled thoughts and applying them in a systematic way to create an excellent product that is both enjoyable and helpful in the future.
Finally, they should be capable of leading projects and serving as industry leaders. As responsible managers, they must be capable of controlling their own industrial services. They must also be able to multitask in order to finish their interior décor services on time and on budget.
Business Concepts for Interior Designers
The interior design industry's business model is flourishing like never before. The majority of people select an interior décor firm because they wish to deliver interesting and profitable services. Every day, more individuals are turning their backs on the drudgery of working in the private sector for 9-10 hours. People today believe in pursuing their dreams and making a livelihood by delivering the things they want.
A broad variety of subjects are covered in interior design business plans and decoration. Each designer and/or decorator may specialize in a field that they are passionate about. He or she may, for example, equip a 1BHK/22BHk/3BHk apartment, a bungalow, or a cottage-style home. Luxury restaurants, spas, cafeterias, quick-service restaurants, casinos, gaming parlous, sports bars, and pubs are just a few of the corporate amenities available. Designers may opt to concentrate on a particular room rather than the whole building even within a single family house. For example, a professional designer may focus on one or more of the following areas: living room, bedroom, kitchen, or bathroom.
Here are five suggestions to get you started if you want to establish your own interior design firm.
Re-decorating the interior
This is a kind of interior re-decorating industry service in which you use your creative approach to re-decorate the client's present items, such as furniture and trendy things, to give the interior space a whole new look. This particular business model is in great demand since it is cost-effective. Because you won't be buying any new furniture or accessories, you'll save a lot of money. People are often bored after 3-5 years of living in a carefully designed area. This re-decorating is a blessing in disguise for them since they won't have to spend as much money on new stuff and will have a completely different look.
Consider the following illustration:
Commercial complexes (spas, restaurants, and so on) need a fresh look from time to time in order to attract more customers, hence certain re-décor professionals specialize in them.
Many specialize on residential construction, offering clients a newly built house at an affordable price. They will also be spared of the worry of having to get rid of their existing furniture and décor.
Many re-decorators are only focused on real estate. They constantly re-decorate the homes for visiting consumers, resulting in the property's quick selling.
Professional Organizer of Interiors
Almost 75% of people desire to arrange the interior areas of their homes and workplaces so that everything has its place. They will be able to live a simple and structured everyday life if this is completed. The problem is that almost no one knows where to begin or how to organize their interior spaces. The interior designer comes into play at this point. A professional interior organizer can help you organize your home and office in a systematic manner and swiftly declutter your area.
The following four responsibilities are the responsibility of a competent interior organizer:
– He or she is in charge of responding in line with each customer's individual demands and suitably modifying storage and filing locations.
They have been taught and are responsible for advising others on how to organize, set goals, and manage their time. They might come in handy while moving and keeping track of financial paperwork.
Professional interior organizing specialists can help the industry improve service flow, file all systems, and build interior spaces so that the whole space is used.
Career advice, coaching, and qualifications are provided through the National Association of Profession Organizers.
Designers in the field of conservation
Because they specialize in conserving and repairing antique interior furniture and features, they are also known as Restoration Designers. The specialist had to be competent in general construction, painting, plastering, and carpentry for this specific interior décor company idea.
Some conservationists focus only on repairing antique furniture, historic paints, plaster repair, or painting techniques. They don't have any other responsibilities.
Others focus on typical home decoration and design items, which are necessary when upgrading a room.
Consultants in Design
We'll concentrate just on money-making approaches here since design consulting services have already been addressed. A consultant may choose to be paid on an hourly basis or at the end of a project consultation. They sell their one-of-a-kind concepts to customers over the phone, through email, chat, or face-to-face meetings. The method of communication may be tailored to the preferences of both the customer and the expert.
Consultants are specialists in a wide range of disciplines, including the following:
Give suggestions for decorating a child's room. This is typical since a kid's room must be made baby-proof, with no sharp edges that might damage the infant.
Feng shui concepts are used to the interior design of a house.
Interior design is a product-driven business.
Professionals in this field are responsible for giving unique interior design and décor recommendations to their clients. They're in charge of getting all of the necessary furnishings and accessories at a fair price. The largest profit is made from the selling of interior décor items. The majority of consumers are freed of the strain of finding exactly furniture and accessories necessary to produce the exact style envisioned by skilled designers thanks to this industry.
At any one moment, an expert is solely in charge of one task. Customers may expect a specialist to finish their whole home's décor. As a consequence, before beginning a project, it's a good idea to acquaint yourself with the responsibilities you'll be responsible for.
How to Begin an Interior Design Company
After you've decided on the industry idea you want to pursue, you'll need to learn about the fundamentals of starting an interior design firm. If you don't have any experience and are just starting out as an interior designer, it's a good idea to start by creating the interior spaces of your family, colleagues, friends, and neighbors. It may be used as a starting point for an interior design business plan example.
The following are seven critical elements to consider if you want to start a company in interior design or decoration:
Create a company policy.
To begin, you must develop an effective business plan. This will give you a thorough understanding of your new industry.
It is best to start as a product driven designer if you have no previous design experience. Examine the details of various industries, such as their experience, completed projects, and how effectively they were designed/decorated, as well as the rates they charged for their services. This will give you an idea of where your industry is based in general.
You must use the information acquired to differentiate your interior design services from those of your competitors in your area. You should provide something different and better than what your prospective customers are getting currently. You should concentrate on window and lighting options if you discover that the neighborhood already has skilled floor and door designers.
Make a list of all the tools that might assist you in starting your firm. After you've done with everything you'll need, calculate the total budget. You may use an online template to construct your paper. The document's outline is drawn out on the template to help you write it. At times, the template files may be rather basic. You can hire a professional writer if you can't discover a template you like. A template, on the other hand, may be handy if you just need a general idea.
Obtain a business license.
It is necessary to get a business license. In most cases, the application is available at the city clerk's office or the local municipal hall. Several countries need business owners to get a sales tax license in order to lawfully run their firm and offer services to clients in that territory. You may learn more by contacting your Start Department's Revenue Office. Fill out all of the needed fields, submit the application together with all of the required documents, and wait for your driver's license to come. You may start scheduling client appointments immediately, but you won't be allowed to start designing interiors until you have your license.
Get your hands on some essential interior design tools.
Obtain all required office equipment, such as computers, phones, tables, and seats.
Purchase interior design business plan software that is particularly created to aid interior designers and decorators in presenting their fantastic ideas to clients.
Order sample books of paint, fabrics, wall paper, carpets, furniture, windows, and other goods by contacting producers. As a sales agent, you may be able to get substantial discounts on such publications if you have great negotiating skills. Don't be deceived by fabric or wallpaper businesses that attempt to get designers to buy samples on a monthly basis.
Locate the appropriate vendors.
Do not go to any store and start shopping. In order to get the best deal, carefully examine all of the manufacturers. Because they are regular customers, certain manufacturers may offer designers discounts of up to 50%. So don't rush into it because if you make the correct decisions, you may save a lot of money.
Rather of buying furniture, flooring, carpet, textiles, wall coverings, and other products at wholesale prices from a third party, check into the industries that make them.
Consult with reputed carpenters and painters to find out how much they charge.
Purchase a selection of home design products from various manufacturers, such as paintings, accent furniture, lamps, vases, and so on. This will supply you with a diverse range of unique and original items.
Rent a high-end, easily accessible site.
Look for a visually appealing structure where you may show them your interior design and décor to give them an idea of your service style.
You may utilize the following five tips to choose a decent location to stay:
Buildings on back roads or in run-down areas should be avoided. No matter how good the facility seems, it will be very difficult to attract clients if it is located in a difficult-to-find area. Choose a building that is readily accessible from the main road or is situated in a busy lane.
After getting formal approval from the zonal office, sign the lease application.
Take a close look at the webpage. Do not make a judgment only on the basis of appealing pictures in online advertising. Visit the place to see whether the building is big enough to accommodate all of your interior home décor products and fabric samples.
It is not a good idea to show just one kind of interior home design. Clients will think your skills are limited to just one home design. Using various and distinct topics, demonstrate your diversified interior designing business plan knowledge, experience, and originality. This manner, you'll be able to attract more consumers.
To appropriately depict your brand, create complex building graphics with a sign marker on the exterior of the building.
Portfolio
You'll need to develop a business plan for interior design as well as a portfolio of your work. A portfolio contains photographs of your various interior designs. When a customer requests to view your services, you will provide them with your portfolio.
Keep the following ideas in mind while putting up your portfolio:
If you are a newbie at planning and designing, you may modify the décor of your own home and take photographs. If it's within your means, hire a professional photographer to guarantee the best photographs are captured in optimal lighting.
To enhance the quantity of photographs in your portfolio, you may redecorate your friends' or colleagues' houses or businesses.
Remember that you'll need both "Before and After" photographs to show the buyer how you transformed a space.
Photograph a range of interiors to show your diversity and originality in your portfolio.
A total of 15 to 25 photographs should enough. Only the best should be selected. In addition to the images, you may store "recommendation letters" from your customers. The positive feedback of satisfied customers has a magical effect on future customers.
A home interior design business plan might help you promote yourself.
You must make your interior design services business plan known to your clients in order to improve your industry sales. Interior design marketing requires you to get your word out to the public. Only by correctly advertising your company can you show how much you appreciate assisting customers in realizing their dreams by creating interior spaces that are tailored to their needs.
You now understand how to start an interior design firm. You will be able to establish an interior design company with ease if you keep the seven key points in mind.
Here are around 20 interior design marketing ideas (ten of which are for online advertising) that might help you increase sales:
Establish ties with specialists who are indirectly related to the interiors decorating firm through their services to get industry references. For example, the home furnishings industry, real estate agents, executives of construction firms, architects, and so on.
Stay up to date on all of the city's upcoming performances and events. This information is available from the convention center in your area. Because such huge events attract enormous people, you may utilize these displays to advertise your industry and improve sales of the services you provide.
Make a list of all the main local periodicals and newspapers where you might advertise your home design company.
Prepare excellent business cards and brochures to distribute to prospective clients at events, parties, and other public gatherings. Whenever you meet with a consumer, bring your portfolio with you.
Showcase your interior design company to any potential clients who are looking to improve their interior spaces.
Showcase your company's varied interior design services business plan to attract a big number of customers and enhance income. Separate price tags should also be used. For example, set a low price for decorating a single room.
By connecting with industry associations, you can keep them informed about shifting interior design trends and preferences.
Provide free design guidance or consultation together with the application form. Using the information provided in the forms, create a potential mailing list. Mail your interior décor business services to attract customers and improve income.
Create beautiful handcrafted "thank you" cards to give to consumers who attended your public presentation.
Keep an eye on your rivals' services and write down their sales methods to see which ones are effective. Make use of other suppliers' successful strategies to raise your company's earnings in your own unique way.
10 Online Marketing Strategies for Interior Designers
To inform the public about all of the services you provide, create a website for your interior design firm. Use a professional business or seek guidance to construct the website.
Include attractive, updated photographs on your website to attract customers. You may also use photos from your own portfolio.
Showcase some of your most unique and successful client design work on your website.
You may broaden your network of business owners and powerful people in your town by joining popular online groups. You may learn about upcoming events that you might like to attend to broaden your horizons by participating in such online forums.
Correctly using social media is presently the quickest and most widely used advertising method. Some of the most prominent social media networks are Facebook, Instagram, LinkedIn, and Youtube. You can easily reach out to the general population as well as celebrities via Google+, Pinterest, Twitter, and other big social media platforms. Include a link to your website and relevant interior design business plan guidance and information.
Create a blog. Consider your blog to be a living portfolio that you're always updating. To make it stand out, including project images and "behind-the-scenes" stories. Visit well-known interior designers' blogs for inspiration and to discover how they promote their interior design business strategies. Create a series of "how to" blogs and link to them from your website, for example.
Make a new email opt-in sample for free.
Conduct customer surveys on the internet. Inquire about the client's requirements and how they came to you.
Request that your pleased consumers refer you to their friends, family, coworkers, neighbors, and others by putting a link to your company's website on their social media profiles.
Examine well-known smartphone games to see if you can get your company's advertisement to appear there.
To promote your home design company, you may utilize any of the marketing tactics outlined above. You might get some useful ideas by looking at various interior design marketing plan examples. If you want further assistance, please contact Skyrocketbpo's expert consulting team. They can provide you with customized marketing ideas that are geared to your interior design firm.
It's Necessary to Create an Interior Decorating Business Plan
When starting an interior design firm, the first and most crucial thing to remember is to develop a business strategy. Yes, the only thing you'll require is "money" if you've chosen to establish your own interior design business based on your expertise, creativity, and talents. If you don't have enough money, you won't be able to start an interior design business. To secure all of your company investments and get the necessary resources in the form of a bank loan or financing, you must create an excellent interior decorator business plan.
You are erroneous if you imagine that your interior design company plan will just help you get the financial aid you need for your brand new business. This is only one of many aspects that go into a company's choice to create interior design business plans. Consider some of the other compelling reasons for creating a company strategy:
A business projection is an organized compilation of all of your observations and thoughts about the firm that will help you better understand the concept.
It aids in the construction of a list of all the goals you want to achieve.
The corporate strategy identifies any hurdles that may develop in the process of achieving the predetermined goals. This increases the chances of resolving the problem and attaining the objective.
When things become too hectic, the corporate plan provides you and your team with a clear course to follow.
It aids you in obtaining all of your external business capital, which is crucial to your company's development.
You will never be in the dark about your progress if you have a corporate plan in place. It enables you to keep track of your company's progress as it expands.
It guarantees that your whole team collaborates and provides services in order to achieve the same goals as you. When implementing the corporate plan, there is no risk of misunderstanding or losing sight of the goal.
It assists in the creation of long-term planning.
A business stratagem is a detailed blueprint of your business that is methodically drawn and documented for future use. It includes your company's business objectives, strategy, sales margin, marketing tactics, and financial estimates, among other things. Yes, a well-written paper like this might convince a variety of suppliers, prospective employees, and customers to help you run your business. As a consequence, even if you are not yet ready to apply for a Start-up loan, you should not overlook the necessity of formulating a business plan.
Format and Guidelines for Writing a Business Plan
Gathering information and understanding what an interior designer business plan is, how it may benefit a company, and other factors can assist you in developing your own business strategy. Completing homework is akin to collecting data. You may begin preparing your home design/decorating business approach after you've earned confidence.
A firm strategy is now similar to a road map that leads to the success of the industry. This article often illustrates the industry's goals over the next 3-5 years in terms of generating financial benefits. An interior design business plan, like any other professional document, must follow a certain format. This is exactly what this section will deal with.
An interior designer business plan is broken into seven areas, which you should be aware of. The following are the details:
The Report's Summary
Management & Organization Services & Products Description of the Business Analysis of the Market and Competition
Finance Marketing & Sales Factors
If you want to seek for financial assistance, there will be an extra section under "Funding Request." You may also add a "Appendix," which is a separate section that is optional. The interior design business plan document includes it in the conclusion. If and when the reader requires it, the Appendix will be required.
Each component offers relevant information about the interior design company business plan for which you are developing a business plan for an interior designer. Continue reading to find out what should go into each of the main sections and what should be left out. Let's begin by looking through each section in detail.
The Report's Summary
A vital element of your executive summary for interior design is the executive summary. Because the executive summary is the first portion of the paper, it is your chance to attract the interest of possible investors if you want to seek funds. In this area, you provide an overview of the company. Everything you say about the business should be brief and focused on its merits.
The executive summary of a new industry will differ from that of an established firm.
If your company is fresh new, stick to the history, lessons learned, and key choices that led to its establishment. Demonstrate your comprehensive market study by identifying a market fault and describing how you plan to remedy it. With your responses, you should be able to convince others. Finally, discuss your plans for the future.
If you're in charge of a typical business, you'll need the following:
Progress on the Mission Statement Highlights
The company's goods and services are described in detail.
The Monetary Information Future Plan: A Synopsis
Detailing in Organizations
In the Company Description, you must give information about your home design/decorating firm, how it is distinctive, and which market it serves. The following items must be included in this section:
a quick description of your firm's activities
a list of the parameters that your target market looks for
Explain your company's goods and services, as well as how you aim to address the demands of your target market.
Provide a summary of the industry as well as the sorts of clients your interior design business would want to serve.
Present the features of your company's offerings that will enable you to exceed your competitors. For instance, the location, qualified staff, competent operations, or the ability to give useful services to clients.
Research into the market
Every entrepreneur must investigate the industry, its market, and the competitors before launching their own interior design firm. All results, industry and market information obtained throughout the inquiry, as well as your conclusions, must be mentioned.
The following items must be included in the Market Analysis section: A comprehensive picture of the industry's overall size, development, and characteristics. Make a list of your company's most significant customer groups as well.
They do not make the same error as other firms in striving to cater to a wide range of markets. Limit your target market to just those you can properly handle, and you'll be OK. Examine the following details about your market and keep them in mind:
Differentiating Characteristics
The size of the main market that has been identified as a target
The total amount of market share you may get
Price, gross margins, and any discounts
Detailing in Organizations
In the Company Description, you must give information about your home design/decorating firm, how it is distinctive, and which market it serves. The following items must be included in this section:
a quick description of your firm's activities
a list of the parameters that your target market looks for
Explain your company's goods and services, as well as how you aim to address the demands of your target market.
Provide a summary of the industry as well as the sorts of clients your interior design business would want to serve.
Present the features of your company's offerings that will enable you to exceed your competitors. For instance, the location, qualified staff, competent operations, or the ability to give useful services to clients.
Research into the market
Every entrepreneur must investigate the industry, its market, and the competitors before launching their own interior design firm. All results, industry and market information obtained throughout the inquiry, as well as your conclusions, must be mentioned.
The Market Analysis section must include:
Clear illustration of the industry in terms of its general size, development, and attributes. Make a list of your company's most significant customer groups as well.
They do not make the same error as other firms in striving to cater to a wide range of markets. Limit your target market to just those you can properly handle, and you'll be OK. Examine the following details about your market and keep them in mind:
Differentiating Characteristics
The size of the main market that has been identified as a target
The total amount of market share you may get
Price, gross margins, and any discounts
Competitor Evaluation
The goal of a competitive analysis is to figure out who your business's competitors are by looking at their offerings and market.
The following characteristics (in relation to competitive firms) should be evaluated:
The market's rivals' stakes in the company.
The advantages and disadvantages of competing industries
How important is your target market to your industry's competitors?
Are there any obstacles you should be aware of when you enter the selected market arena?
Which is the most advantageous time to make an entrance into the market?
Is there any inferior competitor industry or agency that might stymie your company's progress?
Are there any marketing roadblocks, such as a high investment fee, rapid technological change, a shortage of skilled workers, and so on?
Management & Organization
The Organization & Management section provides readers a general understanding of how your company operates. The following four key elements are covered in this segment:
Your Home Design Industry's Organizational Structure: Create an organizational chart and offer it with a well-written narrative explanation. It's the easiest and most effective approach to write this section.
Details about your company's possessions: This part should include information on your company's ownership as well as a description of the legal framework of the home design industry.
Board of Directors Profile of the Management Team Details on the qualifications: Enlisting the services of a well-known and successful business owner or management helps demonstrate that your organization is trustworthy. Please mention their name, position, past experience, and present and future participation in your company if you have such people.
Services & Products
The products and services section is where you highlight how your current and future clients may benefit from what you're offering. What kind of interior decoration or design services do you offer? What benefit would it provide to the clients? What is the duration of your services? This section has a few questions to which you must reply.
Sales & Marketing
Because client acquisition is mostly dependent on marketing, it is inescapable. This section is all about determining your marketing techniques, which may be done in a number of methods. The importance of a marketing strategy in the continual assessment of your organization process is something that must be recognized.
These four marketing strategies must be used in your industry:
Make a strategy for breaking into the target market.
A plan for getting things done
Developing allocation algorithms for a variety of routes
A communication strategy is a plan that details the many communication channels that will be employed.
The sales strategy for your company is where you put out your strategies for selling your services and goods. There are two primary components to your sales strategy:
A plan for growing your business's sales.
Developing sales strategies for diverse sales activities
Request for Funding
If you want your company to be funded, here is the section where you submit your request to potential lenders.
In this section, you must provide the following information:
Your existing financial responsibilities
Whether or not you will need funds in the next five years
Indicate how long each request will take.
Declare explicitly what kind of capital you require—debt, equity, or something else.
What do you intend to do with the money, whether it's for capital expenditures, working capital, a purchase, or something else entirely?
Which set of terms and conditions would you prefer?
There are various elements that are very significant to the fund providers since they will use this information to decide whether you will be able to repay the loan. As a consequence, make sure they're crystal clear.
In the future, there may be buyouts.
In the future, how will you return your debts?
Do you have any plans to sell your company in the future? Factors of Finance
After you've done all of your research on your target market and defined your objectives, you can start working on the financial aspect.
Data on the Economy in the Not-So-Distant Future
For both new and developing enterprises, this must be included in the interior design business plan document. Investors want you to show them what your firm can do in the following five years. When it comes to the financials for the first year, try to offer data on a monthly basis. From the second through the fifth year, you may provide quarterly or annual data.
The part must give estimates of- per year.
Income Statements and Cash Flow Reports
Financial Position Statements
Budget for Capital Expenses
Check that your financial projections and financing requests (if any) are in line.
In the past, there was money, and there was money, and there was money, and
If you're developing an interior designer business plan for a well-established home design industry, you'll need to include both historical and expected financial information. Its objective is to present potential credit offering heads with information about your company's financial performance over the previous five years.
Include a thorough financial study of your business. Provide a ratio and trend research, as well as some illustrations, for elucidation.
At the conclusion of your interior designer business plan document, you might include a "Appendix" section. This is an optional item, so you can choose whether or not to add it.
You should now have a better idea of how to create an interior design business plan. You might go at some well-written sample interior design business plans if you still need more help. Make sure the interior design business plan samples you've picked for inspiration are almost comparable to your own. To make the process straightforward and time-saving, some websites have provided an internal interior designer business plan sample. It's comparable to filling out a form when it comes to filling out the interior design business plan template. After getting the interior design business plan template from the internet, you just fill up your name and specific company information.
You may consult with Skyrocketbpo's specialized advisors in addition to utilizing online interior design business plan samples, templates, and examples. They'll help you through every step of the interior design business plan creation process. In contrast to the example and template you find on the internet, consulting with a reputed services provider is beneficial since the quality is guaranteed.
Although some online examples and templates are of good quality, finding them among the numerous samples and templates may be challenging and time consuming. In reality, the great majority of online sample and template files are poorly written, with many spelling and grammatical errors. You must make a modification if you expect to get a sample/template that fully meets your interior designer business plan criteria.
As a consequence, you can save time and money by having an effectively prepared interior designer business plan produced for you by our experienced expert writers. You will get a well-written paper that is designed specifically to you since they will listen to all of your industry data and add each and every part where it is required. You may reach out to us through phone or email whenever it is most convenient for you. We'll be there as soon as possible to help you.