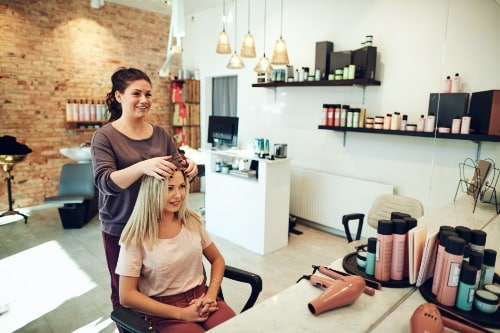 Starting your own salon service requires a business strategy.
People like feeling good about themselves, and a salon may help them achieve that goal. The salon and spa industry provides more than $40 billion to the US economy each year, according to the Professional Association.
A salon, which mostly offers hair care services, accounts for around half of the industry. Entrepreneurs interested in developing a salon business plan, on the other hand, may select from a variety of services and degrees of care, from a salon business plan to a full-service spa.
The purpose of the salon business plan is to nail down the details in order to maximize the chance of long-term success. Salons may be set up in a number of ways.
The first step in any planning process should always be to identify the customer. There may be various customer personas depending on your target market; for example, clients over 50 years old are a very different market from Gen X customers.
The Company
Julia's Salon will be a professional and registered salon near Brookhaven College in Atlanta. Haircutting, styling, coloring, skincare, and other treatments will be offered both at the salon and at the homes of customers.
Management
Before you begin, you must first prepare a salon business plan and make important decisions about your new salon. In this sample business plan for a salon, we offer all of Julia's Salon's details, from startup expenses to management structure.
Julia's Salon's core working organization consists of hairdressers, makeup artists, professional cosmetologists, and general assistance. In addition to these, the firm intends to hire salesmen, accountants, and web developers.
One week before to the launch, the salon will undertake the required preparations to ensure a smooth operation from the outset. The proprietor of Julia's Salon wants to personally examine the staff, thus workers will be hired a week ahead of time.
Customers
Young and adult men and women in our society will be our core customers. Our services are also likely to be used by senior citizens and youth.
Business Objective
By the conclusion of the first year, we want to be the most well-known salon in our region, with a 60 percent average recurring customer rate.
Owner of a business
The owner of Julia's Saloon will be Julia Fox. Julia holds a social science bachelor's degree. She has completed a number of work-related courses. After three years at Sports Clips, she has honed her hair care and styling talents.
Why is a salon company being established?
The area of cosmetics has long piqued Julia's interest. Because of her passion and enthusiasm in the industry, she was able to get a job at a prestigious business. Julia took a lot of salon-related classes in college because she wanted to open her own salon.
She started investigating salon business concepts a few months ago and ultimately chose to launch her own salon to benefit from a business that she loves. She believes that a strong salon mission statement will aid her in achieving her goals.
How will the salon company get started?
Julia leased a large ground-floor room and transformed it into a salon. She hired a marketing and financial expert to assist her in creating a salon business strategy.
After getting the appropriate permissions and registrations, Julia will purchase the necessary equipment, such as furniture, mirrors, cosmetic tools and accessories, hair styling tools, hair treatment products, and other things.
She has also chosen to hire her staff a week before the launch date in order to assess them and ensure that they are acquainted with the company's culture and objectives. To make things simpler for its clients, Julia's salon will also conduct treatments in their homes. In addition, the salon will develop a web-based system that will allow customers to pre-order treatments and pay for them online.
Customers' Services
You must select the services you will supply your customers before producing a salon business plan template, since this decision will have a long-term influence on the company.
This section describes the services included in Julia's Salon's business plan.
Hair-related chores will be the focus of our primary salon service. However, the following extra services will be provided as well:
Our main service will be hair cutting, and we will cut hair for people of all ages and genders. We'll recruit hairstylists so that each consumer may get the appearance of their dreams.
Hair Styling & Coloring: We'll hire stylists that can produce a range of hairstyles depending on the customer's look and preferences. Hair coloring, highlights, color mixing, hair shadowing, and other services will be provided.
Makeup Services: We will provide makeup services for parties and other events.
Hair and Skin Care Services: Hair treatments such as Fusio-Dose and protein treatments will be our third core service. We will also provide skincare and treatment services including manicures and pedicures.
Analysis of Salon Marketing
Before you start a salon, you should know what a salon business plan's objectives are. The overall objective is to satisfy your customers by boosting their look, which is only possible if you do thorough study into the industry and market trends.
Note
Before you start writing your salon business plan template, do some research to see what traditions, customs, and new trends are popular in your target market. Only then will you be able to comprehend your customers' requirements and decide which elements of your salon business plan to add to meet their wants.
Market Developments
Hair salons are one of those sectors that has thrived for quite some time. There are presently 972,000 such businesses operating in the United States. The firm grew at a rate of 1.4 percent during the preceding five years, according to IBISWorld analysis. In only one year, the industry employs about 1,352k people and produces $47 billion in revenue. To summarize, the salon business plan has a lot of promise and, if well executed, can be quite profitable.
Segmentation of the Market
Young and Adults: Our first target demographic will be young adults aged 18 to 35. This generation is enamored with the most up-to-date trends and designs. As a consequence, we'll be producing popular haircuts, coloring, and cosmetic techniques for this age group.
Senior Citizens: Our second target group is citizens over the age of 35. We will do research in order to provide services that are of interest to such people, since they are concerned with maintaining respectable looks while keeping to their traditions and customs
Teenagers and children, our third target group, are likely to be accompanied by other target groups. For this area, we'll provide haircuts and services that appeal to children and teens.
Business Objective
Startup costs should be matched by earned revenue by the end of the first fifteen months.
We hope to establish a monthly net profit margin of $10,000 at the end of the first year.
By the end of the first year, you should have a customer retention rate of at least 60%.
The average rating should be 4.6 at the end of the first year. 5.
4 Product Price Lists
Our pricing will be similar to those of our competitors, but we will provide several discounts over the first three months in order to attract a broader audience.
Marketing Techniques
This section should describe how you intend to find your target consumer and make sure they are aware of your products and services. How will you entice and keep your consumers after you've found them? Is your brick-and-mortar location appropriate for your target market? Is digital marketing more appealing to your target consumer than traditional print advertising? Describe the processes your clients take to make a purchase if online shopping is important to you. Is it easy and fast to do? Starting a salon business plan might help you focus on these concerns.
In this salon marketing salon business plan example, we discuss Julia's Salon's competitive qualities as well as the advertising methods that the salon will use to get more and more customers.
Analysis of Competitors
Our most significant competitive advantage is our outstanding customer service. We'll use high-quality products with prudence to satisfy our customers. Second, each member of our staff is a specialist in their respective specialty. Furthermore, we are dedicated to delivering exceptional customer service and will always be prepared to make unrestricted modifications to suit the demands of our customers. Finally, since most elderly people prefer to have such tasks handled in their own homes, we provide home services.
Strategy for Selling
We'll make sure your web presence is strong.
We'll use Facebook and Instagram to advertise ourselves.
We will be featured in magazines and local media.
We'll offer you a 20% discount on hair treatment services for the first month.
Personnel strategy
To get an estimate of how much you'll need to spend on your salon business plan, make a list of salon equipment with pricing and a description of your personnel, their work duties, and compensation.
Julia will operate the salon herself and hire the people listed below.
The financial records will be kept by one accountant.
1 sales executive to execute the firm's sales business strategy plan
Five hairdressers/hairstylists/hair coloring professionals will work on the hair of the clients.
The client's makeover will be done by two make-up professionals.
1 cosmetologist (hair and skin care specialist)
4 General Assistants to help with day-to-day tasks 2 Manicure and Pedicure Experts
Two drivers will offer transportation.
1 cleaning product
The company's websites will be managed by one Web Developer.
One Customer Representative will welcome each customer.
Plan your finances
The last step before establishing your salon is to prepare a detailed map that depicts and evaluates the investment group salon business plan, equipment costs, wages, taxes, and other costs. A financial plan for a salon business plan must contain all financial accounts, specifics of expected profit and loss, and steps to achieve forecasted profits.
Anyone interested in using Julia's financial plan may get a sample of it. However, in order to establish a precise financial plan based on your facts, you need seek the counsel of a financial specialist.