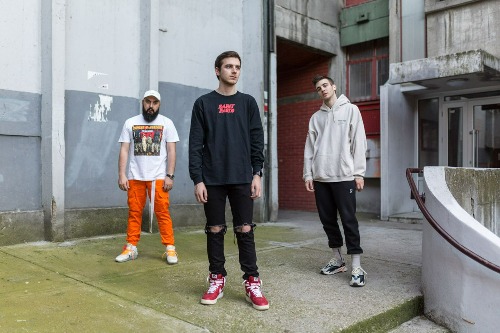 Do you want to establish your own streetwear brand?
Do you want to start your own streetwear clothing business? Streetwear clothing is one of the most profitable commercial ventures. Casual clothing's popularity hasn't declined since the 1990s, and it's unlikely to do so in the next decades.
The expanding demand for casual gear such as jeans, sneakers, and punk shirts makes this business very profitable, but in order to succeed, you'll need to meticulously plan every element before getting started.
You will only be able to do so if you create a well-thought-out streetwear brand business plan. We've provided an example business plan for a streetwear clothing startup named 'Punk Wear' to help you out.
Summary of the Report
This streetwear business plan example will walk you through the process while also supporting you in the design of your own streetwear business plan if you want to start a streetwear firm.
The Company
Punk Wear will begin as a clothing firm with a display center and a production unit in Orlando. The exhibition center will open in a 2000-square-foot shop in downtown Orlando, which will also act as the company's headquarters.
Management
Punk Wear will be launched by Jackie Kit, an Orlando-based serial entrepreneur, with the support of a big team of employees, including factory workers, shop assistants, accountants, and others. Jackie is a seasoned entrepreneur who knows how to start and build a streetwear business.
Customers
Punk Wear will be a one-stop shop for all things streetwear, including anything from casual shirts to punk jeans to sneakers. Our high-quality products will be offered to the local community as well as department stores, and our customers will be able to purchase them via our online store.
The Company's Objective
We aspire to be the top streetwear company in Orlando by the end of the next two years, and we want to meet the following profit margin targets for the next three years.
Owner of a business
The business will be founded by Jackie Kit, a serial entrepreneur from Orlando, Florida, who moved to the United States two decades ago to pursue his MIT entrepreneurship degree. After completing his master's degree, he went on to start a number of successful enterprises.
Jackie began with an e-commerce site before expanding to a book shop and a vintage musical store. Jackie is now looking forward to starting a new project after the success of her first three businesses. Due to his decades of business experience, Jackie knows how to start a streetwear brand and make it successful.
Why is the company being established?
As a serial entrepreneur, Jackie intends to create a streetwear brand as her next business. Without a doubt, starting this company is the best way for him to put the money he's earned from previous endeavors to good use. It's also an excellent opportunity for him to put his vast knowledge and experience to good use.
How will the company get started?
A well-considered business plan will go a long way toward guiding you in determining how to start a streetwear company. That's why Jackie made it a point to draft a comprehensive business plan that covered every aspect of his company.
Punk Wear will be an Orlando-based apparel brand. To begin started, the company will buy a clothing production plant as well as a display center. Jackie plans to purchase an old industrial building on the outskirts of town and renovate it.
The exhibition center, which will also serve as the company's headquarters, will be strategically located in downtown to attract as many visitors as possible. A 2000 square foot facility has been rented to serve as a Punk Wear display center. The following is a list of the prerequisites to get started.
Products
Consider all of the services that will be provided to customers before wondering how to start your own streetwear label. It helps with the other aspects of the startup's planning.
Punk Wear will be a one-stop shop for all things streetwear, including anything from casual shirts to punk jeans to sneakers. The company will only create garments under the 'Punk Wear' name.
Apart from the clothes, everything else will be from well-known brands. These items will be offered to boost sales and provide a one-stop shopping experience for customers. Among the services we provide include, but are not limited to:
Men's streetwear includes items such as jumpers, hoodies, jeans, pants, shirts, shorts, singlets, tees, backpacks, bags, button ups, footwear, headwear, jackets, and watches.
Women's streetwear includes jumpers, hoodies, jeans, leggings, trousers, shirts, shorts, singlets, tees, backpacks, bags, button ups, footwear, hats, jackets, and watches.
Jeans, shoes, hats, coats, hoodies, shorts, shirts, presents, and accessories for kids' streetwear
Marketing Analysis of a Streetwear Brand
Marketing analysis is an important component of your business plan since it helps you build an effective streetwear brand marketing strategy to target and attract customers. This streetwear business plan template may help you do market research before to starting your firm. You may also use the internet to check for streetwear gear brand names and other pertinent information.
Market Developments
Streetwear clothing is in great demand due to its laid-back attitude and lower cost than other types of clothing. Streetwear clothing, such as jeans and casual shirts, has risen in popularity since its beginnings in the 1990s. The market for this kind of company will continue to expand over the next few decades.
Segmentation of the Market
To build effective marketing tactics to encourage people to come to you, you must first understand your target demographic. The marketing segmentation of our potential customers is shown below.
Community of Residence
Our first target group will be the local community in the vicinity of our Orlando showcase facility. Punk Wear will provide the neighborhood's men, women, and children the best-in-class streetwear.
Stores that sell a variety of items
We will also sell our branded apparel at Orlando department stores and a few other local establishments. As our business grows, so will the number of department stores where we sell our streetwear.
Buyers who shop online
Our merchandise will be available for purchase in our online store by customers from all across the United States.
The table below offers a detailed market analysis of our potential clientele.
Strategy
You must build a creative sales method to convert your audience into consumers after doing marketing research to establish who your target audience is. You may use this streetwear business plan pdf to help you develop your sales approach, or you can search the internet for new ideas. As part of your streetwear business plan, be sure to carefully establish your sales approach tactics.
Analysis of Competitors
Our biggest competitive advantage will be our location, which is almost ideal for starting a streetwear firm. As we start our company, the surrounding residential area will be really helpful. Our clothing line will be less priced than similar things while maintaining the highest level of quality. It will give us even another competitive advantage. Finally, we will provide excellent customer service in order to convert our visitors into repeat customers.
Strategy for Selling
Our experts designed the following strategies to promote and sell our products.
To market our merchandise, we'll employ both print and social media.
We will allow our customers to buy our products online using an easy-to-use online store business strategy.
We'll give out gift baskets and provide deep discounts on our products to encourage people to buy.
If you refer a friend, we'll offer you a discount.
Forecasted Sales
Based on current market demand for our items and our sales methodology, our analysts forecasted the following yearly sales, which are shown in the column charts.
Personnel strategy
Before you start, develop a list of the people you'll need to run your streetwear company, as well as their job descriptions. It's important to hire your crew before you start your company so you can properly teach them.
Employees of the company
The following workers will be hired on a contract basis for the company.
1 Production Manager in charge of the production facility
A total of 10 production staff are needed to run the manufacturing plant.
To maintain track of money, there will be two accountants.
New Product Launches: 3 Fashion Designers
8 helpers for the operation of the display center
2 drivers for transportation purposes
A receptionist will be provided by one of the Front Desk Officers.
The online store will be managed by one IT specialist.
Plan your finances
The last stage before starting a streetwear business is to develop a financial plan that encompasses all of your company's expenses. The costs include both direct and indirect charges, such as inventory costs and administrative costs.
Your financial plan should include all aspects of your company's finances so that you can easily manage starting expenses and employee compensation while still fulfilling your financial goals.
If you're starting off small, you may establish a financial strategy for your firm using the several streetwear manufacturing business plans that are available online. If not, you should solicit the help of financial professionals to help you get through this time.