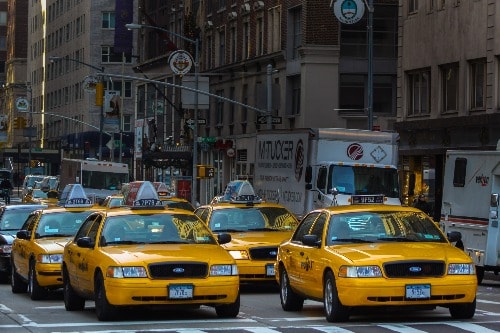 Summary
Transportation, whether private or governmental, continues to be in high demand. In developed countries, public transportation services, such as buses, are quite common. The demand for taxi services, on the other hand, is increasing every day. It comes to your house and picks you up and drops you off. Thanks to technological improvements and the availability of smartphone apps, customers may now take advantage of quick taxi services.
To start a taxi service, you'll need to draft a taxi service business plan. At a fair fee, Skyrocketbpo is ready to assist you with professional and thorough business plans. We double-check that all of the data and statistics are true, as well as the plan's purpose. Our team of professionals double-checks every information before adding it into the business strategy.
When it comes to cab services, who uses them?
For kid's taxi and health taxi, many organizations, such as schools and hospitals, employ taxi services. Many hotels and bars provide cab services to their customers, while many major organizations offer limousine services. As a consequence, the taxi sector is rapidly expanding. The taxi industry's expansion is bringing in new competitors on a regular basis.
What is the best way to start a cab business?
The first step in beginning a cab company is to write a business strategy. In the plan or strategy, several important and critical components of the new taxi company must be addressed. A company's success is always decided by how it is created. The Skyrocketbpo focuses in helping startup investors create professional-quality business plans and provides resources to help them do so. We can help you write it for a reasonable price and according to your demands. This tailored proposal will teach you how to start and expand a taxi business. We can also help you compete with the best in the city while simultaneously doing community service. We also help you in making the most of your financial resources.
Objectives
While writing your taxi company plan, you may be biased or ignore some critical or crucial components. Furthermore, your research may just look at the positive features of your potential company, neglecting the negative aspects or hazards. If you use our services, we can assist you in resolving this problem. You may offer these ideas to other investors or a bank for financing with confidence. On team, we have expert writers that are dedicated to offering high-quality services. Our primary objectives in developing a plan for you would be:
Concentrate on supporting you in establishing a taxi service in your city.
You may concentrate on current market trends by evaluating the market.
Using professionals to achieve a certain task
Create a tailored approach to help you reach your project's objectives, vision, and mission.
Make a plan based on your financial capabilities.
Make marketing strategies that are feasible for you.
Create marketing methods to entice prospective buyers.
A precise and accurate business plan will not guarantee that you will find an investor, but it will give them a clear idea of what you intend to achieve. It also improves your reputation and shows investors your potential. Investors are also looking for precise information. You might get inaccurate or biased information or depend on peer expertise, both of which could result in a loss.
Before include information in your proposal, Skyrocketbpo does rigorous investigation and double-checks facts. You may hire us to help you start a taxi company, or you can look at examples of our work on our website.
To take advantage of our business plan service and discover how to start a taxi service with a professional taxi service business plan produced at a reasonable price, contact us right now.
Proposal Template for a Taxi Company.
Many investors are looking for new investment opportunities. Many entrepreneurs, however, are unclear how to start a taxi service owing to a lack of information. It needs a clear and precise taxi business proposal based on the idea of your firm.
Note
You must recognize that you are providing community services, and that community satisfaction is vital to the success of your company. Your talents and performance will help you determine the future of your taxi firm. There are several advice services and businesses that may help you go ahead with your business plan.
You may also seek for ideas and bids on the internet. You should educate yourself with state laws before starting your own business. You may generate more money with less investment if you have a good grasp.
You are not just providing services to local residents, but also to transportation industry executives. You may also launch a health taxi service for patients as well as a kid taxi service for children. Taxis are available for not just on-land travel but also for air and maritime travel. Depending on your location and budget, you should pick one service; however, if you wish to start more than one, such as a conventional taxi and a health taxi, each proposal should be submitted individually. In general, a taxi business plan should answer the following questions:
What are the major goals and objectives of your taxi company?
What is the demography of the people you want to reach? (adults, children, children, or executives)
Are you interested in working together?
What would be the source of funding?
Would you buy a franchising business plan to start a company from scratch?
How do you get a taxi company up and running in a reasonable length of time?
What would your taxi company's structure be?
What is the marketing and financial plan for your taxi company?
What are the biggest challenges you'll face if you want to start your own taxi company?
Taxi Business Plan Example
Your taxi service's strengths are likely to be its wide range of coverage in the city, secure payment alternatives such as credit cards or online transfers of cash, on-time arrival at destination, and nice and trustworthy autos. Along with these skilled drivers, exceptional customer service, mobile app purchase, and an up-to-date GPS and tracking system are all included. Your taxi can run 24 hours a day, seven days a week, because to your incredible strength. Your taxi business is likely to be a burden if you don't have the financial resources to establish a limousine service or compete with million-dollar taxi firms. Because you'll be launching your business in a strategic location, you'll have a lot of room to grow. Taxi services are required on a regular basis by many firm employees, tourists, and hotels. Threats. The taxi sector is being impacted by the economic downturn as well as increased energy and vehicle expenses. Furthermore, any other new taxi firm would be a threat to your business.
The market you're looking for. Your target market might include celebrities, travel agencies, hotels, business people, gourmets, and private residences. Promote your business to the people who live in these locations.
The financial strategy for the taxi firm. A financial strategy and a description of your budget and money should be included in your business plan. A large corporation with several targeted points or channels may need more expenditures than a small corporation. A good financial strategy will help you raise your earnings, whilst a poor strategy will result in a loss. Major expenditures include vehicle purchases, equipment such as GPS and tracking systems, licenses, insurance, office or garage rents, and other charges. A small business will need roughly 20,000 dollars, a medium business would need two lac dollars, and a large corporation will need five lac dollars, according to estimates. Write out everything about your company and then pare it down to the fundamentals. You'll be surprised if you lose just your ideas. Another major concern is the company's ability to raise financing. People are hesitant to put money into new businesses. Personal savings, loans from family and friends, seeking investors, obtaining small business loans, and getting microloans are all possibilities for funding your company. In your mind, you should know exactly what you're going to do. You may use a number of techniques to support your business, including personal savings and loans. Make a plan and put it in writing.
Select a location for your business. The location of your company must be carefully picked. The best option is to go to the location that will save you the most money. Government support may be provided in certain circumstances. Choose a location from which you can access all of the city's key attractions and dispatch a taxi to the client as soon as possible. If you want your company to serve the whole city, you'll need to find locations that are strategically located.
There are both technological and human resource issues in the taxi sector. Because of technology improvements, you will need technical equipment such as dispatch systems, top lights, taxi meters, GPS systems, electronic transaction systems, taxi driver protection screens, safety cameras, decals livery, and labels. You should include them if you have adequate cash and are looking for a medium or large-scale company. As a small business owner, you may be able to pick up a handful of them.
Understand how the taxi business works. Taxi building is not a means to profit from the sale of raw materials or the manufacture of goods. It is primarily focused with providing community transportation as a service. Taxis transport not just healthy individuals, but also sick ones. Water taxi and air taxi services are accessible on land, sea, and air, and are referred to as such.
Make a list of your first costs. Write down anticipated startup expenses like registration fees, legal fees, marketing and/or promotion fees, consultant fees, insurance fees, purchase of accounting fees, cost of lease, charges for office stationary, amount for utility deposits, operational costs (salaries, payment of bills), startup inventory (fueling, accessories, and car tracking charges), cost of store equipment, cost of furniture and gadgets like computers, cost of wets in your financial strategy. Conduct comprehensive research and make a list of all necessary transactions' financial expenses.
Make a list of what you anticipate to grow. You should write down growth predictions for at least three years. Total sales expenditures, projected cash flow, cash received, cash from operations, and current borrowing are all possibilities.
What is the current situation of your neighborhood taxi service?
What special equipment, such as a GPS system, does your taxi require?
The following is a template for beginning a taxi company. If you want to learn how to start a taxi firm, follow the steps in the sample taxi business plan below:
Make a list of all of the executive summary's points. Your proposal would begin with an executive description of your planned taxi company. It would include information on the kind of customers you may attract, as well as your location and services. Make a list of who is likely to utilize your taxi service, such as CEOs, children, or patients, since it is a community business. Discuss where your company's main office and taxi route will be, such as in the city's central square.
Make a list of the taxi company's highlights. A business overview should be included in each firm proposal. You should write about the current taxi companies on the market, including their locations and services. Because it provides public transportation with no established routes or schedules, the taxi sector is thriving these days. The bulk of taxi operations rely on leisure and business travel to earn money. Innovation and originality are two major components that are critical to your company's success. You should think of new and unique ways to attract customers, such as developing a mobile app, delivering services at weddings, renting luxury cars, and so on. You'll have no trouble competing with the big, well-known taxi firms. In the United States, the taxi sector earns an estimated $6 billion in revenue each year. The taxi sector is mostly comprised of passenger transportation and the rental of contemporary cars and vans; nonetheless, local consumers account for the bulk of revenue. You must consider the needs and wishes of the passengers and the community. The three major taxi markets are Europe, the United States, and China. This industry is also governed by rules and regulations. Apps or phone calls are accessible to the general public for taxi services. The taxi is sent at the customer's selected time. You have the option of dispatching cabs from your main office or establishing taxi stands. You'll need a huge number of cars, as well as a vehicle maintenance and repair shop. You'll need a strong computerized system to keep track of the taxi's operations and routes. Because it competes with other modes of transportation, such as the local business system, the taxi industry must innovate to maximize revenues. The reasons for the rise and decline of this business are almost comparable. Its success and shrinking are due to technological innovation and the availability of environmentally friendly vehicles at reduced rates, since many people may establish their own taxi business. The government has a pattern of increasing taxes in densely populated areas, prompting a market shift.
Make a list of the vision, mission, and aim of your organization. You must have a clear vision, purpose, and mission statement for your taxi firm, which you should include in your taxi business plan. Your goal might be to create a top-rated taxi company in your state that offers kids taxi service or any other kind of taxi service. It's also feasible that you wish to build a very profitable company that provides excellent transportation in your community. It's also feasible that you want to create a taxi service and then sell your franchise. A well-defined purpose and vision will help you design a business strategy that will help you reach your objectives. You should make a list of your taxi company's objectives for the next year. One of your objectives may be to develop a connection with the executive's companies. In addition to improving relationships, your aim might be to improve managerial services, customer service efficacy and contact center, management consulting, product management, and the overall structure of the company.
The organizational structure of the taxi firm. A strong foundation is required for a taxi business to flourish. It's something you should mention in your proposal. Make a list of the essential jobs in your taxi firm, as well as their responsibilities and responsibilities. Important roles are those of the chief executive officer, IT specialist, HR Manager, Accountant and Sales Manager, professional drivers, and front desk officer. The needed duties for each role must be written down. Recruiting, selecting, and training staff would be the chief executive's responsibility. He'd be in charge of things like planning, incentive creation, business monitoring, and job appraisal, among other things. He or she would be in charge of carrying out business strategies and achieving the company's vision and aim. Fixing fares, acting as a leader for the company, examining paperwork, and providing an overall assessment of the company are some of the other tasks. You should provide the education and past experience requirements for this job, as well as an estimated compensation package, in your taxi business proposal. A modern taxi comes with cutting-edge technology like a GPS system or a vehicle tracking system. IT specialists would be in charge of installing and maintaining the GPS system and other tracking devices. He or she would be in responsible of deciding the tracker components and software to use, as well as installing them. The It Specialist's main responsibility is to keep track of all cars on the routes. The Admin or Manager would be in responsible of making sure that the company's operations operate well, as well as reviewing driver performance, client satisfaction, and office supply maintenance. Preventative measures, induction of new members such as drivers, meeting and appointment scheduling, the creation of personal networks, and control of day-to-day operations are all part of it. The marketing and sales manager would be in responsibility of identifying and prioritizing opportunities, as well as project structure, money, and timely completion. He or she would also be in charge of performing market research, conducting surveys, assessing employee and customer wants, planning the company's strategy meeting, and improving overall profit. A company's accountant is responsible for financial reports, financial statements, financial transactions, balance sheets, financial analyses, budgets, risk analysis, cash management, accounting, and financial system management, as well as payrolls, legislation, and the company's responsible auditor. You'll need competent professional drivers with all of the required permits and licenses for your company. He or she should be in responsible of keeping track of all trip records, complying to federal laws and driving rules and regulations, maintaining vehicle inspection records, ensuring that safety equipment is present in the cab or taxi, assessing vehicle conditions, and reporting difficulties on time. Make a list of the drivers you need, including their education and work experience, as well as the pay package supplied by your taxi company. Also, include the steps involved in hiring a taxi driver, such as completing a test. Keep in mind that a skilled driver is more likely to drive safely and prevent accidents. The front desk manager is responsible for meeting customers, collecting cab orders over the phone, ensuring customized customer care, performing administrative tasks, email distribution, and customer support.
Your autos are improving in terms of technology. One of the reasons for the taxi industry's prolonged survival is that today's cab services are equipped with cutting-edge technology. Make a list of your cab's technical equipment and write it down. Your taxi will be outfitted with the most up-to-date GPS technology, which will route the order to the nearest driver, who will accept it and advise the customer of the precise arrival time. Your taxis will be equipped with a long-lasting radio system that will provide reliable communication in any situation. Because the world is moving away from cash these days, installing a credit and debit card system in a vehicle might be a great idea if you're targeting CEOs or high-class people. It would be placed in the back seat to provide the customer privacy. Customers would also get speedy transaction clearance rather than a call for authorization, which would improve your taxi company's reputation.
The marketing strategy for the taxi firm. Include a clear marketing strategy in your taxi company plan. Include it in your taxi company proposal and in your presentation on the demographics of your target market. You must understand that taxi services are in great demand among people of all ages, but especially among the working class. Some families may have their own car, but it may not be sufficient for the whole family's requirements. In recent years, the taxi sector has been revolutionized. For example, children's taxi services, health taxi services, water taxi services, car rental services, and limousine services are all conceivable taxi niches. Make a list of the specific expertise you want to provide in your business. Recognize the competition's extent. It's important to note that the number of cabs on the road is increasing every day, showing that there is still opportunity for growth in this business. You should not dismiss the possibility of losing money at initially, but you should be prepared for any setbacks. It's vital to be informed of the competitiveness of your industry's local market. Make a list of your area's well-known taxi firms and the services they provide. Consider how you can compete with these businesses by bringing something new to your firm. Prioritize the following elements in your marketing strategy:
Provide an economic analysis in your taxi company proposal. Make a financial analysis of your potential firm and write it down. The taxi business is unique in each place and country due to the constantly shifting dynamics. To optimize revenues, it need a detailed assessment of current economic circumstances and meticulous preparation. The taxi sector is affected by factors such as fuel prices, the economy, fares, and road conditions.
Make a choice on how to establish a taxi business. You should think about how to start a taxi service based on a business overview and financial resources. Many people establish their own taxi business from the bottom up, while others opt for a franchise. Both have their benefits and drawbacks. You will have complete control over your company if you start from the bottom up, but the dangers of failure and loss are significant. On the other side, if you buy a franchise, you will have the option to work for an already established company, but you will have less influence over it.
Make a list of potential threats to your taxi business. Each business has its unique set of threats. A taxi company comes with its own set of risks that should be examined before starting out. The cost of fuel and vehicles is the company's largest problem. High gasoline and diesel prices are directly linked to the growth and decline of this business, however fuel savers are helping to reduce fuel use. Other key issues in this market are fares, levies, and taxes. You must provide your consumers a cost-effective tariff bundle, but you must also factor in extra costs such as parking, licensing, and tolls. You have the option of charging your consumers for these. The cost of vehicle maintenance is another big issue for the taxi sector. Automobiles must be well-maintained and repaired as soon as possible. Furthermore, any mishap might result in a loss of business for your taxi firm. To cope with this issue, it's a good idea to insure all of the taxi service's vehicles. In this sector, dishonest drivers are an uncommon hazard. If your car does not have a computerized or digital tracking system, you may require runway. Furthermore, each employee should have a guarantor who will be held liable if fraud occurs.
Concentrate on the legal issues of starting a taxi company. You should make a list of all the legal criteria for launching a taxi business. Because legal issues are expensive, preparing ahead of time for legal work may assist you in budgeting for it. The taxi company needs a wide range of paperwork, as well as personal accountability and bankruptcy protection. You may set up a sole proprietorship, a partnership, or a limited liability corporation. Owning a small taxi business as a sole proprietor, for example, is a better alternative since it is more convenient and cost-effective. It would give you ultimate control over your revenue and allow you to make all corporate decisions. Limited liability is a better option for a medium or large taxi business since it has less restrictions on profit sharing, less paperwork, and limited liability.
A pleasant and attractive taxi service name. The name of the product you're selling is more significant than the service your organization delivers to thrive in business. It is the only way to attract clients and consumers to your shop. Half the fight is won by coming up with a catchy name for your cab business.
A fantastic insurance policy. You must keep track of your possible taxi insurance coverage in writing. As a consequence of an accident, you may suffer property damage. Purchasing taxi insurance might assist in covering any financial losses. Taxi insurance, business insurance, health insurance, and employer's liability insurance are all basic insurance policies to consider. Carry out your research and incorporate it in your taxi firm proposal, along with an estimate of the financial expenditures.
Protect the intellectual property of your cab firm. You'll need to come up with a brand name, logo, business patents, and confidentiality agreements if you're thinking of launching a new taxi company. Intellectual property refers to all of these things, and it must be protected in order to save money and time. It's vital to protect your career and the growth of your taxi company. It safeguards your secrets, keeps employees from disclosing sensitive information, and attracts investors. Many small business owners assume that intellectual property rights belong only to large businesses, yet you must protect them at all costs if you want to build your taxi business.
You'll have to fill out a lot of paperwork to start a taxi company. In a cab firm, picking up and dropping off customers and clients is not an easy process. The proper papers and permissions are needed to carry out day-to-day activities. You might get into problems if you don't maintain track of important paperwork. Vehicle permits, a vehicle for service approval, a drivers form, a commercial driver license, and evidence of insurance are all necessary documents for the taxi sector, albeit they range from state to state and are governed by state law. Provide the necessary papers for your taxi business in your bid.
Make a SWOT analysis before starting a taxi company. A vital aspect of the plan is writing down your company's strengths, weaknesses, opportunities, and threats. It tells you what has been done and what needs to be done to address the company's risks. It also offers potential investors a sense of your company's capabilities and urges them to invest.
The taxi firm is driven by the needs of its customers. By waving your hands, standing at a taxi stand, or utilizing apps to deliver your services, you must make an effort to capture people's attention. Using an app to call a taxi is becoming more common. The customer just puts an order using the smartphone application, and the information is sent to the taxi driver. The passenger must be picked up by the taxi driver within the given time range. Keep in mind that customer satisfaction is crucial to your company's success. Your company's success hinges on your ability to arrive on time.
Advertisement strategy. The taxi firm does more than merely purchase cars and put them on the road the next day. You must write a taxi business proposal to give your ideas substantial shape. A marketing strategy should be included in your taxi business proposal. Your marketing approach's financial expenditures should be included into your budget. You must come up with new and creative ideas to attract customers. Keep in mind that an outstanding taxi service without advertising might result in a loss for your business. Here are some marketing ideas for your business:
The taxi company has a unique identity. People have an inclination to recall unique and novel events. In addition to providing excellent service, you must brand your organization. Select names that are unique and easy to remember.
The business cards of the cab firm. Make customized pocket-sized business cards with your phone number and address to give to your customers. Customers would be more likely to remember that they may reach you at any moment. Encourage people to share their stories with others.
Form alliances to promote your taxi service. Make relationships with people you know and take use of cab services. It would help you to streamline your processes. You might develop relationships with hospital owners if you offer health taxi services. Bar owners may also ask you for help with their customers.
Stand near a location where taxis are often needed, such as a hospital, an airport, or a bus station.
Use social media to your advantage. Thanks to social media, people have access to a great quantity of information. You may market your company on Facebook by creating a page for it. It's important to offer contact information, services, and activities. It would increase the amount of customers you currently have. Consumers who have utilized your customer service should be asked to post a review on your website.
Make one-of-a-kind advertisements for your taxi company. You may advertise your taxi service in local newspapers and periodicals. Make an effort to reach an agreement on a lower price. Locals' attention would once again be drawn to attention-getting ads.
Take part in a fundraising event. Consider sponsoring a charity lunch or dinner for the local community if you're starting a medium or large-scale business. It would attract the attention of a huge number of people in your area, resulting in an increase in the number of potential customers. If you share your cards with others, they will enjoy them.
Ensure that your driver has received sufficient training. Keep in mind that the driver, not you, will initiate the first contact with your potential customer. Drivers that are friendly should be recruited and taught. They'd be able to help you build your company in a positive way. Hard and unfriendly drivers may affect your company's image. Teach your drivers to treat their clients with kindness, honesty, and respect.
Prices that are reasonable. When it comes to fares, you should be honest. If you overcharge your customers, your taxi company's reputation may suffer. You should go to great lengths to gratify your customers and maintain your excellent reputation.
The business's long-term sustainability and expansion strategy. The long-term profitability and expansion objectives of your taxi business should be included in your presentation. Predicting what has to be done in order to establish your cab business might be valuable. Customer happiness, employee competence, and a good financial and investment strategy all contribute to your company's long-term success. Once your taxi business is up and going, put all of your efforts into making it a success. Your objective should be to increase cash flow without having to make any more investments or sources. You'll focus on profit sharing after it's constituted. You may expand your business to other cities and states and set up offices there. You should think about how to start a cab company as well as how to keep it continuing and growing.
The operating strategy of the taxi firm. You should create an operational proposal for the taxi company. It would include detailed work lists as well as the time required to finish each task. Each milestone that must be fulfilled within a particular time range should be included. For instance, getting a driver's license in June, deciding on an office location in July, buying a vehicle in August, installing a GPS and tracking system in September, advertising and a charity lunch in October, and inauguration in November are all examples. Slowly and carefully consider your options. Consider what you can do to help yourself in a rational and practical way. Seek advice from professionals in the area of business. Hire a competent driver who will follow your company's rules. Client satisfaction and new business will both benefit from your drivers' ability to communicate effectively.
Expert guidance on how to start a taxi business
Based on expert guidance, you should evaluate how to start a taxi business. It is critical to get guidance from specialists who are already working in this field. They will be able to provide you greater advice on what practical factors to make when putting up the proposal. Here are some expert advice to help you run a successful business.
Based on your findings, develop a realistic plan for your company. According to the expert, do thorough research about what is required. Rather of building castles in the air, it is wiser to write down your ideas. Because it is extremely costly, aim to spend at least a year with people who work in this field. Pose the questions you've prepared to the experts. Make an appointment with the company's well-known proprietors and ask them about the planned timeline, estimated costs, and potential threats. You may also ask about the most cost-effective ways to buy equipment like software and tracking systems. A number of consulting services are available to assist you.
Rather of taking out a loan, attempt to fund your project with your own money. Save at least 20-30% of your income on a regular basis and then put it in your company. Interest rates may become an issue if you take out loans in the future. The cost of the company is influenced by how effectively it was planned. Because of the uniqueness of your ideas, your company would prosper.
Peers and friends can assist you in promoting your company. Your friends and peers might be an excellent source of leads for your company. Plan a lunch and dinner with your friends, and come up with a marketing strategy for your taxi service. By utilizing social networking sites and giving out cards to their social circles, your friends may be able to help you spread the news. Spend at least 4-5 months advertising your company. Don't forget to publicize your company when it initially starts off. The regular promotion would draw more customers.
Take in the substance of what you're delivering from the ground up. Selling products is not the same as dealing with the community and delivering direct services to the people. It suits the customers' transportation needs. Customers use your services only when they have a particular need. You can't build a strong brand unless you focus on your clients' needs.
You must be honest in your transactions and marketing about taxi brands if you want to appeal to clients. Designing and publishing a decent website for a cab business is a huge job. On mobile devices, the website must be user-friendly and have a professional design. It should include a visually appealing menu that clearly shows services and activities like an introduction and a phone call. Your basic information, such as your name, address, phone numbers, and services, should be presented clearly to avoid confusion. It's also a good idea to elaborate on your brand's vision, goals, and mission. It is desirable if it has a navigation system that allows users to go to the relevant areas.
As a consequence, establishing a new brand is challenging. It will need a significant amount of work. You may utilize online business construction to aid you in your hunt for an appropriate business plan. The scope of a successful company is always governed by its planning. Hard work, honesty, a strong plan, business skills, resources, and a comprehensive examination of the company's approach are all necessary components to success.
Expert advice on how to establish a taxi company
Before joining the taxi industry, you must first learn the fundamentals and credentials. When launching a cab company, keep the following issues in mind:
Your taxi drivers will get certified training.
To begin, you must concentrate on providing competent and skilled training to your staff and drivers. It will not only reflect your brand's professionalism, but it will also represent your reputation. Your personnel must be educated to comprehend the needs of your clients. Your chauffeurs should be able to put your clients at ease.
Taxi company site in the heart of the city.
Your business should be located in the middle of the city, where people can easily locate you. Concentrate your efforts on heavily populated areas and customer bases that are close by. Various destinations have different transit fees depending on their importance.
Your taxis are equipped with high-quality equipment.
Customers must find doing business with you simple. The seats in the cab should be comfortable. Install an up-to-date and professional GPS system in your taxi cars. To deliver excellent service, your air conditioners must be in excellent working order. Your cab should be nice to appeal to passengers. It should be cleaned and maintained completely.
Follow the rules and regulations set out by the state.
Your taxi services must adhere to the laws and regulations of the targeted areas. A valid taxi driver's license is required. All traffic rules and signage must be followed by your taxi drivers. If you break the rules, you might face serious penalties and your taxi service could be shut down, therefore it's vital to stress that you must obey all state laws and regulations.
Management of employees
The attitude of your taxi drivers toward consumers determines the success of your business. Your personnel must be highly qualified and able to respond quickly to your clients' needs. Customer attraction relies heavily on the services supplied by your workers. Customer service must be provided by your personnel in a professional manner. You must appropriately reward your staff so that they will deliver excellent service and help your company develop. It's also vital to give staff with regular training sessions so that they can keep up with the latest trends in society.
You'll need extensive research, financial resources, a well-thought-out plan, and unique ideas to start a taxi firm. You should be aware of the potential dangers you may face in the future and prepared to cope with them. Because the taxi business has so much potential, you should understand how to get started and where to put your money.
Skyrocketbpo's experienced staff is ready to help you with the start-up of your new business. Customer satisfaction is very important to us. Instead of utilizing templates, we create personalized business plans to meet the specific needs of our clients, providing them with a step-by-step guide for starting or growing their company. We provide high-quality proposals on time because to our great time management skills.