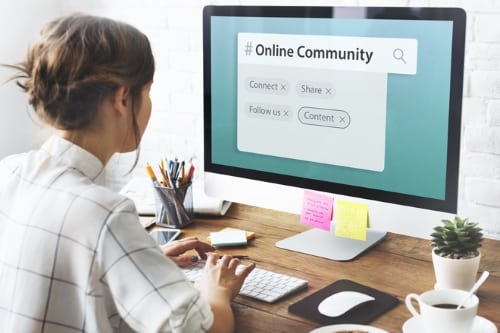 When you start looking into all the many ways to promote your company online, it may seem like a jungle, but we're here to help you navigate this busy (and sometimes confusing) environment. It's a good idea to devote part of your advertising money to web-based marketing, no matter how modest your budget or how you decide to allocate it.
People who come to your website through a sponsored advertising are 50 percent more likely to purchase your goods than those who visit via an organic link, according to Unbounce.
That's because advertising, when done well, are aimed at the perfect demographic for your company, and that audience is (ideally!) ready to buy.
Let's discover the best internet platform for your company with that aim in mind.
Where Should You Advertise Your Company on the Internet?
Google AdWords, recently renamed Google Ads, is by far the most popular online advertising platform for businesses of all sizes. According to Emarketer.com, Google takes in more digital ad revenue than any other business in the country (about 37.2 percent in 2018, compared to 19.6 percent for its nearest competitors—Facebook and Instagram).
The fact that "companies typically earn an average of $2 in income for every $1 they spend on AdWords," according to Google's Economic Impact Report for 2017 (they have yet to disclose their 2018 statistics), explains Google's market domination.
That's a fantastic investment return! Though Google advertising may be very complicated, we'll go through the fundamentals to assist you have a better understanding of this valuable tool.
The search and display ad networks are operated by Google. Let's take a look at each one individually.
Search Network by Google
When you type a query into Google.com, this platform displays ads above and below your organic search results. They're labeled "Ad" in a little green box, and you'll undoubtedly recognize them from the illustration below:
What you may not realize is that Google chooses which advertisements to display you based on a sophisticated, real-time auction process for "keywords" that individuals may put in while doing a search. Google gives a value to each keyword or set of keywords, such as "advertising on Google" in the example above, that varies over time and is based on how often the term is searched and how fierce the competition for that term or phrase is at any particular time.
Although anybody with any budget may participate in the keyword auction, those who are prepared to spend the most will have their advertisements displayed more often. Your maximum budget, as well as Google's Ad Rank algorithm, which assesses how relevant your ad is to the searcher's query, will ultimately decide if your ad gets selected.
Look for keywords that are relevant to your product, are often searched, and have minimal competition to help you get the most out of your advertising budget. The best keywords for you are determined by your budget and the campaign's intended result, which we'll go into later. There are a plethora of keyword selection tools available, but we suggest starting with Google's Keyword Planner.
Display Network of Google
Apart from Google.com, Google owns and runs a number of other websites and applications, such as Gmail, Maps, and YouTube. Similar to the Search Network, the Display Network uses an auction system. Instead of competing for ad space on Google.com, you'll be competing for textual or video ad space on Google's other sites, or on third-party sites with which Google has partnered via previous Google acquisitions, such as AdSense or DoubleClick (now combined with Google Analytics to form the Google Marketing Platform).
(As a side note, AdSense and DoubleClick are also excellent methods to supplement your website's revenue.) You may enable companies to bid for ad placement on your website by selling space to Google.)
Have you ever looked for a product on Google.com or visited a non-Google website only to see an ad for that same product or from the same webpage you previously viewed—but this time, you're on a completely different, third-party site? That's Google's Display Network (or one of its rivals) in action, attempting to sell you something based on your past online activities via a technique known as retargeting.
Although the Display Network has a wider reach, it is less successful than the Search Network since search is much more focused. You're presumably searching for something particular when you go to Google.com. You're more likely to click on an ad provided by the Search Network that directly connects to the information you're looking for and interact with the company that placed the ad if it's relevant.
Compare this to seeing a Display Network ad on a completely unrelated website when you're working on something completely else. You may or may not be interested in that advertisement, and you may or may not have the time or inclination to respond to it.
The Search Network's click-through rates (or CTR) aren't as great as you would expect, despite its relevancy. The average CTR for the Search Network is 3.17 percent and 0.46 percent for the Display Network, according to Wordstream. Make sure you're prepared.
While Display Network advertisements are less costly, their lower CTR may result in fewer conversions—which is marketing lingo for whatever action you'd want your consumer to do, like as visiting your website, filling out a contact form, or calling your company.
This leads us to the last aspect of using Google to advertise your business: the many kinds of keyword bidding options. Take a look at the top three:
Cost per Click (CPC)
You'll only be charged if someone clicks on your ad. If you want to boost the number of people that visit your website, this approach is ideal. Although you won't lose money if no one clicks on your ad, CPC may still be expensive. The average CPCs for several sectors are listed below. Keep in mind that each of them represents the cost of a single click:
Mille-cost (CPM)
The cost per 1,000 (mille) impressions, or how much it will cost you to have 1,000 people look at your ad, is measured in CPM. This option costs extra since Google believes that the more consumers who see your ad, the better the business result. This assumption, however, isn't completely correct.
You can't be confident that 1,000 individuals saw your ad or, if they did, that it registered in their minds just because it was shown to 1,000 people. Consider how many items flash across your screen when you're surfing the web and you don't pay attention to them.
The average CPM for Google's Display Network in early 2018 was $2.80, and $116.91 for the Search Network, according to AdStage—though this technique is seldom utilized on the Search Network.
While this approach may boost brand recognition (the more people who see your advertisements, the more acquainted they get with your goods), it isn't the most cost-effective.
Purchase Price or Action Price (CPA)
Remember how in the materials above we spoke about conversions? That's what Google means by acquisitions: whatever action you want your customer to take at the end of the day, i.e. the goal of your ad (s). In this bidding situation, you'll still pay per click, but Google will optimize your ads to get the most conversions for the CPA you choose.
Customer acquisition may be the holy grail of advertising, but it comes at a price. Buckle up for this one if you thought your other options were pricey.
As you would expect, such expenses are beyond most small companies' budgets. Fortunately, you may choose for the less expensive CPC option and actively strive to lower CPC. That's the approach most companies follow when advertising on Google.
Additional Advertising and Bidding Options
If you don't have time to think about these things, you can use Google Adwords Express to automate your keyword bidding. It will run on your monthly budget and serve your ads to customers who search for local terms related to your company.
And, while we're on the subject of local consumers, don't forget to create a free Google Business Profile via Google My Business so that your firm appears on Google Maps and when people search Google.com for similar companies in your area. Google My Business now has a mobile app to track all of your customer interactions.
It's wonderful that Google provides free promotion to local businesses, given how expensive the rest of their services are. The typical small company spends $9,000-$10,000 per month on Google advertising, according to Wordstream.
It's simple to understand why Google is still the most popular advertising technique, with an expected return on investment (ROI) of double those figures.
Bing
Bing, like Google, utilizes a model that includes bidding, keywords, and a search and display network. Due to a unique agreement with its parent firm, Verizon, ads are displayed on Bing, as well as Yahoo, AOL, and other partner sites. Of course, Bing's reach is far less than Google's, but the costs are comparable. Because there is less competition for popular keywords, prices are cheaper, and your advertising money may go farther.
According to AdEspresso, you may reach 66 million people who aren't reachable via Google using Bing, and your average CPC will be 2.5x lower.
[8] Microsoft Edge is also the default web browser and Bing is the default search engine for personal PCs preloaded with the Windows 10 operating system. Although the user has the option to alter these settings, some people do not. As a result, you may profit from a trapped audience.
But think about if Bing is appealing to your target market. According to AdEspresso, Bing has a high market share in the United States among more wealthy people aged 35 to 54. [8] Google appeals to a "younger, more tech-savvy audience," and is recommended if you want to expand your company internationally as well as domestically.
Bing, like Google, provides a free local business listing service called Bing Places. Even if Bing isn't the best option for you, you should take use of this function.
Facebook
Although Facebook's total reach isn't as large as Google's or even Bing's, it's a force to be reckoned with when it comes to focused advertising. If you have a particular target demographic in mind, you may target your Facebook advertisements with pinpoint accuracy—for example, depending on a small group of unique interests or recent actions like if they're planning a trip.
On the right hand of the homepage; in the newsfeed on the consumer's desktop or mobile device (either through the Facebook app or by navigating directly to Facebook.com through the device's web browser); via short videos shown during Facebook Live sessions or within Facebook Watch programs; in Facebook Stories; in the Facebook Marketplace; and within the Facebook Messenger app.
That's before we get into Facebook's response to Google's Display Network, the Facebook Audience Network, which isn't nearly as successful as Google's.[9] If you're looking to raise brand recognition within a certain group, Facebook is your best option.
Facebook also utilizes a bidding structure, but your whole ad (rather than simply keywords or phrases) is up for sale. Your bids, like Google's, are based on the daily budget you've given Facebook. The distinction is that, although Google prioritizes relevancy, the large spender gets favored.
The relevance of your ad to the user, as measured by Facebook's Relevance Score, matters more than how much you're prepared to pay in an auction on Facebook. As previously said, this underscores Facebook's emphasis on audience accuracy.
You may configure your bidding to manual or automated, just like Google. Automatic bidding will optimize your campaign(s) for the conversions, impressions, and other objectives you've specified. You may manage other parameters with manual bidding, such as whether your individual bids max out a certain amount per ad or whether you're prepared to settle for an average price per bid.
A small edge may be gained by using an average price per bid, since it enables Facebook to slightly raise your bids in specific auctions in order for you to win. Maximum bids are simply that, and until you tell Facebook differently, they will not be exceeded.
Best of all, Facebook is often less expensive than Google, particularly in popular categories.[7] In 2018, the average CPC on Facebook was $1.72, with an average CPA of $18. CPMs remained at $10, a significant discount over Google's Display Network, allowing you to get your advertisements in front of more people and raise brand recognition without breaking the bank. Even little changes in Facebook ad campaigns, such as utilizing slideshow advertisements instead of videos, may save money without losing effectiveness.
Although Facebook's reach isn't nearly as extensive as Google's, it is nevertheless extensively utilized across demographic groups and in many nations.
If you know who you're trying to reach, Facebook is a great place to start.
Instagram
Since Facebook bought Instagram in 2012, the two sites' operations have merged. Although sponsored or branded content is much more prevalent on Instagram than on any other network, ads may show in the user's feed or inside their Stories.
When a business pays an Instagram influencer to publish material that promotes their brand, this is known as sponsored content. An influencer is a person with a large following who is likely to be respected by the company's consumers. Instagram developed a Branded Content Tool for such posts and stories since they've grown so popular. It produces a line under the username that reads, "Paid relationship with brand X," and looks like this:
Because the majority of Instagram users fall into two age groups: 18-24 and 25-34, branded material is quite popular.[10] These two generations, known as millennials and post-millennials, are renowned for their mistrust of conventional advertising, but they are more inclined to listen when their favorite celebrities promote a product in a genuine way.[11] For example, a conventional advertisement will not work, but an Instagram post showing the influencer utilizing the product seems to be effective.
Official Instagram ads are managed via the same Ad Manager as Facebook ads, and the prices are same. The cost of influencer postings, on the other hand, may vary greatly. Payments range from $250 to $1 million each article, according to brands.
Fortunately, as a tiny company, you'll almost certainly be able to discover micro influencers in your field. These individuals have lesser followings, yet they are nonetheless powerful in specific fields. Micro influencers may promote your business in return for free products or at a much lesser cost than famous influencers.
Instagram already has over 1 billion users, therefore it's worth spending money on advertising on this platform, particularly if your target demographic is younger.
LinkedIn
is by far your best option if your firm is a business-to-business (B2B) operation. Why wouldn't you promote your B2B business where wealthy, well-educated, high-level individuals spend their online hours? A picture is worth a thousand words, and this one says it all: Sponsored posts or videos that appear alongside user-generated content in user feeds, text ads with a small photo that appear on the right-hand side of any page on LinkedIn, and sponsored in-mail that sends personalized emails to a user's inbox are the most popular advertising options on the platform.
LinkedIn advertisements may be targeted depending on the size of the business, the person's title, the sector they work in, and their location. On a CPC, CPM, or CPV (cost per video view) basis, ads run with a daily maximum budget, and prominent digital influencer Neil Patel says that his testing averaged about $2 per click, with a maximum of $5 per click.
Consider the quality of the business leads you're going to get, even if both sources reported poor CTRs (Patel just 0.025 percent and AdStage only 0.13 percent).
To put it another way, fewer individuals may click on your advertisements, but those who do seem to be far more likely to convert.
LinkedIn is a great place to advertise your business.
Twitter
Twitter is the redheaded stepchild of the social media and digital marketing industries, and it doesn't receive a fair deal, in our view. Consider advertising on Twitter for a variety of reasons. First, let's look at the statistics.
Apart from LinkedIn, Twitter is where the most educated and wealthy people hang out.[16] These people seem to utilize LinkedIn for their professional lives and Twitter for their personal lives. Twitter is a good location to invest part of your advertising money if your target market comprises people with college degrees who earn more than $75,000 per year.
Twitter is also a good value for money. They only charge for advertising once you've reached your conversion target, which includes promoted accounts, tweets, hashtags, and trends. If you want to raise your number of followers, for example, you'll only have to pay when you get a new one. Because LinkedIn has no comparable alternatives, you can reach a similar audience for a lot less money.
Twitter offers the best of both worlds in certain respects. Twitter features a keyword auction, similar to Google, however owing to the lack of competition, the CPC may be very cheap. It also has some of Facebook's precise targeting capabilities, but at a fraction of the cost.
For example, you may target individuals who have recently used a particular term or hashtag in their tweets, or who have engaged with other tweets that have. This is quite specific, and it may help you reach the precise audience you're looking for. You may also retarget those who replied to a tweet, removing the guesswork about whether or not they're interested in the subject.
You may also build bespoke audiences for your advertisements based simply on the Twitter usernames of those who follow a competitor's account. To utilize a function like this on Facebook, you'll need more contact information.
According to Twitter, ad engagement grew by 50% in 2018, while the cost per interaction fell by 14%. We think Twitter is undervalued as a whole, therefore these numbers don't surprise us. If you want to promote your company online, consider incorporating Twitter in your strategy. You won't be sorry, we believe.
The Best Places to Advertise Your Business Online, in Conclusive
As we've seen, the location of your online advertisements is determined by your campaign's objectives and budget (s). Despite the fact that Google will cover all of your bases, you may discover that your money does not stretch very far. Bing may provide a lot more bang for your buck if your target market comprises American Gen Xers with a lot of money to spend.
If you've cut down your target market to a small, select group, Facebook is the best option. You'll still have to spend a lot of money, but if you've set your settings properly, you should get a good return.
If you want to reach out to millennials, Instagram is the place to be, but the expense of sponsored content on the platform may drive up your costs. For business-to-business leads at a reasonable price, LinkedIn is by far the greatest option. And, particularly if you're looking for a well-educated and well-off client, Twitter is a great place to start.
To choose which internet advertising platform is ideal for your company, look at the demographics of your target customer and your advertising objectives. If your money allows, think about putting together a good mix that gives you the best of both worlds.