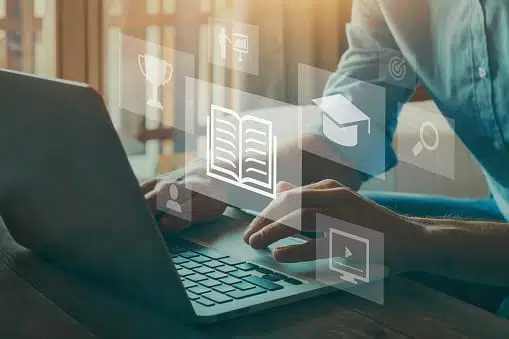 The COVID-19 epidemic has presented new challenges and opportunities for the education technology industry.
In which has had to cope with a record number of students seeking online courses and remote learning.
In the field of education technology all with the purpose of enhancing student learning via online and computer-based training.
These companies serve a wide range of customers, including public and private schools, corporations, and government organizations.
Virtual classrooms, computer-aided assessment systems, and other services and goods are among the services and products they provide.
Top EdTech Companies 2021
Education technology is a fast-growing, fragmented industry with Fortune 500 companies.
Listed below are the top 14 businesses.
Blackboard provides a variety of online platforms and apps, including Blackboard Collaborate, Blackboard Connect, and Blackboard Learn.
The Cisco Digital Education Platform, based in San Jose, California, creates secure virtual classrooms by connecting learning sites throughout schools.
A public listed company located at Salt Lake City, Utah offered Canvas, a cloud-based learning management platform.
Pearson helps to develops educational software and Learning Studio, Open Class, and Acclaim Badges.
Samsung Electronics offers smart classroom gadgets, a remote learning, collaboration, and communication solutions.
Dell Technologies provides schools with smart education solutions and a classroom-focused products like the Dell Chromebook 11.
Adobe Systems and e-learning business with EdTech content creation tools and new education solutions that allow personalized learning.
Discovery Communications provides multimedia content, professional development, and digital textbooks.
Echo360 is a private company based in Dulles, Virginia, that provides a video training platform to over 500 companies across the globe.
Fujitsu offers a comprehensive range of technology solutions, services, and products for educational institutions.
Jenzabar's learning management system and virtual campus solutions are used by over 1,300 schools across the world.
IBM offers consulting services to education businesses and higher education institutions.
Promethean World is a presentation and meeting software firm that specializes on interactive learning technologies.
Ellucian provides educational institutions with software and processing solutions to help them make the transition to digital learning.
Top EdTech Startups 2021
Newsela; Guild Education; Coursera; Chegg and others are among the top EdTech options listed by Mind Commerce.