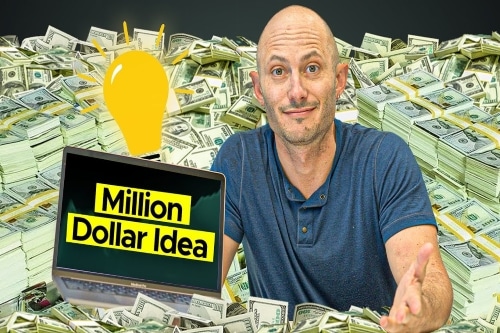 Are you looking for the most profitable million-dollar company ideas for 2021?
The eCommerce industry, in my view, has the most lucrative million-dollar company opportunities. Here's where you offer tangible things such as t-shirts, vitamins, kid's meals, and more, both on your own Shopify site and via traditional brick and mortar retailers.
Given that physical product, brands are among the most valuable companies in the world, and given that it has never been easier or more affordable to start one, it would be foolish not to consider one of the numerous eCommerce business ideas if you truly want to build a million-dollar business in the shortest amount of time possible.
Let's have a discussion about it…
Create a Popsicle Brand from Scratch
Popsicles are a summertime favorite for everyone. The key is to take that passion and convert it into a long-term, lucrative enterprise. Because popsicles fall under the frozen food category, it is difficult to get shop space for them. However, since there has been so little innovation in this field, it is possible to overcome this.
The beautiful thing about making popsicles is that they are often less expensive to start than most other frozen meals, which are typically considerably harder to produce. This also implies that you have the opportunity to go ultra-premium in order to avoid saturation in the mainstream market.
Create Your Own Potato Chips Company
Because of the popularity of Frito-Lays and other brands outside of the United States, the potato chip industry has become one of the most well-known industries in the world, according to Forbes. It's also an area where direct-to-consumer (DTC) businesses are just beginning to enter to spice things up with innovative ingredients.
Because of the high demand for potato chips, it is still feasible to establish a successful potato chip brand, or really any chip brand for that matter. You can make healthier potato chips, more ecologically responsible potato chips, or just better-tasting potato chips by combining various ingredients.
Create a fitness clothing line for men and women.
Because of the renaissance of bodybuilding in the United States, the fitness wear industry has exploded. What's the good news? Due to the fact that generations Y and Z are far more interested in fitness than prior generations, the demand for fitness clothes is really increasing.
The fitness apparel brand market, on the other hand, is quite competitive. Alternatively, if you can develop a hyper-specialized brand that focuses on one sort of product for one particular set of people inside the fitness community, your chances of success will rise.
Create Your Own Honey Company
Artisanal foods are among the most profitable sorts of food goods to offer on the internet. For those who happen to be "honey wiz" or want to become one, there is a window of opportunity available to them. Particularly given the fact that it is not an area into which billions of dollars are being invested by major corporations.
The appeal of artisanal honey stems from the fact that it is, by nature, quite specialized. Consequently, if you can develop a quality honey product and support it with effective marketing, you will already be ahead of the majority of other honey firms on the internet. The key is to make use of the "niche" nature of artisanal honey to your advantage.
Start Your Own Popcorn Company
Popcorn has always been one of the most popular concession stand meals, and it remains so today. It also happens to be the most lucrative food item available at a concession stand as well. While it is unusual to attempt to market your own popcorn brand online, it is still a profitable endeavor with a great deal of potential for profit margins.
Popcorn is a category that already has a plethora of tastes to choose from. Popcorn brands that provide certain health advantages or that are suitable for specific diets, on the other hand, are few in number. This is the area where the opportunities are located. As a result, if you can successfully rebrand the original popcorn for a new brand, you will be successful.
Create a frozen food company from the ground up.
Your competition will be fierce in the frozen food department of grocery stores, so you'll have your job cut out for you there. It is also the most challenging product to transport owing to the fact that the goods must be kept frozen during the whole voyage. However, if you are able to work out the logistics, you will have an edge over the competition.
This category may contain everything from frozen pizza to vegan burger patties that have been frozen in advance. Similar to most other food categories, the frozen food sector is open for disruption when it comes to developing better alternatives of previously existing items. This is particularly true if you use vegan or wellness marketing methods to promote your products.
Create Your Own Lip Gloss Line
When in doubt, create a brand in the cosmetics or personal care industries since the margins are so high. Liquid lip gloss is one of the items. While the success of lip gloss might differ from one person to the next, one thing is certain: the whole lip category represents a significant business potential for ambitious entrepreneurs.
You have the option of creating a brand that is only for lip gloss, which is a fantastic concept. However, the most effective strategy to leverage lip gloss is to utilize it as an entrance offer for clients, after which you may sell them on further beauty goods. What is the purpose of lip gloss? Because it is often less expensive to begin with than other types of cosmetics.
Create a toy company from the ground up.
Toys are among the greatest million-dollar company ideas to consider, ranking in the top one percent of all ideas to examine. This is due to the fact that it is one of the few physical goods that have the ability to generate intellectual property. As a point of reference, this category may comprise everything from dolls to construction blocks.
The Lego brand is perhaps the most well-known example of a toy brand. Having said that, practically every children's television program either began with a toy and later launched a show or vice versa. In any case, the ability to develop intellectual property (IP) is critical, particularly if you want to construct your own Disney-style empire.
Create Your Own Sock Company
Although clothing is a challenging market to get into, if there was ever a category within apparel that was ideal for starting a company, it would be socks. The socks in this category contain not just normal dress socks, but also socks tailored to certain lifestyles, such as those of the barefoot community.
The reason why socks are such a successful category is due to the size of their profit margins. It is possible to achieve profit margins in excess of 70% even while using the most costly textiles available on the market. If you assume "average" size and premium pricing, you can expect to be in the 80 percent to the plus area.
Create Your Own Watch Company
Those who like watching may rejoice. When it comes to eCommerce, accessories are one of the best categories to shop in, and watches are at the top of the list. Brands like MVMT have completely transformed the direct-to-consumer (DTC) ecosystem and paved the way for digital marketers worldwide.
In this area, you may either develop a "masstige" brand, as MVMT did, or a luxury watch brand, such as Rolex, if you so want. Additionally, as seen by the success of Hodinkee and its ability to generate millions in watch sales, this is a market with significant potential in the content area. It's without a doubt one of the most innovative million-dollar company concepts to emerge from the world of e-commerce.
Related link