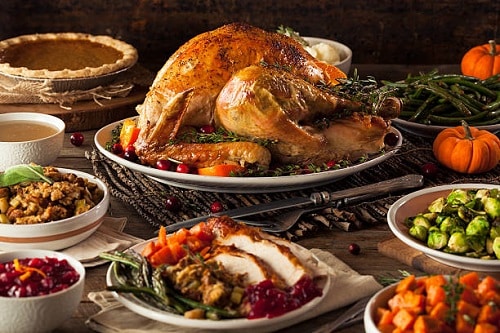 Thanksgiving in the United States and Christmas in some European countries are just two examples of when turkey is a traditional holiday staple.
Thanksgiving 2020 cannot be canceled, but due to Covid-19, it may be reduced in size.
Due to the ban of large gatherings and the fear of infecting Grandma, the Thanksgiving celebration has shrunk to an almost unrecognizable form.
The CDC recommends an outdoor version of the party where everyone brings their own food and there is no potluck, buffet, or utensil sharing.
What does an outdoor Thanksgiving imply to a market researcher?
The turkey population is dwindling, but the market is growing.
Patio heaters, which range from fire pit kits to gas radiant patio heaters, are hard to come by, with sales in the United States reaching $570 million last year. And the 5-percent compound annual growth rate of propane is skyrocketing.
And, although we expect Americans to gorge themselves on holiday favorites with little regard for portion control, new ideas are afoot.
Costco has shifted its emphasis away from their iconic half sheet cakes and toward smaller 10″ round cakes, which are more suited for smaller groups or just because you can devour the whole thing by yourself.
However, there may be fewer leftovers as a consequence of this. Reusable containers sealed the deal during Covid, but they suffered a hit when the farmer gods developed smaller birds to eat the leftovers.
In addition, grocery shops are shrinking their seafood and appetizer platters, which means fewer shrimp, less cocktail sauce, cheese, and crackers.
Despite the fact that the restaurant business is struggling, carryout and delivery foodservice is flourishing this season, with sales approaching $380 billion. Because of this expansion and changing hygiene norms, the throwaway packaging business has already crossed the $15.5 billion mark.
We used to like creating our own dinners and referring to them as "homemade," but family-style meals delivered to your door are no longer frowned upon.
Even with the increase of takeaway and OPC (other people cooking), Americans are still whipping up family favorites using spices, oils, vinegars, and marinades, which are hot and skyrocketing as we have more small parties and cooks in their own kitchens — and are currently worth $4.3 billion in US sales.
As families sought more convenient ways to purchase goods and sample new cuisines in the post-pandemic era, everything from fully cooked stuffing and gravy to meal packages skyrocketed above the $4 billion mark.
You're less inclined to sleep in your high school room's single bed even if you're across the river and through the woods. While hotel occupancy is strong, lodging services such as rentals, cabins, and cottages bring in more than $1.5 billion in the United States.
Whether you're eating inside or out, alone or socially isolated, carry-out or homemade, Covid-19 may detract from your holiday, yet somewhere a market is growing.
Are you interested in learning more about the market? See the COVID-19 Economic Impact Tracker for the latest up-to-date information.
Robert Granader is the founder and CEO of MarketResearch.com, a market knowledge supplier and collector. His work has been featured in the Washington Post, Washingtonian magazine, and The New York Times.