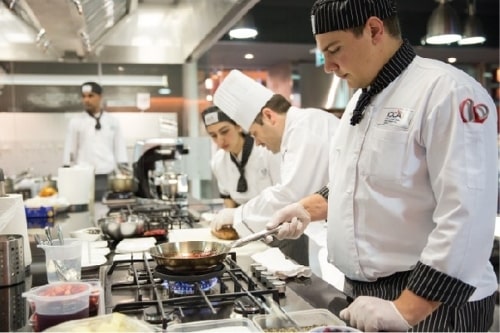 Dine-in accounted for at least 70% of the restaurant's business before the worldwide pandemic struck the globe in 2020, with delivery accounting for the remaining 30%. Some restaurants, such as those in hotels, depended entirely on dine-in clientele. On the other side, the Coronavirus altered everything.
As a consequence, the idea of cloud kitchens, which had been floating about for a few years, acquired a lot of traction. The idea has proved to be a lifeline for the global food and beverage sector in the past year. Due to the epidemic, which has wiped off a significant part of their revenues, about 1,600 food outlets have shuttered in Indonesia since last year.
To stay afloat, the whole food and beverage sector had to rapidly adjust to the new normal, which meant a greater emphasis on using internet channels to contact consumers. As a consequence, according to a study, food delivery in Southeast Asia grew by 183 percent in 2020 over 2019, reaching a projected gross merchandise value (GMV) of USD 11.9 billion by the end of 2020.
The cloud kitchen concept has grown in popularity across the world as the meal delivery business has grown. The worldwide market for the industry was worth USD 43.1 billion in 2019, and it is projected to reach USD 71.4 billion by 2027, with a compound annual growth rate (CAGR) of 12% from 2021 to 2027. Meanwhile, according to studies, cloud kitchens in Indonesia are projected to expand at a CAGR of 20.7 percent between 2021 and 2028. With an anticipated GMV of USD 3.7 billion in 2020, the nation is also Southeast Asia's largest market for food delivery, followed by Singapore ($2.8 billion) and Thailand ($2.4 billion).
Independent cloud kitchens, where one operator manages a single kitchen (or multiple virtual restaurants under one roof) but without a storefront; commissary or shared kitchens, where multiple F&B brands operate in a single commercial-grade kitchen facility managed by cloud kitchen operators; and shared kitchens, where multiple F&B brands operate in a single commercial-grade kitchen facility managed by cloud kitchen operators.
Because cloud kitchens are a very localized company, each location's product should be customized to the local market. As a consequence, a comprehensive knowledge of supply and demand trends is essential for a startup in this industry to succeed.
On the other hand, restaurants with a cloud kitchen must compete with hundreds of other businesses on meal delivery applications. As a consequence, their companies are less visible, especially for pure virtual restaurants that are new to the F&B sector.
The average order value and number of daily transactions, according to a consulting firm's adviser, are essential for a cloud kitchen model's success. "While the approach may be a stopgap for big established offline F&B retailers, it may not be the case for growing or online companies without historical profits to preserve." As a result, for new companies, it may be about generating large volumes and surfing the wave of on-demand food demand," he said.
Because demand for dine-in facilities is anticipated to recover after the epidemic has been controlled, not all F&B businesses should adopt a 100% cloud-based or 100% offline strategy. The best approach is to use a hybrid model. Without a question, the food and beverage industry's dynamics have changed in recent years. They've become more customer-focused, transparent, and technologically advanced.