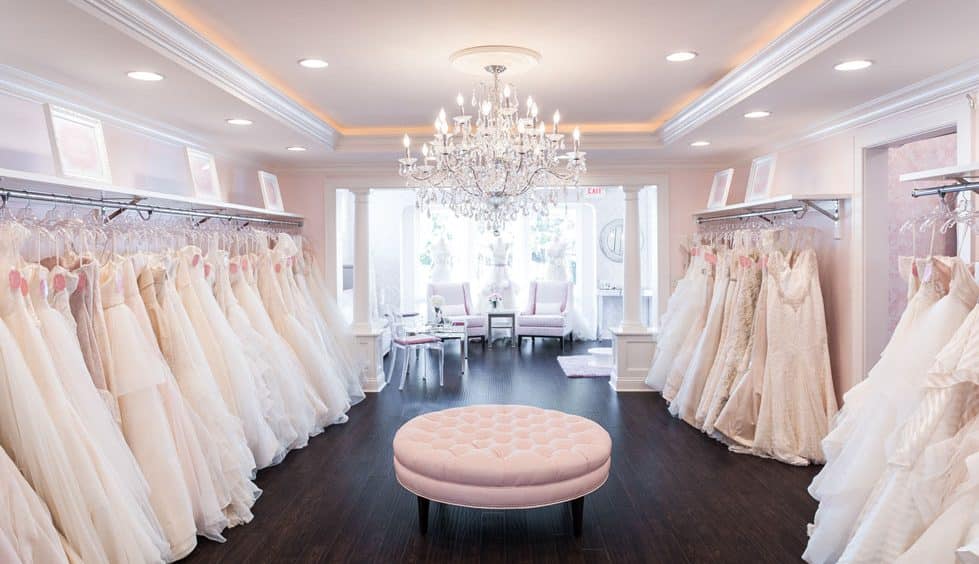 If you are planning to write the Wedding Dress business plan on your own, then this sample Wedding Dress business plan can be great for guidance. However, if you are looking for a professional business plan writer for a business loan, SBA loan or to find out the possibility of success for your new business then let's talk!
Executive Summary
Overview: Happy Brides is a licensed bridal store with a large inventory of wedding goods and accessories. Wedding gowns, fine jewelry, gloves, bridesmaid gowns, shoes, flower bouquets, groom suits and tuxedos are just a few examples. We are placed in the heart of Las Vegas' thriving business district. We are in a good spot because, while Las Vegas is known for gambling, it also attracts a varied group of people who come for a number of reasons, including weddings. We have made certain that our collections are of the highest possible quality. The majority of our clients are from the middle and higher classes. In Vegas, these kinds of customers are plenty.
We have a wide selection of eye-catching and exquisite wedding merchandise. Clients who want to buy or rent these items will have the option to do so. We also provide customized services, in which we can alter various wedding gowns to suit our clients' preferences. There are also groom suits and tuxedos available. Jewelry, shoes, bags, handbags, and flower bouquets are among the various items available.
Mission: Our goal is to provide our customers with a plethora of options.
Vision: Our ambition is to own Nevada's largest bridal retail chain. We are devoting our time, effort, and experience to offering services that are unparalleled in the business.
Industry Overview: A little virus has radically altered the social, business, and economic scene, with large and small firms closing their doors, consumers disappearing, discretionary spending vanishing amid job losses, and the global economy plunging to new lows. In light of this, the global Bridal Wear market has been updated and is now expected to reach US$79.7 billion by 2027. The erosion of household wealth, as employment rates rise, is terrible news for the wedding business, which is heavily reliant on consumer discretionary incomes. Consumer confidence is rapidly eroding, and spending expected to follow suit. Wedding expenses will be one of the costs decreased because of COVID-19. Wedding cancellations are already common, and destination weddings are particularly heavily struck. While the shutdown limitations continue to affect bridal gown manufacture, love is taking on a new, less expensive meaning. Couples are increasingly embracing videoconferencing apps like Zoom to live stream their nuptials. Simple, low-cost at-home weddings are becoming the norm, resulting in a sharp drop in demand for bridesmaid dresses and expensive custom bridal gowns and accessories.

The market will eventually recover once the significantly limited public life has been relaxed and the economy has healed. Despite the fast increasing difference in cultural values, shifting patterns in family life, and changing concepts of love, intimacy, and current marital practices, the market will be sustained by continuous confidence in the religious sanctity of marriage. Given that the wedding industry is based on cultural and religious beliefs and rituals, rapid social developments, such as the rise of cohabitation, have posed and will continue to face growth hurdles in the coming years. Despite the difficulties, marriage remains a key building element of human society as the highest public declaration of monogamous commitment. Marriages will continue to be the foundation for a healthy society that promotes the common good in humanity by developing stronger families and raising children that are more conscious as the only institution that embodies selfishness in a self-centered world.
Financial Overview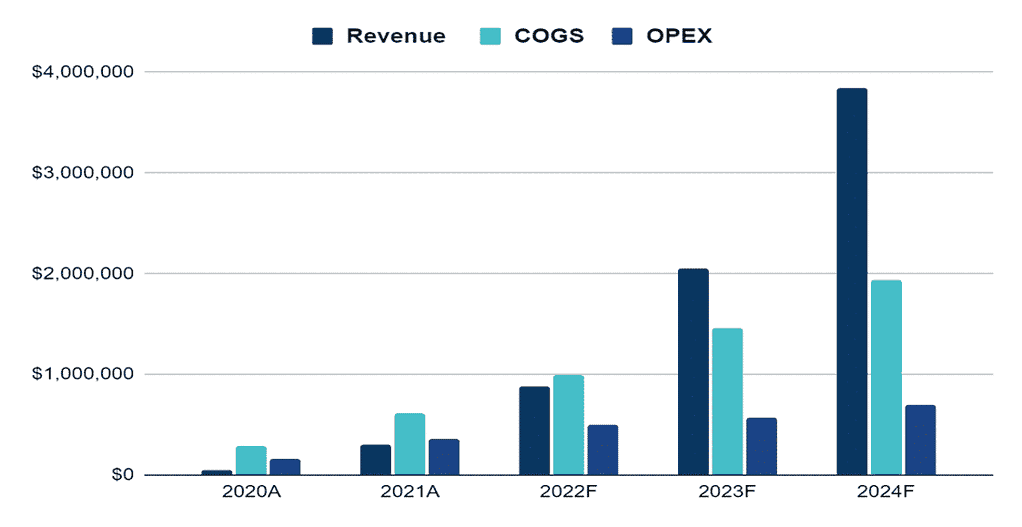 Financials is one of the most important sections of a Wedding Dress business plan. You can get an idea of your projected revenue, required investment amount, is the business sustainable without additional funding, etc.
Financial Highlights
| | | | | | |
| --- | --- | --- | --- | --- | --- |
| Liquidity | 2020A | 2021A | 2022F | 2023F | 2024F |
| Current ratio | 6 | 12 | 23 | 32 | 42 |
| Quick ratio | 6 | 11 | 22 | 31 | 40 |
| DSO | 8 | 8 | 8 | 8 | 8 |
| Solvency | | | | | |
| Interest coverage ratio | | | 8.2 | 11.1 | 14.2 |
| Debt to asset ratio | 0.01 | 0.01 | 0.2 | 0.18 | 0.16 |
| Profitability | | | | | |
| Gross profit margin | 51% | 51% | 53% | 53% | 53% |
| EBITDA margin | 12% | 14% | 21% | 22% | 22% |
| Return on asset | 5% | 6% | 13% | 14% | 14% |
| Return on equity | 5% | 6% | 16% | 17% | 17% |
Use of Funds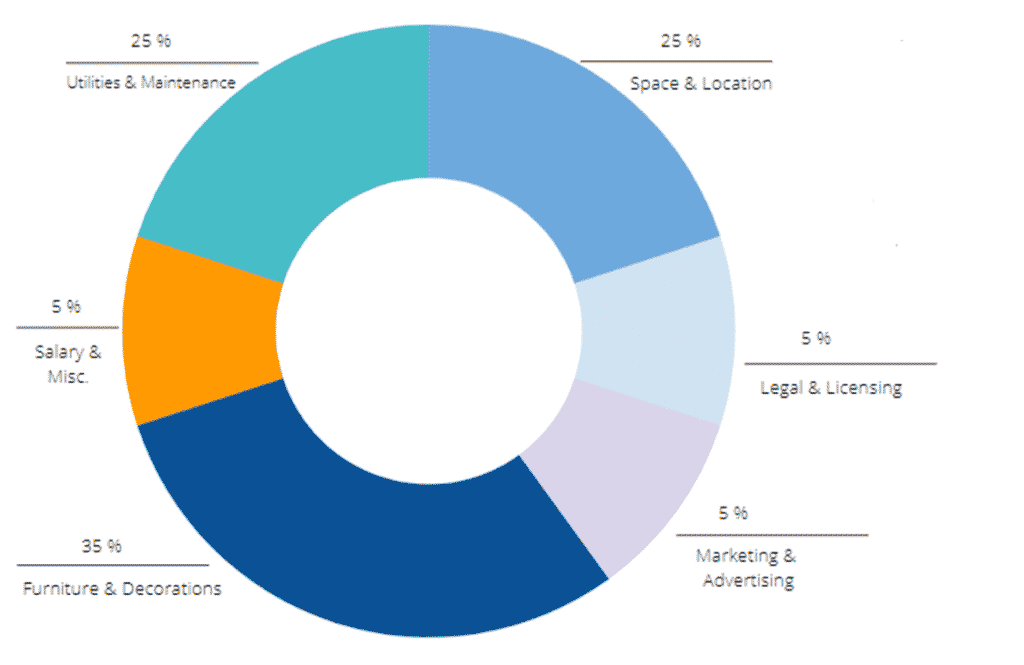 Industry Analysis
The industry analysis section of the Wedding Dress business plan will help you get better insights into competitors, market growth, and overall industry prospects. You can order a custom market research report for your Wedding Dress business.
During the forecast period, the global wedding dress market expected to grow at a significant CAGR. Increased urbanization, a rise in disposable money, and an increase in personalized and inventive designs are all contributing to this expansion.
The global wedding gown market classified into three categories based on product types: common gowns, suit/tuxedo, and traditional wear. In 2018, wedding gowns accounted for the largest percentage of the market. The introduction of various types of fabric and styles in gowns has boosted gown demand in recent years. To boost the visual worth of the gowns, retailers and fashion designers are focusing on elaborate artisanal patterns. The male population's involvement in wedding attire decisions has expanded dramatically. Men's participation in the fashion industry has risen because of the rise in fashionable clothing for men, as well as an increase in knowledge of dressing sense and appearance. Traditional wedding attire is a significant contributor to the market's growth.

The market divided into female and male segments based on gender. In 2018, the female wedding wear sector held the biggest market share. This is due to the large number of bridal apparel manufacturers and designers present. A bride is also supposed to be the center of attention at the wedding. Women prefer to go to different stores and try on their wedding gowns before the big day. They also provide feedback on the alterations that should be added to their garment, which is expected to increase women's participation within the projection period.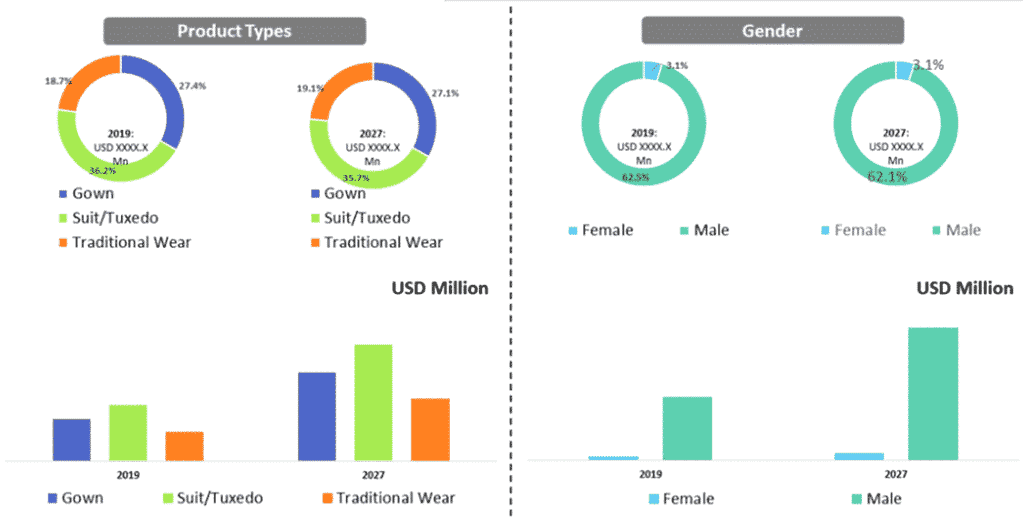 While working on the industry analysis section of the Wedding Dress business plan make sure that you add significant number of stats to support your claims and use proper referencing so that your lender can validate the data.
Over the projection period, male wedding wear is expected to grow at a significant CAGR. This can be due to the male population's growing awareness of fashion and appearance. Furthermore, many designers and firms are focusing their designs on the male market in order to expand their product offerings and increase involvement. The global wedding dress market is divided into five regions: Asia Pacific, Europe, North America, the Middle East and Africa, and Latin America. Europe is a critical market region that is likely to dominate during the projection period. With a market share of 30.3 percent in 2018, this market led the global market. The region's market is growing due to rising purchasing power, the presence of several global companies, and premium product pricing. Due to increased demand from nations such as China, India, Japan, and Korea, where weddings are believed to be lavish and expensive, Asia Pacific is expected to rise at a lucrative rate during the projection period. Furthermore, because of the region's diversity in population and culture, businesses have a lot of opportunity to attract different countries and expand their market presence. During the predicted period, the Middle East and Africa are also expected to rise significantly. The attraction to exquisite embroidery and embellishments in bridal gowns is a popular trend among customers.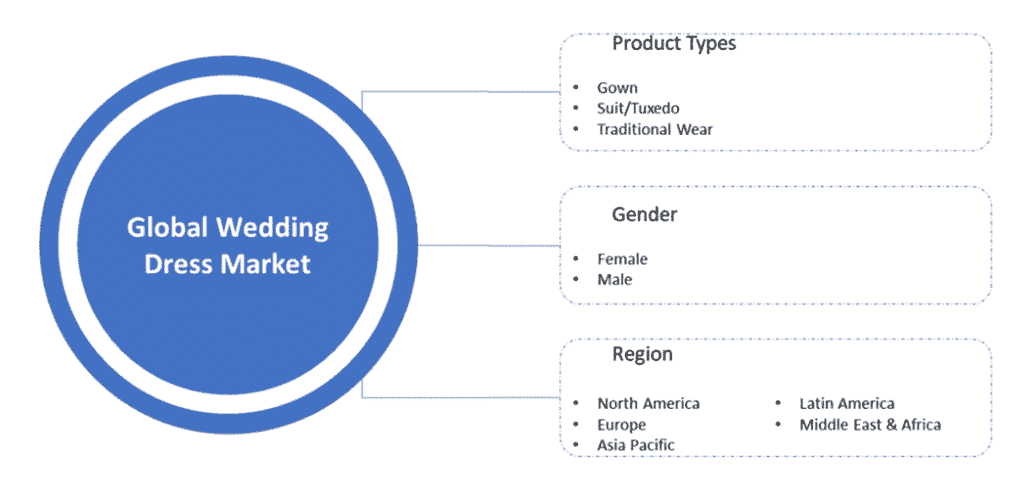 Marketing Plan
A key part of the marketing plan in a Wedding Dress business plan is the marketing budget. The growth in the number of customers is proportional to the budget and dependent on the CAC.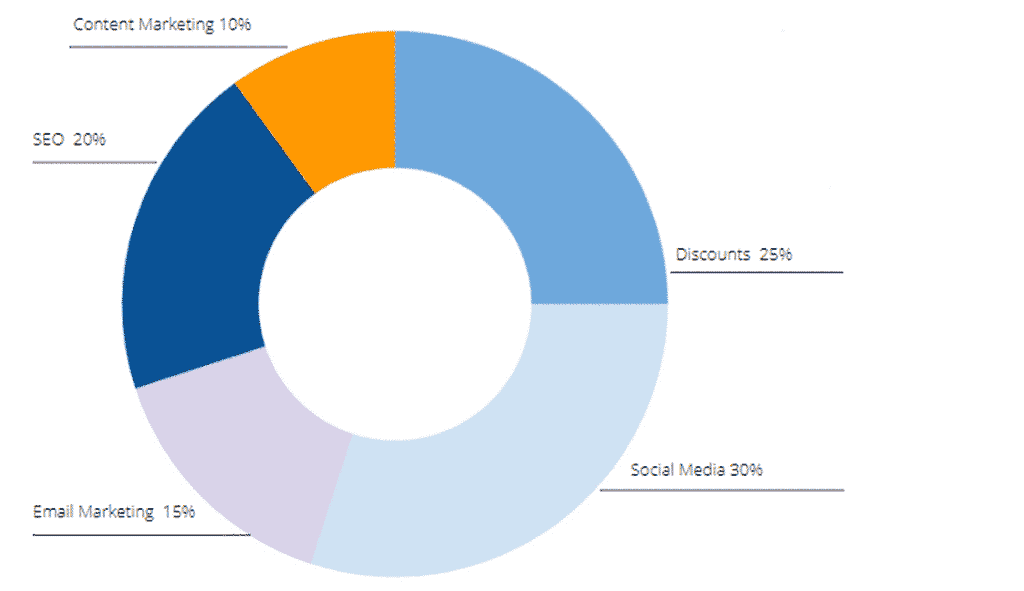 Discounts: Happy Brides will give discounts to our customer to show our appreciation for your contribution to our success.
Social Media: Following the trend of clients surfing the Internet every second, online advertising has become a commonplace tool utilized by all businesses. Facebook, Instagram, and other social media platforms will be used to promote Happy Brides.
Email Marketing: We use email as a tool for sending commercial communications and generating sales. To develop long-term connections and promote long-term revenue, we will send cart abandonment emails or execute repeated email nurturing campaigns.
SEO: To increase awareness to the customers we will use search engine optimization for boosting our company to attract more customer by searching keywords wedding gowns.

Content Marketing: We will share relevant articles, videos and blogs to retain audiences and to know more about our gowns.
Organizational Plan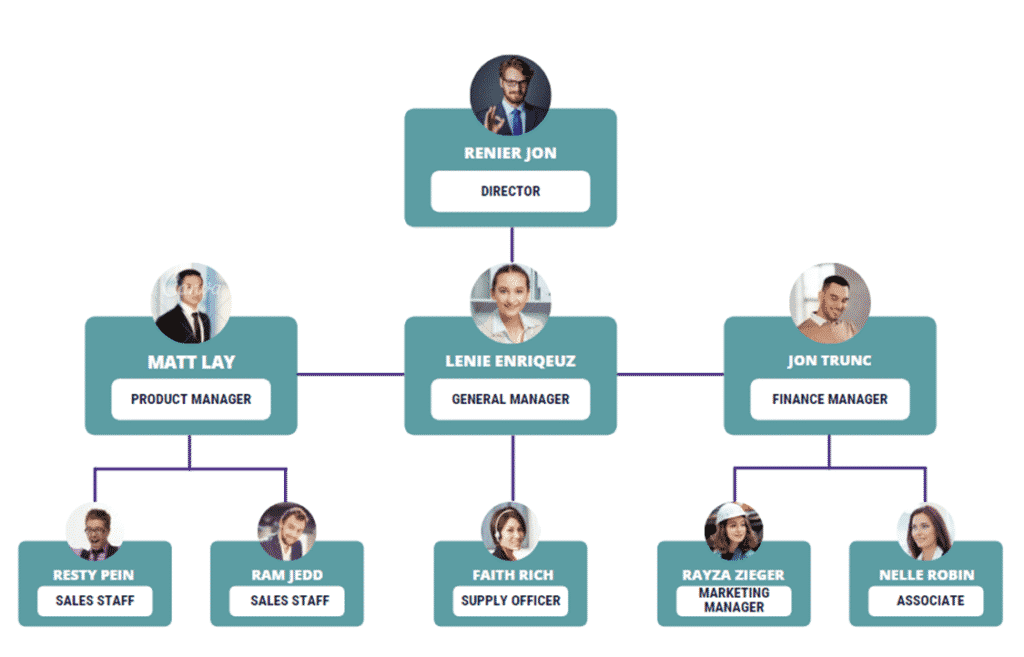 Financial Plan
This section of the Wedding Dress business plan helps your lender figure out whether you will be able to pay off the loan, whether the business is sustainable, what are the growth prospects, etc.
Earnings: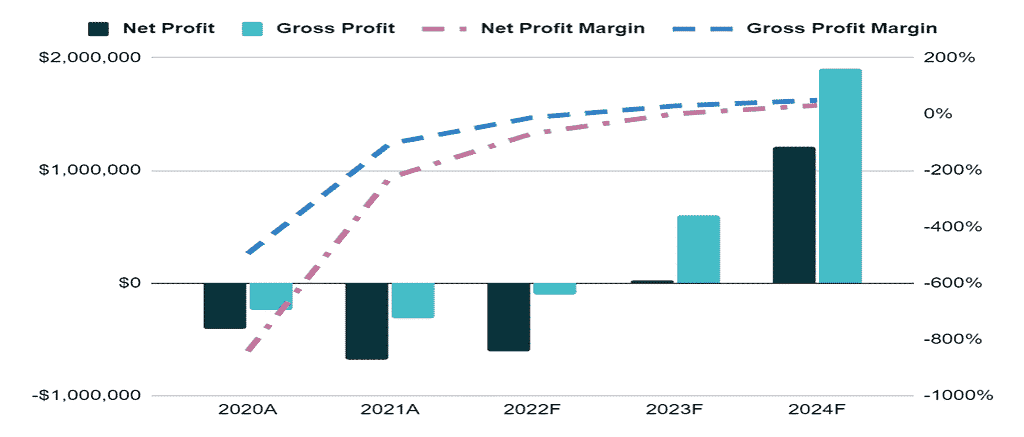 Income Statement:
| | | | | | |
| --- | --- | --- | --- | --- | --- |
| | 2020A | 2021A | 2022F | 2023F | 2024F |
| ANNUAL REVENUE | | | | | |
| Item 1 | 9,217 | 59,117 | 175,410 | 415,277 | 781,357 |
| Item 2 | 34,701 | 222,558 | 660,368 | 1,563,394 | 2,941,580 |
| Item 3 | 4,067 | 19,561 | 46,432 | 78,519 | 114,905 |
| Total annual revenue | 47,985 | 301,236 | 882,211 | 2,057,189 | 3,837,842 |
| % increase | | 528% | 193% | 133% | 87% |
| COST of REVENUE | | | | | |
| Item 1 | 360 | 2,259 | 6,617 | 15,429 | 28,784 |
| Item 2 | 480 | 3,012 | 8,822 | 20,572 | 38,378 |
| Item 3 | 52,000 | 65,000 | 78,000 | 91,000 | 104,000 |
| Item 4 | 720 | 3,615 | 8,822 | 16,458 | 23,027 |
| Item 5 | 140,000 | 336,000 | 560,000 | 840,000 | 1,120,000 |
| Item 6 | 60,000 | 144,000 | 240,000 | 360,000 | 480,000 |
| Item 7 | 32,000 | 61,333 | 85,533 | 112,153 | 141,435 |
| Total Cost of Revenue | 285,560 | 615,220 | 987,794 | 1,455,612 | 1,935,625 |
| as % of revenue | 595% | 204% | 112% | 71% | 50% |
| Gross Profit | -237,575 | -313,984 | -105,583 | 601,578 | 1,902,218 |
| SELLING & ADMIN EXPENSES | | | | | |
| Item 1 | 28,000 | 96,800 | 154,880 | 175,692 | 193,261 |
| Item 2 | 75,000 | 105,000 | 120,000 | 120,000 | 120,000 |
| Item 3 | 36,000 | 96,000 | 108,000 | 120,000 | 120,000 |
| Item 4 | 8,000 | 12,000 | 12,000 | 12,000 | 12,000 |
| Item 5 | 3,839 | 18,074 | 44,111 | 61,716 | 115,135 |
| Item 6 | 3,359 | 12,049 | 26,466 | 41,144 | 76,757 |
| Item 7 | 5,600 | 10,000 | 12,904 | 15,034 | 17,376 |
| Item 8 | 6,667 | 14,000 | 22,067 | 30,940 | 40,701 |
| Total selling & admin expenses | 166,464 | 363,924 | 500,428 | 576,525 | 695,230 |
| as % of revenue | 347% | 121% | 57% | 28% | 18% |
| Net profit | -404,039 | -677,907 | -606,011 | 25,052 | 1,206,987 |
| Accumulated net profit | -404,039 | -1,081,947 | -1,687,957 | -1,662,905 | -455,918 |