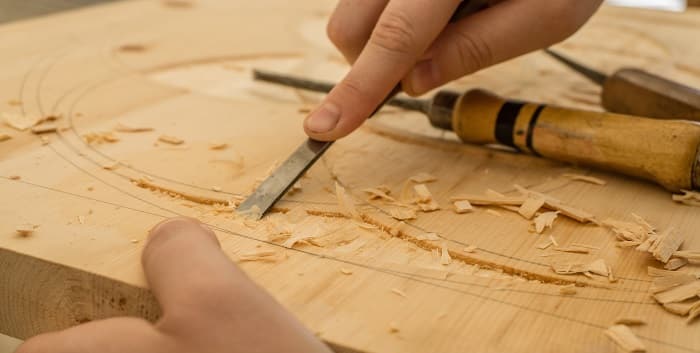 Table of contents
The Executive Summary of the Business
Pauline Woodcraft will be a woodworking business on the Las Vegas Strip featuring a storefront and workshop. The firm will be owned by Adamson Paulin, who will be able to obtain wood and the required woodworking equipment from licensed wood suppliers. Paulin's four years as an interior designer have helped him grasp every aspect of the woodworking business.
The Management
Paulin has previous woodworking experience, but he decided to organize everything before starting his own business. Paulin's thoughts and client orders for interior wooden sculptures will be worked on by the company, which will acquire wood from suppliers and hire carpenters and artists to work on them.
Customer Base
Wooden adornments, such as decks, terraces, staircases, lawns, balconies, and kitchens, are used by the majority of people to decorate their homes. Many individuals just adorn their houses with wonderful wooden things and decorations. Our customers will include not only city residents, but also tourists and resort and palace managers since the Strip is the heart of entertainment palaces and luxury hotels.
Company Summary
Businessperson Christopher Paulin will be the company's CEO. Paulin is an accomplished interior designer who enjoys crafting one-of-a-kind wood sculptures. Earlier this year, some of his handcrafted wooden sculptures were on show at the International Woodworking Fair.
What is the Business's Purpose?
Paulin has been involved in the creation of ideas and products since he was a child. He's been asked for interior design assistance on a number of events and programs. Paulin wants to build a woodworking company so that he may put his talents, ability, and passion to good use on a wider scale.
How Will the Business Begin? Paulin researched how to establish a woodworking company extensively, and his first step was to open a shop in a high-traffic location. He'll recruit carpenters, artists, salespeople, and other employees, as well as obtain the necessary inventory and resources, to get the firm up and running.
Customers' services
Because the woodworking sector has so many possibilities, you should decide on your services before founding a shop and focus on enhancing them in the early stages.
The following goods and services will be available in Paulin Woodcraft's shop:
Sculptures and decorative objects are made of wood that is exquisitely carved.
Chests made of wood that have been recognized
Cradles made of wood with particular names
Wooden toys are among the most popular types of children's toys.
From top to bottom, woodworking
Paulin Woodcraft's major purpose in events and programs will be to add beautiful woodwork to the stage and settings. Interior wood design requests for both residential and commercial constructions will now be accepted by the business.
Marketing Analysis of Woodworking Business
Doing a comprehensive marketing analysis is the most significant component of developing a woodworking company plan. Knowing what consumers want can help you select what services to give and how to market your items before you start your own woodworking business.
Before developing your own carpentry business plan, you should check sample woodworking business plans available online. However, if you want to grow your woodworking business, you'll need to engage a professional marketing analyst to do a thorough marketing analysis.
Market Dynamics
Woodworking is in great demand all year, especially in well-established towns or renowned tourist sites. According to IBISWorld, there are approximately 7,000 woodworking businesses in the United States, with annual sales of $8 billion. The corporation employs over 38 thousand workers and carpenters throughout the country. Above all, the need for this service is growing by the day, according to the same source, which states that the industry is growing at a rate of 4.5 percent each year. All of these numbers show that if you plan and market your business well, you will not go bankrupt.
Segmentation of the Market
Paulin had hired an experienced marketing analyst who, given the wider audience and high market demand, had identified the following categories as his target demographic.
Our target audience is segmented into the following marketing segments:
Buyers on their own (5.2.1): Paulin Woodcraft is going to show us some amazing wood constructions. Our wooden décor pieces and little and large sculptures, which people may use in their homes or give as gifts, will definitely appeal to local residents and visitors. This group is likely to buy our wooden chests, cradles, and other well carved wooden products, as well as engage us to adorn their lawns and galleries.
Institutions and Enterprises: To maintain a pleasant environment, educational institutions, workplaces, and businesses choose woodwork for interior design. We'll send them our pamphlets and offer them discounts so they may try out our services and learn more about our skills and ideas for embellishing their workplaces, terraces, grass borders, stairwells, and entrances, among other places.
Event and Resort Managers: A significant portion of our target market will be restaurant or bar owners searching for unique and new ways to use wood into their designs. We'll provide them discounts and unique offers if they employ our services to decorate their interior and outside, as well as to make wood designated sets for special events.
Production Designers & Art Directors: Because of Paulin's notoriety as a consequence of his television set design work, our marketing analyst also selected art directors as a target group. Those filmmakers will surely employ our services for shooting, set design, and prop creation.
Business Objective
We aspire to be Las Vegas' most well-known and visited woodworking store. Our objective is to gain enough clout with our clientele that they will come to us for woodwork for their estates, as well as to host parties and gatherings. We want to be able to balance our startup's costs within three months of launching.
Pricing of Products
Setting product and service pricing is one of the most difficult aspects of launching a new company since it is hard to make a profit while keeping prices low in the beginning. You may get an idea of how much wooden goods cost by looking at any woodworking business plan template on the internet. Paulin Woodcraft's pricing structure is shown in this example woodworking business plan.
Paulin has chosen to provide managers and art directors varied discounts on his services in the hopes that they would test out our services. We maintain our wooden item prices lower than our rivals' to attract more clients since the thing that draws people into a new firm is its extraordinary attractiveness or reasonable pricing.
Strategy
When starting a small woodworking business, the most important step is to market your services so that prospective customers are aware of your presence. In fact, if the owner of a startup fails to market his or her products and services, the company is more likely to fail. To increase sales and profits after starting a woodworking company, you must concentrate on building an effective sales strategy.
Examining the Competitors
Our most major competitive edge is our proprietor's reputation, which is known for his unique and great creative innovations. Paulin became well-known in Las Vegas as a consequence of the stunning sets he produced for broadcast television shows. Second, we are in a location where the vast majority of people travel throughout the year. When tourists or visitors see our entrance and items, they are practically guaranteed to buy at least one little wooden ornament or sculpture from our shop. Our outlet's appealing entrance and foyer is another competitive edge. We have done nice woodwork on the exteriors to attract customers to our firm.
Finally, we've posted some of our most impressive products on our website so that everyone may learn more about our illustrious work.
Marketing Strategy
We'll use our website to promote our services and goods by posting images of our finest and most distinctive stuff. We'll also use social media, posters, and brochures to market the wood-based interior design concepts we came up with. To stimulate sales during the early stages of the launch, the company will provide a discount on all services.
Sales Forecasts
Due to market demand and the elegance of our things, we expect our sales pattern to increase over time. Our experts predicted the following sales on a yearly basis, as shown in the column charts.
Personnel Strategy
The first step toward a company's success is personnel planning. The success of a firm is determined on the dedication of its employees. This sample business plan for starting a woodworking shop produced for Paulin Woodcraft may be used to learn how to start a small woodworking firm and how many people are required to start a woodworking business.
Employees of the Company
Paulin is an expert at carving wooden products and designing one-of-a-kind designs, and he prefers to work in the production center rather than as a manager since he needs people to work on his ideas. He aims to hire the following people:
The activities will be overseen by a single General Manager.
To maintain track of money, there will be two accountants.
3 artists/designers for presenting and drawing fresh ideas
Display centers will be handled by four salesmen. For carpentry, there are 8 carpenters.
3 Sales and Marketing Executives tasked for delivering merchandise to retailers and discovering new business prospects.
2 technicians to maintain the equipment
2 wood and other material transport drivers
1 Front Desk Officer will act as a receptionist and accept interior design requests.
2 General Workers to assist with day-to-day duties
Financial Plan
To estimate the revenues of your woodworking business, you must develop a comprehensive financial plan. A successful financial plan is the core of a startup's success, and it helps determine the woodworking company's margin and financial turnouts. Making a financial plan will help you figure out how to balance initial costs, employee salaries, and raw material costs with earnings. Paulin decided to finance the business himself since he was inexperienced with the data and patterns involved in constructing a financial plan, so he hired a professional financial consultant to help him build one. Paulin's Woodcraft's sample business plan, which we are providing for free, may also be of use to you.
Related Articles: