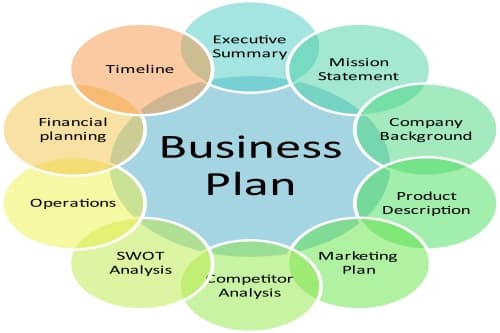 A well-crafted business plan is more than just a requirement for obtaining capital. It should also serve as a useful road map for your expansion plan.
WHAT CAN YOU EXPECT?
Any successful organization must have a comprehensive awareness of its consumers, internal strengths, competitive environment, and a vision of how it will develop to compete in the future. Money is also required for a firm to start, function, and develop. You will have a great weapon for obtaining investors if you put up the effort to create a solid business plan. Your business plan is your company's roadmap. It explains where you are, how you got there, and what you intend to do next.
This Business Builder will walk you through the processes of creating a complete business plan. Although companies differ in terms of the goods or services they provide, a prospective investor will look for certain characteristics in each business plan. A description of goods and services, a competitive analysis, a marketing strategy, a management plan, and a financial plan are all included in any well-thought-out business plan. Your business plan will provide you — as well as any possible investors or lenders — a clear picture of your goals, tactics, and financial sustainability.
WHAT YOU NEED TO KNOW BEFORE BEGINNING
What Is the Purpose of a Business Plan?
Business plans are needed to raise funds from possible investors, bankers, and other lenders. It's a must-have document whether you're going public with your business or selling all or part of it. In reality, requesting cash from a bank is meaningless without one. It not only gives information and exposes an appraisal of your venture's viability to lenders and possible investors, but it also displays your management qualities. An objective, analytical business plan persuades lenders that you are competent, organized, and ready. One that is inadequately researched or makes unjustified assertions reveals your inexperience and, in their opinion, recklessness. Lenders get a large number of bids and seldom devote much attention to each one. That means you just have a few minutes to create a solid first impression, and your strategy must stand alone as a sales tool. Do your best and let it reflect you as the capable, competent company owner that you are.
It will take time to prepare a business strategy, but it will be well worth your effort in the long run. This document will not only give essential information to outside investors and lenders but will also set out the game plan for your company. This is, by far, the most critical application of your business strategy. It will serve as your guide to accomplishing your overall company objectives. A typical entrepreneur has a fantastic business concept but lacks experience in many aspects of operating a company. Good business plans are detailed, well-thought-out papers that help entrepreneurs make great company choices. Whatever you want to do with your business plan, make sure it's detailed, factual, and includes data to back up all of your statements.
How to Write a Good Business Plan
Before you start writing your business strategy, keep the following points in mind:
Few would dispute that preparation isn't vital. It does, however, need a substantial amount of effort. Be prepared to work on your strategy for weeks, if not months.
Don't get disheartened if this task seems daunting at first. Dividing the job into digestible sections is a good idea. Put each of the steps below behind a separate tab in a three-ring binder. Fill in the blanks in your strategy, working steadily toward your objective.
Despite the fact that you may have a lot of supporting information, strive for a strategy that is concise and incorporates everything relevant to the organization. A proposal of 10-15 double-spaced written pages is frequently ideal. Secondary concerns and specifics should be discussed at a later date.
Concentrate on your desired audience. To ensure that you've covered all of your bases, use the strategy to arrange your efforts around your goals. Investors and lenders want to know whether you'll be able to meet your goals.
Avoid using too technical language to describe your goods, procedures, and activities. Make use of layman's terminology.
A business plan is a document that is always evolving. It's important to keep it up to date as your knowledge improves and your tactics become more clear.
Be realistic in your forecasts and base them on the findings of your study. Be open and honest about your results, both favorable and bad.
Talk about the business threats that your organization faces. If existing dangers and difficulties are discovered by lenders or investors on their own, your reputation will be severely harmed.
Make no unsupported or ambiguous assertions. For example, do not just state that sales will increase in the next two years or that new product lines will be added. Back up your claims with statistics and market data.
You could have two sets of company plans: one for internal use and one for external use. Internal company plans are often more thorough than those provided publicly in order to be an effective management tool.
Who Should Write a Business Plan for You?
The only correct response is YOU! Professional advisers may convince you that you want their services or the software they provide in order to write an efficient business plan. However, with or without their assistance, you'll be performing most of the work. A business plan is composed of 75% research and 25% format. They may assist you with formatting and arranging your material into a legible plan, but you will be responsible for most of the study. This Business Builder is the same way: it'll teach you what goes into a complete business plan and how it should be formatted for optimal readability, but you'll have to perform the bulk of the work yourself. It's a lot of effort, but it's a crucial investment in your company's success.
Lenders Are Looking For
Investors and lenders will be seeking answers to the following questions. When creating your company strategy, keep these in mind.
Is there enough interest in your product or service? You'll need to show that the product or service you wish to sell has a consumer base. Provide market potential statistics, market share breakdown, sales history, and sales estimates for the product/service if it is already available. If this is a novel idea, you should do market research and share the findings of surveys, focus groups, or test markets.
Do you have a competitive edge that you can rely on? Your product or manufacturing technique may be sufficiently distinctive to warrant filing for and receiving a patent that protects you against "copy cats" for a maximum of seventeen years. It's possible that your area is sheltered from extra competitors. Perhaps you give your service in such a manner that you are the lowest-cost option.
Are you being realistic with yourself? Investors and bankers love to support enterprises with tremendous growth potential, but they are wary of estimates that seem to be too good to be true. This signals to them that you are overconfident, naïve, or worse, fraudulent. Make sure you have credible facts to back up your estimates.
Following is a detailed overview of what should be included in a business plan, however, keep in mind that NOT ALL OF THIS INFORMATION NEEDS TO BE IN YOUR PLAN. What goes into your strategy is determined by the nature of your company as well as the information requested by lenders and investors. If possible, check with your lender or prospective investors ahead of time to find out their exact needs.
THE PROCESS OF CREATING A BUSINESS PLAN
The stages for creating your business strategy are outlined in this section. This is the very minimum you'll need to run your company properly and will be obliged to submit to lenders and investors. Read through each step and accomplish the activities provided. Then, depending on the type of your company, you may wish to provide additional information that might be useful to prospective investors and lenders. Wherever feasible, examples will be supplied to help you understand what you should offer. The following is a ten-step approach for creating a business strategy.
Begin with a summary of the plan.
Describe your company's business, as well as its goals and objectives.
Determine Your Marketing Strategy After Analyzing Your Market
Describe your product or service, as well as how it is made.
Describe Your Management Team
Describe your business operations.
Compile a list of your financial requirements.
Decide on the kind of financing you want to use.
Outline your future plans.
Other Points to Consider
These stages are given for debate in a logical sequence. Use your best judgment when it comes to how you approach the procedure. You may be able to do several of the tasks at the same time. To guarantee that your information is complete, use the checklists given at each stage.
Start with a summary of your plan.
Because most investors and lenders are inundated with potential opportunities, provide a focused, one- or two-page summary. Your executive summary will give them an initial impression of whether or not your company is worth investigating further. A business plan is tailored to your company, so the approach and structure differ significantly. However, regardless of the format, certain fundamental questions about your strategy should be answered. It's as follows:
Include the company name, the name(s) of the owner(s), the business address, and the telephone number on the cover sheet.
Describe your company in a few words. Are you, for example, a developer of shopping malls or a high-tech computer imaging company? If you already have a business, give a brief history of it, emphasizing any noteworthy successes or accomplishments. Include your most important short- and long-term goals and objectives, as well as the strategy and tactics that will help you achieve them.
Describe how your business plan will help you achieve your goals. Are you looking for money from lenders and investors, or are you using it to find new managers for your company?
Describe your product/service in enough detail for someone with a basic understanding of the technology or industry to determine whether it is viable and, if so, at what stage of development it is — concept, prototype, or market-ready. Discuss how much invention or development is required for the product/service to be commercialized successfully. Emphasize key personnel's track record of completing similar projects. Describe how your product or service is superior to the competition. Remember to include any proprietary information or any other long-term competitive advantage you may have. Do you have any patents, for example? Is it possible for new competitors to enter your area?
Identify the five or six most important factors that will determine your success. Also, talk about your most vulnerable spot, what would happen if it was discovered, and what you'll do to protect yourself. Key R&D personnel, a highly trained workforce, state-of-the-art imaging equipment, and a strategic alliance with a reputable technical school, for example, are all potential factors for a high-tech firm in the computer imaging industry.
Customers: Describe your market potential and list your current major customers. The results of your market analysis should be highlighted in this section.
Financial Picture: Explain how you arrived at your financial projections. Include pertinent assumptions like projected market share, market potential, and market penetration, among others. Declare the amount of money you'd like to borrow and how you'll use it. Indicate how and when the money will be repaid.
Describe your company's business, objectives, and goals.
It's critical that you present a complete picture of your company, including a description of your company's main goals and objectives.
Give an overview of your firm. Include a brief description of your industry. This may appear to be self-evident, but it is not. Are you in the pollution control business or the auto supply business, for instance, if you manufacture catalytic converters? Various responses to that question could indicate entirely different businesses. You'll know the types of products and services you need to offer, the market you should target, and the competitors you'll be up against once you've decided on the type of business you want to run.
Include information about your company's history, current business conditions, industry trends, and what sets it apart from the competition. Ask yourself the following questions to help you with your business description:
When did your business start, and why did it start?
What exactly is the nature of your product or service?
What achievements have you had in the past?
What distinguishes you from the pack?
A business description might look something like this:
Pets with Pizzazz, Inc. was founded in 1989 to provide pet supply companies with specialty collars. The premium pet supply market has grown rapidly in recent years, owing in part to a trend in which couples are deferring starting families in favor of pets. Many of these are two-income families who spend a significant amount of money on their pets. They consider their pets to be children. Over the last five years, Pets with Pizzazz has grown at a 30% annual rate, retaining its competitive edge through superior customer service, a cutting-edge supply system, and a patented fastener for its premium collars. Currently, the company's collar assembly operation is housed in a 10,000 square foot building.
Write down your short- and long-term goals and objectives.
What are the most important objectives and goals that you have set for yourself?
Where do you see your company in a year's time, three years' time, or five years' time?
What do you see as your company's future prospects?
As an illustration:
Pets with Pizzazz will be the leading pet supply company in the United States. In the next two years, we want to increase our premium collar market share from 16 percent to 32 percent. By the year 2000, we hope to have expanded our product line to include specialty dishes, bowls, beds, and houses for the premium market. That is what we intend to do…
Determine Your Marketing Strategy By Analyzing Your Market
Understanding your market is crucial. Marketing success requires more than just a good product. It doesn't matter if you make the best buggy whips in the world if you can't sell them. One of the most crucial parts of your business plan is this section. Your market analysis will be scrutinized closely, so make it as detailed as possible, focusing on believable, reliable, and achievable projections. To assist you with this step, you might want to look at the following Business Builders training:
How to Conduct Market Research
How to Develop a Customer Profile and Identify a Target Market
How to Stand Out from the Crowd
How to Create an Identity for Your Business
You might want to start this section off with a one-page summary of your marketing strategy's key elements. The information that will support this page should be placed after your summary. Finally, in the appendix, include any additional information or evidence you believe is needed.
This is where you paint a picture of your target market. Define their demographics, purchasing habits, interests, special needs, and geographic location to convey your broad understanding. Explain how you conducted your market research, including what resources you used, what types of studies you conducted, and how you led focus groups. The majority of the data you'll need is available at your local library, as well as from the US Small Business Administration, US Department of Commerce, and the Census Bureau. Information on how to contact these groups can be found in the resources section.
When describing your potential market, consider the following questions:
What kind of customers do you want to attract?
What similarities do you see between them? What differentiates them?
What kind of purchases do they make?
How big do you think your product or service's market is going to be?
Where will your product be sold? What are the locations of your clients?
What percentage of the market do you want to take?
What requirements do your clients have?
What plan do you have in place to meet those requirements?
2. Include the volume of sales that you expect to generate. In the next three years, what do you hope to achieve? Make sure you specify the amount of money you want to spend. It's fine if you want to include units, but don't forget to convert them to dollars. Are there any seasonal effects that you're aware of? Do any of your customers account for a large portion of your revenue? Is there anything else you should think about?
It's critical to forecast the cost of sales realistically because it's typically a company's largest expense. Materials, labor, and overhead should all be divided equally, with the most significant cost components receiving special attention. High-tech companies, for example, frequently incur significant costs due to specialty materials and high-priced labor.
How much does it cost you in terms of materials, labor, and overhead?
What is the average cost of sales in your industry?
Consider your competitors' marketing strategies and why customers choose to buy from them. Determine their advantages and disadvantages, as well as their market position and status (growing, maintaining, scaling back). When an entrepreneur claims that his product or service has no competitors, investors become alarmed. In fact, you should be aware of both direct and indirect competition. Direct competition provides the same product or service to the same market, while indirect competition provides similar products or services to a different market. A discussion of both will be required. You should consider the following when assessing your competitors:
Your main competitors' names
The place where they are
They provide goods and services.
Their market share and revenue are both in the millions of dollars.
Performance as of today
Characteristics and flaws
Names of competitive businesses that have recently closed, along with the reasons for their closure.
4. Market Feasibility: Explain why your business will succeed in the marketplace. Include industry trends, economic analysis, and "optimistic-pessimistic-realistic" scenarios in your proposal. This information can be found at your local library once again. For manuals, publications, trade associations, and directories on more than 1200 industries and businesses, start with Gale Research Company's The Encyclopedia of Business Information Sources. Include any expected market effects from laws and regulations.
5. Strategy for Promotion: Describe how you plan to sell your product(s) and expand your market. Determine which marketing strategies you intend to employ. Consider the following:
How are you going to find, contact, and sell to potential clients?
How will your product/service be distributed? Will you sell it directly or through agents, brokers, and representatives?
What will your product/service be priced at? Do you price differently for different markets — retail, wholesale, catalog? When determining your pricing, think about materials and supplies, labor and operating costs, profit margins, and competition. Make a price list and include it in your plan.
What is the expected launch date for your product or service? Include a rough schedule of when you want to introduce yourself.
Present your marketing strategy, along with a budget. Make sure you give a detailed description of your combination. What percentage of your budget will you devote to media, print, direct mail, and public relations? In your appendix, keep any product literature or marketing brochures.
Describe your products/services and the processes that go into making them.
In plain English, describe your product or service. Any specialization you have should be explained. Discuss your competitive advantage, including why people will choose your product over your competitors', the advantages of your product/service, and how you will maintain your advantage.
Product Lines: Describe your product or service's features and benefits. Remember that features are the inherent characteristics of a product or service. The benefit is the end result that your customer enjoys — what he gets out of it. For example, in the event of a power outage, a telephone company may provide an automatic switching line to reroute calls to a different location. That is one of the benefits. Potential sales will not be lost, which is a benefit to the customer.
Describe how you obtain, manufacture, or develop your products. Do you make all of your products yourself or do you rely on third-party vendors for some of them? Do you work with third-party suppliers? Is your service provided in-house or is a portion of it handled by contract employees? List your suppliers, average inventory costs, and delivery schedules if your company is in manufacturing or retail.
Specifications: Describe how your competitive advantage benefits you. What makes your product/service superior to others in terms of quality, speed, durability, and so on? Any unique features should be included. Do you own any patents, trademarks, or copyrights? In your appendix, provide evidence of these. Also, explain how you'll keep your competitive advantage going.
Describe Your Leadership Team
Explain the structure of your company. In this section, you should also talk about your management team. Detail the responsibilities and qualifications of your management team, including officers and/or principal owner/managers. This step may be easier if you refer to the Business Builder's How to Determine the Legal Structure of Your Company. Include the following:
Describe your legal structure if you already have a company. If you're just getting started, sole proprietorship, general partnership, joint venture, limited partnership, corporation, S corporation, and limited liability corporation are all viable options. Determine the best approach for structuring your business by consulting with your accountant and lawyer.
Showcase your management team's ability to create, sell, and manage your product/service. Describe your hiring criteria, training program, compensation and benefit structure, and performance evaluation system. People are valued by financiers, particularly those who have run or are likely to run successful businesses. The members of your management team will be scrutinized by potential lenders and investors. Whether it's research and development, sales and marketing, manufacturing, or finance, your team should have experience and skills in the most important functions of your business. To demonstrate functional interactions, you may want to include an organizational chart.
Attach detailed resumes in an appendix for all key personnel.
Include the names and places of employment of your board of directors, if you have one. Include members of your advisory board if you have one.
Describe your business.
Describe the manner in which you intend to run your company. Describe the location, facilities, equipment, raw materials and suppliers, workforce, operating hours, and recordkeeping methods in detail. Include the following:
List your basic manufacturing or service operations. To explain it, you could draw a flowchart.
Describe the benefits and drawbacks of your chosen location. When it comes to projecting your company's image, location and facilities are crucial. They can give you a leg up on your competitors (e.g., modern, state-of-the-art facility, a strategic location). If your customers will be visiting your facilities or you intend to manufacture your products, provide exterior and interior plans.
List all of the tools you'll need to make your product. Leases, service agreements, and warranties are all included.
Suppliers of raw materials and suppliers of suppliers of suppliers of suppliers of suppliers of suppliers of suppliers Make a list of the materials you'll need to make your product, as well as who will supply them. To potential investors and lenders, the reputation of your suppliers may be crucial. Is there anything special that needs to be taken into account when storing things?
Staffing analysis: For a specific time period, your workforce projections should represent a headcount by function or department. This analysis will not only help you plan your hiring better, but it will also show potential investors how important hiring key personnel is to your plans. In your appendix, include job descriptions for all roles.
Make a budget plan.
Forecasts are required for almost all types of business funding. These projections show not only the need for money but also the future value of equity investments or debt repayment. As a result, creating accurate financial forecasts is crucial to obtaining capital for your company. It could be the most important step in determining your company's viability. You must complete the following tasks:
Determine the need for the requested funds.
Demonstrate your ability to earn a profit or repay a loan.
Show that you're aware of the financial implications of your company's expansion plans.
Your forecast should be for at least three years, giving you enough time to make reasonable assumptions without speculating too much. At least until you achieve positive cash flow, your forecast should be broken down monthly. This is significant because an annual cash flow total may conceal cyclical issues that you have and should address in your financial plan.
This step may be made easier if you refer to the following Business Builders training:
*What Is a Cash Budget, and How Do I Make One?
*A Cash Flow Statement is a financial statement that shows how much money is coming in and going out of a business
*What is a Profit and Loss Statement and How Do You Make One?
*What Is the Best Way to Determine Profitability?
*A Balance Sheet's Preparation and Analysis
*Using Financial Ratios to Analyze Your Business
Don't forget to add:
Operating Profit and Loss Statements: Project revenues and expenses on a month-by-month basis for the first year, then yearly for the next three years. In your financial projections, you should include all expense categories. Revenues and expenses should be linked to historical data and projected projections, despite the fact that they are frequently subjective decisions. The importance of comparing key financial ratios to industry norms cannot be overstated.
Cash Flow Statements: For each of the next three years, project all cash receipts and disbursements month by month. Any capital investment, as well as the overall survival of the company, requires a thorough cash flow analysis.
Project your assets, liabilities, and retained earnings (capital) at the end of the first, second, and third years on your balance sheets. Potential investors will be concerned about your balance sheet performance because it has an effect on your cash flow (current assets and current liabilities). The profit and loss (or income) statement and the balance sheet must be based on the same assumptions. You might want to check some financial ratios against industry averages once more.
Analysis of Break-Even: A break-even analysis will tell you how much you need to sell in order to break even on your investment. This will be done to figure out at what point a new product or service will begin to pay for itself. Your break-even point is calculated using the following formula:
Total fixed costs/break-even point (selling price – variable cost per unit)
For example, if Pets with Pizzazz has a $110,000 fixed cost base, $5 in variable costs per dollar sold, and each collar sells for an average of $25, the break-even point is 5,500 collars.
$110,000/($25 – $5) = 5,500 collars = break-even.
Notes that detail all of the forecast's assumptions. Provide a summary of all significant forecasting assumptions, such as customer base changes, price increases, margin improvements, cost reductions, capital expenditures, and so on.
Financial forecasts, when properly prepared, can improve the likelihood of obtaining capital as well as serve as a tool for measuring and evaluating actual performance. If they're not done correctly, they'll hurt your chances of getting funding and put you at risk of not managing your business's finances properly.

Is it better to make a financial forecast or a budget for operations?
A budget and a financial forecast are not the same things. A budget is a company's planned course of operations for a specific time period, and it's usually designed to both motivate and communicate planning strategy. All significant contingencies and uncertainties may or may not be factored into budgets. The budget is created as part of the planning process, but it is rarely distributed outside of the company.
A financial forecast, on the other hand, is management's best guess at the company's most likely operating and financial results over the forecast period. A good financial forecast is realistic, takes into account realistic opportunities, and takes into account all cost factors and contingencies. The financial forecast, moreover, considers the impact of assets, liabilities, income, expenses, and cash sources and uses from a much broader financial perspective. The business plan, not the budget, is built around this comprehensive, realistic forecast.
Make a decision on the financing you'd like to use.
You'll need to include this section if you're looking for funding. If your business plan's goal isn't to raise money, you can skip this section entirely. Determine how much money you'll need when you'll need it, what you'll do with it, and how you'll pay it back based on your financial projections. Working capital financing, growth capital financing, and equity capital financing are the three types of capital requests that should be differentiated. Working capital financing is a short-term loan used to cover routine business expenses that is repaid within a year using the cash generated by the company. Growth capital financing is required to fund your company's expansion, and it is usually a longer-term loan that must be repaid-with profits from the expansion it financed. Finally, investors provide equity capital for long-term needs, which is repaid through dividends, capital gains, or a share of the company.
Make sure to include the following when seeking funding:
State why you're looking for money, how much you'll need to borrow, and how much you'll have to invest yourself or with others.
A financial needs summary, for example, might look like this:
Pets with Pizzazz is looking for a loan to help fund the following expansion projects:
Increased market demand for premium collars necessitates additional equipment.
Personnel to assemble more collars are being hired.
2. A total of $50,000 will be required. The distribution of funds and supporting information can be found on the "Loan Fund Dispersal Statement."
2. Disbursement of Loan Funds: You must first explain how you will use the funds, followed by specifics to back up your need. Consider the following:
Loan Funds Distribution
Pets with Pizzazz will use a $50,000 loan to supplement its resources in order to double its revenue as a result of increased market share. This will entail the purchase of one piece of equipment as well as the hiring and training of two more people to operate it.
Statement of Reassurance
The Super Duper Collar Assembler ($27,000) is the piece of equipment needed.
The manufacturer will conduct training on his premises in Chicago, IL, for a total of $6,000 (2 @ $3,000).
The remaining $17,000 will be used to pay the salaries of the two new employees during the quarter in which they learn how to operate the new machine.
The purchase of the equipment and the employment of the two people will result in a 100 percent increase in production and a 25% reduction in unit cost. Over the next three years, this will generate enough profit to repay the loan plus interest. For confirmation of these figures, see pages 15 and 23.
3.   Accounts receivable, inventory, marketable securities, and fixed assets are examples of what you can offer as collateral.
4. Describe the payment terms you've requested.
Demonstrate your future plan(s).
If you're starting a new business or expanding an existing one, one thing to keep in mind is that you must demonstrate that you have the potential to be profitable in the future. Don't forget to add:
Present the tasks involved, their priorities, the length of time each task will take, and who will be responsible for each task in your startup plan. For each task, include any "deliverables." At least for the first year, keep your plan in place.
Provide the same level of detail as in the startup plan in a three-year plan. Consider how your company will fare in the next three to five years. Although much of this work has already been done in the financial forecast, you will want to back it up with a detailed explanation.
Additional Thoughts
Table of Contents — If your business plan is longer than ten pages, you should include a table of contents. It should come after your summary but before your company profile. It will be one of the last pages you create, despite being one of the first pages in your business plan. If you're using a popular word-processing software package, creating a table of contents is now relatively simple. It's well worth the extra few minutes to create, especially when people who aren't as familiar with your business plan as you are are required to present it for consideration.
Addendum of Supporting Documents — Some documents aren't important enough to include in the body of the plan, but they should be included as backup. It's as follows:
Owner and other principals' curriculum vitae.
Assets, liabilities, and net worth are all listed on the owner's personal financial statement. If you're a current business owner, only include it here. If this is your first attempt at business ownership, you'll have to include it in the Financial section otherwise.
Letters of credit from current suppliers, a Dun & Bradstreet rating, or a personal credit history from a credit bureau or bank with which you've done business are all examples of credit worthiness.
Leases for facilities, equipment, cars, and other items that are currently in effect.
Recommendations letters
Loan agreements, "high ticket" purchase agreements, service contracts, and other contracts that have been completed or are currently in progress.
Articles of incorporation, titles, insurance policies, partnership agreements, patents, and other legal documents are all examples of business legal documents.
Other paperwork that backs up your claims.
YOUR COMPLETE PLAN
Bind your business plan in a three-ring notebook for internal presentation. This format will make updating your working copy easier because it is intended to be updated frequently. Aim for a professional appearance when creating a business plan that will be distributed to lenders and investors. You can buy suitable folders from office supply stores or mail order houses. You can also take your business plan on a computer disk or a clean copy to a local printer and have it copied and bound for you. You don't have to spend a lot of money to have a good time. In fact, if you do, you risk alienating potential lenders and investors.
Reviewers-in-waiting — Your business plan should not be sent to a large number of people at the same time. The people you choose to read your plan should be very carefully chosen. After all, you've put a lot of time and effort into the plan, and you don't want it to end up in the hands of another aspiring entrepreneur. Keep track of all outstanding business plans and ask lenders and investors to return them if they reject your proposal.
A ROADMAP FOR YOUR PLAN
The company's direction and actual operating results should be guided and evaluated using the business plan. If you finish a business plan and immediately toss it in a drawer because it's out-of-date, you're missing out on the business plan's true value: its utility as a management tool. However, you'll need to keep it updated to get the most out of all your hard work. There are changes. It's a given. If you don't update your business plan on a regular basis, changes within your company, changes with your customers, and changes in the business environment can all render it useless.
When entrepreneurs and other business owners sit down to write an initial business plan, they are often surprised to learn that the process is actually a corporate self-appraisal, and in some cases, a personal self-appraisal. By any stretch of the imagination, it is not an easy task. This aspect of business planning is what makes it so important for any ongoing operation to perform on a regular basis, even if additional funding is not a factor.
The corporate self-appraisal could be done in tandem with the creation of a new year's operations budget. Ask yourself the following questions when conducting your corporate self-appraisal:
I'm not sure what I'm doing.
What are the most valuable or unique skills in our company?
What role do I play in the business?
How do our markets work?
Who are the clients I'm looking after? My market isn't there.
What is the general opinion of our major clients?
In the marketplace, how do we present ourselves?
What changes to our image would we like to see?
What percentage of the market would I like to have? When?
What are the most likely major changes? What are the services and projects that we currently provide? What is our industry's technology? Because of the nature of our rivalry?
What product improvement plans, if any, should I have?
What do I want to do for a living? After three years, what are your expectations? What will the situation be in five years?
I'm not sure how I'll pay for expansion.
Will I have to spend money to achieve my goal?
What specific actions must I take in order for the organization to meet my goals?
Your company's objectives may become more clearly defined and stated as a result of your management evaluation. Additionally, the evaluation and planning process should enable you to better summarize strategies and tactics that will help you achieve your goals. Consider the following factors when deciding on your operating strategies in terms of your goals:
What impact will this have on my current business? Is it necessary for me to recruit a management team?
What effect will this have on my financial statements in the short and long term? Is this a viable option for me?
Is it possible for me to raise the funds needed to carry out the project? What is the approximate amount of money I'll require? When?
What are my bankers', stockholders', customers', and community's reactions going to be like?
What are my chances of success, and how can I improve them?
What are the dangers of not acting?
What will the timeframe be for implementing my plan, and what will the outcomes be?
What can I do to reduce the dangers?
When am I going to get my money's worth?
When should the plan be re-evaluated to see if it needs to be tweaked?
Resources
Anatomy of a Business Plan by Linda Pinson and Jerry Jinnett. (Dearborn Publishing, 1999). Covers the basics, like this document, and adds lots of examples and worksheets.
Business Plans to Game Plans: A Practical System for Turning Strategies into Action, 3rd ed. by Jan B. King. (Wiley, 2003). OK, you've got the plan. Now how do you make sure it gets carried out?The Prentice Hall Encyclopedia of Model Business Plans by Wilbur Cross and Alice M. Richey. (Prentice Hall, 1998).
Web sites
Sample Business Plan Components. CCH Business Owner's Toolkit.
Business Planning Tools. Startup Journal / Wall Street Journal.
Advice from our Business Plan Expert. Entrepreneur.com.Writing a Business Plan. Inc.com.
Related link