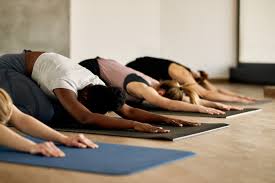 If you are planning to write the Yoga business plan on your own, then this sample Yoga business plan can be great for guidance. However, if you are looking for a professional business plan writer for a business loan, SBA loan or to find out the possibility of success for your new business then let's talk!
In order to write a Yoga Business Plan you need to start with executive summary. In order to write an executive summary for a Yoga Business Plan you need to mention- what your business is about and what you'll sell. Explain how you'll get people to buy it. The executive summary should be written at the end. Then you should write a Business Description mentioning goals, objectives, mission and vision. Some of the major sections or components of a Yoga Business Plan involves Fund Usage Plan, Marketing Plan, Industry Analysis, Organizational Overview, Operational Overview and Financials.
This article will provide you a step by step process to write your Business Plan. Get a free Yoga Business Plan at the end!
Executive Summary
Overview: The Yogaguru is convinced that every trip of a million miles begins with a single step. We always hope that one day we will be able to inspire a new generation of global thinkers who act locally to better serve mankind. The Yogaguru owns and operates yoga studios where individuals may learn about the science of yoga. Yoga has been scientifically shown to assist individuals in improving their physique, fitness, flexibility, strength, stamina, memory, mental sharpness, job efficiency, and overall health. We recognize that achieving absolute emancipation for mankind is Herculion's responsibility. We firmly believe that a million-mile trip begins with the first steps.
Mission: The Yogaguru's mission is to raise health awareness and deliver Holistic Health to the world's population. We think that health encompasses physical, mental, emotional, social, economic, and spiritual well-being. As a result, holistic health is a term that may be used to describe it.
Vision: When it comes to health and happiness, no one is left out. We advocate old but scientific knowledge in this grand vision, which may provide hope to everybody. We have a goal of everyone being healthy in all aspects of their lives.
Industry Overview: In recent years, the yoga business has blossomed. It has profited from various headwinds and complementary trends, including the emergence of athleisure and the expansion of boutique fitness. The yoga business is estimated to be valued at more than $88 billion globally by 2025, with $215 billion. That's an 11.7 percent CAGR! When you include retreats, clothes, mats, blocks, and other accouterments, the worldwide yoga business is well over $130 billion.
Financial Overview: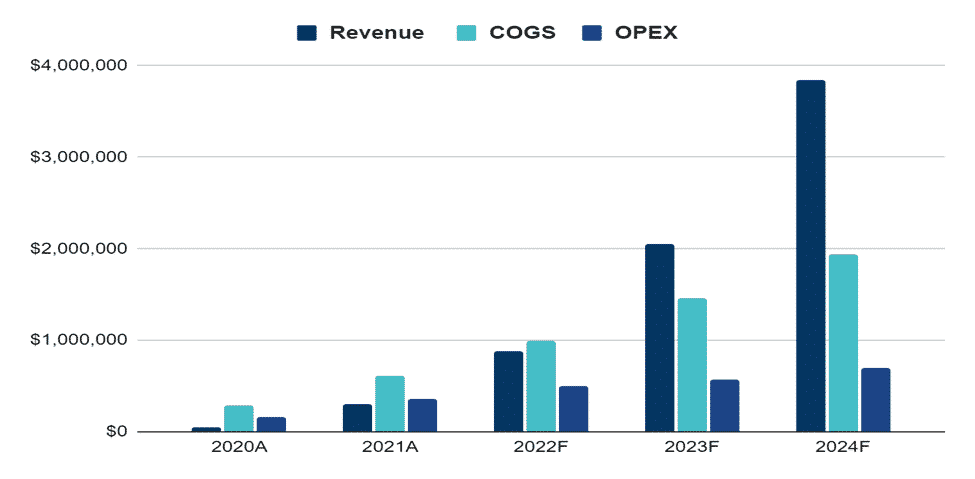 Financials is one of the most important sections of a Yoga business plan. You can get an idea of your projected revenue, required investment amount, is the business sustainable without additional funding, etc.
Financial Highlights:
| | | | | | |
| --- | --- | --- | --- | --- | --- |
| Liquidity | 2020A | 2021A | 2022F | 2023F | 2024F |
| Current ratio | 6 | 12 | 23 | 32 | 42 |
| Quick ratio | 6 | 11 | 22 | 31 | 40 |
| DSO | 8 | 8 | 8 | 8 | 8 |
| Solvency | | | | | |
| Interest coverage ratio | | | 8.2 | 11.1 | 14.2 |
| Debt to asset ratio | 0.01 | 0.01 | 0.2 | 0.18 | 0.16 |
| Profitability | | | | | |
| Gross profit margin | 51% | 51% | 53% | 53% | 53% |
| EBITDA margin | 12% | 14% | 21% | 22% | 22% |
| Return on asset | 5% | 6% | 13% | 14% | 14% |
| Return on equity | 5% | 6% | 16% | 17% | 17% |
FUND USAGE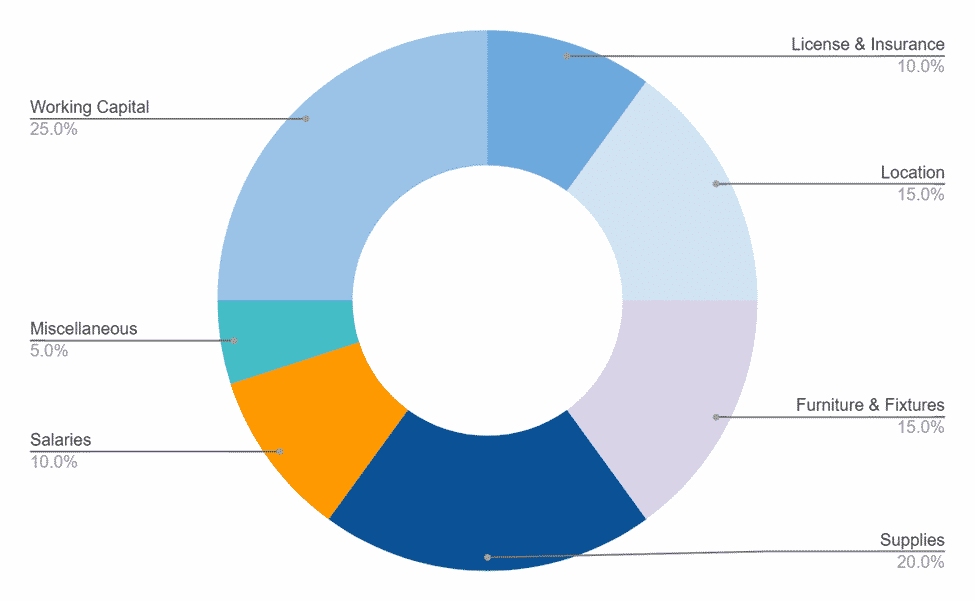 Industry Analysis
The industry analysis section of the Yoga business plan will help you get better insights into competitors, market growth, and overall industry prospects. You can order a custom market research report for your Yoga business.
Yoga studios may be found at 41,079 locations in the United States, 4930 locations in the United Kingdom, and 3912 locations in Australia. However, like with other sectors of the fitness business, the Asia Pacific region is predicted to develop the fastest in the future years. Yoga has an illustrious and long history, and unlike previous fitness fads, it has not faded away. It keeps up with the times by adapting and evolving. According to Google, goat yoga, yin yoga, aerial yoga, and YouTube yoga are among the current yoga trends. The ACSM compiles a list of the top 20 fitness trends every year. However, in 2021, it fell to number 15, down from number 7 just two years before. So, although market research suggests it will rise in popularity, other workout trends are presently gaining traction.
From 2021 to 2027, the yoga market is expected to increase at a CAGR of 9.6%, from $37,462.5 million in 2019 to $66,226.4 million in 2027. North America leads the yoga market in terms of market share, while the Asia-Pacific region is expected to develop at the fastest CAGR during the projected period.
Yoga's plethora of health advantages has led to a surge in the number of people who practice it all over the globe. Yoga may help with insomnia, hypertension, gastrointestinal problems, diabetes, anxiety, depression, psychosis, and sleep disturbances, among other conditions. Yoga also improves blood pressure management, assists in illness prevention, stabilizes hormonal shifts, regulates blood sugar, and aids in physiological fluid balance. Yoga's long list of health advantages is projected to fuel market expansion in the coming years.
Yoga industry segments that aren't necessarily standard studios.
Apparel – the worldwide yoga clothing industry is valued at $31.3 billion, with a CAGR of roughly 6%.
Yoga mats produce $13 billion in revenue globally, and the sector is still expanding.
Tourism – By 2022, the wellness tourism sector, which includes yoga retreats, will grow to $919 billion.
The yoga pant movement and athleisure mainstreaming are expected to continue, but slower than in the past. Sportswear was once fashionable, but it is no longer so. However, the desire to possess yoga pants in bright colors or designs is still driving sales. The same yoga fashion trends are likewise impacting the mat business. This market has grown dramatically in previous years, as these items have evolved from equipment to fashion accessories. Colors, patterns, and even unique designs are available for yoga mats.
The worldwide yoga market is examined in terms of yoga practitioners' expenditures. The analysis of the yoga market, its varieties, and geographical prospects is covered in this research. The market is divided into online yoga courses, offline yoga courses, and yoga certification training programs. North America, Europe, Asia-Pacific, and LAMEA are the regions examined.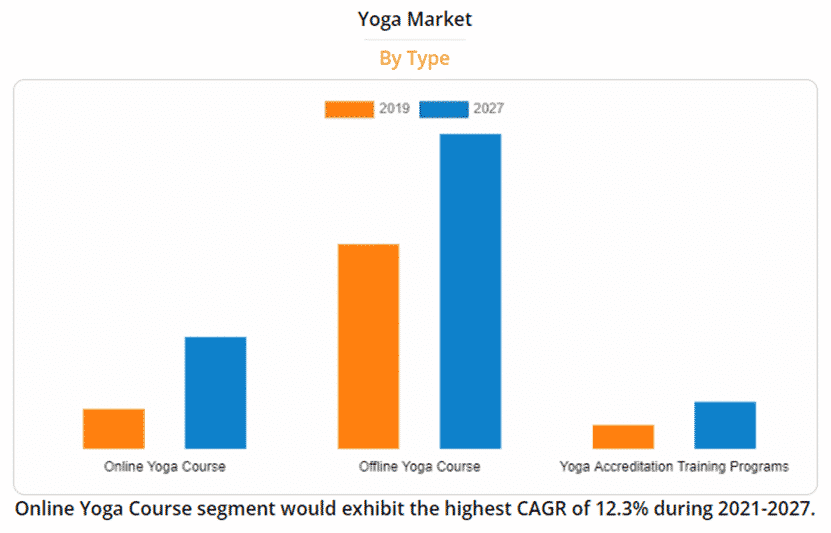 While working on the industry analysis section of the Yoga business plan make sure that you add significant number of stats to support your claims and use proper referencing so that your lender can validate the data.
The offline yoga course category has the largest market share by type; however, since the advent of the COVID-19 pandemic, the online yoga market has grown tremendously. In the middle of the epidemic, a slew of new online yoga platforms has sprung up. Offline gamers are also offering virtual lessons to help people take advantage of massive opportunities resulting from widespread lockdown and social distancing practices. Given the virus's highly infectious nature and the lack of signs of recovery, the global yoga industry is rapidly changing, with a strong emphasis on high-quality, easy-to-understand, interactive virtual yoga content. Though offline classes were the primary source of revenue for the market, the ongoing pandemic has undoubtedly aided the growth of online platforms.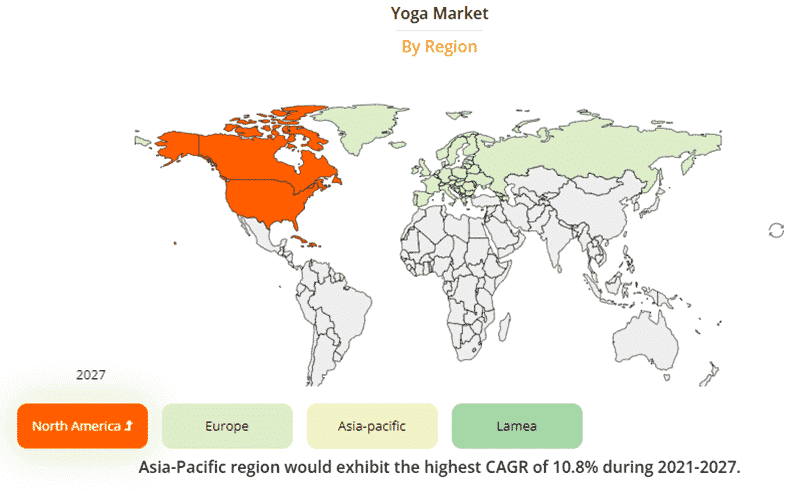 COVID-19, the current pandemic illness, has impacted many towns, nations, businesses, and ways of life. In addition, due to strict lockdown measures and social distance norms implemented throughout North America, the COVID-19 has had a severe impact on yoga studios or yoga programs. Yoga studios are expected to launch in the following months with strict requirements such as online bookings, reduced batch sizes, touchless access, and improved thorough cleaning. However, for the players operating in the area, the absence of unified rules and enforcement remains a significant barrier.
Furthermore, limitations imposed in numerous fitness facilities and other public areas around Europe have led individuals to train and exercise in their own homes. Yoga centers in Europe have been seriously harmed as a result of this. Most European nations now allow outdoor sports to be practiced while preserving physical distance, and indoor sports regulations are also being eased. Yoga studios are reopening in countries such as Italy, Germany, and the United Kingdom. On the other hand, people in Europe have become more interested in exercising at home. People have become increasingly interested in bodyweight exercise, yoga, Pilates, and martial arts to keep physically and mentally fit, which is expected to lead to more lucrative chances for online yoga sessions.
The worldwide population is severely damaged as a result of the coronavirus epidemic. The virus began in China and has since spread worldwide, resulting in a pandemic and the suspension of activities. Humans have been compelled to remain in their houses due to widespread lockdown. These limitations have reduced social contacts, resulting in a rise in population mental stress. Yoga has been an aid in the reduction of mental stress in those who practice it. In addition, much research has been conducted to determine the health benefits of yoga. People's health has been harmed due to increased awareness of health wellness programs as a result of increased modernization and changes in lifestyle. As a result, the need for instructors and teachers has increased dramatically. This has increased the number of yoga accreditation programs that assist practitioners in becoming teachers and instructors who can lead individuals through yoga.
Marketing Plan
A key part of the marketing plan in a Yoga business plan is the marketing budget. The growth in the number of customers is proportional to the budget and dependent on the CAC.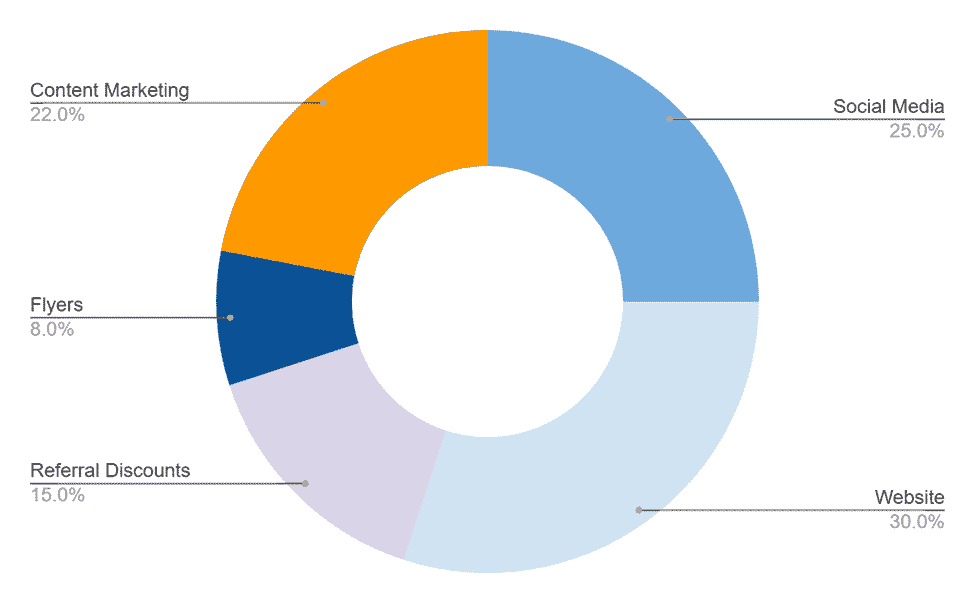 Referral Discounts: If a member successfully recommends someone, the Yogaguru will give various benefits or incentives.
Social Media: Use Twitter to engage with and promote The Yogaguru, Facebook to share news, and Instagram to share handpicked photographs of The Yogaguru.
Website: Websites help local customers find out more about what you offer. It establishes credibility with prospective members interested in what your establishment has to offer.
Email Marketing: Sending automated in-product and promos to reach out to a list of customers.
Promotional Brochures: The Yogaguru logo appears in promotional brochures where readers can see the services we can offer.
Organogram: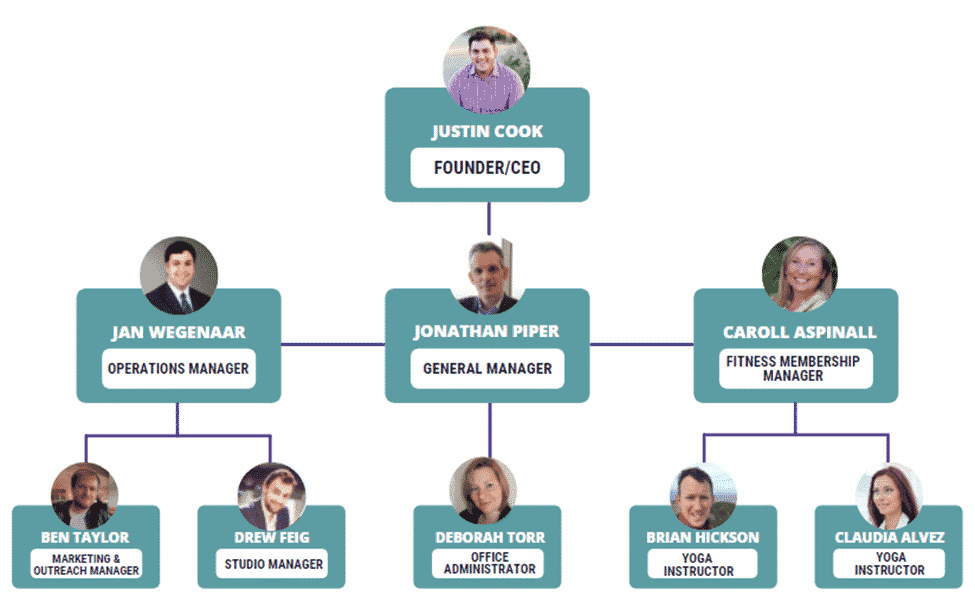 Financial Plan
This section of the Yoga business plan helps your lender figure out whether you will be able to pay off the loan, whether the business is sustainable, what are the growth prospects, etc.
Earnings: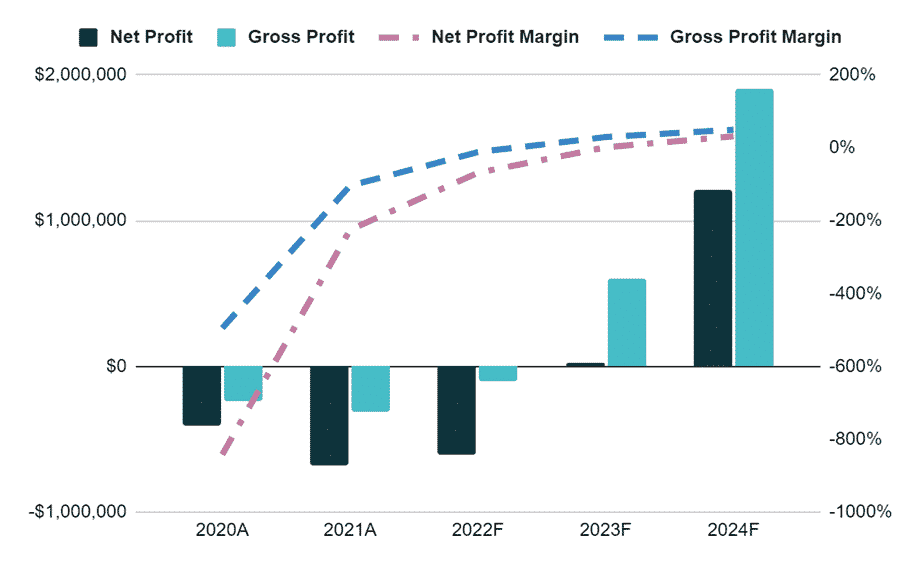 Break-Even Analysis: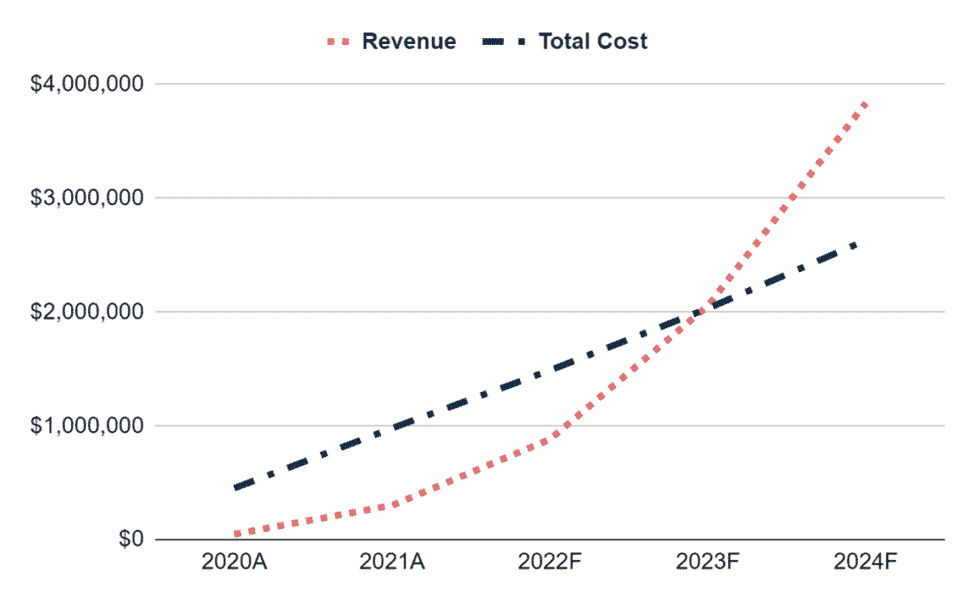 Income Statement:
| | | | | | |
| --- | --- | --- | --- | --- | --- |
| | 2020A | 2021A | 2022F | 2023F | 2024F |
| ANNUAL REVENUE | | | | | |
| Item 1 | 9,217 | 59,117 | 175,410 | 415,277 | 781,357 |
| Item 2 | 34,701 | 222,558 | 660,368 | 1,563,394 | 2,941,580 |
| Item 3 | 4,067 | 19,561 | 46,432 | 78,519 | 114,905 |
| Total annual revenue | 47,985 | 301,236 | 882,211 | 2,057,189 | 3,837,842 |
| % increase | | 528% | 193% | 133% | 87% |
| COST of REVENUE | | | | | |
| Item 1 | 360 | 2,259 | 6,617 | 15,429 | 28,784 |
| Item 2 | 480 | 3,012 | 8,822 | 20,572 | 38,378 |
| Item 3 | 52,000 | 65,000 | 78,000 | 91,000 | 104,000 |
| Item 4 | 720 | 3,615 | 8,822 | 16,458 | 23,027 |
| Item 5 | 140,000 | 336,000 | 560,000 | 840,000 | 1,120,000 |
| Item 6 | 60,000 | 144,000 | 240,000 | 360,000 | 480,000 |
| Item 7 | 32,000 | 61,333 | 85,533 | 112,153 | 141,435 |
| Total Cost of Revenue | 285,560 | 615,220 | 987,794 | 1,455,612 | 1,935,625 |
| as % of revenue | 595% | 204% | 112% | 71% | 50% |
| Gross Profit | -237,575 | -313,984 | -105,583 | 601,578 | 1,902,218 |
| SELLING & ADMIN EXPENSES | | | | | |
| Item 1 | 28,000 | 96,800 | 154,880 | 175,692 | 193,261 |
| Item 2 | 75,000 | 105,000 | 120,000 | 120,000 | 120,000 |
| Item 3 | 36,000 | 96,000 | 108,000 | 120,000 | 120,000 |
| Item 4 | 8,000 | 12,000 | 12,000 | 12,000 | 12,000 |
| Item 5 | 3,839 | 18,074 | 44,111 | 61,716 | 115,135 |
| Item 6 | 3,359 | 12,049 | 26,466 | 41,144 | 76,757 |
| Item 7 | 5,600 | 10,000 | 12,904 | 15,034 | 17,376 |
| Item 8 | 6,667 | 14,000 | 22,067 | 30,940 | 40,701 |
| Total selling & admin expenses | 166,464 | 363,924 | 500,428 | 576,525 | 695,230 |
| as % of revenue | 347% | 121% | 57% | 28% | 18% |
| Net profit | -404,039 | -677,907 | -606,011 | 25,052 | 1,206,987 |
| Accumulated net profit | -404,039 | -1,081,947 | -1,687,957 | -1,662,905 | -455,918 |
Cash Flow Statement:
| | | | | | |
| --- | --- | --- | --- | --- | --- |
| | 2020A | 2021A | 2022F | 2023F | 2024F |
| CASH FLOW from OPERATING ACTIVITIES | | | | | |
| Net profit before tax | -$404,039 | -$677,907 | -$606,011 | $25,052 | $1,206,987 |
| Depreciation | $44,267 | $85,333 | $120,504 | $158,127 | $199,512 |
| Payables | | | | | |
| Item 1 | $4,333 | $5,417 | $6,500 | $7,583 | $8,667 |
| Item 2 | $11,667 | $28,000 | $46,667 | $70,000 | $93,333 |
| Item 3 | $6,250 | $8,750 | $10,000 | $10,000 | $10,000 |
| Item 4 | $3,000 | $8,000 | $9,000 | $10,000 | $10,000 |
| Item 5 | $667 | $1,000 | $1,000 | $1,000 | $1,000 |
| Total payables | $25,917 | $51,167 | $73,167 | $98,583 | $123,000 |
| change in payables | $25,917 | $25,250 | $22,000 | $25,417 | $24,417 |
| Receivables | | | | | |
| Item 1 | $320 | $1,506 | $3,676 | $5,143 | $9,595 |
| Item 2 | $360 | $1,807 | $4,411 | $8,229 | $11,514 |
| Total receivables | $680 | $3,314 | $8,087 | $13,372 | $21,108 |
| change in receivables | -$680 | -$2,634 | -$4,773 | -$5,285 | -$7,736 |
| Net cash flow from operating activities | -$334,536 | -$569,958 | -$468,280 | $203,311 | $1,423,180 |
| | | | | | |
| CASH FLOW from INVESTING ACTIVITIES | | | | | |
| Item 1 | $16,000 | $13,200 | $14,520 | $15,972 | $17,569 |
| Item 2 | $20,000 | $22,000 | $24,200 | $26,620 | $29,282 |
| Item 3 | $28,000 | $22,000 | $14,520 | $10,648 | $11,713 |
| Item 4 | $96,000 | $88,000 | $72,600 | $79,860 | $87,846 |
| Item 5 | $20,000 | $22,000 | $24,200 | $26,620 | $29,282 |
| Net cash flow/ (outflow) from investing activities | -$180,000 | -$167,200 | -$150,040 | -$159,720 | -$175,692 |
| | | | | | |
| CASH FLOW from FINANCING ACTIVITIES | | | | | |
| Equity | $400,000 | $440,000 | $484,000 | $532,400 | $585,640 |
| Net cash flow from financing activities | $400,000 | $440,000 | $484,000 | $532,400 | $585,640 |
| Net (decrease)/ increase in cash/ cash equivalents | -$114,536 | -$297,158 | -$134,320 | $575,991 | $1,833,128 |
| Cash and cash equivalents at the beginning of the year | – | -$114,536 | -$411,693 | -$546,014 | $29,978 |
| Cash & cash equivalents at the end of the year | -$114,536 | -$411,693 | -$546,014 | $29,978 | $1,863,105 |
Balance Sheet:
| | | | | | |
| --- | --- | --- | --- | --- | --- |
| | 2020A | 2021A | 2022F | 2023F | 2024F |
| NON-CURRENT ASSETS | | | | | |
| Item 1 | $16,000 | $29,200 | $43,720 | $59,692 | $77,261 |
| Item 2 | $20,000 | $42,000 | $66,200 | $92,820 | $122,102 |
| Item 3 | $28,000 | $50,000 | $64,520 | $75,168 | $86,881 |
| Item 4 | $96,000 | $184,000 | $256,600 | $336,460 | $424,306 |
| Item 5 | $20,000 | $42,000 | $66,200 | $92,820 | $122,102 |
| Total | $180,000 | $347,200 | $497,240 | $656,960 | $832,652 |
| Accumulated depreciation | $44,267 | $129,600 | $250,104 | $408,231 | $607,743 |
| Net non-current assets | $135,733 | $217,600 | $247,136 | $248,729 | $224,909 |
| | | | | | |
| CURRENT ASSETS | | | | | |
| Cash | -$114,536 | -$411,693 | -$546,014 | $29,978 | $1,863,105 |
| Accounts receivables | $680 | $3,314 | $8,087 | $13,372 | $21,108 |
| Total current assets | -$113,856 | -$408,380 | -$537,927 | $43,349 | $1,884,214 |
| Total Assets | $21,878 | -$190,780 | -$290,791 | $292,078 | $2,109,122 |
| | | | | | |
| LIABILITIES | | | | | |
| Account payables | $25,917 | $51,167 | $73,167 | $98,583 | $123,000 |
| Total liabilities | $25,917 | $51,167 | $73,167 | $98,583 | $123,000 |
| | | | | | |
| EQUITIES | | | | | |
| Owner's equity | $400,000 | $840,000 | $1,324,000 | $1,856,400 | $2,442,040 |
| Accumulated net profit | -$404,039 | -$1,081,947 | -$1,687,957 | -$1,662,905 | -$455,918 |
| Total equities | -$4,039 | -$241,947 | -$363,957 | $193,495 | $1,986,122 |
| Total liabilities & equities | $21,878 | -$190,780 | -$290,791 | $292,078 | $2,109,122 |