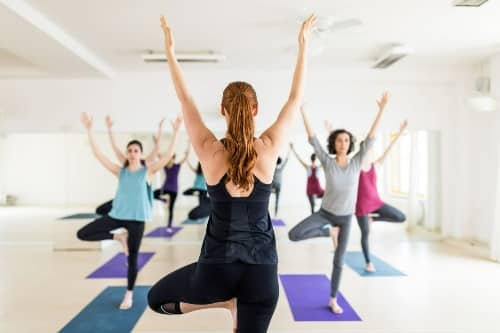 Do you wish to open your own yoga studio?
Do you want to create a yoga studio of your own? Well, if you plan ahead and have a passion for yoga, you can easily start this business with minimal capital and turn it into a lucrative venture.
The first step in starting a yoga studio is to write a detailed business plan that includes all aspects of your venture. The yoga studio business plan will provide the groundwork for your company's future policies and will also help you get started. We've provided a business plan for Kelly Yoga, a yoga studio startup, to help you write an effective yoga studio business plan.
The Company
Kelly Yoga will be around a ten-minute drive from the heart of San Diego's residential district. The firm will be led by Kelly Jill, a well-known American yoga teacher.
Management
Before being onboarded, the company will hire a staff of trainers, assistants, and salesmen, all of whom will have one month of training. The success of your business will be determined by the management and personnel of your firm, so be sure to plan ahead of time when contemplating how to create your own yoga studio.
Customers
Kelly Yoga will be a licensed yoga studio where people of all ages will be taught yoga at all levels of expertise by the best trainers in the nation.
Owner of a business
Kelly Yoga, conducted by Kelly Jill, a well-known yoga teacher, will take place. Kelly has been teaching yoga in a variety of locations around the United States for over 20 years.
Why is the company being established?
Kelly is a yoga devotee who likes both learning and teaching the practice. She has been practicing yoga since she was a child and has made it her life's work. Her company's goal isn't only to make money in this market; it's also to reach out to as many people as possible.
How will the company get started?
Before you can contemplate how to start a yoga firm, you must first build a yoga studio business plan model. Kelly Yoga will be around a ten-minute drive from the heart of San Diego's residential district. Because the firm will open in a location that was once a dance studio, only modest repairs will be necessary to convert it to a yoga studio. The company will acquire yoga training aids and clothes for sale in the studio's store in addition to the standard inventory. The starting expenses are as follows:
Customers' services
What sort of business services you'll supply your clientele is the most important item to figure out before launching a yoga studio.
The following yoga courses will be offered:
Yoga for Beginners: Yoga 1/Beginner is a beginner's yoga class for those who have never done yoga before. This workshop focuses on the basic alignment of standing poses, with a focus on shoulder, back, and leg stretches and strengthening postures.
Level 2 (Intermediate) Yoga: Yoga 2/Intermediate focuses on mastering the standing poses gained in Yoga 1. In this class, they will learn basic sitting postures, shoulder stands, and basic back bending poses.
3/Advanced Yoga: Students in Yoga 3/Advanced develop the techniques they learnt in Yoga 2. This lesson covers back bend postures, headstand, forearm balance, and full arm balance (handstand).
Vinyasa Yoga is a dynamic flow type of yoga that synchronizes movement and breath. It offers exercise enthusiasts a challenging combination of endurance, strength, and flexibility.
Gentle Yoga is the gentlest kind of yoga, and it's much easier than Yoga 1. Gentle yoga is often recommended to those who have muscular stiffness, weakness, muscle/joint soreness, or fatigue. Gentle stretches and breathing, as well as little actions targeted at progressively increasing the range of motion of major joints, are taught.
An examination of the yoga studio's marketing strategy
A comprehensive marketing analysis is the most important component of a yoga studio business plan, since it decides whether your firm will thrive or fail. As a result, a comprehensive marketing analysis is essential before developing a yoga business plan. If you're starting out on a large scale, it's a good idea to get the help of marketing experts who can guide you through various yoga studio marketing strategies and help you develop a yoga marketing plan. If you're starting out small, though, this yoga studio business plan template or one of the many other yoga studio business plans available online will help.
Trends in Marketing
This yoga studio sample business plan also addresses the industry and market trends in this sector, demonstrating the industry's market potential and assisting you in determining if it is feasible for startups. Many yoga business ideas are available online, and many yoga industry trends may be derived from them. According to IBISWorld, there were more than 34,600 yoga studios or private yoga trainers in the United States in 2018. With annual revenues surpassing $11 billion, the industry is predicted to grow at a rate of 10.6 percent each year. More than 137,000 people are employed by the company throughout the United States.
According to a 2015 study, yoga is practiced by about 37 million individuals in the United States. This is up from 20 million only three years earlier, meaning that the number of people who practice yoga has almost doubled. This growth might be ascribed to people's improved health consciousness, since several studies have proven the health benefits of yoga. These numbers illustrate that if entrepreneurs arrange their operations properly, they may succeed in this business.
Segmentation of the Market
Marketing segmentation depicts the many categories or groupings of our prospective clients. The nearby residential area, which is roughly a 10-minute drive from our studio, is our major target market. Our specialists have identified the following target groups for our services:
Children (6-18 years old):
Our initial clientele will be the young people who reside in the local vicinity of our studio. Parents take their children to Gentle Yoga because of the various health benefits it provides. Many children who have been injured or who have muscle problems utilize yoga as part of their medical treatment. However, as compared to adults or the elderly, the number of children learning yoga is quite small, thus this group will have little influence on our sales and profits.
Adults (18 and up):
The second and biggest category of our customers are teenagers and adults over the age of 18 who want to practice yoga for any reason. Individuals that fit this description are more likely to enroll in all five of our courses. Women will make up the bulk of this group, since according to a 2015 study, 72 percent of yoga practitioners in the United States are female. Another option for this group to contribute to our profits will be via the sale of yoga training aids, yoga gear, shoes, and mats through our store.
Professionals:
Individuals who like yoga and want to take it to the next level belong to the last category. This group will be taught at a whole other level under Kelly's direct supervision. This group will also contribute to yoga store sales since they will be practicing yoga at home.
A complete market analysis of our potential clients may be seen in the table below:
Business Objective
Our company's goals are as follows:
To become the best yoga studio in San Diego.
We expect a net profit margin of $10k per month at the end of the first year, $15k per month by the end of the second year, and $25k per month by the end of the third year.
The startup's initial expenses should be matched with generated revenues by the end of the first year.
Pricing of Products
Product pricing is one of the most important factors in determining a startup's success. To stimulate sales, we have priced our services somewhat lower than those of our competitors. We will mainly provide three types of bundles from which to choose:
You may become a member for $500 each month.
A six-month semi-annual membership costs $2500.
A annual membership costs $4000.
Yoga 3 will have a 30 percent higher membership fee since students will be taught directly by Kelly and other master trainers in the United States. Yoga-related items in our store will be priced similarly to those on the market.
Strategy
Sales strategy, like marketing research, is an important aspect of any yoga studio business plan that should be thought about before getting started. If you don't know how to construct an effective sales strategy for your company, you may utilize our free yoga studio business plan template or other sample plans online.
Analysis of Competitors
Despite the fact that we are up against severe competition, we have a lot of competitive advantages. When compared to our competitors, our prices are reasonable and competitive. We have a superb team of the best yoga instructors in the country, and our team's strength and dedication are our most competitive advantage.
Strategy for Selling
We will persuade our customers to visit us in a number of ways, such as:
We'll provide talks and information sessions on the importance of yoga and the health advantages it provides.
We will provide transportation for our members and students.
Periodicals, newspapers, and social media will promote our yoga studio.
We will provide membership discounts for the first three months following the debut.
Personnel strategy
This yoga studio business model sample plan may help you if you're starting a yoga studio and aren't sure what type of staff you'll need.
Employees of the company
At start, the following personnel will be hired:
1 General Manager to be in charge of the whole company
2 Accountants/Administrators to maintain accurate financial records
Three sales executives are in charge of marketing and new venture discovery.
Members will get yoga training from six yoga teachers.
There are eight assistants who help with day-to-day tasks.
2 drivers for the purpose of providing members with transportation
Three cleaners will be assigned to the studio.
1 Front Desk Officer to assist with receptionist tasks.
Plan your finances
Finally, you'll need to develop a comprehensive financial plan that describes your company's expansion over the coming years. You may use this yoga studio business plan template as a reference if you're starting small; otherwise, you'll need to engage financial experts. The following is Kelly Yoga's financial plan.