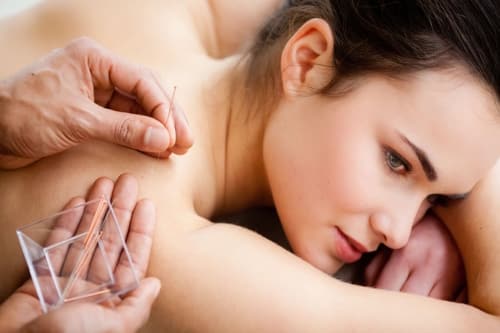 Executive Summary
Overview: Our job is to help you meet your health, well-being, and aesthetic objectives. From your first consultation to the last, we are dedicated to boosting your well-being by providing excellent services. As you can see, Blackbird Acupuncture was created to make you feel at ease and create a soothing environment. We are proud to be a top-notch acupuncture clinic with highly competent practitioners. Carrie, our Licensed Acupuncturist, is a devoted professional passionate about her work and her patients.
Mission: To use acupuncture, herbal medicine, and traditional Chinese therapies to enhance mental, emotional, and physical health and wellbeing responsibly, safely, and ethically.
Vision: By offering programs that increase the quality of life and wellbeing, we want to better the community and also the lives of those we serve.
Industry Overview: Recent analysis shows that the acupuncture industry will grow by USD 14.31 billion between 2021 and 2026, with a CAGR of 13.65%. In 2022, the market for acupuncture will increase at a pace of 12.97 percent year on year. Factors such as the increased frequency of chronic pain and gynecological illnesses and rising stress among the youthful population are driving the market. On the other hand, acupuncture treatment's adverse effects are stifling market expansion. According to the new Market Research Future (MRFR), the worldwide acupuncture market is expected to grow at a 14.50 percent CAGR from 2018 to 2023, reaching USD 55,323.8 million.
Financial Overview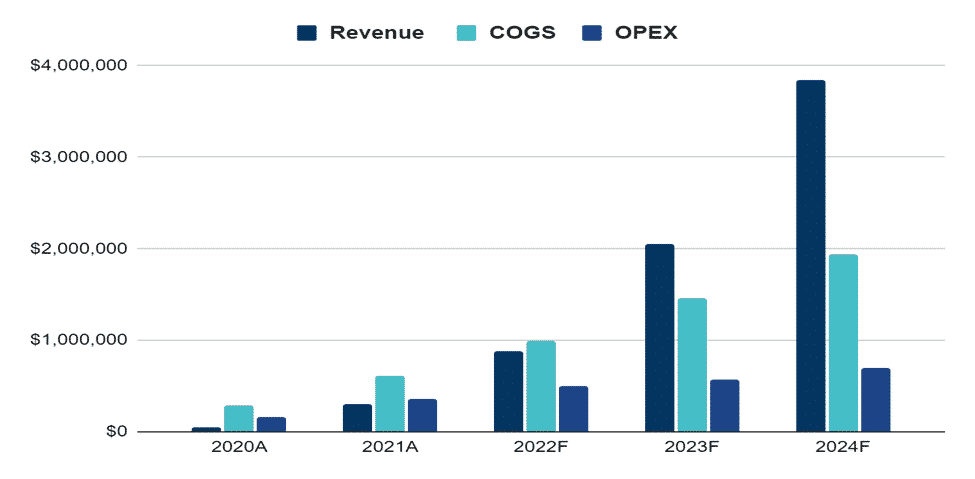 Acupuncture Clinic Business Plan
Premium Template
Business Plan Template & Financial Model
Write your own business plan in a day! This also includes a premium WordPress theme worth $300! This will help you build your own website.
Financial Highlights
| | | | | | |
| --- | --- | --- | --- | --- | --- |
| Liquidity | 2020A | 2021A | 2022F | 2023F | 2024F |
| Current ratio | 6 | 12 | 23 | 32 | 42 |
| Quick ratio | 6 | 11 | 22 | 31 | 40 |
| DSO | 8 | 8 | 8 | 8 | 8 |
| Solvency | | | | | |
| Interest coverage ratio | | | 8.2 | 11.1 | 14.2 |
| Debt to asset ratio | 0.01 | 0.01 | 0.2 | 0.18 | 0.16 |
| Profitability | | | | | |
| Gross profit margin | 51% | 51% | 53% | 53% | 53% |
| EBITDA margin | 12% | 14% | 21% | 22% | 22% |
| Return on asset | 5% | 6% | 13% | 14% | 14% |
| Return on equity | 5% | 6% | 16% | 17% | 17% |
Fund Usage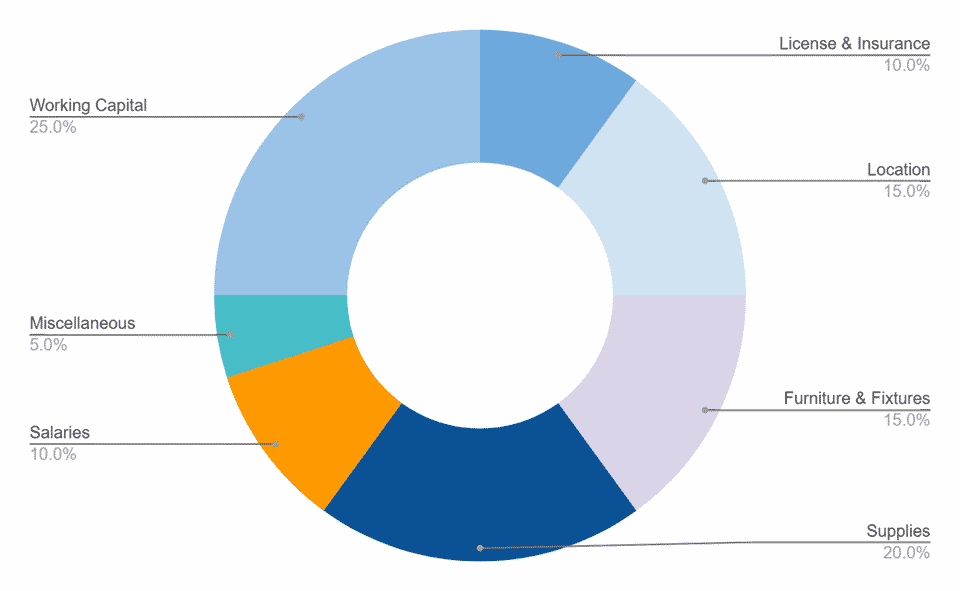 Free Business Plan Template
Get basic guidance
Get a Free Template on Email
Get a basic level of guidance for writing your own business plan.
Industry Analysis
Acupuncture is an ancient Chinese medical procedure; it uses needles to relieve pain and treat various diseases. Experts suggest that inserting needles at certain spots in the patient's skin aligns the body's energies in the direction of recovery. The stimulation of nerves at particular sites in the body, which causes the body to produce specific pain-neutralizing components, is credited by both proponents and detractors of this practice in the West. According to Transparency Market Research, demand for the approaches increases steadily as more people become aware of them throughout the globe. It says that between 2020 and 2030, a slew of new growth opportunities will emerge in the global acupuncture industry.
The absence of scientific proof may significantly impede the market's expansion. Though it is beneficial for mild painful disorders such as muscle spasms, joint aches, menstrual cramps, and the like, it is useless for severe pain observed in cancer and other persistently debilitating conditions. In addition, needle insertion needs adequate sanitation to avoid infection, and the practitioner of this method must be well educated to prevent causing injury rather than a benefit. A lack of formalized training may lead to widespread quackery and skepticism about the practice. However, as experts in the sector gain popularity and more individuals are eager to learn the skill set, the market will see a significant counteracting effect to the limitation indicated.
Acupuncture is a kind of traditional Chinese medicine that involves the insertion of tiny needles into acupoints or critical points along energy meridians to relieve pain. Alternative medicine, such as acupuncture, has been more extensively used as a secondary therapy than orthodox medicine in recent years, thanks to research studies demonstrating its efficacy. According to the US Centers for Disease Control and Prevention (CDC), the number of individuals in the United States who have tried alternative medicine climbed to 33.2 percent in 2012, up from 32.3 percent in 2002.

Europe is expected to account for 33% of market growth during the projection period. France and Italy dominate the acupuncture market in Europe. This region's market will expand more slowly than APAC's. Over the projected period, the expansion of the acupuncture market in Europe would be aided by raising awareness and concerns about healthcare.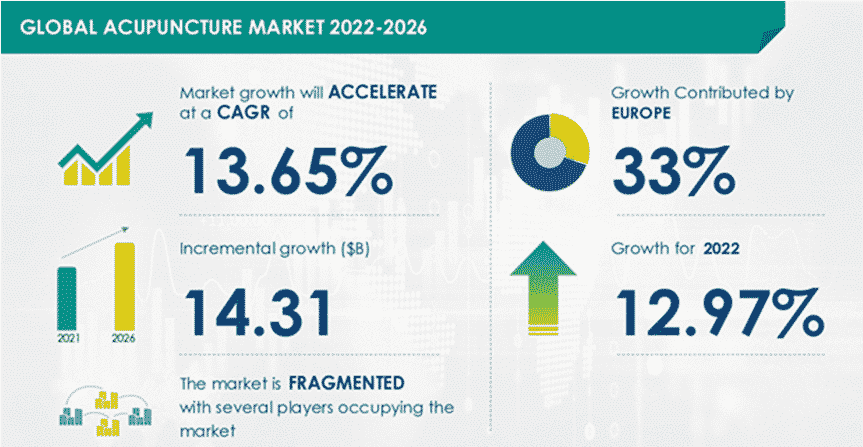 As the immediate impacts of pent-up demand fade, revenue for the Acupuncturists business is predicted to grow 6.6 percent in 2022. After falling to its lowest point in the last five years in 2020, industry earnings are likely to rise. The increase in average industry profit may be attributed to increased demand for acupuncture treatments due to broad vaccination availability and continued sanitary improvements. As older individuals seek supplementary treatments to standard medicine for chronic pain issues, revenue growth is projected to accelerate.
Traditional Chinese Medicines (TCM) is a specific area of complementary and alternative medicine that includes acupuncture, the most well-known and clinically successful TCM for treating chronic disorders. Traditional herbs and Tui Na massage treatments are examples of other TCM practices. Acupuncture treatments in hospitals in the United States have increased dramatically since 1998. The majority of acupuncture treatments are now performed for chronic musculoskeletal problems (more than 50%).
According to a WHO study, acupuncture is officially recognized by roughly 80 percent of the 129 WHO member nations. Most of these member states have adopted national rules and laws governing traditional and complementary medicine (T&CM). According to a poll, TCM usage has considerably grown (annually 15 percent or higher). T&CM practitioner rules were also created in 43.5 percent of the member states. Member nations now have 39 upper-level TCM learning programs, or 30% of the countries examined, up from only a few years ago.
The growing demand for acupuncture services among hospitalized patients and the general ineffectiveness of existing drugs drive medical practitioners to embrace alternative, complementary therapies due to customer discontent with pricey medications and their adverse effects. Additionally, a local government push to provide non-medical professionals with high-level acupuncture teaching and training programs is growing private acupuncture practice. Acupuncture is becoming more popular across the world. Currently, key companies are focusing on needle acupuncture, and as a result, this service type leads the worldwide acupuncture market in terms of revenue.
Because of the strong acceptance of acupuncture in these regions, North America and East Asia combined own more than 60% of the revenue share, because of increased awareness and local government regulatory changes in acupuncture education and practice regulation, developing nations such as Brazil, South Africa, and Argentina are likely to provide profitable chances for the acupuncture business to flourish.
In 2021, the worldwide market for acupuncture therapy was expected to reach $76.5 billion. As a result, it's reasonable to conclude that this market provides a more significant return on investment. Between 2021 and 2031, the global market for acupuncture treatments will expand by 28%. Between 2015 and 2020, the demand for acupuncture treatments grew at a CAGR of 15.5%. Traditional Chinese acupuncture treatment is currently being used in North America and Europe. Acupuncture with needles also has a market share of more than 40%. These trends are projected to stay over the next ten years, based on clinical data across East Asia. The need for acupuncture therapy is being driven by rising rates of chronic illnesses and other health issues and a sedentary lifestyle.