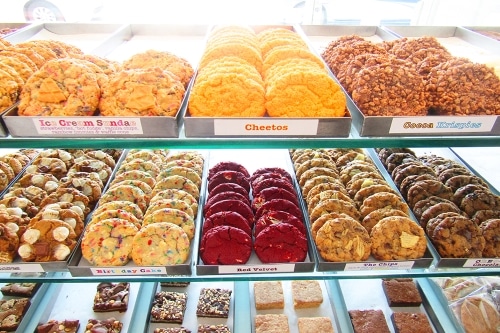 Executive Summary
Macy's Cookie Shop offers cookies and cookie-related products for the target market across Michigan. We have been in business for more than 10 years. We are looking for $350K in order to purchase baking equipment and expand distribution channels. The business is registered as an LLC in Detroit, Michigan and the founders are Roy Stacy and Ana Morgan. Our founders possess more than 13 years of experience in the industry.
Unique Selling Proposition
Our USP involves a strong online presence and unique recipes. We plan to improve our strength in terms of physical distribution channels with the proposed loan.
Industry Overview
The US cookie market was valued at USD 11,677.1 million in 2021, and it is projected to grow at a CAGR of 3.38 % during the forecast period (2022-2027). An increasing number of Americans are shifting toward healthier alternatives when it comes to food consumption, due to the growing concerns over obesity, poor diet, and other health issues, which are supporting the growth of the healthy cookies segment in the United States.
Marketing Overview
In terms of promotions, we are planning to use Google Ads, social media, and content marketing for online channels and in-person marketing for offline channels. We have assumed that number of sales with change with the promotional budget.
Financial Overview
Business Description
Mr. Steven Adams started the business with one cookie shop in Detroit back in 2010. Macy's Cookie Shop currently has 3 stores across Michigan and is planning for further expansion with the loan. There are 25 full-time employees and 7 part-time employees in Macy's Cookie Shop.
| | |
| --- | --- |
| Business Name | Macy's Cookie Shop |
| Products | Cookies and Bakery items |
| Legal Structure | LLC |
| Established Year | 2010 |
| Founder | Mr. Steven Adams |
| | |
Business Name
Products
Legal Structure
Mission
Vision
Goals
Use of Funds
SWOT
Business Model
Industry Analysis
Industry overview
Competitive Analysis
Market Size
Industry Trends
Porter's 5 Forces
PEST Analysis