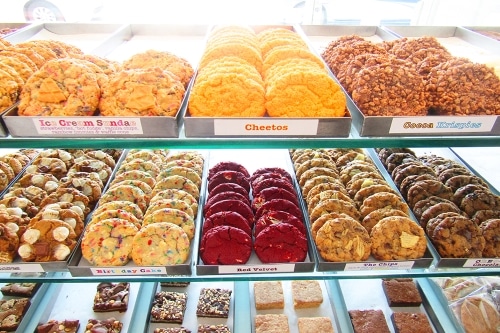 Summary of the Report
INTRODUCTION
The DJMC Cookie Business is a newly launched cookie business in Makati City. With a broad assortment of fresh cookies and other tempting treats, DJMC hopes to pique the attention of regular consumers, loyal investors, and stakeholders. It aspires to create a strong market position in the food sector and gain the greatest possible reputation thanks to the four partners' industry competence, professionalism, and shown ability to compete continually.
SERVICES AND PRODUCTS
The DJMC Cookie Shop has a wide variety of cookies to choose from, all of which are guaranteed to please clients' taste buds. The ingredients are purchased from well-known food providers such as Top Chef. Every day, at least ten different batches of delectable cookies and treats are baked so that our loyal clients have a range of alternatives. The cookies and other sweets are of great quality in terms of taste and look, catching the attention of our clients. On our basic menu, we make sure that our clients' favorite flavors and varieties of cookies are available. We wish to provide our consumers with the greatest cookies the world has to offer.
MISSION AND OBJECTIVES
Our objective is to please and nourish our consumers by providing them with tasty and nutritious cookies. With our enthusiasm for better quality and great taste, we provide delight to our consumers by baking delectable cookies. For our objectives, we wish to design and make cookies that will delight our clients' taste buds and introduce them to new flavors and preferences in cookies and baked goods. Also, we want to reassure our consumers that our cookies are unlike any others since they will be exceptional. One of our key goals for the current year is to establish our brand and become recognized among local and international company owners in the same sector, as well as to make as much profit as possible in order for our partnership to expand our branch/es in the Philippines.
SUCCESS KEY FACTORS
Be crucial to the organization's success and pay attention to it.
Benefit the whole organization or department
To be associated with a high-level aim
Make a clear link to the company's strategy.
Increase your market share by focusing on your current customers.
When working with our customers, be service-oriented.
Improve On-Line Processes to Achieve Order Fulfillment Excellence
Increase Employee Satisfaction by Aligning Incentives and Rewards With Employee Roles
1. The Company
1.1 Cookie Shop DJMC
100 Makati Avenue Corner, Jupiter Street, ECH Building, Bel-Air Village, Makati City
1.2 Cookie Store/ Cookie Shop 3rd Floor, 100 Makati Avenue Corner, Jupiter Street, ECH Building, Bel-Air Village, Makati City Cookie Store/ Cookie Shop
1.3 Our goal is to provide a tasty and nutritious cookie to the community that is both inexpensive and liked by all of our consumers. Also, to develop new flavors that would provide our clients with complete happiness with the cookies we offer.
1.4 DJMC Cookie Shop is a Limited Liability Partnership run by a Community Interest Company (CIC).
2. Organization
2.1 The organization's mission statement and goals In September of 2016, the DJMC Partnership was created. The cooperation focuses on the production of food goods, notably cookies and sweets, and what motivates the partners is the desire to improve and elevate the flavors and components of various cookies in the food business. The following are the partners:
Mr. Michael Dela Cruz
Mrs. Deanna Emaas
Mr. John Lloyd Ramirez
Mrs. Chelsea Ysabelle Sumulong
2.2 Our objective is to please and nourish our consumers by providing them with tasty and nutritious cookies. With our enthusiasm for better quality and great taste, we provide delight to our consumers by baking delectable cookies.
Goals:
Creating and creating cookies that will delight our consumers' taste buds and introduce them to new tastes and preferences in cookies and baked goods.
To reassure our consumers that our cookies will be unlike any other, since they will be exceptional.
We want local and worldwide company owners in the same sector to recognize our brand.
We want to make a profit so that our partnership may expand our branch/es in the Philippines.
2.3 Partnership
2.4 The partners, as it is a partnership, would be:
Mrs. Chelsea Ysabelle Sumulong (GENERAL PARTNER)
Mr. John Lloyd Ramirez (GENERAL PARTNER)
Mr. Michael Dela Cruz (LIMITED PARTNER)
Mrs. Deanna Marie Emaas (LIMITED PARTNER)
3. Key Personnel
3.1 The four partners are recent grads with a keen interest in the business. They come from well-trained OJT programs and were inspired to form a partnership to start their own firm. There are 15 bakers in all. This is the bare minimum of bakers required to manufacture additional batches or sets of cookies rapidly in the event of large orders or unexpected requests. The bakers that are recruited are professionals with at least 1-2 years of expertise in the field.
3.2 The two general partners are in charge of overseeing the whole business. The two general partners are in charge of marketing tactics, competitive statements, and ideas, whereas the two limited partners are more concerned with the partnership's internal environment. They are in charge of the employees' wages, as well as the consistent development or manufacture of cookies and the partnership's day-to-day operations.
3.3 The following are the training requirements:
Possess the necessary qualifications
Be completely dedicated to the business's quality and measurable output.
Marketing Strategies and Ideas to Demonstrate Your Business's Value
Creating a Network with Your Buyers
Speak in the Customer's Tongue
Establish a Supply Chain
Invest in the Company
4. Relations with the Outside World
4.1  Among the professional financing organizations and charities that the DJMC Partnership is collaborating with are
Food and Agricultural Organization (FAO)
Philippine Foundation Center
Kapwa Ko Mahal Ko
Oikos Helpin Hand of the Philippines
4.2 Professional monitoring groups such as Greenpeace Southeast Asia and the Haribon Foundation are collaborating with the DJMC Partnership.
5. Service or Product
5.1 Our major product is cookies. Our cookies come in a variety of flavors that appeal to people of all ages—children, teens, adults, and even elderly folks.
6. The Stock Exchange
6.1 Parents, youth, and older persons make up the majority of the clientele.
6.2 Our clients will purchase from us because we will not only use common components to make cookies, but we will also utilize natural flavors to make them taste more natural and organic. It may seem to be different, but the tastes will undoubtedly be there. As a result, our consumers will be pleased not only with the taste but also with the nutritional value of our cookies.
6.3 Our biggest rivals will most likely be well-known brands such as Chips Ahoy since they've been in the sector for a long time, so we'll have to work hard to be recognized by other competitors. Also, the Monsterlicious brand, which produces cartoon character-shaped cookies, attracts more consumers, particularly children.
6.4 To begin market testing, follow these steps:
Make a product or service prototype that you can exhibit to food inspectors as well as clients or potential purchasers.
Determine how much your product is worth in today's market. Approach a prospective consumer and offer him or her a sample of the goods.
Obtain their comments.
Compare your product against the other popular items on the market.
Examine the market trends for your goods.
After you've discovered all of the necessary criteria, you'll need to figure out how much to charge in order to earn a profit, and then think of methods to enhance both the product and the marketing.
6.5 Similar social businesses include well-known cookie firms like Chips Ahoy, Mrs. Fields, and Oreo, as well as our biggest rival, Monsterlicious, which manufactures character-shaped cookies that appeal to youngsters.
7. Social Objectives
7.1 College students who are financially insecure and willing to work part-time will profit from this program.
7.2 Social enterprise is required to address the demands of the community. Cookies are prepared in our case to provide nutritional advantages to our clients. The next step is to accomplish a social objective, sometimes known as a mission statement, and finally, to contribute to a non-profit organization's financial viability.
7.3 We will base our pricing on other products and boost it somewhat since we want to give them a pleasant surprise if they try our product, even if we are the same price as the other goods.
7.4 Companies in the Middle of the Labor Market
7.5 Our stakeholders want to make sure that other individuals in society are aware of our goods. They are also in charge of our goods' exterior environment as well as our collaboration. Another viewpoint is to maintain a positive and professional reputation.
8. Social Implications
8.1 The essential concepts of impact measurement are that you convey clearly what you're attempting to do, how you're going about accomplishing it, and how far you've gotten so far. The process of creating a complete image is broken down into five steps: Each part begins with an overview of action points: Defining Your Mission, Mapping Your Activities and Measuring Your Impact, Beneficiary Involvement, Using Results, and Communication. An outline for an impact report is provided at the conclusion.
8.2 First, we must design a marketing plan and identify potential consumers, as well as determine who our rivals are. We need to know what our product's strengths and weaknesses are. With a reasonable price and excellent quality. Funders and financiers demand proof of effect in the form of a sample of our own cookies. We'll give them exactly what they want and eat. Finally, we may assess our company's performance, influence our workers by adhering to a code of ethics, and manage behavioral and organizational changes as well as advancement in our goods and organization.
8.3 The cost of measurement has a significant influence on the company because if customers are dissatisfied with our product prices and believe that they are too expensive, they may reconsider purchasing our product.
8.4 Our items' success will be determined by how effectively our cookies are sold. There is information provided that we must evaluate in order to calculate the effect of our measurement cost.
9. Environment of Business
9.1 The following resources can assist us in measuring our social impact: Analytics, which are the analysis and transmission of important patterns in data, assist in tracking your social media popularity, influencing your total influence, discovering who speaks about your brand and product, and determining the effectiveness of your social media accounts.
9.2 Competition, government policies, natural forces, social and cultural forces, demographic issues, and technological advances are all uncontrolled elements in the external environment.
10. Industry Analysis
10.1 The following are a few important concerns that may have an impact on the food industry:
Consumers are avoiding merchandise near the heart of the shop.
Food goods with a healthy and clean label vs. those that are diet-friendly
Natural and organic goods are becoming more popular.
Marketing and E-Commerce are evolving.
The anti-sugar and anti-sweets movement's implementation
Adding value to food items and specific substances
Cycles of product innovation are slow.
Products that are convenient
11. Important Success Factors
11.1 The following are the most important success criteria for our company:
Be crucial to the organization's success and pay attention to it.
Benefit the whole organization or department.
To be associated with a high-level aim
Make a clear link to the company's strategy.
Increase your market share by focusing on your current customers.
When working with our customers, be service-oriented.
Improve On-Line Processes to Achieve Order Fulfillment Excellence
Increase Employee Satisfaction by Aligning Incentives and Rewards With Employee Roles
12. Commercialization
12.1 Flowchart of a company's marketing approach
12.2 The purpose of our company plan is to achieve the goals and objectives outlined in this document. Our relationship will be effective in a short amount of time if we focus on six factors. This translates to more consumers, more output, and more profit for the DJMC Partnership, which will become a valuable asset. Our target market is the first. We want to make sure our consumers are completely delighted with our cookie goods in this dimension. Designing and branding is the second step. Of course, product branding is important since we want to create boxes or wrappers that will catch the attention of our consumers. They can already imagine how delicious our cookies are simply by looking at these packaging. The marketing approach is the next point to consider. We aim to make the most of this dimension in order to be successful on both a local and worldwide scale. Fourth, we want to grow our branch or branches. Expanding them would be beneficial to us since we would get more profit, and more profit means the company would move directly toward our objectives and ambitions. The fifth and sixth are quite similar. It would be useful for us to market and establish networks for our product since more people would be aware of the cookies we offer and how excellent they are.
13. Sustainability and turnover
13.1 Because our company is still new to the sector, we know that our first revenue will be low, but we anticipate that within three or five years, we will have doubled our initial investment.
13.2 After some time, we anticipate a substantial level of non-commercial revenue.
13.3 We anticipate making a good profit after investing a substantial sum of money in the company. After three or five years, we could be able to quadruple our initial investment.
13.4 We may need three or five years to establish long-term viability.
13.5 We will develop smart and integrated public policy, establish organizational structures that support sustainability, embed sustainability in corporate culture, incorporate a social license to operate into business strategy, and prepare our organization to mitigate and adapt to climate change in order to achieve our expected turnover, non-commercial income, and sustainability goals.
14. Sales & Marketing
14.1 We'll be recognized for having a one-of-a-kind eating experience as well as an outstanding cookie store. Fliers, social media ads, and special holiday promos will all be used to reach out to customers. Because our business is situated in a busy area, our location will also play a critical role in getting our shop renowned.
14.2 We'll provide low-cost cookies to attract more consumers, but we'll make sure we earn a profit at the end of the day.
14.3 We picked advertising, public relations, and sales promotion as our promotional mix since our company is still relatively young in the sector.
14.4 Customer service will be a priority at the DJMC Cookie Shop:
We shall conduct ourselves professionally and courteously while dealing with our consumers.
In response to unacceptable remarks and conduct, we will reprimand and hold ourselves responsible.
With a grin and a friendly "Hello Ma'am/Sir," we shall welcome our customers.
We will react to any inquiries or e-mails that our customers send us via the website.
We will listen to and understand our customers' needs, and then take the appropriate steps to ensure that they are effectively serviced.
We will communicate with our clients to ensure that they have all of the required information, such as how long their preferred items will take to get from our store to their location.
14.5 Through surveys and feedback boxes on our social media platforms, we want to collect consumer input.
14.6 The following individuals would be involved:
The customers or investors you're looking for
Marketing Department
Manufacturing Department
Finance Department
Personnel as well as Vendors
14.7 Our marketing budget would be between ten and thirty percent of our gross sales or forecasted revenue. In order to correctly budget our gross income, we will also evaluate the following factors: how we brand ourselves, how we use websites and social media, events, and, of course, advertising.
14.8 Indirect Distribution is the distribution that we will utilize.
14.9 Our E-Commerce approach is to develop a content marketing strategy and an automated email marketing campaign, as well as broaden our platforms via the use of social media. By taking these measures, we will be able to put our own unique content into action.
15. Premises
15.1 Our preferred site is the 3rd Floor, 100 Makati Avenue Corner, Jupiter Street, ECH Building, Bel-Air Village, Makati City.
The ECH Building is a three-story commercial structure with three tenants on Jupiter Street and three on Makati Avenue. McDonald's, PSBank, Jollibee, Mercury Drug, and other businesses are now housed in this structure.
15.2 DJMC's planned strategy is to purchase the above-mentioned apartment on the 3rd Floor of the ECH Building.
15.3 The expenses of health and safety, as well as other charges, will be determined by our first year of operation. The 10-20% of our gross earnings would be preserved or set aside for extra expenditures like construction and health and safety.
15.4 INSURANCE
The logo and name of our cookie business are protected by DJMC's insurance. In addition, as a food service provider, we must safeguard our consumers and their health. Our insurance would need to cover a minimum of 300,000 pesos. Our insurance covers the following:
Expired and possibly contaminated substances
Allergen Declarations
16. Suppliers
16.1 Top Chef Food Supplies Inc. is our primary supplier, and they provide us with all of the ingredients we need for our cookies.
16.2 Suppliers, manufacturers, distributors, and consumers are all participants in the supply chain.
16.3 Cantimbuhan Store and F.Y. Sons Inc. are two alternative vendors.
16.4 The benefits of having the aforementioned suppliers are that, first and foremost, our ingredient prices would be decreased. Then, with DJMC Partnership and these food providers, there would be efficiency and efficient communication. Third, as the buyer's knowledge of the supplier's business models, goods, and services grows, so does the buyer's understanding of the supplier's business models, products, and services. In exchange, the provider will have a better grasp of the customers' requirements. Fourth, trustworthy supplier relationships may enable firms to outsource non-critical functions, enabling buyers to tap into the unique industry, product, or service knowledge while simultaneously decreasing internal workloads and enhancing efficiency. Fifth, it may be a key to continuous improvement since long-term partnerships allow buyers to engage suppliers in a process of continuous improvement of both the goods and services given, as well as the service standards that go along with them.
17. Production
17.1 We aim to make our cookies the greatest cookies we can as a grocery shop. We want them to be nutritious, therefore baking them correctly is essential. The desire for "sustainable food" and "natural food items" is quite significant in this century. We investigate everything from the major components in meals to the added tastes we may utilize while developing our standards. If you want to know what goes into the things you purchase, our standards make it simple since we don't sell anything that doesn't match the requirements.
17.2 Our cookies are made fresh (on a daily basis) in our store to assure freshness and high-quality cookies for our clients. Supervisors will be employed to conduct inspections on a regular basis to ensure that our cookies are created cleanly and handled appropriately.
17.3 We'll do monthly check-ups on our personnel to make sure they're in good health since they'll be handling food and dealing with clients. We'll make sure they wash their hands thoroughly before touching our cookies. Hand sanitizers will also be provided throughout our store for usage by both personnel and customers.
18. Equipment
18.1 The equipment or vehicles to be acquired are as follows:
– Oven: To cook our items, we'll utilize the oven. The purpose of selecting the best oven is to get the desired product output. In a single cooking session, the oven will be able to accommodate 24 pans. Around 75,000 pesos will be spent.
– 48 baking pans: the size of the pan is 60x40x4, and it will cost us about 35,000 pesos.
– 2 hand mixers: Hand mixers will assist our bakers in quickly mixing the ingredients in order to save time and get the desired texture for our cookies. We'll need between 6,000 and 10,000 pesos to do this.
AGREEMENTS ON FINANCING
In any of the following scenarios, a transaction for the DJMC Cookie Shop is likely to be a financing arrangement: The seller pledges to repurchase the item it just sold, or an almost comparable unit.
The seller agrees to sell the item to a third party and then buy it from the third party.
The seller has complete discretion over the disposition of the object sold in each of the scenarios above.
POLICY OF REDUCTION
The goal of this document is to establish an orderly system for accurately tracking the usage of assets (equipment) that will be utilized in the production of our core product, cookies.
The DJMC Partnership's assets will be depreciated in a straight-line approach, according to a comprehensive timetable kept by the four partners.
19. a strategy
19.1 Important dates and events, as well as the activities that go along with them
19.2 Requirements in terms of costs
The precise number of specified components required to make at least 10 batches of cookies – 4 partners
4 partners – the amount of money that will be spent on purchasing these elements
Our cookies and sweets come in a variety of packaging (box, plastic, sold individually) — four individuals
Requirements for Personnel/Staffing (in terms of hiring new employees)
Culinary expertise of at least one year (working at restaurants)
Has a pleasant personality and demeanor
CHas a good-looking and cheery demeanor.
Someone who is well-groomed.
It is required that you be between the ages of 20 and 30. (Male and Female)
20. Finance
20.1 Estimates for the budget (projected income and expenditure)
20.2 Cash flow projections that are reasonable
20.3 Profit and loss/balance sheet
20.4 The amount of money needed and how it will be raised
The partnership's investors or owners will be responsible for raising our funds. As a source of additional funds, the corporation may turn to banks for loans.
20.5 Financing that has been acquired, prior funding, or funding on a significant scale
We haven't attempted to raise funds as a start-up company since we are still new to the industry.
20.6 You may use your assets as a kind of insurance.
For the company's security, we have assets like:
Cash
Kitchen Equipment
Land
The Building where the shop is located
When we go through liquidation, the aforementioned assets may be able to help us pay our debts.
20.7 Financing alternatives
The following are DJMC's alternate methods:
Advances on accounts payable
Presales of a product
Grants for VCs
Crowdfunding
Precautions should be taken now.
20.8 System and resource for financial management
The four partners chose ERP, or Enterprise Resource Planning Software, like the financial management solution for the DJMC. This is a piece of software that includes many applications that are used by organizations and businesses to gather, store, organize, and analyze data from different business operations such as product planning, acquiring products and services, and service delivery. The four partners can examine gross revenue, costs, and assets via financial management methods and resources, guaranteeing that the DJMC Cookie Shop is profitable and sustainable.
20.9 Prior loan-funding experience
Since the DJMC Cookie Shop is new to the food sector, we have no expertise with the procedure of obtaining financing from a variety of institutions.
Related link