Business Plan Template
Write your Own Business Plan
Download Free Business Plan
Save time using our business plan template!
Executive Summary
Overview: Twice the Ice, a brand of Ice vending machines, was introduced by Ice House America in 2003, altering the way Ice was purchased and sold. We merged the convenience of a drive-up vending machine with the superior quality of Ice packaged and sold without ever coming into contact with human hands. Twice the Ice is exemplified by our owner/operators. Some have been with us from the beginning, while others are new to the vended Ice and water industry, but they all have one thing in common: a desire to provide you with the most excellent Ice and water possible.
Mission: Using superior technology, we supply inexpensive, fresh Ice and water to our planet in the most environmentally friendly manner possible.
Vision: To be the world's greatest ice vending business, with a staff of committed, courteous, and ice specialists.Industry Overview: In the projected 2021 to 2028, the global ice maker market is predicted to expand. According to data from Data Bridge Market Research, the market is estimated to increase at a CAGR of 3.0 percent from 2022 to 2029, reaching USD 3,499.09 million. Increased demand for ready-to-drink beverages due to a busier lifestyle and increased need for ice in the healthcare sector drive the worldwide ice maker market.
Financial Overview: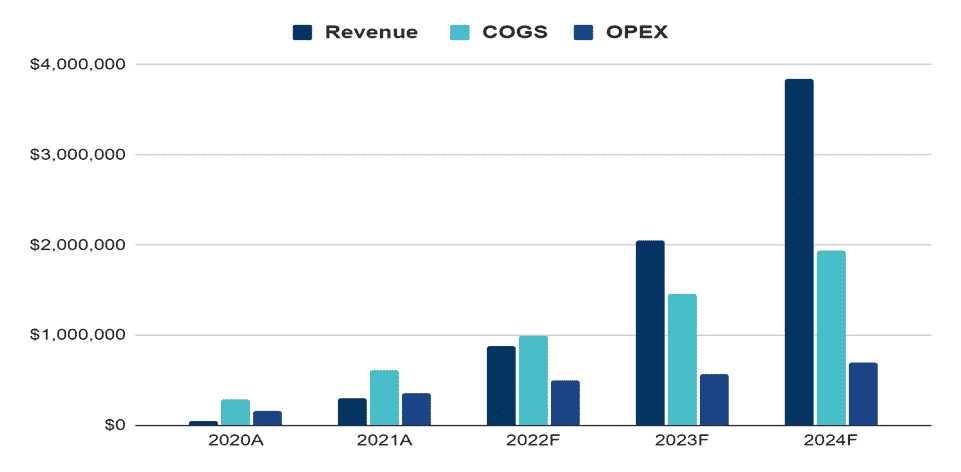 Financial Highlights:
| | | | | | |
| --- | --- | --- | --- | --- | --- |
| Liquidity | 2020A | 2021A | 2022F | 2023F | 2024F |
| Current ratio | 6 | 12 | 23 | 32 | 42 |
| Quick ratio | 6 | 11 | 22 | 31 | 40 |
| DSO | 8 | 8 | 8 | 8 | 8 |
| Solvency | | | | | |
| Interest coverage ratio | | | 8.2 | 11.1 | 14.2 |
| Debt to asset ratio | 0.01 | 0.01 | 0.2 | 0.18 | 0.16 |
| Profitability | | | | | |
| Gross profit margin | 51% | 51% | 53% | 53% | 53% |
| EBITDA margin | 12% | 14% | 21% | 22% | 22% |
| Return on asset | 5% | 6% | 13% | 14% | 14% |
| Return on equity | 5% | 6% | 16% | 17% | 17% |
Fund Usage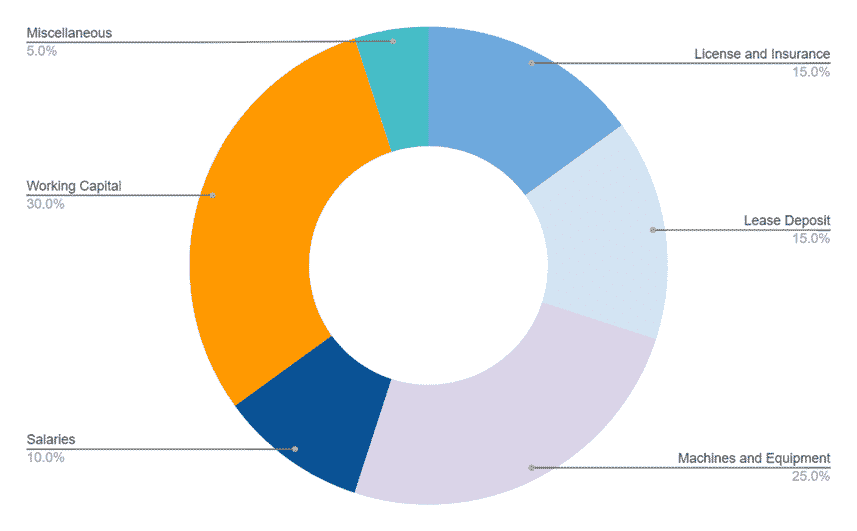 Industry Analysis
As investments in the public and private healthcare sectors continue to expand, there seems to be a growing need for ice machines. Increased demand for cold beverages and alcoholic beverages are pushing the ice maker industry forward. In the following years, the global ice machine market will grow faster. The expensive cost of ice machines, on the other hand, may limit market expansion.
The market has grown significantly because of the widespread use of ice maker systems in the food and beverage industries. It aids in the manufacture of vast amounts of fresh ice and may be found in various forms, including ice cubes, flakes, and nuggets. Product manufacturers are building energy-efficient technologies to minimize total power and water use. The commercial and residential market is expected to have significant demand in the anticipated term. The ice cube sector, which is the most popular, has a strong need for consumption of cold alcoholic and non-alcoholic drinks in homes, businesses, colleges, hotels, and bars, resulting in high ice maker machine sales. As a consequence of decreased downstream demand, revenue growth for the Ice Making Machine Manufacturing business is expected to slow in 2020. The industry's two biggest downstream markets are hotels and foodservice. Due to the pandemic, both of these are expected to have high decreases in 2020, adversely impacting industry revenue. New rules for enterprises established by the Centers for Disease Control and Prevention (CDC) in reaction to the pandemic have an impact on industry operators.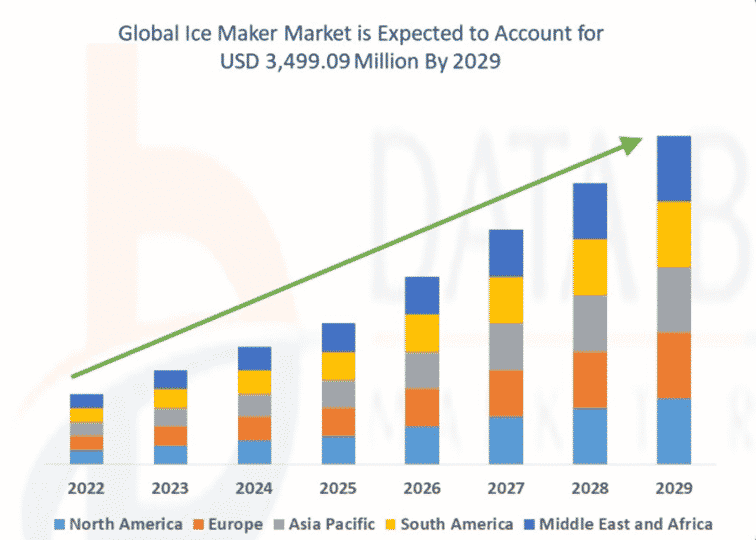 The Ice Maker Market is expected to develop at a 5.5 percent CAGR between 2021 and 2027, surpassing USD 1.5 billion in 2020. Demand is expected to be driven by the developing food and beverage business and the growing number of fast-food restaurants worldwide. Newmarket possibilities will emerge as ice makers become more widely used to store perishable commodities in the household, commercial, and industrial sectors.
The rising healthcare business is driving the use of ice machines for healing and therapy. These devices create safe, fresh ice that may be used to keep organs for a long time. One of the critical causes driving demand for ice makers is the growing use of ice in cold compression treatment, tissue and organ donation. The market will grow as the healthcare industry's need for energy-efficient ice machines grows.
The growing use of industrial ice makers to preserve raw materials and finished goods in the seafood and meat food processing sectors will fuel market growth through 2027. To maintain quality and increase the shelf life of seafood, constant temperature regulation is required. Ice keeps marine goods fresh because it suppresses bacteria development, enzyme activity, and deterioration. The increased demand for frozen food products will provide opportunities for ice maker firms in the retail food market due to their cheap cost, consistent quality, and long shelf life.
The Ice Making Machine Manufacturing business comprises companies that make ice machines for hospitals, restaurants, grocery shops, and other commercial clients. Despite periodic losses in industry income due to growing import penetration, stable demand from these important downstream markets has kept the sector afloat throughout the first half of the five years to 2022. The COVID-19 (coronavirus) pandemic, on the other hand, introduced significant instability into the business since downstream demand from large industries such as restaurants dwindled in 2020 as a result of mass shutdowns to halt the pandemic's spread.
Expected improvements in per capita disposable income and consumer spending will drive downstream demand for food and lodging services, such as restaurants and motels. This growth in downstream markets will spur private investment in long-term commodities like ice machines for usage in these facilities.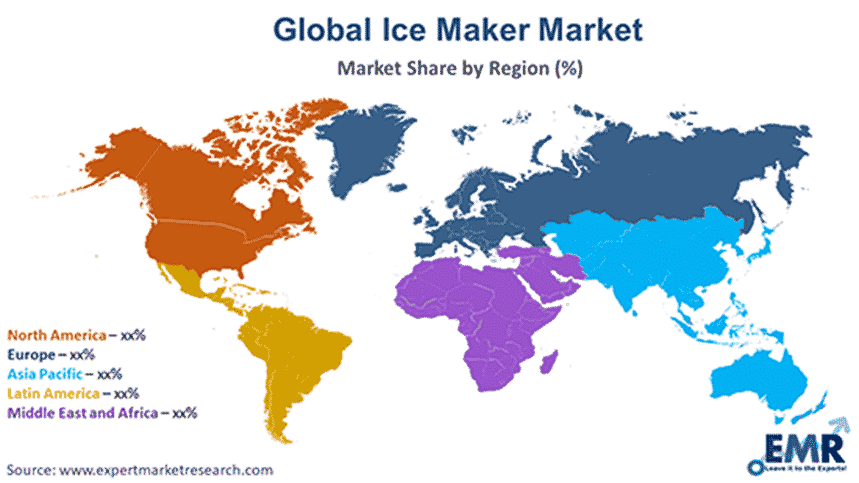 The worldwide ice maker market was estimated to be worth over USD 4.6 billion in 2020. From 2022-to 2027, the industry is predicted to develop at a CAGR of 6.2 percent, reaching USD 6.5 billion in 2026.
The rising healthcare sector and increased government expenditure on healthcare infrastructure development propel the worldwide ice maker market. Due to the manufacture of rhomboid cubes, which are commonly utilized in restaurants worldwide, the ice cube maker sector leads the market among other product kinds. The product has several uses in the foodservice industry, accounting for a large portion of the market. The rising consumer demand for dining out at cafés, hotels, and restaurants, especially among the urban population, may be ascribed to the expansion of this market. North America is the product's most important market, accounting for the lion's share of the market. The United States is the top importer of ice machines, while China is the leading exporter. The major importers are the United States, Germany, France, the United Kingdom, and Canada, while the major exporters are China, Mexico, Italy, the United States, and Korea.