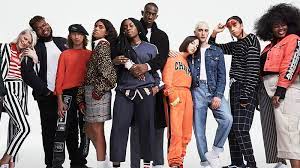 Executive Summary
Overview: American Apparel has provided customers with high-quality essentials for the last fifteen years. Our journey begins in North Carolina, where we started as a modest wholesale company dedicated to providing the greatest American-made t-shirt at an accessible price. Our design's minimalism, unique color palette and simplicity, and the broad have established American Apparel as a pioneer in the wholesale market and the whole garment industry.
Mission: To produce high-quality garments without relying on low-cost "sweatshop" labor or exploiting employees. We make our t-shirts in the United States not because we're passionate flag fans but because it's the world's most lively T-shirt market, and hence the most efficient location to make them.
Vision: To be the best and most prominent brand in the industry committed to high-quality products, Arts, designs, and Technology.
Industry Overview: The advent of streetwear might be considered a lifestyle rather than a fad.' The streetwear sector is one of the world's most thriving industries. Many individuals feel that streetwear is the next fashion revolution and will continue to develop. According to fashion experts, streetwear sprang from and continues to be popular among fans of popular culture. People want to dress in clothing that is both comfortable and stylish. The variables that lead to the success of the streetwear sector are included in this definition. This industry's tendency is for fashion to be coupled with comfort.
Financial Overview: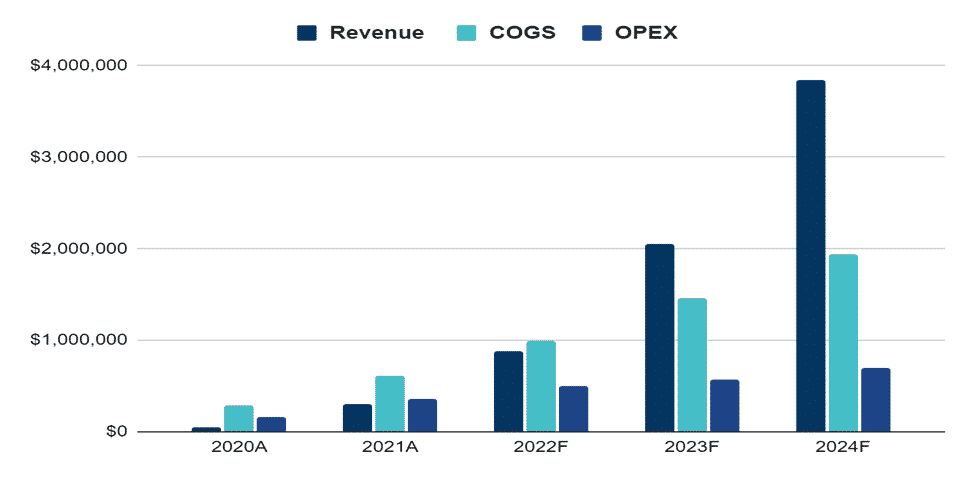 Street Wear Business Plan
Premium Template
Business Plan Template & Financial Model
Write your own business plan in a day! This also includes a premium WordPress theme worth $300! This will help you build your own website.
Financial Highlights:
| | | | | | |
| --- | --- | --- | --- | --- | --- |
| Liquidity | 2020A | 2021A | 2022F | 2023F | 2024F |
| Current ratio | 6 | 12 | 23 | 32 | 42 |
| Quick ratio | 6 | 11 | 22 | 31 | 40 |
| DSO | 8 | 8 | 8 | 8 | 8 |
| Solvency | | | | | |
| Interest coverage ratio | | | 8.2 | 11.1 | 14.2 |
| Debt to asset ratio | 0.01 | 0.01 | 0.2 | 0.18 | 0.16 |
| Profitability | | | | | |
| Gross profit margin | 51% | 51% | 53% | 53% | 53% |
| EBITDA margin | 12% | 14% | 21% | 22% | 22% |
| Return on asset | 5% | 6% | 13% | 14% | 14% |
| Return on equity | 5% | 6% | 16% | 17% | 17% |
FUND USAGE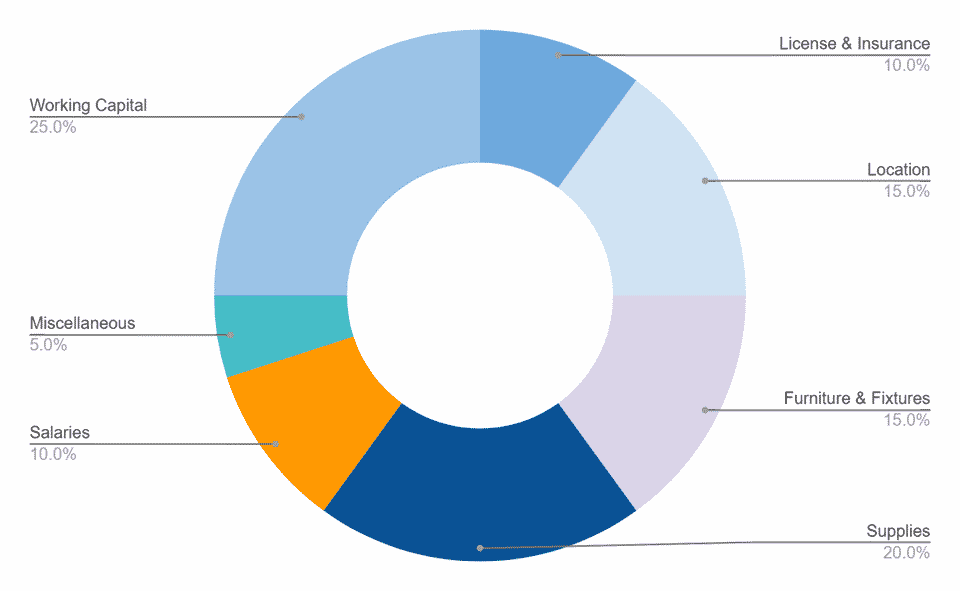 Free Business Plan Template
Get basic guidance
Get a Free Template on Email
Get a basic level of guidance for writing your own business plan.
Industry Analysis
In 2017, the streetwear market was estimated to be worth over 309 billion dollars, and it has continued to grow in popularity. Supreme, Fear of God, Kith, Yeezy from the United States, Off-White from Italy, and Bape from Japan lead the streetwear market. Demand and scarcity are at the heart of these streetwear behemoths' principal business approach. To build "buzz" and emotions of exclusivity among consumers, companies cultivate a dedicated following and sell limited-edition items with high price tags. As previously stated, Asia and the United States are the world's leading consumers of streetwear products, with Korea, the United States, China, and Japan at the forefront. The appeal of streetwear is broad—Target just debuted a budget-friendly streetwear brand, while Lululemon in Canada launched a streetwear line.
Secondary market firms like StockX, the GOAT app, and Grailed—all based in the United States—have helped spread streetwear's business throughout the world, boosting consumer accessibility and integrity via buying "verifications" and platforms. Secondary markets have enormous potential to change how people buy commodities that aren't one-of-a-kind or mass-produced, and their success is shown by the rapid growth each business has achieved in only a few years.
Finally, the streetwear industry is quite popular right now all around the globe. Its adoption by well-known commodity companies has further fueled the fire, with brand partnerships becoming more prevalent. Off-White and Nike just teamed together to create some of the most sought-after clothing in the world. This impact will be amplified by the extra influence of celebrities from all around the globe who favor streetwear fashion. Streetwear seems to be more than just a fad and is here to stay.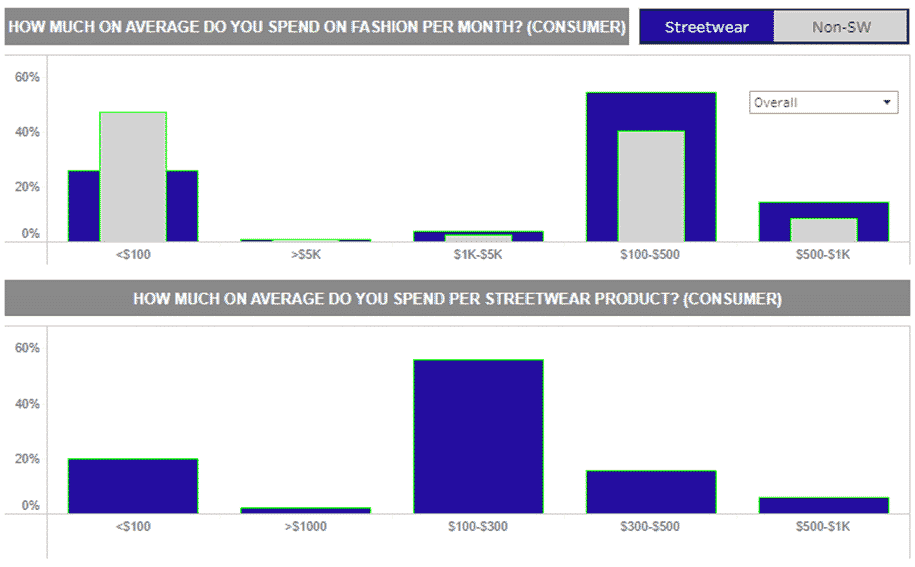 In our worldwide consumer survey, about 70% of respondents said their yearly income was $40,000 or less. Despite this, some shoppers are keen to purchase. Just over half of customers (54%) said they spend $100-$500 on streetwear each month, with another 18% saying they spend more than $500.According to our poll, a large number of people – 56 percent – said they spent an average of $100-$300 on a single piece of streetwear. Another 16% said they spent between $300 and $500 on average. Only 8% of respondents stated they would purchase things costing $500 or more, indicating that high-end luxury items are out of reach for many streetwear shoppers polled.
Lower-income respondents, in particular, were ready to spend up to five times as much per month on streetwear as they were on non-streetwear items. Male respondents reported spending somewhat more than female respondents, whereas non-gender-binary respondents reported much greater expenditure. Almost half of the industry respondents (49%) stated their customers' typical monthly expenditure was $100 to $500, which matched consumer reports. These findings indicate the optimal margin for addressing the streetwear market.
The streetwear industry's fan base is diverse, covering various ethnicities, subcultures, income levels, socioeconomic variables, and geographic locations. One of the major reasons for the streetwear industry's enormous success is its variety. People who like street fashion are mostly between the ages of 22 and 30. They also belong to a subculture, which gives them a feeling of self-identity and social acceptance. Southern California is regarded to be the birthplace of streetwear fashion. In the 1980s, a surfer began selling t-shirts with the same printed pattern as his surfboards to advertise his company. It gradually became a source of inspiration for others. As a result, streetwear fashion was born. In the 1990s, skating businesses in New York followed the trend and began printing their items in the same surfer's style. Sneaker culture was the next big thing in the streetwear business. In the early 2000s, influencers, celebrities, and fashion models were all spotted endorsing high-end shoes. In the early 2000s, a new style of high-end streetwear began to gain traction. The younger generation marketed and pushed streetwear. This encouraged the fashion industry, as well as luxury labels such as Nike and Gucci, to quickly embrace streetwear fashion.
High demand for the goods flows into the resale market since the commodity enters the secondary market at inflated rates due to low retail pricing. As an example, Streetwear is one of the most noticeable retail and fashion trends of recent years, comprising the manufacturing, marketing, sale, and resale of casual clothing outside of regular retail channels. Customers are often encouraged to be the first to acquire things that are exclusively accessible directly from the company, either in-store or online, using social media. The anticipation of a limited-time opportunity to purchase contributes to a close, even cult-like bond between streetwear firms and their customers.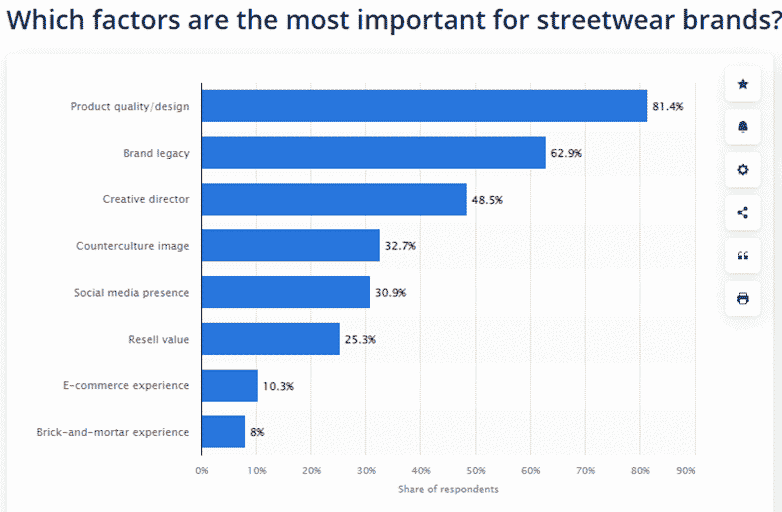 This has aided in the transformation of streetwear from a flashy fashion trend inspired by the counterculture of the 1980s and 1990s into a multibillion-dollar retail business. The worldwide streetwear market is estimated to be about $185 billion in sales*, accounting for around 10% of the total global clothing and footwear industry. Some of the most renowned established businesses in the retail and luxury goods industries, as well as the fashion industry in general, have taken notice of streetwear's influence – both on retail culture and the numbers involved. Players in the streetwear scene come from a variety of backgrounds in the fashion business. There are pure streetwear labels, and athletic companies are expanding their conventional sports equipment range into a rising streetwear portfolio with the notion of stylish, hip shoes and hoodies. Furthermore, premium companies attempt to establish a big presence in the streetwear industry.
This is mostly because it introduces a whole new target demographic of younger customers. The majority of streetwear's readership is under the age of 25. A second reason for established companies' interest is that streetwear has changed how fashion trends spread. Insiders have always served as gatekeepers to the latest fashions and trends in the fashion business, which has traditionally worked on a top-down paradigm. This has been flipped on its head by streetwear. Just as much as industry insiders, customers have the authority to choose what is hip. Rather than excessive pricing, scarcity and intimate knowledge create exclusivity and appeal. In a nutshell, streetwear has changed how "cool" is earned money.