Executive Summary
Overview: Henry Benton has launched a water park business called Grizzly Parks. The initiative's main purpose will be to provide a relaxing environment for families and an entertaining environment for children. It will provide a year-round spectrum of services throughout Rockland County, including water-based activities in the summer and winter.
Grizzly Parks is owned by Hailey Benton. Henry graduated with her MBA three years ago. He then worked for two years for a management firm before pursuing her goal of running and designing a business park with a coworker.
With classic services like Merry Go Rounds, Carousels, and Ships, Henry saw that the amusement and recreation enterprises in his town were becoming obsolete. He realized he could use the water bodies in the area to provide more exciting activities for the residents. As a result, he conducted some research and decided to open a water park.
Grizzly Parks' core offerings will include: Waterslides, Varied Depth Pools, Water Sports and Recreation Services.
Mission: Grizzly Parks is dedicated to offering all guests with unforgettable experiences that are exciting, interesting, and informative while fostering life-long learning and environmental activism within our theme park resort. Our goal is to maintain a stable financial position and be a preferred employment while providing the greatest levels of safety, animal welfare, goods, and guest service to our community.
Vision: Grizzly Parks will be the best theme park resort in the world, focusing on education, conservation, and entertainment while connecting people with nature.
Industry Overview: In the recent decade, the water park sector has grown in popularity. The water park market in North America is the largest, and it is expected to develop even quicker in the future years. Consumers are spending more time in the recreation business and are willing to pay more money on tickets to water parks. Every year, the industry grows by 15% to 20%, whether it's from new facilities launching or expansions or improvements to existing water parks. To attract more visitors, the rides and attractions been improved. As someone interested in entering this industry, you must enjoy being in an adventurous setting and be willing to participate in all elements of the water park business.
Starting again in the water park industry can be intimidating for even the most seasoned business owner, so it is crucial to conduct a thorough survey to learn about all the complexities involved in running a water park. It is critical to have a well-informed and experienced management team that completes its assigned tasks in accordance with your objectives. A water park business plan will guarantee that you have a clear understanding of your planned objectives.
Water parks have become increasingly popular, as per capita income has increased, boosting revenue in the business. The industry generates approximately $3 billion in revenue each year. Because this is a seasonal business, most water park owners locate their parks in places where the weather is pleasant. Due to industry saturation, few new water parks are launching, and those that are already operating aim to keep their clients by providing more amenities.
Local families, teenagers, young adults, and tourists are the most likely to attend a water park, and this is the demographic to target for marketing and promotions. There is a lot of rivalry in the sector, so it is critical to have excellent equipment for your water park and to find a suitable location for it that will be easily accessible by both locals and tourists.
When developing a water park, a good business plan can help you prepare for any dangers or obstacles that may arise. You must contend with shifting consumer tastes and preferences, as well as government and industry rules. Another key consideration before obtaining a business license for your water park is to come up with a catchy, distinct, and easily recognizable business name. Before opening a water park, a businessperson should be aware that no matter how profitable their venture is, it is still subject to risk. As a result, it is critical to safeguard your investment by purchasing enough insurance plans.
To differentiate itself from other water parks, a water park should have unique designs. It is critical to have start-up cash, business acumen, and leadership abilities in order to manage a successful water park business. You might also get professional certification to help you run your company more effectively.
Financial Overview: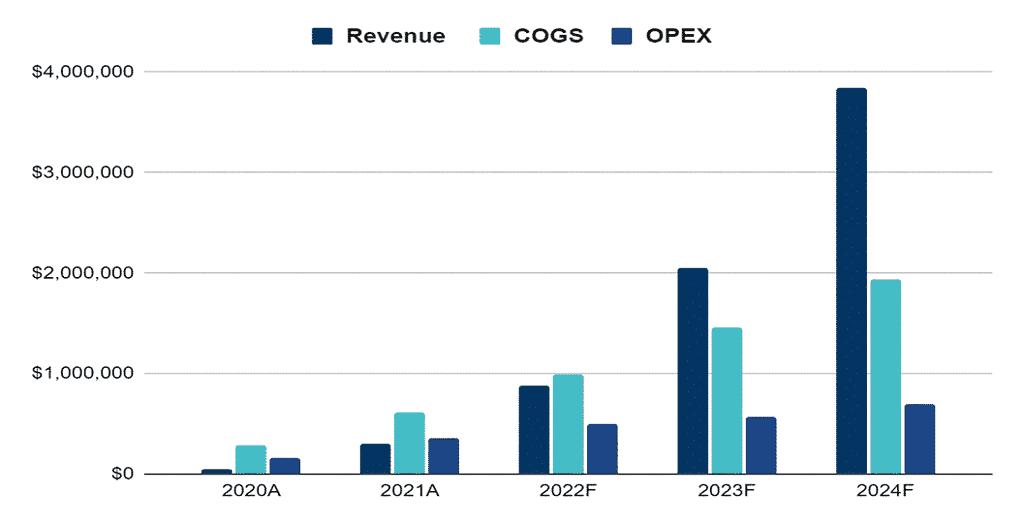 Financial Highlights:
| | | | | | |
| --- | --- | --- | --- | --- | --- |
| Liquidity | 2020A | 2021A | 2022F | 2023F | 2024F |
| Current ratio | 6 | 12 | 23 | 32 | 42 |
| Quick ratio | 6 | 11 | 22 | 31 | 40 |
| DSO | 8 | 8 | 8 | 8 | 8 |
| Solvency | | | | | |
| Interest coverage ratio | | | 8.2 | 11.1 | 14.2 |
| Debt to asset ratio | 0.01 | 0.01 | 0.2 | 0.18 | 0.16 |
| Profitability | | | | | |
| Gross profit margin | 51% | 51% | 53% | 53% | 53% |
| EBITDA margin | 12% | 14% | 21% | 22% | 22% |
| Return on asset | 5% | 6% | 13% | 14% | 14% |
| Return on equity | 5% | 6% | 16% | 17% | 17% |
Use of Funds: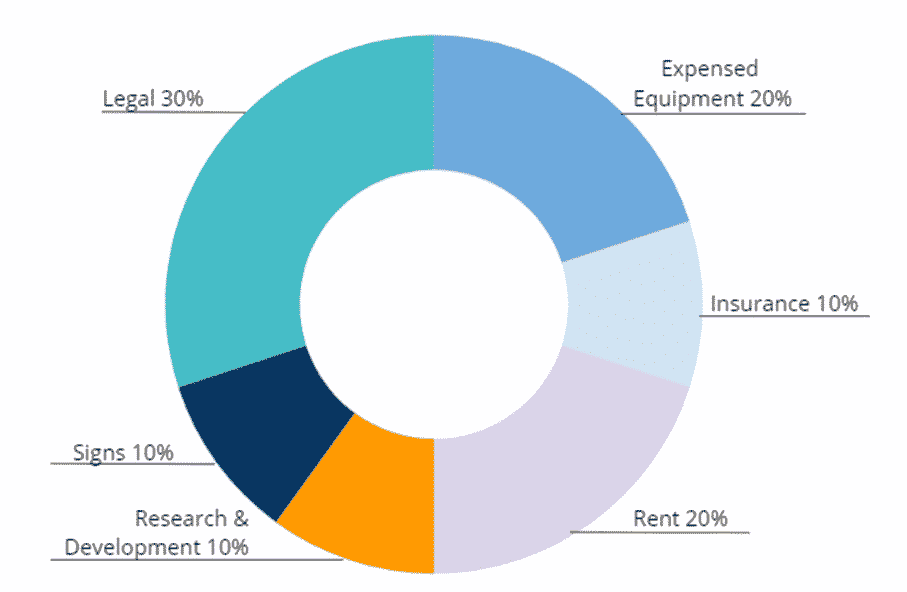 Industry Analysis
The COVID-19 crisis was the year's most significant event. The lodging and attractions businesses were among the most hit, with occupancy, attendance, and revenue all falling to record lows. Many outdoor water parks have postponed their season openings due to enforced closures, limited capacity, and travel restrictions, while some have decided not to open at all in 2020. Many resorts featuring indoor and outdoor water parks, as well as freestanding indoor water parks, were forced to close for a period of time. According to current vaccination deployment forecasts, normalcy will not be restored until the fall of 2021, making 2021 a year of ongoing low attendance and profitability.
Despite the obstacles, more than half of the current water park supply is expected to open in 2020. Many existing facilities took advantage of the closures to finish improvements that were long overdue. While many of the new outdoor facilities scheduled to launch in 2020 had to be postponed until 2021, the indoor segment grew faster in 2020 than in 2019.
According to our research, the water park industry would lose $3.7 billion in income in 2020 due to a decline in overall attendance of around 83.9 million. These figures show performance at a variety of venues, including standalone indoor water parks, resorts with indoor water parks, and indoor water park resorts. The COVID-19 problem had a significant impact on all of these assets in 2020, and they will continue to suffer pandemic-related challenges for the whole of 2021.
There were 1,153 water parks in the United States and Canada as of March 2021. Twelve of these projects are scheduled to launch in 2020. With one new private facility and six new municipal/non-profit facilities, more than half of these openings were in the indoor standalone segment. In the year 2020, one indoor water park resort and one outdoor water park resort will open. In the freestanding outdoor water park segment, two private and one municipal parks have opened. The numbers are broken down into regional bullets as follows:
• With 408 and 381, respectively, the Midwest and South have the most water parks.
• With 294 against 289 outdoor water parks, the South continues to beat the Midwest in total number, while Canada has the fewest with 33. Due to more favorable weather conditions, outdoor water parks in the South often have slightly longer operating seasons than those in the Northeast and Midwest.
• With 85 indoor water park facilities, the Midwest far outnumbers the rest of the United States and Canada.
• With 45 independent indoor water parks, the West is the leader in the number of indoor aquatic facilities with water parks, owing to the huge number of municipal/non-profit indoor aquatic facilities with water parks in Colorado and Utah.
• Having 47 resorts with outdoor water parks, the South is the most popular.
• With 39 indoor resort and standalone facilities, indoor water parks account for a larger percentage of the Canadian market. The number of outdoor water parks has remained constant at 33.
• 44 percent of hotels featuring indoor and outdoor water parks are part of a national hotel chain, while 56 percent are independent hotels.
• Municipal/non-profit water parks account for 68 percent of standalone indoor and outdoor water parks, while private/for-profit parks account for 32 percent.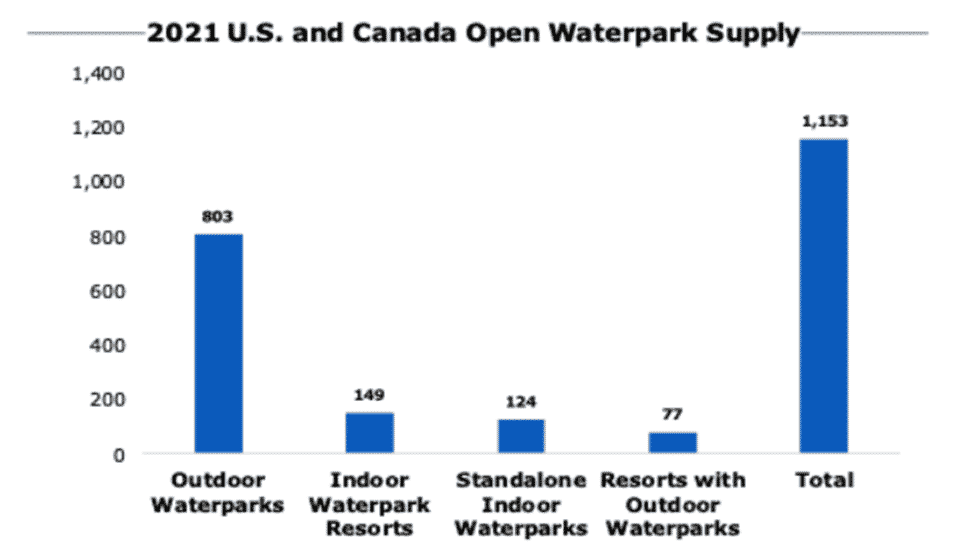 Over the five years leading up to 2017, the water parks business has made a major splash. Consumer expenditure on discretionary things like water park tickets has contributed to the industry's growth. In 2017, around 40 expansions and new facilities are planned to open in the water park industry.
In 2016, the water park business in North America continued to grow, with more than $550 million invested in indoor and outdoor water parks, as well as related resorts. In 2017, around 40 expansions and new facilities are planned to open in the water park industry.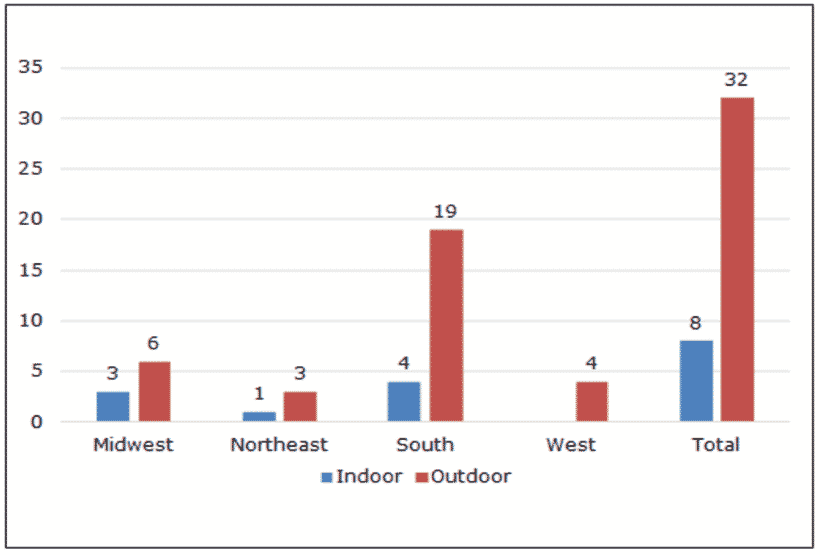 Marketing Plan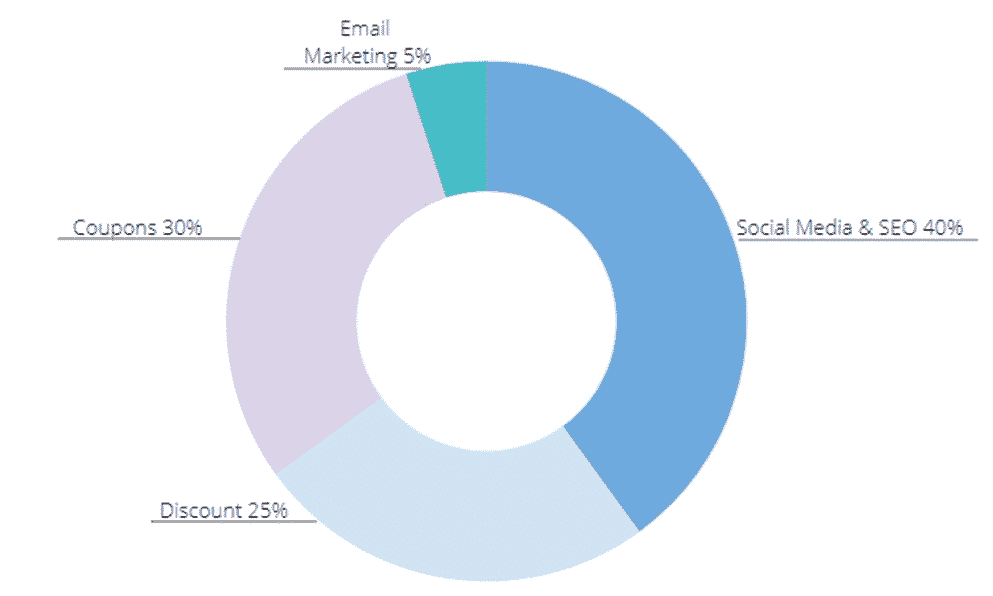 Social Media & SEO: Our adverts will be distributed through local, national, and international media, including Google Ads, posters, and social media.
Coupons: We will give out coupons for free trips or lessons to our loyal customers.
Discounts: We will have family packages with great discounts available.
Email Marketing: We use email to communicate with customers and make sales. To create long-term relationships and enhance long-term revenue, we will send cart abandonment emails or execute recurring email nurturing campaigns.
Organizational Plan: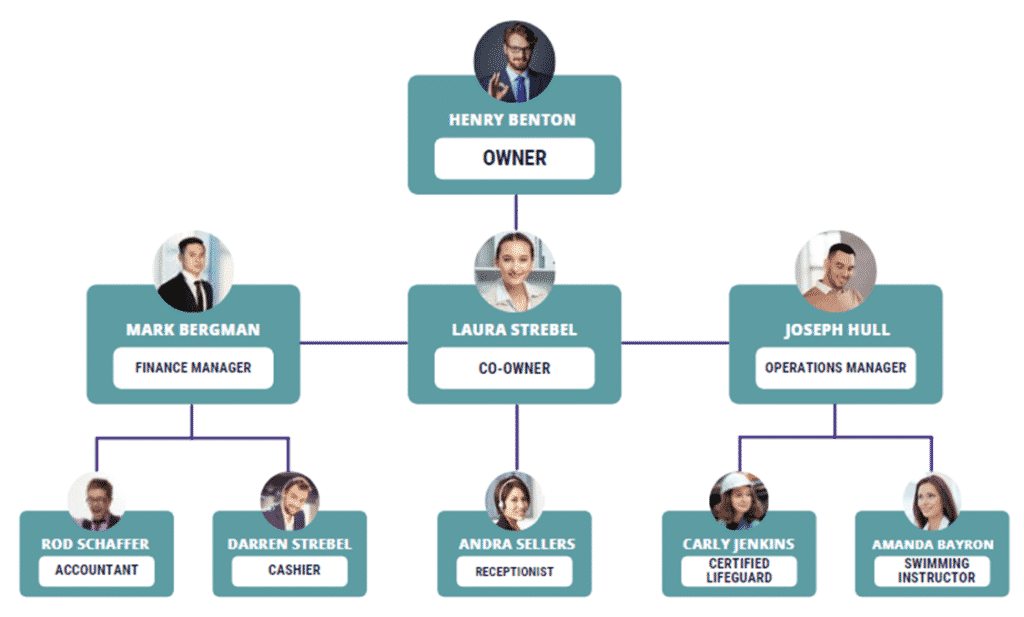 Financial Plan
Earnings: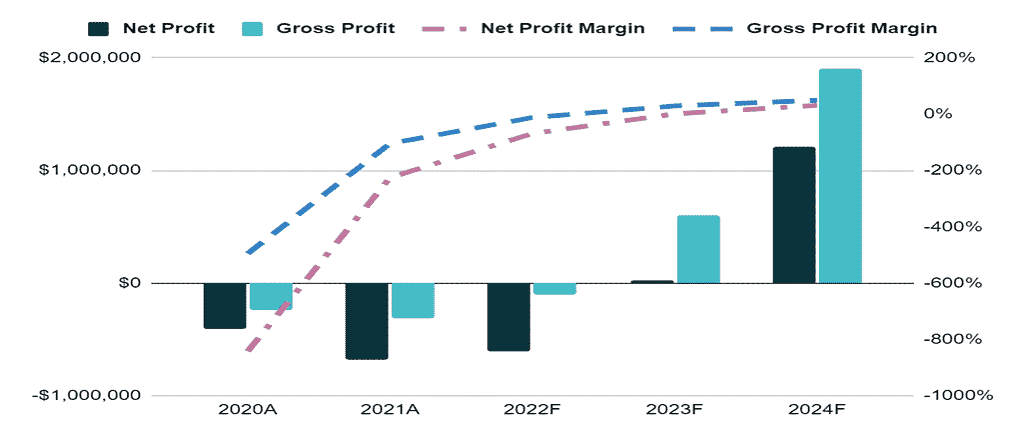 Income Statement:
| | | | | | |
| --- | --- | --- | --- | --- | --- |
| | 2020A | 2021A | 2022F | 2023F | 2024F |
| ANNUAL REVENUE | | | | | |
| Item 1 | 9,217 | 59,117 | 175,410 | 415,277 | 781,357 |
| Item 2 | 34,701 | 222,558 | 660,368 | 1,563,394 | 2,941,580 |
| Item 3 | 4,067 | 19,561 | 46,432 | 78,519 | 114,905 |
| Total annual revenue | 47,985 | 301,236 | 882,211 | 2,057,189 | 3,837,842 |
| % increase | | 528% | 193% | 133% | 87% |
| COST of REVENUE | | | | | |
| Item 1 | 360 | 2,259 | 6,617 | 15,429 | 28,784 |
| Item 2 | 480 | 3,012 | 8,822 | 20,572 | 38,378 |
| Item 3 | 52,000 | 65,000 | 78,000 | 91,000 | 104,000 |
| Item 4 | 720 | 3,615 | 8,822 | 16,458 | 23,027 |
| Item 5 | 140,000 | 336,000 | 560,000 | 840,000 | 1,120,000 |
| Item 6 | 60,000 | 144,000 | 240,000 | 360,000 | 480,000 |
| Item 7 | 32,000 | 61,333 | 85,533 | 112,153 | 141,435 |
| Total Cost of Revenue | 285,560 | 615,220 | 987,794 | 1,455,612 | 1,935,625 |
| as % of revenue | 595% | 204% | 112% | 71% | 50% |
| Gross Profit | -237,575 | -313,984 | -105,583 | 601,578 | 1,902,218 |
| SELLING & ADMIN EXPENSES | | | | | |
| Item 1 | 28,000 | 96,800 | 154,880 | 175,692 | 193,261 |
| Item 2 | 75,000 | 105,000 | 120,000 | 120,000 | 120,000 |
| Item 3 | 36,000 | 96,000 | 108,000 | 120,000 | 120,000 |
| Item 4 | 8,000 | 12,000 | 12,000 | 12,000 | 12,000 |
| Item 5 | 3,839 | 18,074 | 44,111 | 61,716 | 115,135 |
| Item 6 | 3,359 | 12,049 | 26,466 | 41,144 | 76,757 |
| Item 7 | 5,600 | 10,000 | 12,904 | 15,034 | 17,376 |
| Item 8 | 6,667 | 14,000 | 22,067 | 30,940 | 40,701 |
| Total selling & admin expenses | 166,464 | 363,924 | 500,428 | 576,525 | 695,230 |
| as % of revenue | 347% | 121% | 57% | 28% | 18% |
| Net profit | -404,039 | -677,907 | -606,011 | 25,052 | 1,206,987 |
| Accumulated net profit | -404,039 | -1,081,947 | -1,687,957 | -1,662,905 | -455,918 |