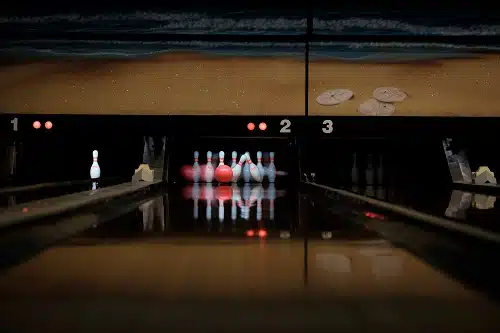 If you are planning to write the Bowling Alley business plan on your own, then this sample Bowling Alley business plan can be great for guidance. However, if you are looking for a professional business plan writer for a business loan, SBA loan or to find out the possibility of success for your new business then let's talk!
Executive Summary
Overview: Charles Brown will own Charlie's Bowling Alley, a bowling alley. The company's primary goal will be to provide bowling alley services to residents of Portland and the surrounding areas. It will offer a wide range of services, from simple bowling lanes to league management, and so on.
Charles earned his MBA two years ago and spent nine months working for a consulting firm before leaving to pursue his childhood ambition of opening a bowling alley. Around him, Charles noted that recreation centers offered expensive, limited offerings. He recognized he could offer a bowling alley business strategy that prioritized family. He also wanted to provide services that were affordable. As a result, he decided to start his own business to put his ideas into action.
Mission: Our goal as a company is to provide courteous, reliable recreational bowling services to our customers.
Vision: To be the go-to bowling alley in Portland and the surrounding areas and to embrace the sport's changing dynamics.
Industry Overview: Bowling took off after the mechanical pinsetter was invented in the early 1950s. Approximately 12,000 bowling centers had been erected in predominantly blue-collar, urban areas of the United States by the mid 1960s. During the 1970s, however, the bowling market plummeted due to demographic and lifestyle changes. In 1998, the United States had only 6,542 accredited bowling centers, the lowest number since 1954. As a result, the bowling industry attempted to rebrand itself in order to appeal to the affluent middle class and their children. New centers with state-of-the-art facilities have been established in better market locations. Computerized scoring, premium eating, entertainment, and even childcare were all added to existing venues.
In 1997, 53.3 million Americans visited a bowling alley at least once, making tenpin bowling the most popular indoor participation sport in the United States, based on once-per-year involvement. There were also 8 million "frequent bowlers," who bowled at least 25 times a year.
There were many different types of bowling, but tenpins became the most popular in the United States and the rest of the world. Tenpin bowling is a type of indoor bowling that is played with 15-inch pins positioned in a triangle at the end of a wooden or synthetic lane, according to ABC regulations. The game is divided into ten frames, each with two ball rolls. The goal is to get a strike by knocking down all 10 pins with the first ball. If any pins remain after the initial roll, they are removed and a second delivery attempt is made. A spare is obtained by knocking over all of the remaining pins. A perfect game has a total score of 300 and consists of 12 consecutive strikes (two additional rolls are granted on the final frame).
Financial Overview: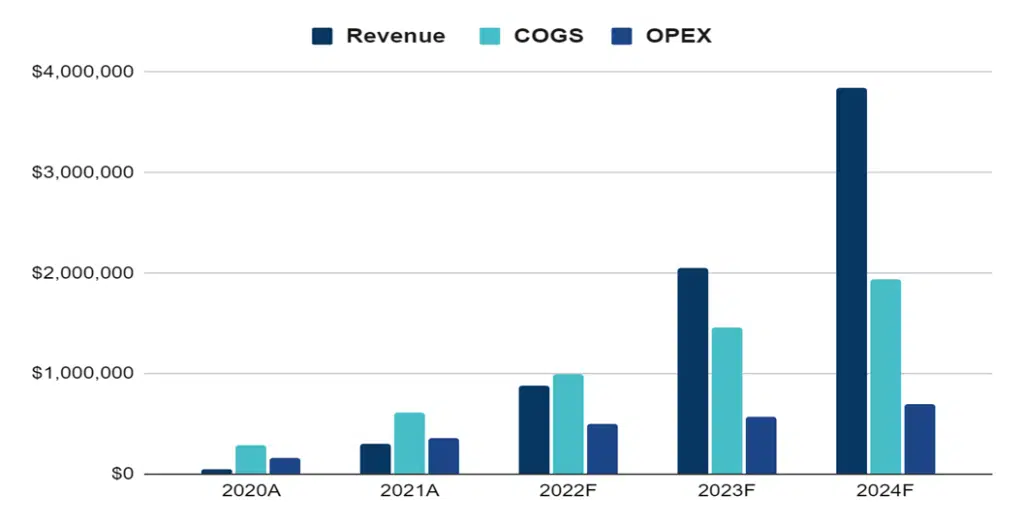 Copy-paste the following in this section:
Financials is one of the most important sections of a Bowling Alley business plan. You can get an idea of your projected revenue, required investment amount, is the business sustainable without additional funding, etc.
Financial Highlights:
| | | | | | |
| --- | --- | --- | --- | --- | --- |
| Liquidity | 2020A | 2021A | 2022F | 2023F | 2024F |
| Current ratio | 6 | 12 | 23 | 32 | 42 |
| Quick ratio | 6 | 11 | 22 | 31 | 40 |
| DSO | 8 | 8 | 8 | 8 | 8 |
| Solvency | | | | | |
| Interest coverage ratio | | | 8.2 | 11.1 | 14.2 |
| Debt to asset ratio | 0.01 | 0.01 | 0.2 | 0.18 | 0.16 |
| Profitability | | | | | |
| Gross profit margin | 51% | 51% | 53% | 53% | 53% |
| EBITDA margin | 12% | 14% | 21% | 22% | 22% |
| Return on asset | 5% | 6% | 13% | 14% | 14% |
| Return on equity | 5% | 6% | 16% | 17% | 17% |
Use of Funds: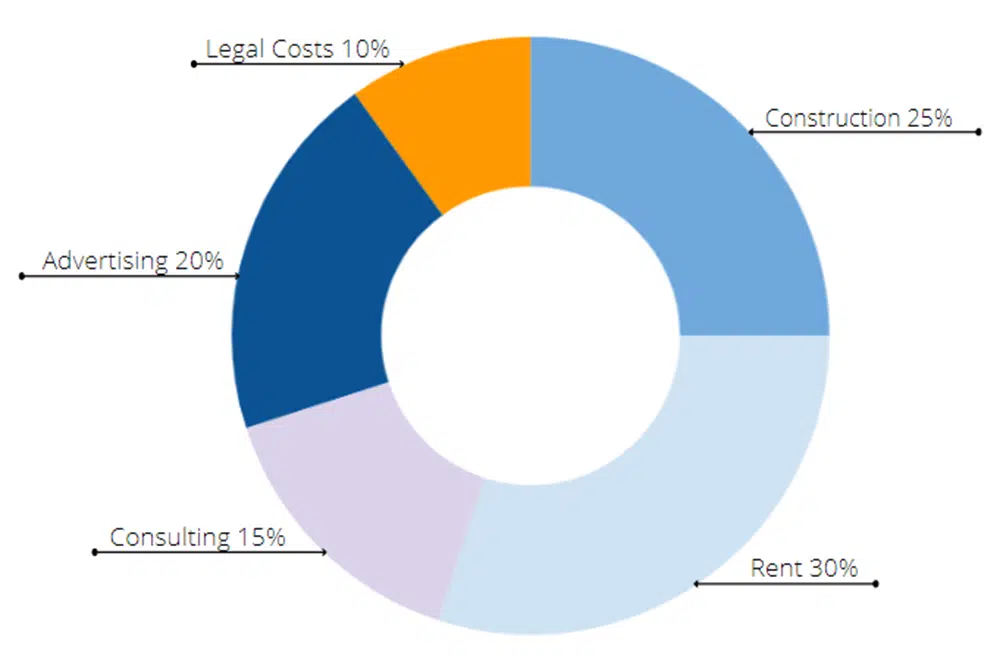 Industry Analysis
The industry analysis section of the Bowling Alley business plan will help you get better insights into competitors, market growth, and overall industry prospects. You can order a custom market research report for your Bowling Alley business.
The influence of the COVID-19 pandemic on the global bowling center market is demonstrated in this paper. All of the aspects relevant to COVID -19's overall impact on market movement, industry trend, and growth have been addressed in this report, as well as how main companies have adjusted and adopted to these changes. This will also help you comprehend the pandemic's positive, negative, and neutral consequences on the Bowling Centers Market.
The number of Americans who bowl each year is steadily decreasing. Although the Great Recession, which began in late 2007, may appear to be the cause of the fall, we can trace the beginning of the decline in bowling participation back to 2006. In actuality, the decline is even more pronounced than the graph depicts, because as the population has grown over time, the per capita participation rate has fallen even further.
Bowling leagues are nearing the end of their lives. Leagues used to account for over three-quarters of a bowling alleys revenue. Consider this: not that long ago, in the twentieth century, people would sign up to go bowling at a specific time every week for up to 32 years. Imagine this happening right now. It is difficult enough to convince them to commit to something the following week. Bowling used to be considered a blue-collar country club. Since then, blue-collar jobs have been on the wane, and those who remain seek more flexibility in their future leisure time responsibilities.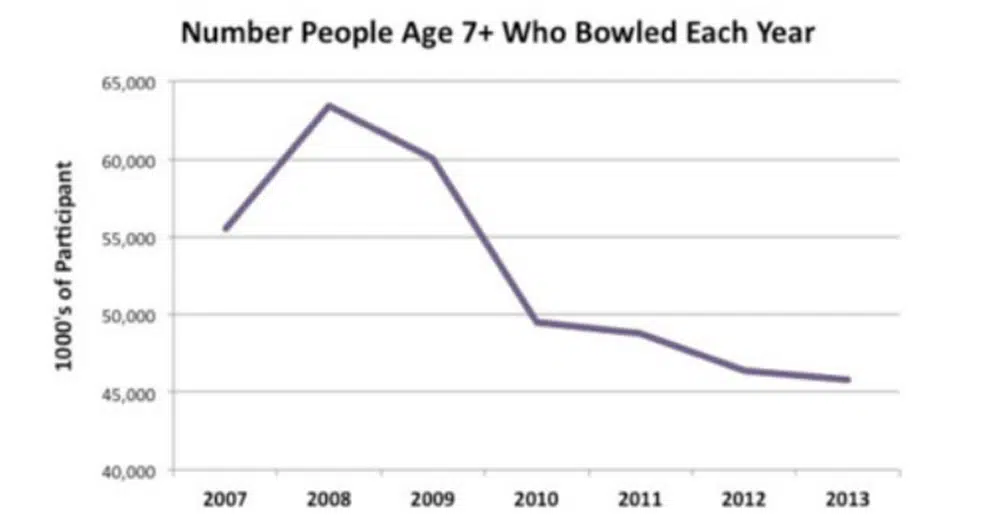 While working on the industry analysis section of the Bowling Alley business plan make sure that you add significant number of stats to support your claims and use proper referencing so that your lender can validate the data.
As a result, that is a big factor in the downturn; leagues now account for roughly 20% of the market, and their drop is ongoing. All of the ancient bowling alleys are also contributing to the deterioration. The majority are in bad shape. They fall short of modern expectations in terms of décor, atmosphere, maintenance, guest service/hospitality, and food quality. They are not a place where a more affluent casual bowler would want to go. Most bowling alleys are 20th-century dinosaurs attempting to compete in the 21st-century leisure competitive landscape, and as a result, their numbers are rapidly declining as their customer base has dwindled. However, there is a silver lining to the situation. To attract the American audience, a new style of 21st-century venue featuring bowling has arisen. They're not called bowling alleys. Bowling is only one of several activities available. They provide more than just bowling; they frequently provide laser tag, bocce ball, and a variety of diversions, including gaming rooms. They provide meals and beverages that satisfy current industry requirements. The décor, ambience, and guest services are all upscale. The most popular ones provide destination dining in a unique restaurant setting. The most popular ones cater to an affluent adult demographic, with no family attractions to dilute their attractiveness. The ones that are well-thought-out generate annual revenues of more than $6.0 million.
The bowling centers market study is divided into two sections: service (bowling and amusement) and geography (food and beverages) (North America, Europe, APAC, South America, and the Middle East and Africa). During the forecast period, North America will be the leading region, accounting for 39 percent of market growth. In North America, the United States and Canada are the most important markets for bowling centers.
Given the huge development potential of the sport, a number of established market participants are focusing on extending their number of bowling lanes and regional presence. Due to the popularity of the family entertainment center idea, bowling centers around the world have begun to draw more customers. This has pushed companies to open new centers in the United States and other desirable places in order to serve a larger target audience. As a result, increased expansion efforts from existing market players will have a substantial impact on the overall size of the bowling centers market in the approaching years.
According to a market survey of bowling facilities, bowling as a sport is becoming more popular in developing economies such as India and South Africa. Bowling fans in emerging nations are flocking to hotel chains with exclusive bowling facilities. This growing interest in bowling in India and South Africa will emerge as one of the most prominent bowling center market trends.
The bowling center market is highly fragmented due to the existence of established and regional companies. Various firms from the hospitality industry are entering the bowling industry, heightening the market's competition. Customers may be discouraged from attending exclusive bowling facilities if hotels offer specialty bowling centers on their grounds. The increased competition, on the other hand, will drive bowling center vendors to devise efficient tactics in order to stay competitive and maintain their market share.
Marketing Plan
A key part of the marketing plan in a Bowling Alley business plan is the marketing budget. The growth in the number of customers is proportional to the budget and dependent on the CAC.
Social Media and Posters: We will advertise our services on social media, on flyers, and by word of mouth.
Discount: We will offer discounts to children as well as customers that book leagues.
Promotions: We will provide discounts and promotions to our consumers on a regular basis.
Email Marketing: To contact with customers and make sales, we use email. We will send cart abandonment emails or run periodic email nurturing campaigns to build long-term relationships and increase long-term revenue.
Organizational Plan: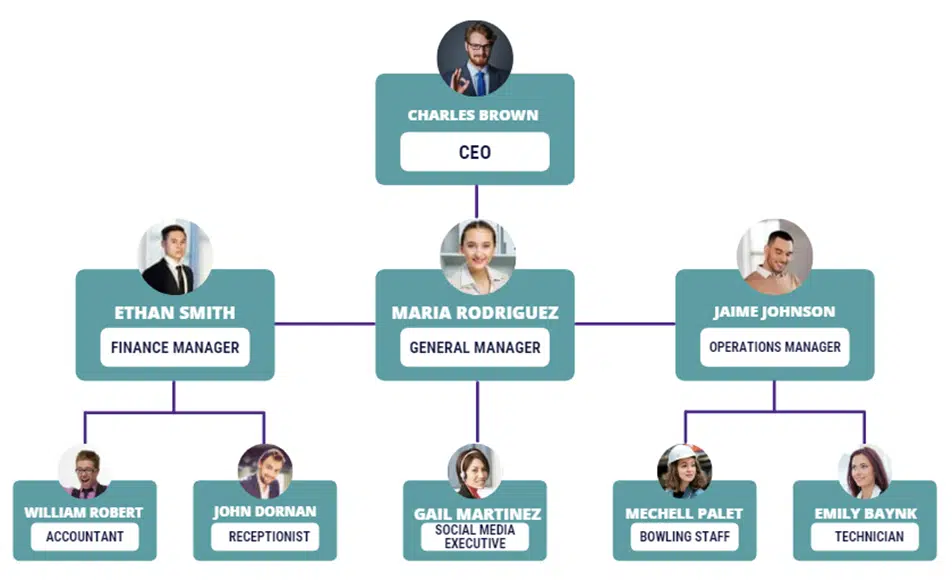 Financial Plan
This section of the Bowling Alley business plan helps your lender figure out whether you will be able to pay off the loan, whether the business is sustainable, what are the growth prospects, etc.
Earnings: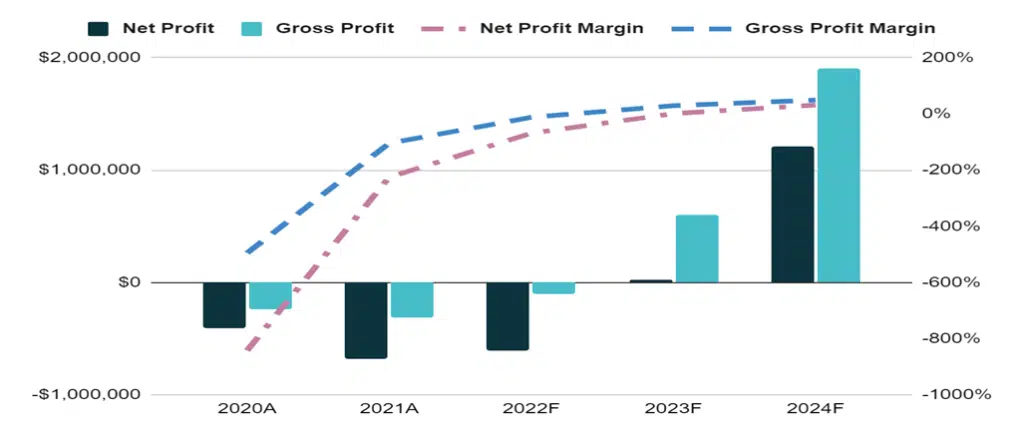 Income Statement:
| | | | | | |
| --- | --- | --- | --- | --- | --- |
| | 2020A | 2021A | 2022F | 2023F | 2024F |
| ANNUAL REVENUE | | | | | |
| Item 1 | 9,217 | 59,117 | 175,410 | 415,277 | 781,357 |
| Item 2 | 34,701 | 222,558 | 660,368 | 1,563,394 | 2,941,580 |
| Item 3 | 4,067 | 19,561 | 46,432 | 78,519 | 114,905 |
| Total annual revenue | 47,985 | 301,236 | 882,211 | 2,057,189 | 3,837,842 |
| % increase | | 528% | 193% | 133% | 87% |
| COST of REVENUE | | | | | |
| Item 1 | 360 | 2,259 | 6,617 | 15,429 | 28,784 |
| Item 2 | 480 | 3,012 | 8,822 | 20,572 | 38,378 |
| Item 3 | 52,000 | 65,000 | 78,000 | 91,000 | 104,000 |
| Item 4 | 720 | 3,615 | 8,822 | 16,458 | 23,027 |
| Item 5 | 140,000 | 336,000 | 560,000 | 840,000 | 1,120,000 |
| Item 6 | 60,000 | 144,000 | 240,000 | 360,000 | 480,000 |
| Item 7 | 32,000 | 61,333 | 85,533 | 112,153 | 141,435 |
| Total Cost of Revenue | 285,560 | 615,220 | 987,794 | 1,455,612 | 1,935,625 |
| as % of revenue | 595% | 204% | 112% | 71% | 50% |
| Gross Profit | -237,575 | -313,984 | -105,583 | 601,578 | 1,902,218 |
| SELLING & ADMIN EXPENSES | | | | | |
| Item 1 | 28,000 | 96,800 | 154,880 | 175,692 | 193,261 |
| Item 2 | 75,000 | 105,000 | 120,000 | 120,000 | 120,000 |
| Item 3 | 36,000 | 96,000 | 108,000 | 120,000 | 120,000 |
| Item 4 | 8,000 | 12,000 | 12,000 | 12,000 | 12,000 |
| Item 5 | 3,839 | 18,074 | 44,111 | 61,716 | 115,135 |
| Item 6 | 3,359 | 12,049 | 26,466 | 41,144 | 76,757 |
| Item 7 | 5,600 | 10,000 | 12,904 | 15,034 | 17,376 |
| Item 8 | 6,667 | 14,000 | 22,067 | 30,940 | 40,701 |
| Total selling & admin expenses | 166,464 | 363,924 | 500,428 | 576,525 | 695,230 |
| as % of revenue | 347% | 121% | 57% | 28% | 18% |
| Net profit | -404,039 | -677,907 | -606,011 | 25,052 | 1,206,987 |
| Accumulated net profit | -404,039 | -1,081,947 | -1,687,957 | -1,662,905 | -455,918 |