Executive Summary
Overview: When you look nice, you feel good. La Vie Lashbar believes that each customer is distinct and valuable; each pair of lashes must represent the client's preferences, style, and lash manageability. We want our customers to understand the application process, have the skills to properly care for them, and be aware of the many looks and alternatives available. Quality, not quantity, is what La Vie is all about. Our lash sets are handcrafted using high-quality materials, advanced training, and expertise. Because it is our clients' delight that genuinely motivates us, we never sacrifice quality to save time or money. The materials we utilize, comprehensive application procedures, and how we serve our customers give us confidence that we are providing an excellent experience.
Mission: Our mission in La Vie Lashbar is to get to know our customers personally, discover what makes them feel their best, and educate them on the benefits of a quality lash treatment.
Vision: Establish La Vie Lashbar as the go-to location for all of your eyelash requirements and services, with a worldwide reputation for quality.
Industry Overview: The United States' earnings from eyelash extensions were predicted to be $124.95 million in 2015. It also brought $270 million in only one year, from 2017 to 2018. In four years, the industry will have grown by around double. The sector may have made slower steps during COVID, but analysts' projections show no severe setbacks for the next five to 10 years. They also mention that North America, which currently has a market share of 37 percent, is expected to see the most increase. Natural lash extensions are expected to rise at a compounded annual growth rate of 5.2 percent from 2019 to 2025. The online equivalent is likely to expand at 7.1 percent between now and 2025.
Financial Overview: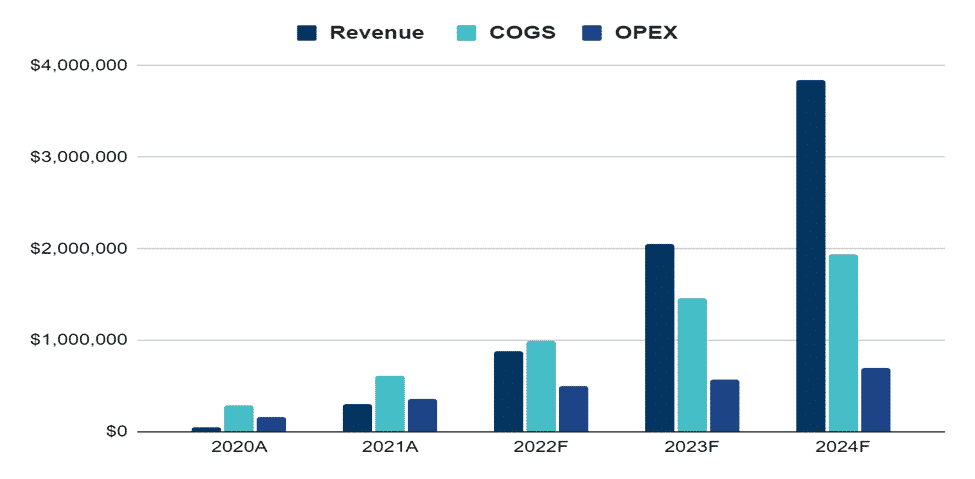 Financial Highlights:
| | | | | | |
| --- | --- | --- | --- | --- | --- |
| Liquidity | 2020A | 2021A | 2022F | 2023F | 2024F |
| Current ratio | 6 | 12 | 23 | 32 | 42 |
| Quick ratio | 6 | 11 | 22 | 31 | 40 |
| DSO | 8 | 8 | 8 | 8 | 8 |
| Solvency | | | | | |
| Interest coverage ratio | | | 8.2 | 11.1 | 14.2 |
| Debt to asset ratio | 0.01 | 0.01 | 0.2 | 0.18 | 0.16 |
| Profitability | | | | | |
| Gross profit margin | 51% | 51% | 53% | 53% | 53% |
| EBITDA margin | 12% | 14% | 21% | 22% | 22% |
| Return on asset | 5% | 6% | 13% | 14% | 14% |
| Return on equity | 5% | 6% | 16% | 17% | 17% |
FUND USAGE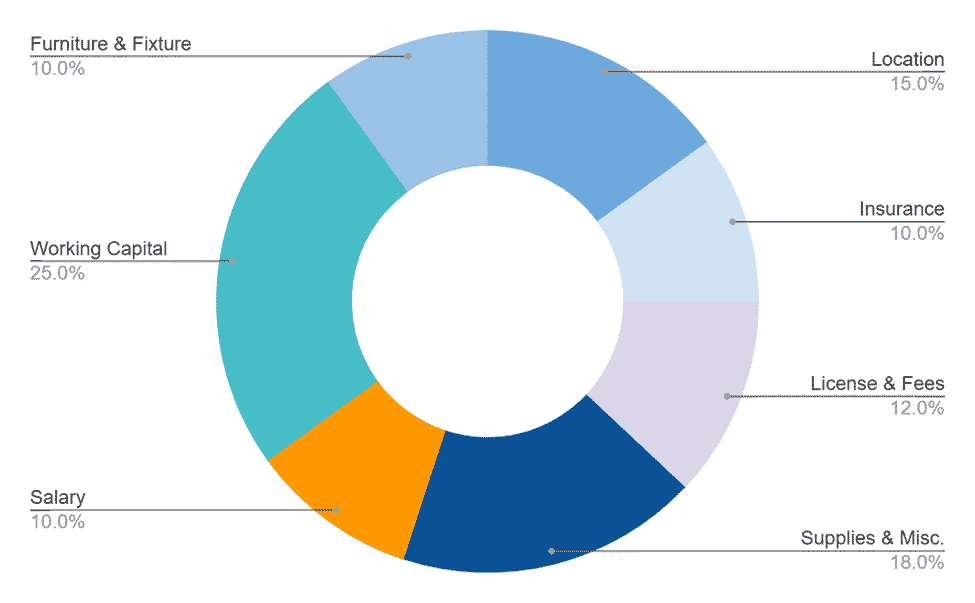 Industry Analysis
The worldwide fake eyelashes market was worth USD 1.1 billion in 2018, with a forecasted CAGR of 5.4 % over the next five years. Consumers of all ages accept these cosmetic products, whether they are used temporarily, permanently, daily, or perhaps sometimes. False lash extensions provide volume to natural eyelashes and, when used properly, may completely change one's look. The rising desire for personalized and distinctive appearances will significantly impact market growth in terms of cosmetics.
These lash extensions have become a popular option among women, thanks to various items that aid in a rapid and straightforward application. While most artificial eyelashes must be put on, magnetic lashes are becoming more popular due to their simplicity of application. Ardell's magnetic eyelash collection debuted in January 2018 in Target, CVS, Rite Aid, Ulta, Sally Beauty, Walmart, and Walgreens, among other drugstores around the United States. The product is available for USD 13.99 and comes in five designs, including three entire strip lashes and two accents.
In 2018, the revenue share of strip artificial eyelashes was slightly under 40%. These styles are trendy among those who use artificial eyelashes regularly since they are the simplest and fastest to put on. These products are user-friendly since they cover the whole lash line in one application. Their application does not need the assistance of beauticians or makeup artists, which is a bonus. Strip artificial eyelashes come in a variety of styles and are pre-styled.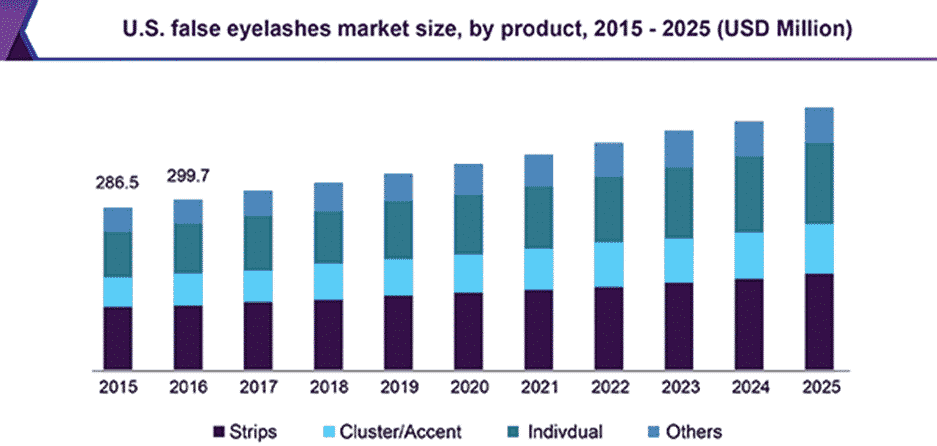 From 2019 to 2025, the market for individual fake eyelashes is predicted to grow at 6.0 percent. Customers may choose from single or flared versions, and they have a natural yet striking appearance. Although temporary and permanent artificial eyelash extensions are available, most customers prefer to wear them for a longer period since they are time-consuming. Each lash, or cluster of lashes, must be applied one at a time, and specialist assistance is typically required.
From 2019 to 2025, the natural eyelash extension market is predicted to develop at a steady 5.2 percent CAGR. Mink Hair, ebony hair, human hair, or silk are used to make these items. In comparison to their counterparts, they are lighter in weight, have a finer texture, and are considerably more flexible. They have a smooth texture that mimics natural lashes, and their low weight makes them simple to apply daily.
False eyelashes improve the look of natural hair by adding volume, lengthening it, or adding volume. Consumer demand for self-grooming items such as fake eyelashes is fueled by rising disposable money and an increased desire to improve physical appearance. The middle-buying class's habits and living standards quickly change as per capita disposable income rises. Hair extension products have become more important in terms of income and usage as the fashion and entertainment industries have grown.
North America, Europe, Asia-Pacific (APAC), the Middle East and Africa (MEA), and South and Central America are the five main areas in which the artificial eyelashes market is divided (SAM). Europe will have the highest share of the global fake eyelash market in 2020. The expansion of the fake eyelashes market is driven by the region's rapidly increasing demand for ornamental cosmetics goods such as nail care, eye makeup, lip care, and many others. The fashion and beauty sector is centered in Europe. Some of the key drivers driving the development of the regional market are Europe's thriving beauty and fashion sector and quickly rising eye makeup trends.
One of the primary factors of the eyelash extension market's development is the rising demand for eyelash extensions among the millennial generation. Millennials are brand loyalists willing to pay a premium for a high-quality product. The market for eyelash extensions will be driven by the rising popularity of personal care and cosmetic goods among millennials. One of the key difficulties for the worldwide eyelash extension market's development is the availability of low-cost solutions in the unorganized sector. According to Technavio's recent analysis, the worldwide eyelash extension market is expected to increase at a CAGR of 4.48 percent from 2021 to 2026.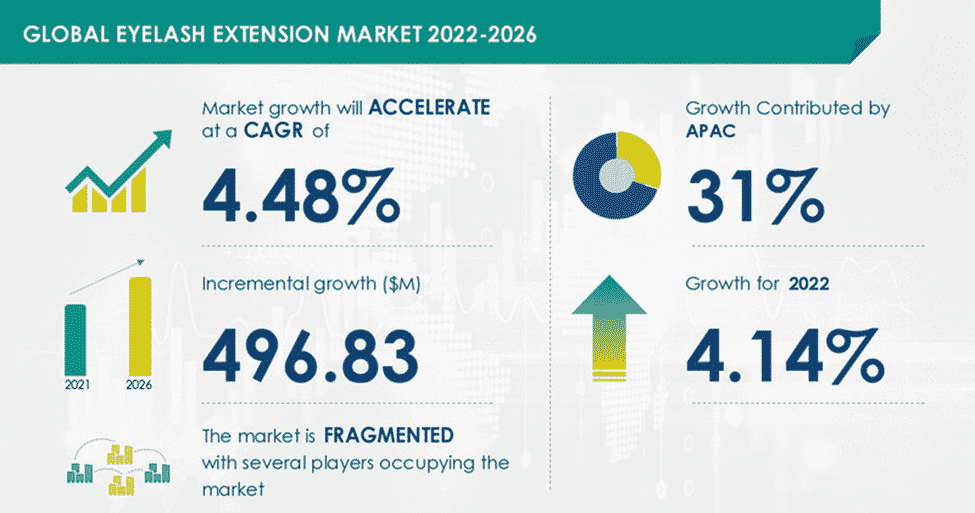 Strip lashes and individual lashes are the two types of fake eyelashes available worldwide. In 2020, the worldwide fake eyelashes market will be dominated by strip lashes. Strip lashes are a pre-made band of lashes with a removable adhesive applied to the eyelids. Consumers who use artificial eyelashes daily like these types since they are the fastest and simplest to apply. These products are user-friendly since they cover the whole lash line with one application.
Human hair, synthetic and animal hair & fur make up the fake eyelashes industry. In 2020, the synthetic category led the market, and this dominance is likely to continue throughout the forecast period. On the other hand, human hair lashes are predicted to increase at the fastest pace in the future years. They are more delicate than synthetic lashes but thicker than mink lashes and mirror the appearance of one's eyelashes. If stored in a cool, dry environment, human hair lashes may be reused many times.
Supermarkets and hypermarkets, specialty shops, internet shopping, and other distribution channels are used to segment the market. In terms of value, the worldwide fake eyelashes market in 2020 was led by supermarkets and hypermarkets. These retailers have concentrated on offering a variety of categories to captivate clients and give them the option of selecting from various brands before making a purchase. False eyelash makers gain from the growing number of supermarkets and general retail stores.
Marketing Plan: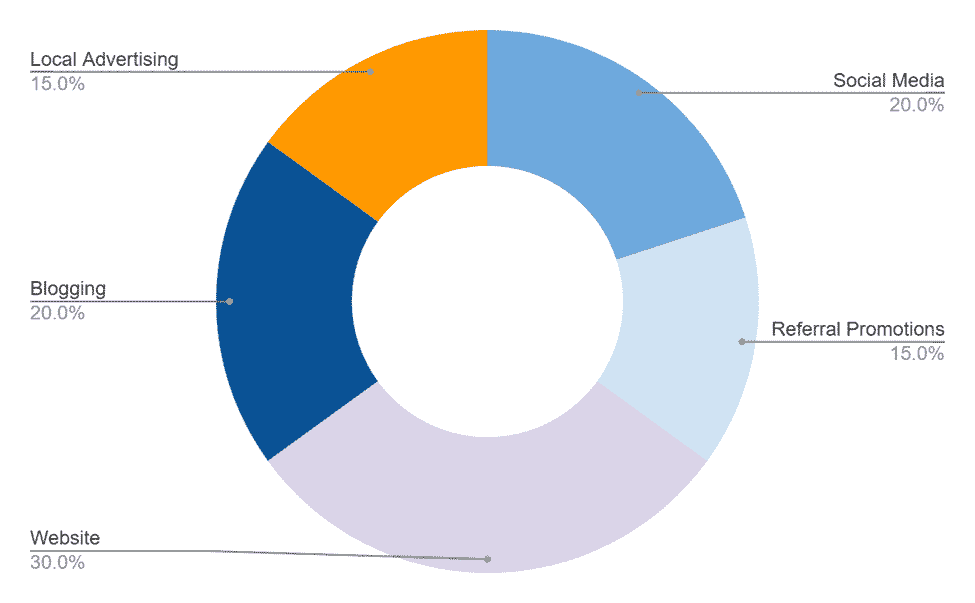 Social Media: Frequent posting La Vie Lashbar's lash work on social media attracts new customers. La Vie Lashbar will be posting before and after photos.
Referral Promotions: Referrals from previous customers of La Vie Lashbar will show that they are satisfied with our work. If a customer refers a friend or a family member, she will be given a percentage off.
Website: A precise and up-to-date website of La Vie Lashbar will have an appointment button so they can schedule their visit ahead.
Blogging: We will be taking a live video while receiving eyelash extensions at La Vie Lashbar to promote our services and how skilled our eyelash technicians are and provide clients with educational resources about lash care.
Local Advertising: Reach out to small business owners near La Vie Lashbar and ask them to hang our ad in their shop and reciprocate the favor by letting them put their ads on our bulletin board.
Organogram: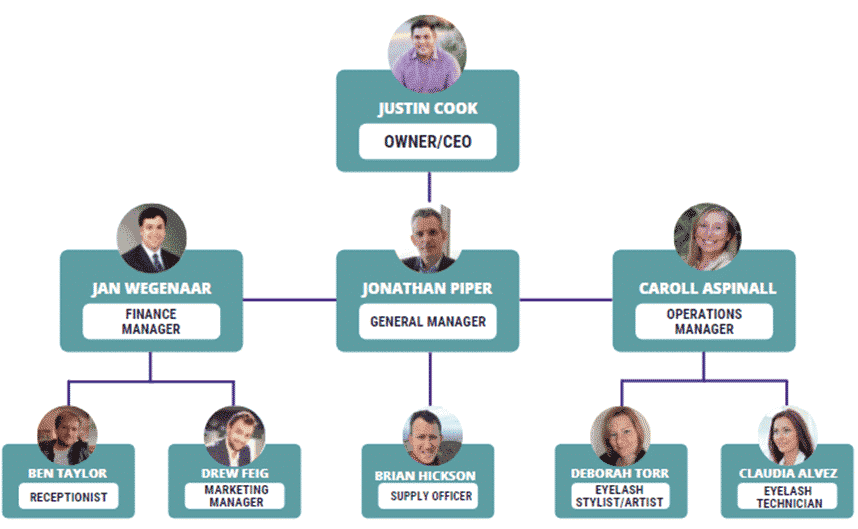 Financial Plan:
Earnings: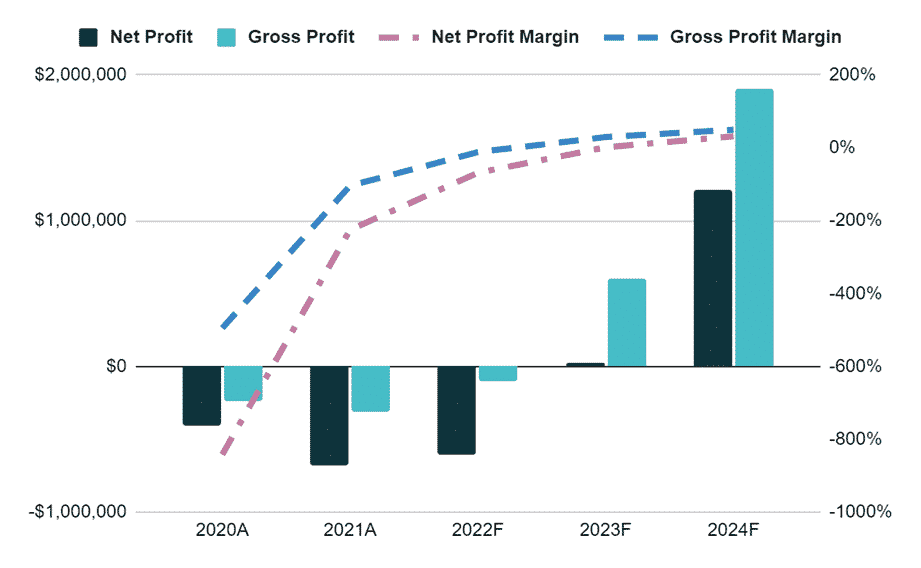 Break-Even Analysis: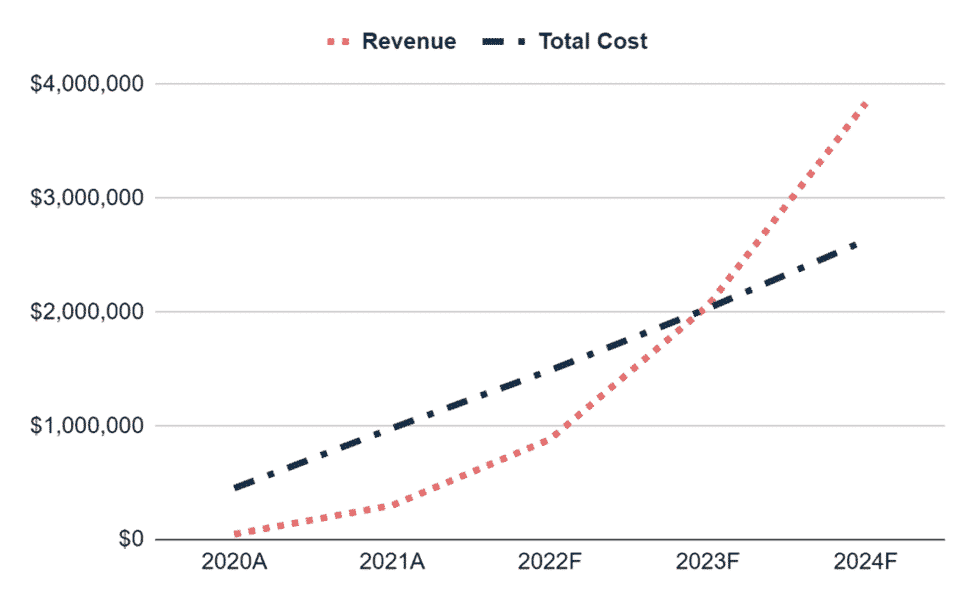 Income Statement:
| | | | | | |
| --- | --- | --- | --- | --- | --- |
| | 2020A | 2021A | 2022F | 2023F | 2024F |
| ANNUAL REVENUE | | | | | |
| Item 1 | 9,217 | 59,117 | 175,410 | 415,277 | 781,357 |
| Item 2 | 34,701 | 222,558 | 660,368 | 1,563,394 | 2,941,580 |
| Item 3 | 4,067 | 19,561 | 46,432 | 78,519 | 114,905 |
| Total annual revenue | 47,985 | 301,236 | 882,211 | 2,057,189 | 3,837,842 |
| % increase | | 528% | 193% | 133% | 87% |
| COST of REVENUE | | | | | |
| Item 1 | 360 | 2,259 | 6,617 | 15,429 | 28,784 |
| Item 2 | 480 | 3,012 | 8,822 | 20,572 | 38,378 |
| Item 3 | 52,000 | 65,000 | 78,000 | 91,000 | 104,000 |
| Item 4 | 720 | 3,615 | 8,822 | 16,458 | 23,027 |
| Item 5 | 140,000 | 336,000 | 560,000 | 840,000 | 1,120,000 |
| Item 6 | 60,000 | 144,000 | 240,000 | 360,000 | 480,000 |
| Item 7 | 32,000 | 61,333 | 85,533 | 112,153 | 141,435 |
| Total Cost of Revenue | 285,560 | 615,220 | 987,794 | 1,455,612 | 1,935,625 |
| as % of revenue | 595% | 204% | 112% | 71% | 50% |
| Gross Profit | -237,575 | -313,984 | -105,583 | 601,578 | 1,902,218 |
| SELLING & ADMIN EXPENSES | | | | | |
| Item 1 | 28,000 | 96,800 | 154,880 | 175,692 | 193,261 |
| Item 2 | 75,000 | 105,000 | 120,000 | 120,000 | 120,000 |
| Item 3 | 36,000 | 96,000 | 108,000 | 120,000 | 120,000 |
| Item 4 | 8,000 | 12,000 | 12,000 | 12,000 | 12,000 |
| Item 5 | 3,839 | 18,074 | 44,111 | 61,716 | 115,135 |
| Item 6 | 3,359 | 12,049 | 26,466 | 41,144 | 76,757 |
| Item 7 | 5,600 | 10,000 | 12,904 | 15,034 | 17,376 |
| Item 8 | 6,667 | 14,000 | 22,067 | 30,940 | 40,701 |
| Total selling & admin expenses | 166,464 | 363,924 | 500,428 | 576,525 | 695,230 |
| as % of revenue | 347% | 121% | 57% | 28% | 18% |
| Net profit | -404,039 | -677,907 | -606,011 | 25,052 | 1,206,987 |
| Accumulated net profit | -404,039 | -1,081,947 | -1,687,957 | -1,662,905 | -455,918 |
Cash Flow Statement:
| | | | | | |
| --- | --- | --- | --- | --- | --- |
| | 2020A | 2021A | 2022F | 2023F | 2024F |
| CASH FLOW from OPERATING ACTIVITIES | | | | | |
| Net profit before tax | -$404,039 | -$677,907 | -$606,011 | $25,052 | $1,206,987 |
| Depreciation | $44,267 | $85,333 | $120,504 | $158,127 | $199,512 |
| Payables | | | | | |
| Item 1 | $4,333 | $5,417 | $6,500 | $7,583 | $8,667 |
| Item 2 | $11,667 | $28,000 | $46,667 | $70,000 | $93,333 |
| Item 3 | $6,250 | $8,750 | $10,000 | $10,000 | $10,000 |
| Item 4 | $3,000 | $8,000 | $9,000 | $10,000 | $10,000 |
| Item 5 | $667 | $1,000 | $1,000 | $1,000 | $1,000 |
| Total payables | $25,917 | $51,167 | $73,167 | $98,583 | $123,000 |
| change in payables | $25,917 | $25,250 | $22,000 | $25,417 | $24,417 |
| Receivables | | | | | |
| Item 1 | $320 | $1,506 | $3,676 | $5,143 | $9,595 |
| Item 2 | $360 | $1,807 | $4,411 | $8,229 | $11,514 |
| Total receivables | $680 | $3,314 | $8,087 | $13,372 | $21,108 |
| change in receivables | -$680 | -$2,634 | -$4,773 | -$5,285 | -$7,736 |
| Net cash flow from operating activities | -$334,536 | -$569,958 | -$468,280 | $203,311 | $1,423,180 |
| | | | | | |
| CASH FLOW from INVESTING ACTIVITIES | | | | | |
| Item 1 | $16,000 | $13,200 | $14,520 | $15,972 | $17,569 |
| Item 2 | $20,000 | $22,000 | $24,200 | $26,620 | $29,282 |
| Item 3 | $28,000 | $22,000 | $14,520 | $10,648 | $11,713 |
| Item 4 | $96,000 | $88,000 | $72,600 | $79,860 | $87,846 |
| Item 5 | $20,000 | $22,000 | $24,200 | $26,620 | $29,282 |
| Net cash flow/ (outflow) from investing activities | -$180,000 | -$167,200 | -$150,040 | -$159,720 | -$175,692 |
| | | | | | |
| CASH FLOW from FINANCING ACTIVITIES | | | | | |
| Equity | $400,000 | $440,000 | $484,000 | $532,400 | $585,640 |
| Net cash flow from financing activities | $400,000 | $440,000 | $484,000 | $532,400 | $585,640 |
| Net (decrease)/ increase in cash/ cash equivalents | -$114,536 | -$297,158 | -$134,320 | $575,991 | $1,833,128 |
| Cash and cash equivalents at the beginning of the year | – | -$114,536 | -$411,693 | -$546,014 | $29,978 |
| Cash & cash equivalents at the end of the year | -$114,536 | -$411,693 | -$546,014 | $29,978 | $1,863,105 |
Balance Sheet:
| | | | | | |
| --- | --- | --- | --- | --- | --- |
| | 2020A | 2021A | 2022F | 2023F | 2024F |
| NON-CURRENT ASSETS | | | | | |
| Item 1 | $16,000 | $29,200 | $43,720 | $59,692 | $77,261 |
| Item 2 | $20,000 | $42,000 | $66,200 | $92,820 | $122,102 |
| Item 3 | $28,000 | $50,000 | $64,520 | $75,168 | $86,881 |
| Item 4 | $96,000 | $184,000 | $256,600 | $336,460 | $424,306 |
| Item 5 | $20,000 | $42,000 | $66,200 | $92,820 | $122,102 |
| Total | $180,000 | $347,200 | $497,240 | $656,960 | $832,652 |
| Accumulated depreciation | $44,267 | $129,600 | $250,104 | $408,231 | $607,743 |
| Net non-current assets | $135,733 | $217,600 | $247,136 | $248,729 | $224,909 |
| | | | | | |
| CURRENT ASSETS | | | | | |
| Cash | -$114,536 | -$411,693 | -$546,014 | $29,978 | $1,863,105 |
| Accounts receivables | $680 | $3,314 | $8,087 | $13,372 | $21,108 |
| Total current assets | -$113,856 | -$408,380 | -$537,927 | $43,349 | $1,884,214 |
| Total Assets | $21,878 | -$190,780 | -$290,791 | $292,078 | $2,109,122 |
| | | | | | |
| LIABILITIES | | | | | |
| Account payables | $25,917 | $51,167 | $73,167 | $98,583 | $123,000 |
| Total liabilities | $25,917 | $51,167 | $73,167 | $98,583 | $123,000 |
| | | | | | |
| EQUITIES | | | | | |
| Owner's equity | $400,000 | $840,000 | $1,324,000 | $1,856,400 | $2,442,040 |
| Accumulated net profit | -$404,039 | -$1,081,947 | -$1,687,957 | -$1,662,905 | -$455,918 |
| Total equities | -$4,039 | -$241,947 | -$363,957 | $193,495 | $1,986,122 |
| Total liabilities & equities | $21,878 | -$190,780 | -$290,791 | $292,078 | $2,109,122 |