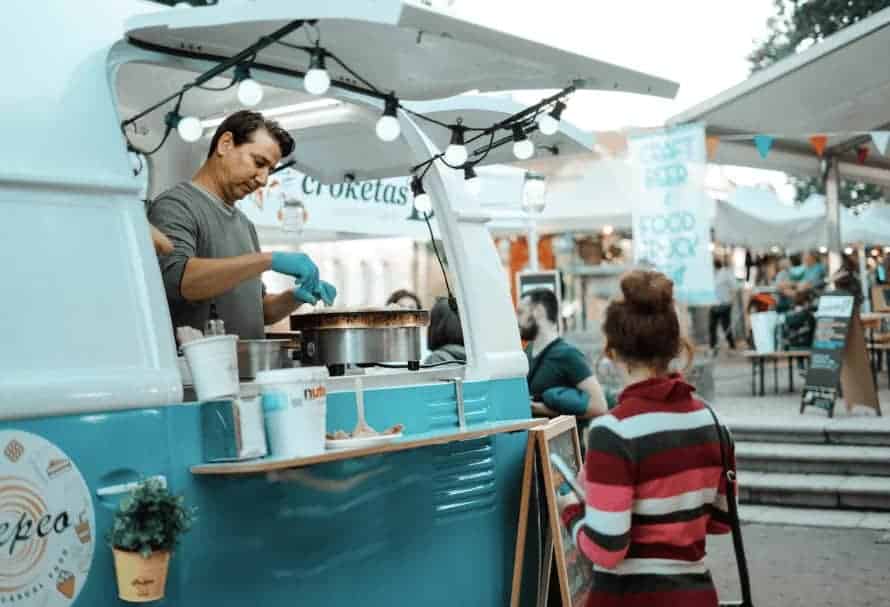 Food Truck Business Plan is an outline of your overall Food Truck business. The business plan includes a 5 year projection, marketing plan, industry analysis, organizational overview, operational overview and finally the executive summary. Remember to write your executive summary at the end as it is considered as a snapshot of the overall business plan. The creation of a Food Truck business plan requires careful consideration of various factors that might impact the business's success. Ultimately, a Food Truck business plan serves as a roadmap to guide the company's direction.

Table of Contents
Executive Summary
Overview: The Go-Go Truck is a mobile food truck that serves locally produced, farm-fresh fare. Our food truck has meticulously designed a menu consisting of San Diego's freshest dishes, serving breakfast and lunch meals that go above and beyond traditional food truck cuisine. Ari and Liam met at a catering firm in San Francisco and formed a bond focused on food, laughter, and travel. The Go-Go Truck was created to fulfill a lifelong goal. We promise Fresh Food Fast to individuals in San Diego searching for a great and locally sourced dinner, combining Liam's vast expertise as a chef of numerous cuisines with Ari's comprehensive understanding of food systems' sustainability and agriculture from across the globe.
Mission: To provide excellent, fresh cuisine for breakfast, lunch, or your next event and high-quality, genuine cuisine conveniently and affordably.
Vision: To become the most well-known mobile food truck brand in Los Angeles and throughout the United States and Canada.
Financial Overview: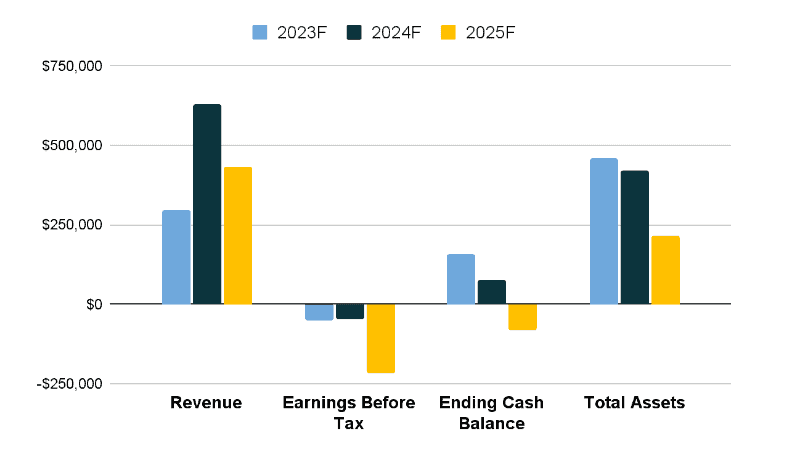 Industry Overview:
Between 2016 and 2021, the food truck sector grew at an annualized pace of 12.1%. The food truck industry in the United States has expanded consistently over the previous decade, and it has continued to grow rapidly in the last five years, with annual growth of 12.1%. The food truck sector grew at an annual pace of 8.6% from 2016 to 2021. Except for a short drop from 2016 to 2017, the pace of growth has been steadily increasing. The rate was already at 8% in 2021. Between 2016 and 2021, the market for food trucks grew by an average of 6.6 percent every year. The industry's market value is $1.16 billion in 2021, up from $1.1 billion in 2020. The market continuously increased from 2016 to 2019, reaching $1.21 billion in 2019, before declining in 2020 and rising again in 2021.
Business Description
Business Name:
Founder: Jacob Harris
Management Team:


Legal Structure: LLC
Location:
Mission: "Our mission at [Food Truck Name] is to provide delicious, high-quality food on the go, using fresh ingredients and innovative recipes. We aim to create a fun and memorable dining experience for our customers, while also being a responsible and sustainable business."
Vision: "Our vision at [company name] is to be the go-to source for delicious and innovative street food, known for our commitment to using fresh ingredients and supporting local communities."
Goals:
✅Increase profitability by optimizing menu pricing and controlling food and labor costs.
✅Expand the business by adding additional food trucks or brick-and-mortar locations.
✅Improve customer satisfaction by providing high-quality, tasty food and excellent customer service.
✅Build a strong brand and reputation by consistently delivering on the company's mission and values.
Products:
✅[Mention your services in bullet points]
Financial Overview
Fund Usage Plan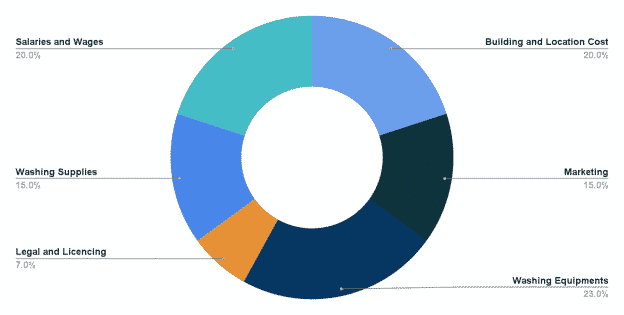 Key Metrics:


Business Model Canvas
The Canvas summarizes the business model of the entire Food Truck business plan. It comprises nine key components – customer segments and value propositions to revenue streams and cost structures. The canvas provides a clear and concise way to map out, analyze, and communicate the intricacies of a business idea. It offers a holistic view of how a business creates, delivers, and captures value. It also aids entrepreneurs in refining concepts, fostering innovation, and making informed strategic choices. It serves as a versatile tool for brainstorming, planning, and presenting business models to stakeholders.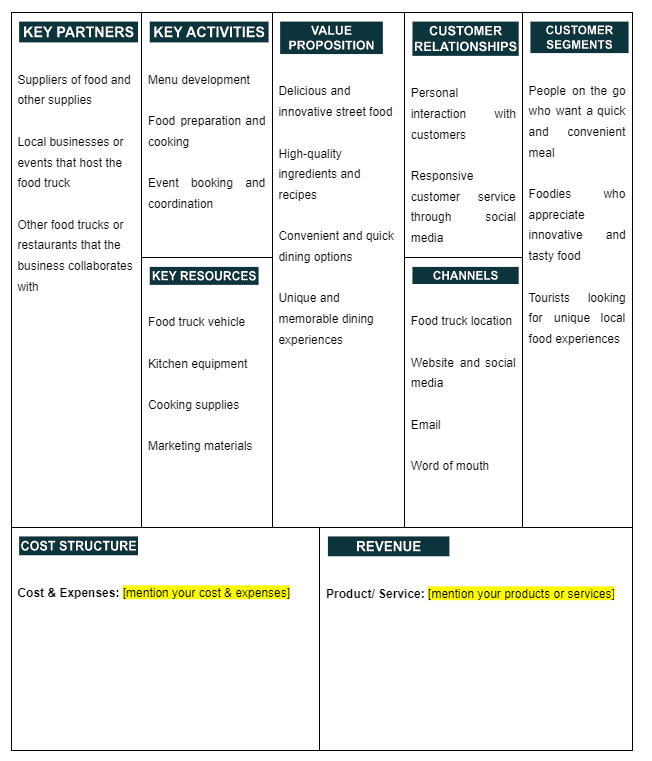 SWOT
A SWOT analysis is integral to a Food Truck business plan. it offers a clear lens into a company's strengths, weaknesses, opportunities, and threats. This self-awareness enables effective resource allocation and strategic positioning against competitors. Businesses can mitigate risks, make informed decisions, and set realistic goals. In addition, presenting a SWOT analysis in a business plan communicates to stakeholders that the company possesses a deep understanding of its market environment. In essence, SWOT ensures a business's strategy is grounded in reality enhancing its chances of success.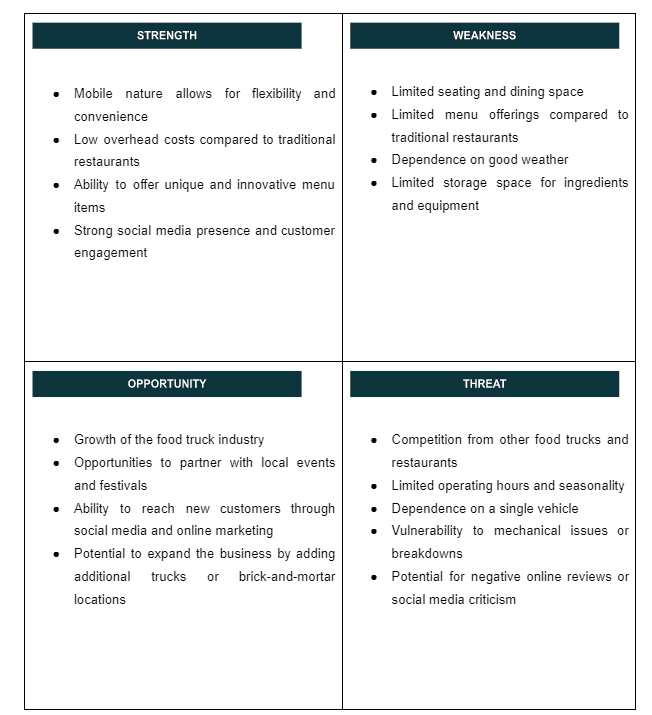 Organizational Overview
Organizational overview in a Food Truck business plan provides a snapshot of how a company is structured and operates. It outlines the ownership structure, roles, responsibilities of key management personnel, and the reporting hierarchy within the organization. This section offers stakeholders, investors and other readers a clear understanding of the company's leadership and its chain of command. Additionally, it may give insight into the company's culture, values and operational philosophy.
Founder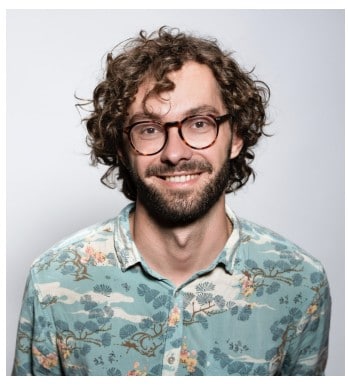 Jacob Harris here, owner and operator of the food truck business that bears my name. My early years were spent cultivating a passion for gastronomic research as well as the delight that comes from sharing excellent cuisine with other people. This love led me to the exciting world of food trucks, where I could bring my culinary creations straight to the streets and engage with a varied spectrum of clients.
I started my own food truck because I had a great desire to provide eating experiences that people would remember for a long time. I really think that sharing a meal has the potential to not only bring people closer together but also to bring forth feelings of unadulterated joy. Those who come to my food truck get to experience a one-of-a-kind culinary journey because I take great effort in curating a menu that highlights robust tastes, fresh ingredients, and imaginative pairings.
I am an entrepreneur who runs a food truck, and I take full advantage of the mobility and excitement that come along with running my business out of a truck. My job gives me the chance to travel to a wide variety of places, take part in a variety of food-related events and festivals, and maintain an ongoing relationship with a community of foodies who are really enthusiastic about their work. My company was founded on the principle that providing great customer service is of the utmost importance. I work hard to not only prepare and serve mouthwatering meals, but also to cultivate a friendly and welcoming environment that encourages clients to return for more of what we have to offer.
Organogram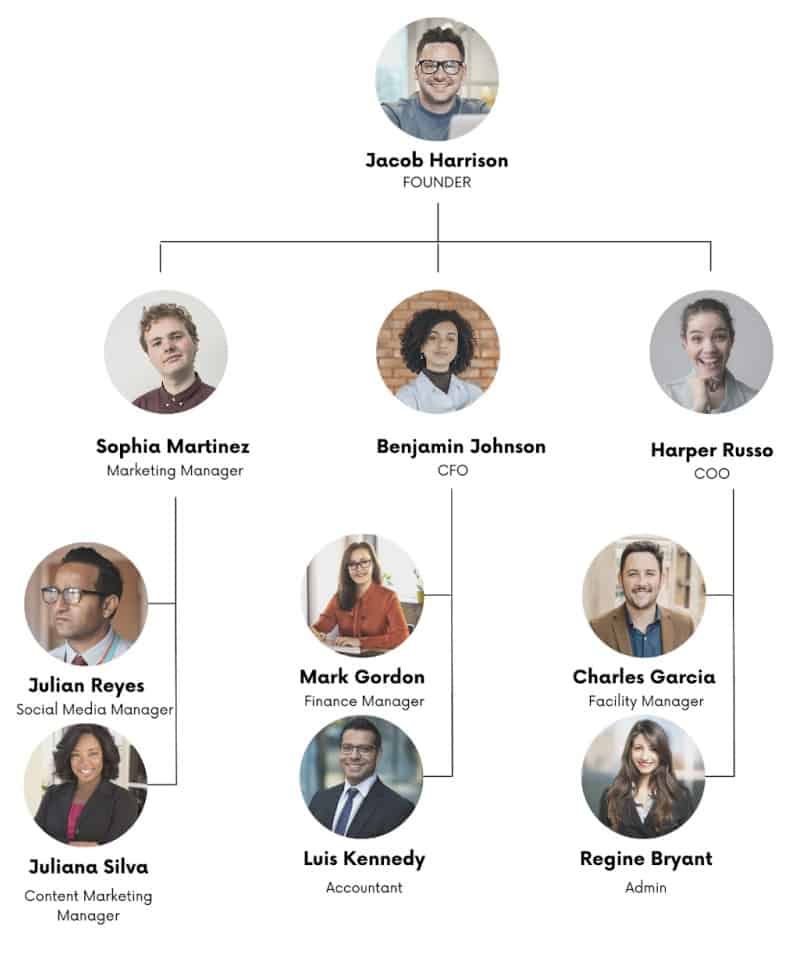 Industry Analysis
The increasing popularity of the food truck sector has transformed the public's impression of food trucks from inexpensive eats to intriguing local – or foreign – meal stops. Food trucks have evolved into full-fledged restaurants, providing anything from burgers to ice cream to cupcakes to exotic cuisine. This shift is reflected in the industry's patterns, indicating an increase in truck numbers and revenue.
Food truck growth was first slowed by COVID-19. Most people are working from home; several of the most successful pre-pandemic customer-gathering areas, such as parking lots near business hubs, were temporarily unprofitable. However, unlike conventional eateries, this business is more mobile and has had fewer losses and closures. Indeed, despite epidemic limitations and social distancing measures, the food truck sector continued to thrive, letting individuals "eat out."
Instead of conventional direct mailing marketing tactics, food truck owners use specialized websites, social media campaigns, and geolocation capabilities to contact their consumers. They also use social media marketing to promote engagement by engaging with their local audience, hosting events, and spreading the word.
Food truck fans are mostly millennials (47%), and many are repeat customers. Food truck clients aged 18 to 34 are the most likely, followed by those aged 35 to 44. Over 80% of food truck eaters go there for a thrilling, new, and unusual experience. The food truck industry's success is fueled by customer happiness. More than 90% of customers say their experience was outstanding.
Food Trucks have seen a growth in popularity in the five years leading up to 2021, owing to an increase in gastronomy in the United States. During this time, the industry has outperformed the rest of the foodservice industry. On city streets and parking lots, in parks, and during festivals, the industry comprises operators who cook and sell a wide variety of cuisine from mobile food trucks. Since its inception, the business has developed swiftly. Many new food truck operators are joining the market to meet shifting customer expectations for gourmet fare and creative culinary ideas. Industry revenue is predicted to increase by 6.6 percent annually to $1.2 billion after five years due to these developments.
The COVID-19 (coronavirus) epidemic has impacted foot traffic in commercial district locations, where a big portion of the Food Truck sector operates. Many individuals have moved to work remotely, putting industry operators in a difficult situation. Food truck operators have changed their focus to residential areas, important businesses, and rest spots in response. Some food trucks have entered into parking agreements with hospitals and enterprises. Amid the epidemic, some food trucks have switched to selling groceries. Most tiny, independently owned food trucks, unlike brick-and-mortar businesses, do not qualify for the Economic Injury Disaster Loan (EIDL) or the Paycheck Protection Program (PPP)funds, causing some to leave the sector permanently.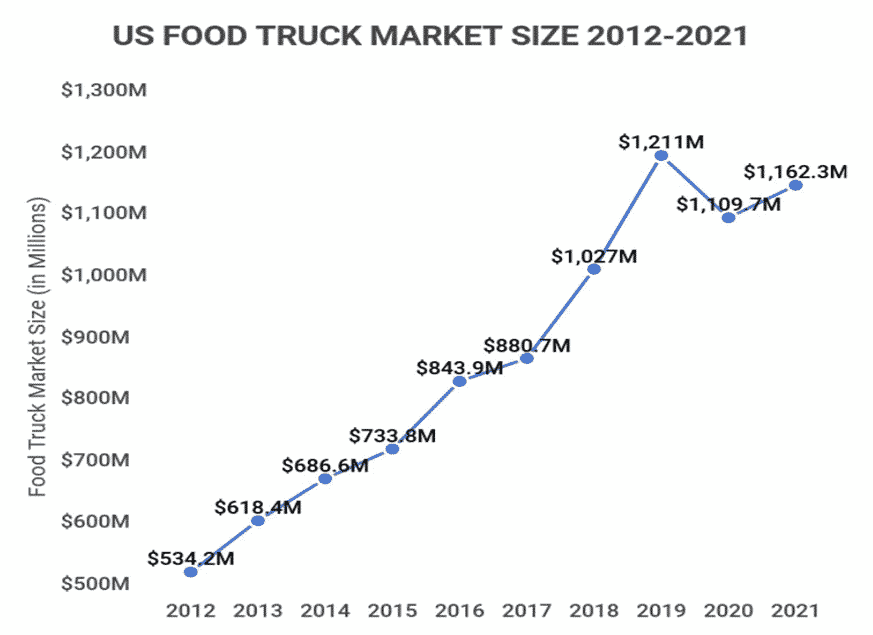 Since the 2008 recession, food trucks have become as popular as family dining or fast food as a restaurant concept. Because of the cheap cost, many would-be restaurateurs choose to establish food truck enterprises, which are increasingly considered legitimate places to start a career in the food industry. Food trucks now serve anything from cupcakes to grilled cheese to taco-waffle hybrids and anything else you can think of. Food trucks now provide gourmet, locally produced, artisan menu items beyond street food cuisine.
The target market for food truck enterprises is millennials in the middle class between the ages of 25 to 44 account for 43 percent of monthly food truck expenditure, with people under the age of 25 accounting for another 20 percent. The trendy nature of food trucks and the social aspect, convenience, and potential to support local companies frequently attract this group. Furthermore, although purchasing food from a food truck usually necessitates some discretionary cash, it also lets consumers taste new, high-quality foods without making a significant commitment, making them popular among middle-class clients.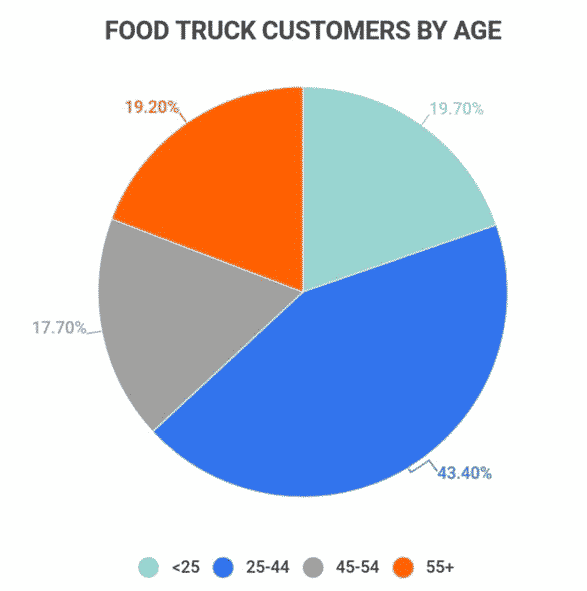 According to IBISWorld, more than 24,000 food trucks will be operating in the United States by 2021, generating roughly $1 billion in revenue. Meanwhile, growth is expected to reach 7.5 percent between 2015 and 2020. Food trucks may be more popular in certain locations than others because of state and municipal restrictions that differ by state. Cuisine trucks have long been linked with quick-to-prepare dishes like hot dogs and ethnic street food prevalent in congested metropolitan areas. Food trucks are now seen in more places than merely busy street corners in heavily populated cities, as their menus have expanded and their popularity has risen.
Some food trucks originated as low-cost alternatives to traditional eateries, while others are run as extensions of existing businesses. Popular restaurants sometimes add a food truck to their business to bring their meals to huge gatherings or other special occasions.
Marketing Plan
A marketing plan of a Food Truck business plan outlines the company's strategy to promote its products or services to its target audience. It includes specific tactics and channels the business will use to reach potential customers. This section defines the company's unique value proposition, identifies the target market segments, and discusses the competitive landscape. It also includes insight into budget allocation, projected outcomes and key performance indicators to measure success. Marketing plan helps businesses demonstrate their understanding of the market dynamics, their positioning within the industry and their approach to driving customer engagement and sales.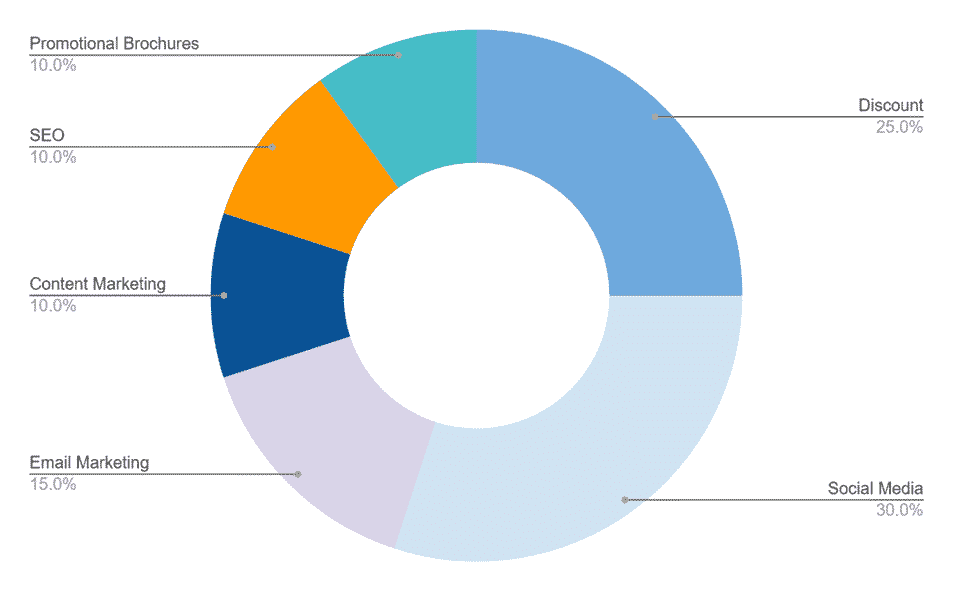 Content Marketing: Create a blog on your Blackbird Acupuncture website on what you has to offer to prospective customers.
Discounts: Provide multiple rewards or incentives to Blackbird Acupuncture's frequent customers, you'll be more likely to attract them. Create a member referral scheme, for example, where members get a discount if they successfully recommend someone.
Social Media: Engage and promote Blackbird Acupuncture on Twitter, publish news on Facebook, and utilize Instagram to promote curated photos of your clinic.
SEO (Search Engine Optimization) Local SEO makes it easier for local consumers to find out what you have to offer and creates trust with potential members seeking for what your clinic has to offer.

Email Marketing: Blackbird Acupuncture will be sending automated in-product and website communications to reach out to consumers at the right time. Remember that if your client or target views your email to be really important, they are more likely to forward it or share it with others, so be sure to include social media share.
Financials
A financial plan of a Food Truck business plan provides a comprehensive projection of a company's financial health and its anticipated monetary performance over a specified period. This section encompasses a range of financial statements and projections such as profit and loss statements, balance sheets, cash flow statements and capital expenditure budgets. It outlines the business's funding requirements, sources of finance and return on investment predictions. The financial plan gives stakeholders particularly potential investors and lenders a clear understanding of the company's current financial position. A financial plan helps businesses demonstrate their financial prudence, sustainability, and growth potential.
Earnings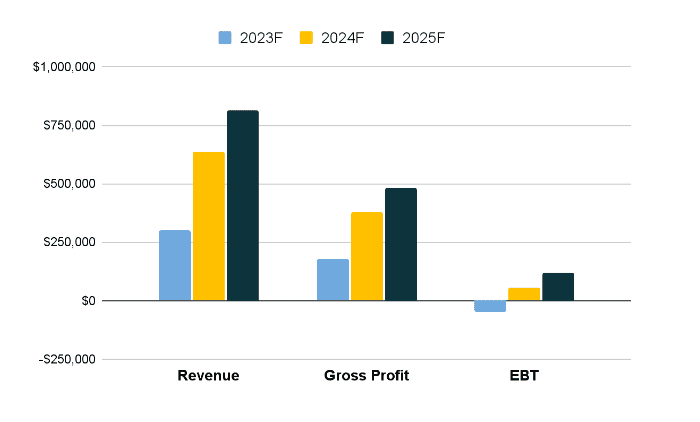 Liquidity